Fog Light and with Black Bracket UNIVERSAL FIT Any Motorcycle 5″
4 Inch Spot Light with Bracket or just Bracket Alone.
SKU:

4 inch fog light
Categories: Honda CB500, CB550, CB750 Parts & Upgrades, Lighting / Electrical, Lighting / Electrical, Lighting / Electrical, Royal Enfield Continental GT Parts/Upgrades, Triumph Thruxton & Bonneville/T100 Parts/Upgrades
Tags: 12 volt light, ace cafe, Amber Fog Light, Bonneville, brat, Cafe Racer, cb750, custom, custom light, Fog Light, fog light kit, honda, parts, rockers, Scrambler, spot light, T100, Thruxton, Ton Up, tracker, Triumph
OK-here we are with my cool part that I would like to offer you on the website, how about this set up as I have used this on my own machine for about 8 years with No issues at all.
So easy to set up and really changes the look of your machine and gives it that 60's look of European rides. The great thing is you get noticed on the road in any time of the day or night, plus you can order this with an Amber or Clear Lens now as well as order a Black Or polished bracket too.
This is my  Spot light set up, with a Black steel bracket that is Laser cut and Tig welded,  this then attaches to your chassis very easy with 2 Stainless Steel Hose Clamps that are sturdy and have not moves at all in all the months of riding in the twisties and still in the same place as when I first fitted it. 
The Spot light is a 12 volt One wire system that is ground inside, so you simply connect inside your headlight or direct to your switch and there you go.
A Classic look and will get you noticed in bad weather too. I am also offering this as a Complete Kit or just for the  Bracket with clamps, as some people want to run their own lamp, so- the option is there to help you out.
This has been though out for you and fits in minutes using a Nut wrench and a 14mm open ended spanner! A 5 inch lens gets you Noticed whilst Riding.
If you want that yesteryear look then you have come to the right place, this really is a cool set up and I am sure you will like it. You also have the Option of just purchasing the bracket if you so wish.
Available with or without the light too, so the option is yours. But it sure is a thing of Beauty and am glad that I went ahead and made this and have sold many already.
I love the look of this as it reminds me of back home in London when I was a Kid and needing a Fog light in London, many bikes had them back home and it looks Nostalgic!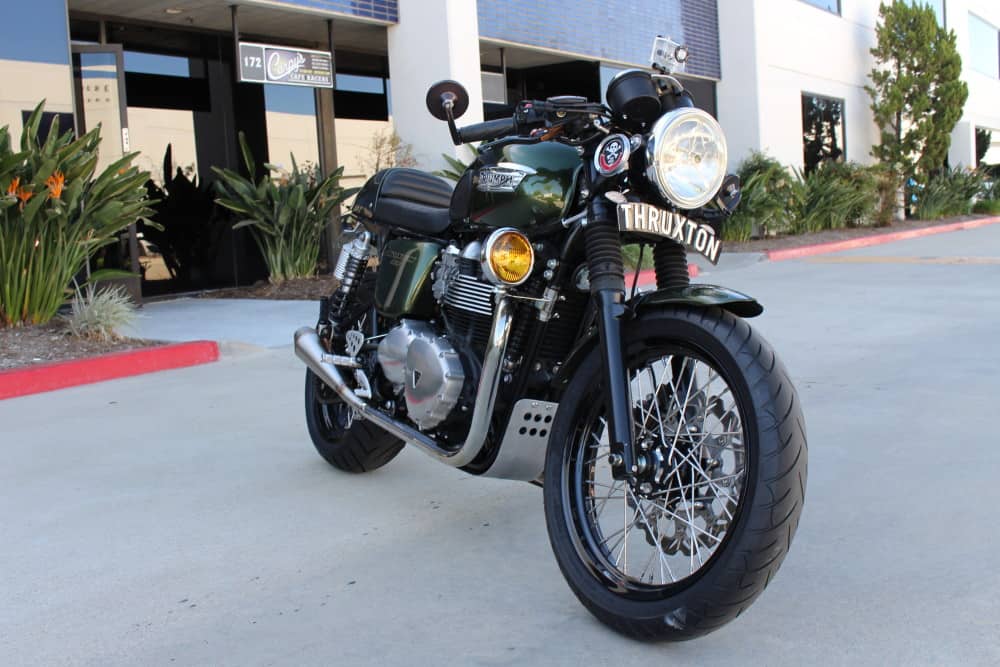 But a great set up and something Nostalgic that screams out that era of years gone by, you can fit this in minutes and wire into the back of your headlight socket to function. This is a super design and fits Many models of Motorcycles, like Triumph, Honda, Royal Enfield BMW etc.
This Spot light is Chrome and really is a great looking set up, the lens is a 4 inch Diameter and is the perfect size for this machine I think, take your time and have a good look.
So easy to fit and you can either wire right into the back of your headlight , or even go to a toggle switch to choose when you want the light on etc.
I shall be offering a Clear lens and other spot lights soon too, so keep checking the parts pages for many more cool bits and bobs for your machine.
Drop me a line at carpy@carpyscaferacers.com  if there is anything else you would like to know about this or ANY of my parts and I am more than happy to reply.
Or call me at 714-598-8392 or even TEXT me and ask me about any part or maybe a question about your machine etc as I am here to help you.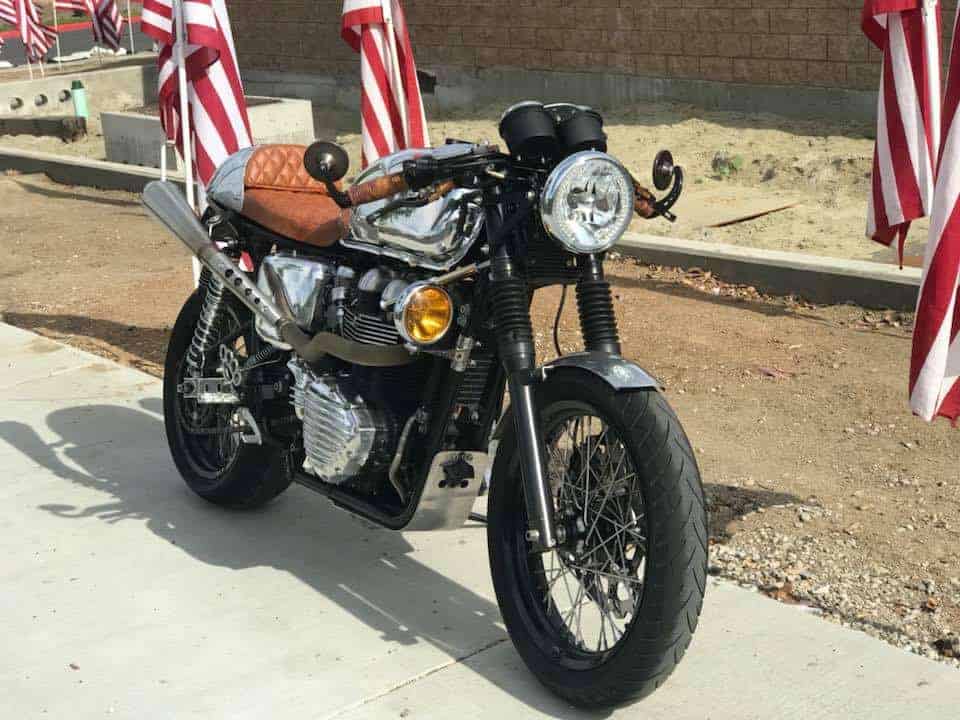 I am sure happy that I did this and as far as I know, I was the FIRST to offer this and I now have this all set up and love it.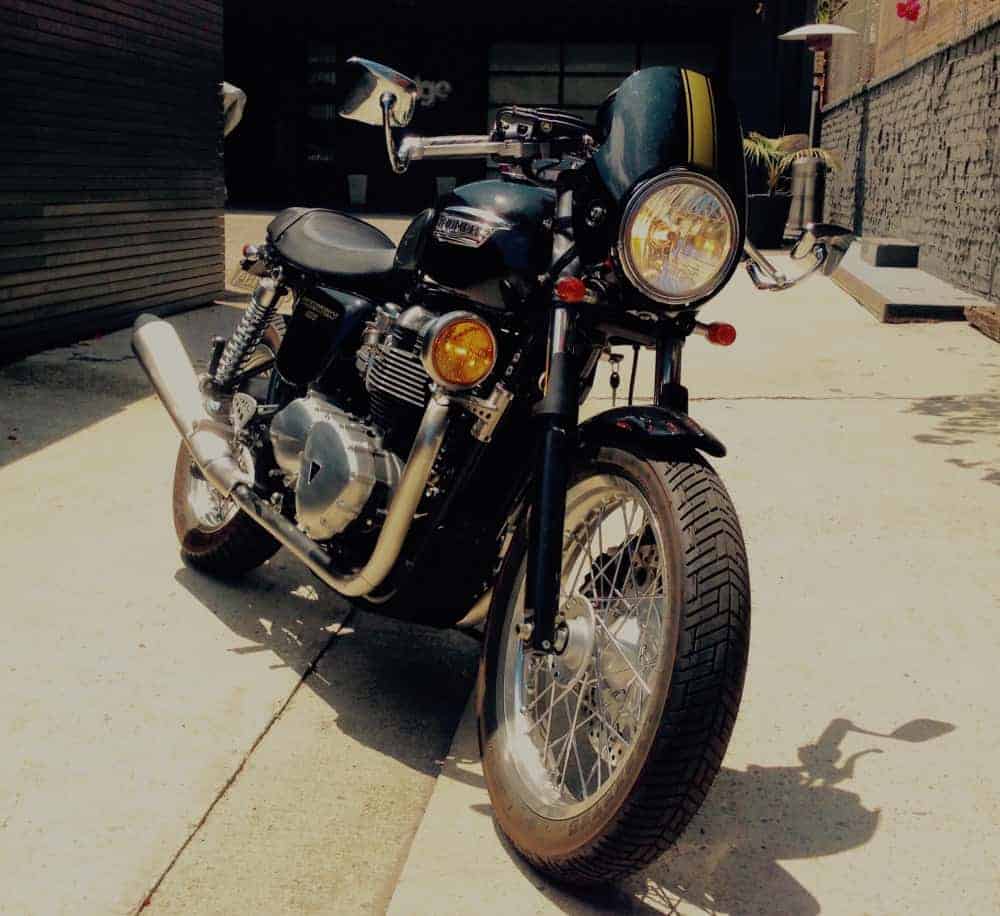 If you love the look of Yesteryear, then look no further as I took a lot of time to get this right.
Let me know your thoughts as I shall be offering other lights for the bracket, so keep checking back, here it is on MY Royal Enfield GT.
People all compliment me on this look and am super stoked about that and I really enjoy riding my Thruxton.
Thanks for looking, here is some more shots.
Super trick and made right here in the Good old USA !!!!
We are in the 59 Club and go on many rides with many more cool Thruxtons and Bonneville's and Honda Cafes.
Thanks for taking a look as I always appreciate feedback to let me know what you would like to see out there.
So thanks for stopping by and hope to hear from you at some point.
Not a great video as it was by my mates phone but you can see it work though!

I have sold many of these and get great feedback as to the quality and the ease of fitting.
Being an Auxiliary set up, this will fit many motorcycles and I am sure that you will be happy.
Above, mine looking very Nostalgic and I have had it on my Bike for almost 5 years now and still works fine.
These fog Lights are now available with either an Amber Glass Lens or a Clear Glass lens, just use the option drop down when ordering.
Have a look and see if this will work for your machine, Clear lens or Amber lens, H3 Bulb-35 Watt output keeps you noticed but does not glare other road users.
Comments
comments
---