CAFE RACER 1970 CB1000 RUSS COLLINS SPECIAL
This is the Old Russ Collins Bike I created from parts.
Below is a Video but hard to hear as the old Powder coating shop behind us is loud as hell, but it was a tight motor and loved to ride it, hard to hear but this is the only video I have of it.
This machine was just a frame sat in the garage at home and boxes of old parts, and I wasn't sure how i was going to go about this build but, as I had a russ collins Magneto I thought, what the heck I will be a traditional Cafe bike for fun.
This bike has so much work but for me it is fun and I enjoy every bike I create, sure, people say why not restore but heck, its not a sand-cast and plenty of these later K models around, I had a bucket load of parts and wanted to put something together and here it is at long last.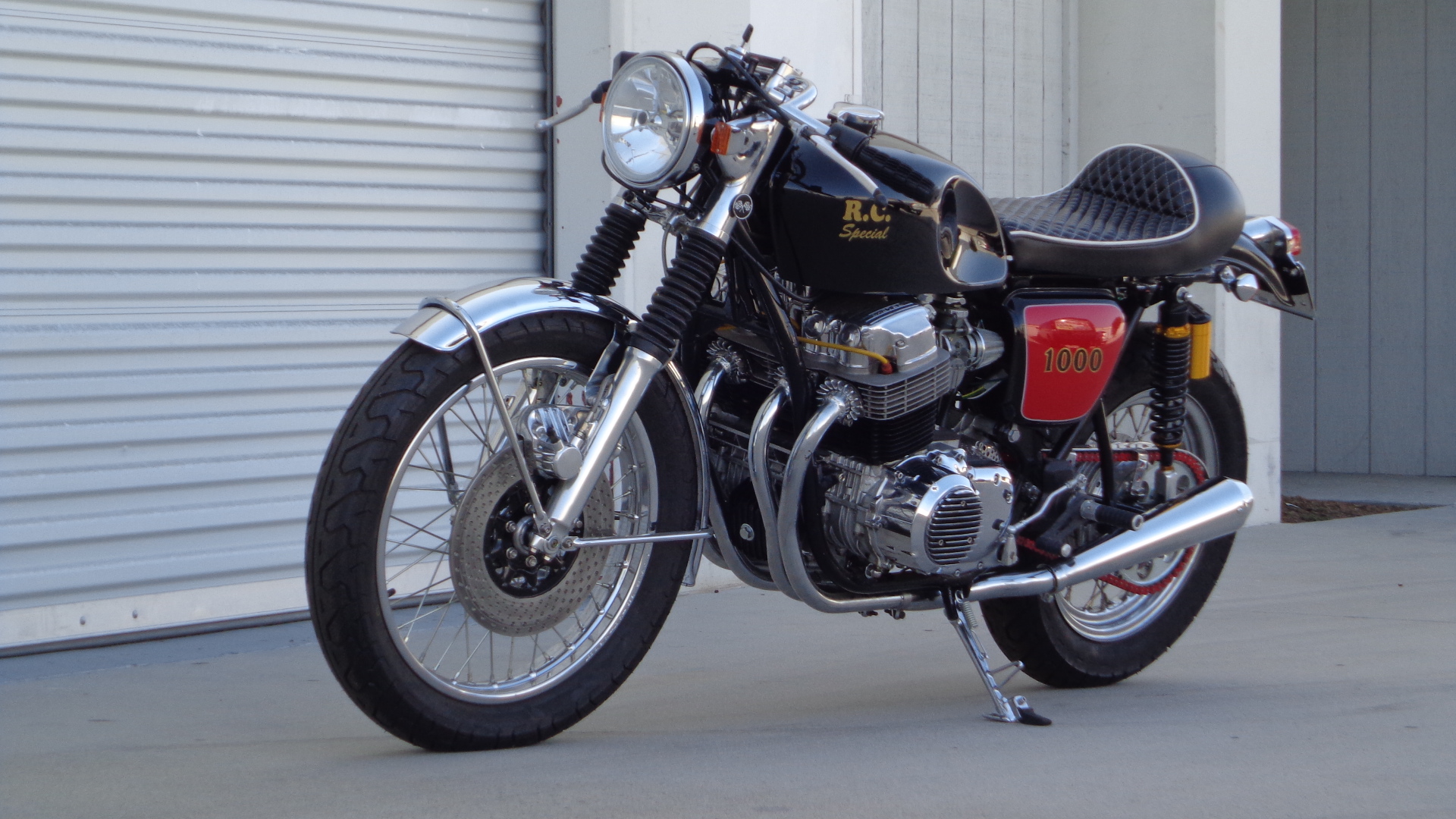 I started with a stock 1970 KO frame that had been sitting for many years in the back yard with 15 other CB750 Honda's that I had acquired from an old guy out in the desert some years ago.
Then I started to get a few parts together and the light bulb came on and that was it, lets build a great looking Caff bike with a 1000cc Russ Collins Motor, what a Hot Rod that would be.
Motor was really good and came out of a running bike, compression was 185 all the way through so no point on a full rebuild, just a freshen up on gaskets and get her running.
New Chrome rims and used stainless spokes to Polished hubs I did, along with the frame being powder coated, the swing arm was too, New bridgestone Spitfires give the bike a more traditional look and really hold the road well.
Original 1970's finned speed equip covers adorn this motorcycle and gives it the unique richness that shines from afar, I chromed the cases this time andwent throught the Whole bike with Allen headed stainless bolts.
I machined a Custom Finned Engine Bracket up to flow with the rest of the finned speed equipment that is on this bike..
This has an Original never used and out of the BOX, Paul Dunstall header set up from 1974 and this is the genuine article too. I have the trick Tri-Bar set up at the front to show you which way you are heading. Brand New OEM Fender, and I polished the fork lowers, fitted new uppers and resealed, also added the old school OEM Ribbed Gators too.
CI made my own seat, of which I made a mold from an old steel seat and then fitted the steel plates to allow for the stock Hinges to be used, then refoamed and Diamond stitched the seat for the old cafe racer look with the proverbial hump on the back, but also I made a Bobbed rear fender and fitted a old style Lucas Tail light, all of which I sell on my website www.carpyscaferacers.com and have sold many too.
I hammered and painted the tank- New side covers and new paint and has the 1000 logo on the side covers to show them what she really is. I loved the whole concept and with New petcock and Gas cap, this really looks factory to many, until they see the numbers on the side cover.
I used a set of TEC rear piggy back shocks that are 14 inches eye to eye and the rear tire is a Bridgestone Spitfire 130/90 to give it that beefy look and handles so well.
Oh yes, it has a Brand New Guilerri style diamond stitched seat base and that is a new base and foam too and I believe enhances the look of this machine.
Also- Lots of polished Aluminum, like the valve cover and caps, the clutch cover and stator and gear shift cover too.  With Braided oil hoses as well. I even chromed the kick stand, but look at the front Rotor, I drilled that, rebuilt the Caliper and polished that to a Chrome look and the front rim is new with stainless spokes and a bigger front tire to fill that fender out nicely.
Brand New Non maintenance  battery, Solid state rectifier, makes sure this fires up and of course with the original RC Magneto, this has so much spark, I fitted iridium spark plugs too. You will also notice that I made New oil Lines from Braided steel hose and Drilled and chromed Kick starter for a Custom look.
You want detail? Well she has loads of it, just check out the kick starter I drilled and re-chromed and the clutch cover set up. As well as the Italian Tarrozi rear sets added for a real comfortable ride as these set your feet back about 7 inches from the stock position and perfect for the Clubman handlebars up front.
New cables help this puppy along and I rebuilt the Carbs, bench synchronized them and then once running synchronized with a Mercury stick and it purrs now.
I have hours and hours and hours into this machine, I even chromed the kick stand as it looked to dull before.
Oh yeah- Do you like my Oil tank Dip stick? I machined this from a solid piece of 6061 T6 Aluminum to dress the cap up as thats always missed on builds so wanted to cover all the bases.
This is a really cool head turning machine, as where ever you loom there is cool stuff. like polished rear brake hub, with new brake shoes and actuator. Yes new brake shoes as well.
Yes, these New tires, on the back there is what I use most of the time, the Bridgestone 130x90x16 and at the front I use a 110x90x19. Custom RED X-Ring Chain, flows with the red on the gas tank and side covers etc and this bike sits so well, them Original Dunstall exhausts are a real piece of History as they were still in the original box when I had them as they were sat in my loft for many years.
Such a period looking Caff from back home and I remember as a kid, and I am glad that I went this route, its truly a fun machine and with 1000cc it does not hang about and is really Torquey.
I love the way the bike sits, it is a good, tough looking machine and with Brand new wire harness and handlebar switches, this is reliable as hell, I am very proud of this machine and it styling.
It has a New rear brake rod, spring and adjuster to make sure this thing stops at the rear, and a New 530 Chain and new sprockets 48 rear,17 tooth front.
The RC Special is a one off and I loved doing the build, I also made up stainless braided Brake hoses for the front brake and added a 14mm Master cylinder too.
The front brake caliper is rebuilt and polished to a chrome finish and I fitted a Brand New $400 genuine HONDA front fender.
To help this bad boy stop at the front end, I fitted a New BREMBO master cylinder to the Clubman bars.
Other col parts that you will notice, unlike many others out there is that I have used genuine NOS handlebar controls, over $220 each side.
The carbs are all rebuilt with new throttle cables and custom air filters.
The New headlight has a New bucket and insides too. And a 65 watt halogen Bulb to make sure you are seen on the road at night.
This has a cool display set up with the ignition relocated at the top of the tree, I wanted to move the ignition switch away from the motor as these get hot.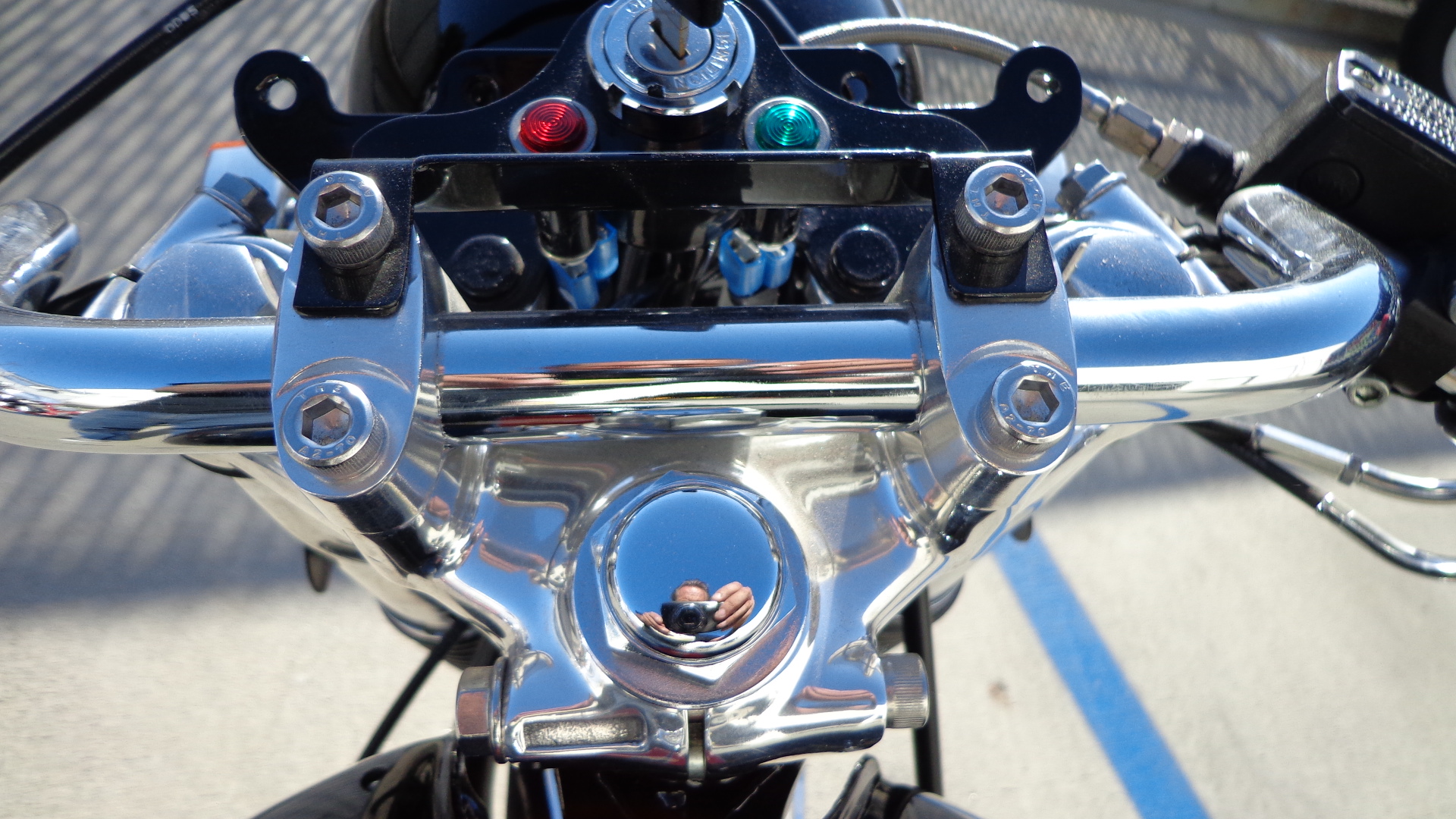 Also I polished the top triple tree to look like chrome, the steering has all new bearings and brand new chrome Honda steering Nut and washer.
All the bolts are Stainless Allen heads and this has had so many hours of work done to it. A new Clutch cable and Custom Adjuster.
This is clean and under the seat will be a brand new battery, the frame is powder coated and you can see how great she looks from these photo's.
This has a new solid State rectifier and a battery tender too.
Also the shocks are brand new TEC models and I made custom lowers to lift the rear end a little higher by 50mm.
The bike just is cool to look at and with a RC1000 Motor it really does turn heads FAST!
This has Original New Old stock Superior Waffle GT grips from 1974 and were still in Original packaging on the shelf for years and years.
I may put some more little touches to her before someone buys her but I do hope it does get a great home.
Thanks for looking at this machine, it has now gone to a New owner and sure hope they ride the hell out of it,
I doubt I will locate another Russ Collins Built Motor any more and so glad I happened across the engine over 10 years ago,
2 of my Classic machines that I have built from just old bits and pieces that were literally in the garage and all in boxes or on shelves, love what I do and hope you do too, thanks so much for looking. If you want a bike built, serviced or just parts, drop me a line carpy@carpyscaferacers.com or you can call or even text me on 714-598-8392 as I am always happy to help, been building over 17 years here in California.
Comments
comments