The Rice Boiler CB750 SOHC
Well, here was a bike that came together just because of my Grumpy Old man when I was a Teenager, and thought that I would share this creation with you all.
My Dad is an Old School sort and, if it wasn't British, then it wasn't good enough, and as a kid I had never been able to afford new bikes, my first bought bike was a 1955 Francis Barnet which I turned into a dirt bike, but all I ever heard from my old man if he saw a Japanese Motorcycle was. " That bloody thing is a "Rice Boiler" And it stuck in my head for all this time.
I don't really get on with my old man, too strict and a terrible aggressive temper to boot, it was his way or the highway and a boot up the arse for good measure.  I had plenty of parts about and I wanted to really make this creation something that would indeed get plenty of attention and what better title than "The Rice Boiler"
If this was going to get built, then I am going to go all out and both guns frigging blazing, I wanted this 1974 CB750K to really turn some heads where ever it stood and I think I pulled it off?
I had these Alloy Star rims for over 20 years that were simply stuck in the hangers of the garage loft and thought that these would fit the bill, they needed cleaning up, new bearings and then paint and polish, but they are period rims and this was the perfect Motorcycle to fit these too, I also shod them with my favorite Bridgestone Spitfire Tires and like many of my machines, I drill the brake rotors and polish all the Aluminum that I can.
I totally stripped the front and rear Brake calipers, removed the paint and stripped to bare aluminum, vapor honed them and then polished to a chrome finish, machines stainless Pistons and rebuilt the calipers like they were new, and then made sure to add Aircraft grade Braided Brake lines too.
Yes indeed, the Devil is in the Detail and this was no exception, the Sprocket carrier I stripped and polished and Chromed the safety plate, then to really make sure this is a sturdy ride and accepts a wider rear tire, I made a Boxed swing arm, drilled holes in them and inserted steel tubing and welded smooth, so they swing arm looks drilled but its stronger than when it wasn't by the tubing inside.  I also made the Chain Guard and Chromed that and set the look off with a Nickel "O" Ring 530 Chain.
I have always drilled my brake hubs, for aeration and to get rid of brake dust too, just looks like the old race bikes back in the day when they did the same thing.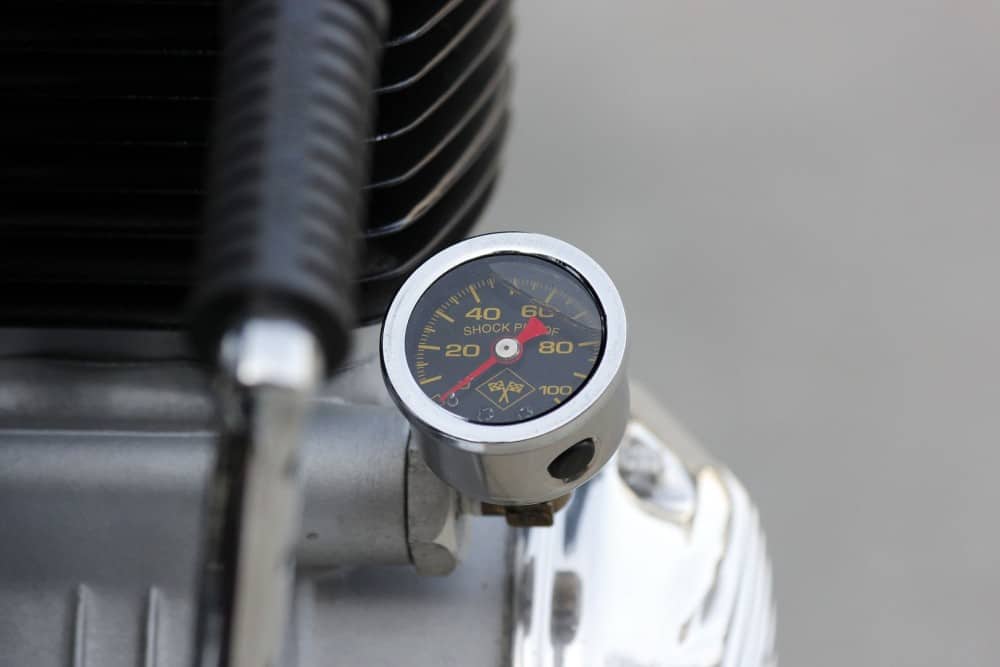 Every Bike that I do create, always has an Alcohol filled oil Pressure Gauge, as it gives true Motor pressure reading and looks pretty darn cool hanging out of the side of the Motorcycle.
I had a collection of Original Racecrafter finned speed equipment for a CB750 and thought that it was time they came out of the cupboard draw, got polished and could fit them to the motor, this clutch cover was great and loved eventually using it after being locked away for over 20 years.
This was the old after market Racecrafters finned Points cover with 750 cast in the center, never really see these much, so wanted to fit this to the bike for more eye candy.
Of course, the Stator cover was missing some of that Bling and wanted the finned styling to flow and this original one I had got cleaned up and polished and looks great sat in place on the motor that it was intended for.
Unfortunately nobody made a finned engine mount, so I thought " feck It" I will design and make my own, and that's what happened using some 7075 T6 Billet and it came out super cool.
I really wanted to make a statement with this build, so I drilled the front sprocket cover and then polished to a chrome finish to dress that part of the motor up, as many leave that area as its so oily inside.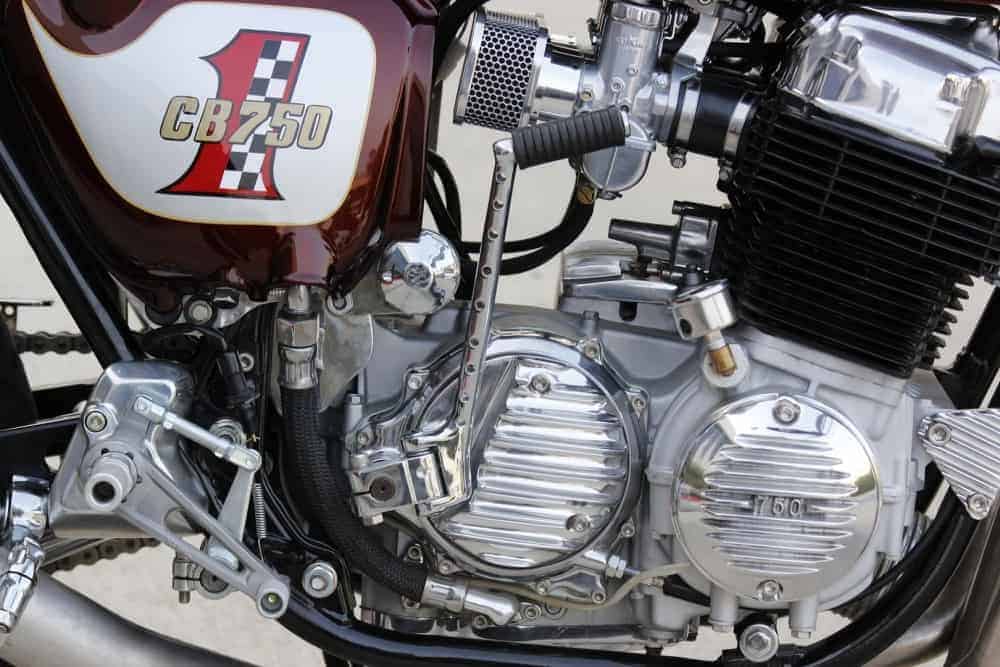 The Carbs were totally rebuilt and tuned and added a Custom made Dragon Airbox to match the Old Chopper aftermarket versions of the day, we called them bread Boxes and it breathes really well.
Rebuilt engine with Polished Valve cover and even an aftermarket 1974 Finned starter Cover, this Motorcycle looks amazing at any angle that you take a peek at, so many New parts, including stainless Allen head bolts throughout.
I thought to myself, I may as well push the boat out of design etc and made out of solid billet, a Oil Tank Dipstick Finned cap and It came out so nice, glad I went ahead and did that.
The exhaust had to be cool and what better way to get the spent gases out of the cylinder head than by a set of slightly wider Stainless Steel headers and Yoshimura style tail pipe.
For some added Custom touches I cut down a Connecting Rod and use the Big end around the tail pipe as a hanger, then shortened it and triple chromed, it came out great.
Another Custom Touch was I stripped both of the old tired Gauges and gave them a New Lease of Life with my own New faces, these looked sharp as a tach. LOL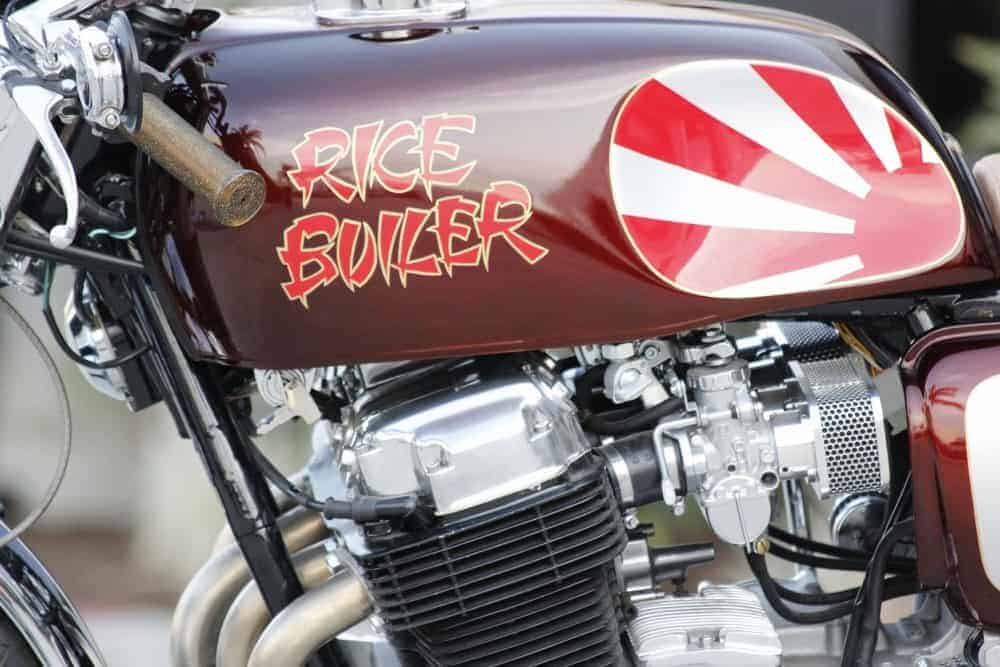 The Gas tank was a 1975 CB750F Super Sport Model, I cut the old gas Cap flap out of the top and welded it smooth and then fitted one of my Alloy Monza styled cap, Hammered by hand the knee inserts and smoothed all the body work before getting a buddy to paint it for me with the Rising Sun in the insert.  Many coats of Candy Brandy Root Beer was mixed and applied.
I love using Italian rear sets and these look very cool once I removed the anodizing and polished to a chrome finish, they work so smoothly too, the pegs are folding as well.
This is my hand made seat and I used this cool Custom LED light to keep me safe at night, the License plate frame is an original 1974 After Market one that is the epitome of Café Racers of the day.
I wanted to try something way out of the box, so what I did was used some old used CB750 Connecting rods and chromed them to make wickedly cool wing mirrors and boy, did they turn out swell, many people loved the idea.
I just wanted to really push the proverbial boat out with the Rice Boiler, and I think I did accomplish such a task, it took some time but was worth all the effort to bring something a little different out to the shows.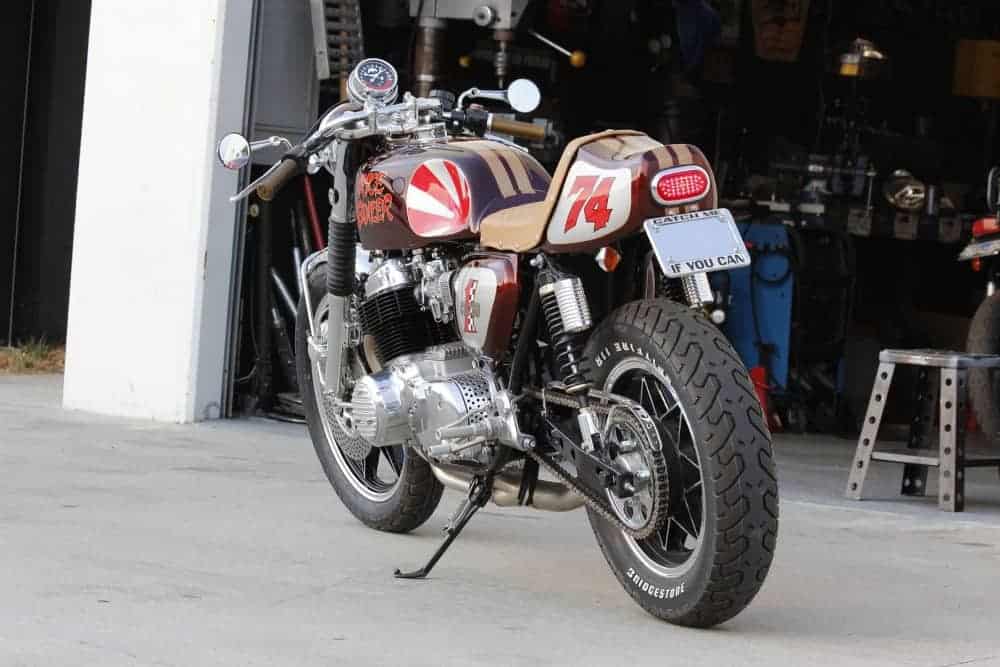 A serious piece of kit and I had such a Ball creating this bike, all from a pencil drawing inside my skull as a kid and to bring it to fruition was such a fun achievement for me.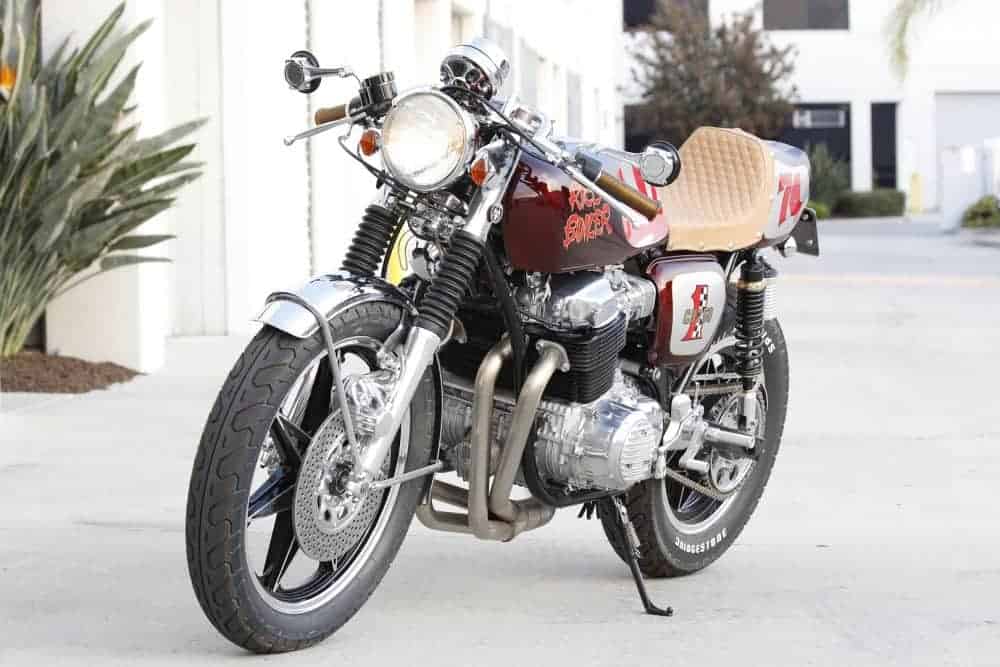 I was determined to bring something out of the stable that was all me, all my years of motorcycles and put so many tricks into this that it would be looked at for some time where ever it went.
Where did the headlight come from I hear you ask? Well I wanted to try something different and located an old DeSoto fender light and this turned out to be a winner for me and really suited the bike.
A fine thoroughbred machine that loves to have its legs stretched, and is pure fun to run around anywhere that you choose to take it, so many things to look at too.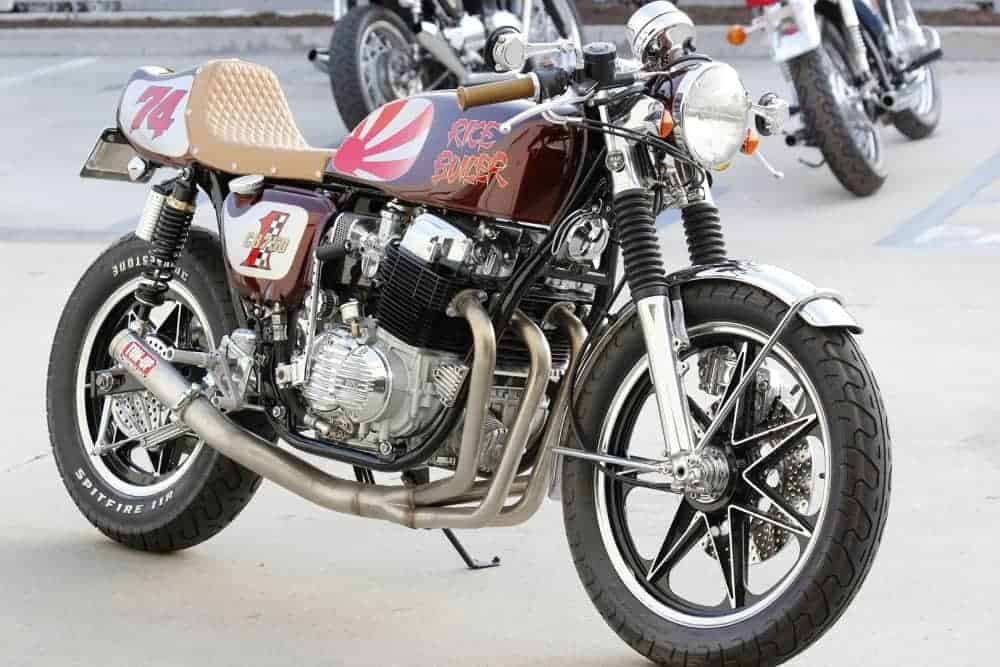 I put a lot of Pride and Joy into this, its my creation and love to look at it, it may not be your cup of Tea but hope you can see the work that went into this build.
I used real leather on the seat, soft as hell too and did Diamond Stitching with snaps on the side for quick removal. I actually hand made the side covers too.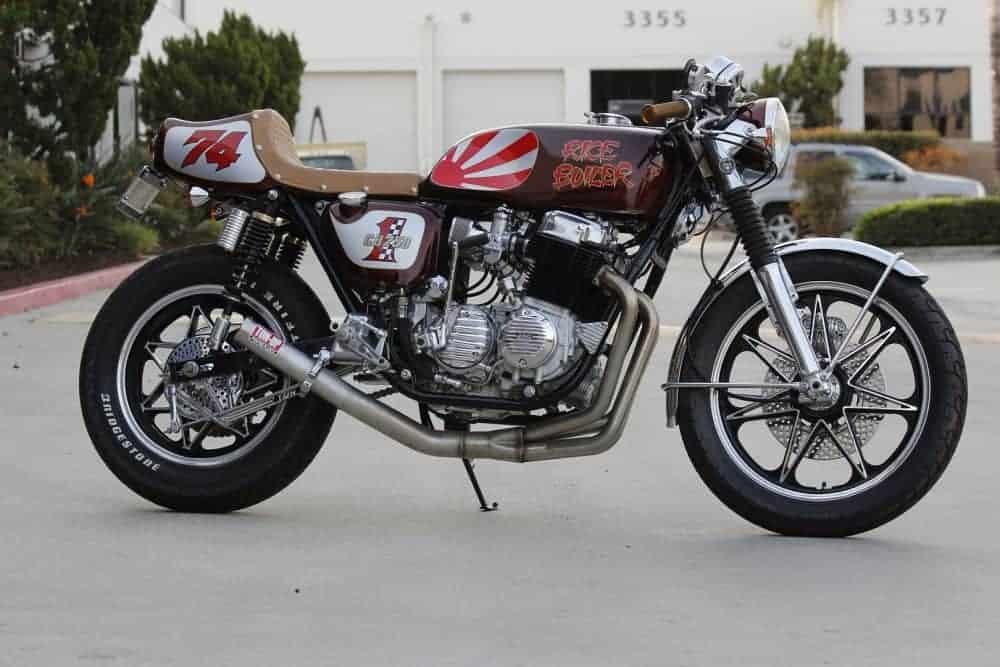 Thanks for reading my build page and hope that you found some of the photos I took, interesting. Its my passion and my life to be honest and continue to create Motorcycles and Custom parts.
I am sure my Old Man would still scoff at it but that's his opinion, I love it and glad that I took on this challenge and saw it through to the very end.
Until next time I guess, have to see what else that I can come up with as I carry one with these fun inline four Honda Motorcycles. Ton Up Everybody !!!
Comments
comments