The Rice Boiler – 1974 Honda CB750K
OK, for a long time I had been planning this build and now it is here and I am so stoked the way that the machine turned out.
I used a snotty old bike to create this head spinning machine and had already built it in my mind hundreds of time, so thus was really a piece of cake for me.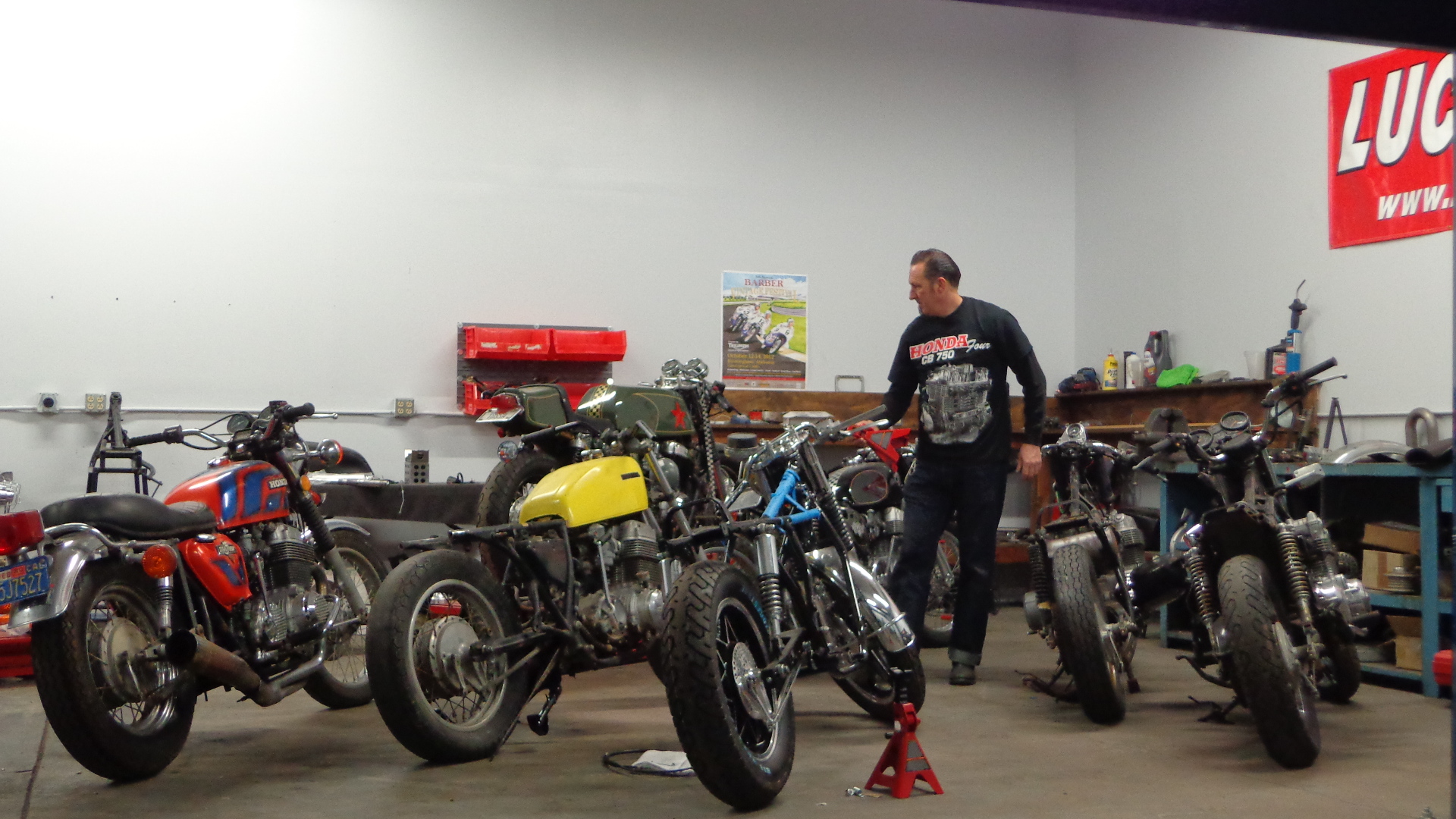 I had an old set of Henry Abe 7 Star rims back in the UK, these are at least 3 decades old and had them sent over the water from back home and wanted to take them apart and fit new front and rear bearings, as well as paint the stars and polish the outers.
Once I chose New rubber for it ( Bridgestones ) I then made sure I had the rear brake set up drilled and polished, as I want the bike to stand out in many places.
I had a S.S. tank and cut all the top flap out and welded that in with a flat plate, then fitted a Stainless Steel polished Monza style racing Gas cap in it.
I then used one of opur own designed "Razorback" seat bases, As I really do love the lines of thaat seat base and knew this would really flow and give that yesteryear look.
I bead blasted the old frame and then powder coated a high gloss full flow Black on it and love the look, almost an enamel look to it and very inert to many fuels and substances.
If you look, you can see our New battery boxes we now make and offer on our website, this is the ww2 style battery box made from 6061 Aluminum and has cool rivets in.
I removed the old Oil tank and we washed that about 7 times and then cleaned out with some simple green, then stripped the paint, had it copper-ed, then chromed and buffed. you can see i was also setting up the rear sets and polished the brackets to give a Chrome finish.
I designed this color scheme by drawing this out on graph paper and used water colors and came out with this design, the reason that I came out to this conclusion is simple.   My old man always ran down anything to do with Japanese machines, and as I was a teenager in the 1970's,  Japanese bikes were predominant in all parts of the globe and the old man just looked down on them and called them "Rice Boilers" 
So That's why I named this bike "Rice Boiler"
She was fun to build and I am so stoked at the reaction it gets from people when they first see the bike.
I had a few people just stand there and just keep looking at it, as this bike did not start off like this.
I really enjoy the putting everything together part as you see such a transformation.
The Racing number 74 is really just the year of the bike but I wanted this to remind me of days gone passed when I used to hitch hike to Clubman Racing at Snetterton track and getting a lift on one of these bikes.
There are so many things that I have done to this bike, I should of named it the Magician as it is loaded with tricks. the lower forks are polished to a Chrome finish and all rebuilt, etc., and we hand-drill these rotors at the shop, then surface grind and polish them, looks cool eh?
I hand-hammered the gas tank as I do on all my bikes and wanted to use the Rising Sun as the filler, and boy does it pop!
The finned covers are early 70's ones I have kept for this particular bike build, I must of had them 12 yeas in my tool box and so glad i got to get them on the Motor .
The red is very bold and I chose an Aztec style gold for the pin line, the whole paint scheme was completed using House of Kolor and I chose a Candy Rootbeer Brown as that was a cool Candy Color that Honda had back in 1971 and wanted to try and get that old School feel to it.
I actually incorporated  the neutral light into the head stock nut and think that it will be a cool addition to this ride and make use of the new lights we sell.
New Old Stock handlebar controls were a must, we used one of our polished throttle embellishers and some very cool flake handlebar grips, as well as new alloy levers, etc.
You can see how many brand new or rechromed parts I have fitted to this machine, by just glancing at the photos on this page.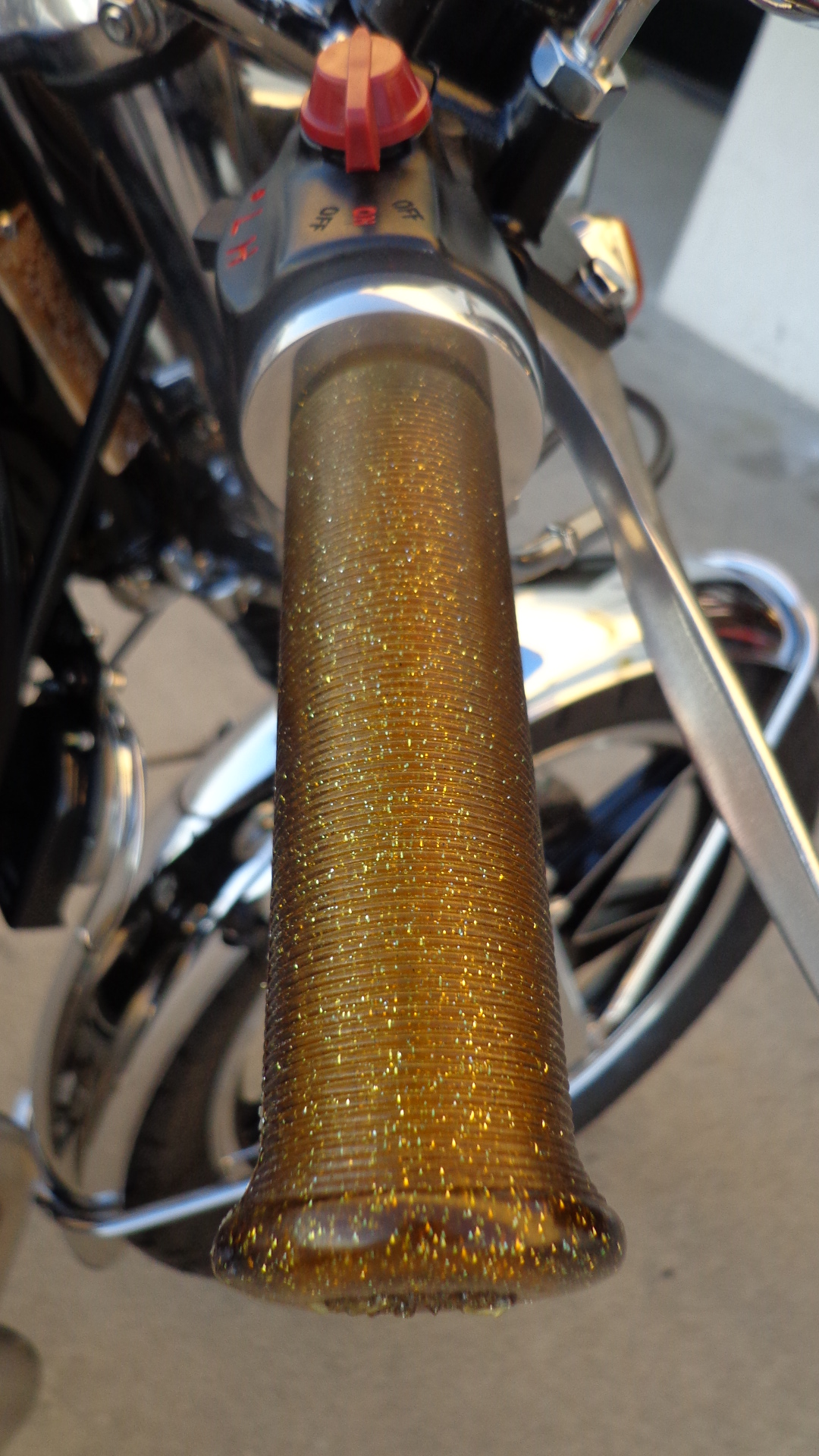 The Ggold flake on the grips really do make the colors blend with the gold of the bike and the shocks.
I wanted to have the race number on there, as well as incorporate the year of manufacture, and it came out really well.
 I fitted new old stock fork ears and made our front fork badges t0 fit the sides where the original ugly reflectors sat and it cheered the machine up.
Yes- that is our very own Boxed Swingarm that we drilled and powder coated and really does suit this machine well, as well as helps the cornering as it stops all the rear end stepping out, this is a copy of my Original Dresda swingarm.
Our Stainless Steel Yoshimura-style 4-into-1 exhaust is a very cool sounding and looking set up and is a must with the style of machine that I create, by does it hang well.
You can see the work it took to make the tank look great, also the GPS speedometer is a cool look, but the bracket and the bucket we had to make and polish, it all worked out fine in the end and even though this was not a cheap option, I think its the cherry on the cake.
The headlight is from an old Desoto truck and then changed a little, it looks great with the Candy Rootbeer brown on it and the bezel was re-chromed.
Pretty Much everything is new on the build and am so happy to have gotten this machine done to the way I originally imagined, it screams out to you that this is an old cafe racer from back in the 70's and I hope you like looking at her!
I tend to use Bridgestones as my personal choice of rubber on the rims I use, as I have always had them and stuck with what I know.
I spent a lot of time getting this bike right and many, many hours taking things off that didn't work that you will never see, but thats how it goes with bike building and at the end of the day I have a really cool looking classic that is bound to turn a head or two.
I took the old broken and cracked fins off the original oil filter housing and machined and polished it and this is how she comes out. I do this to a lot of my creations, it adds a unique look.
Fitted our Finned Aluminum Ton Up Stabilizer Bar and the whole rear end is new, Brake Spring, Rod and Adjuster, no expense spared on this build.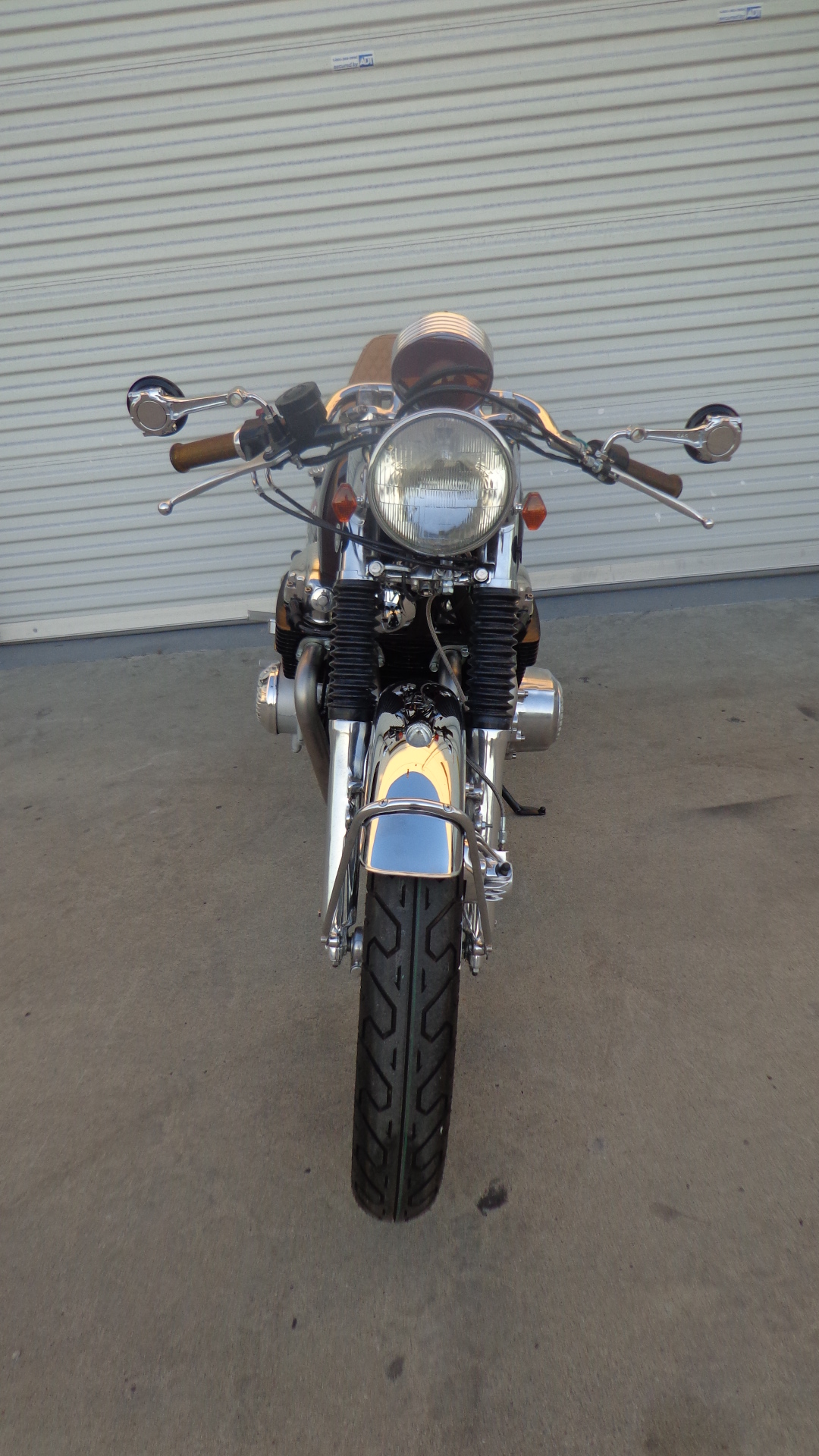 A fun machine that is something that was made from old snot, rust and cold steel, also so nice to be able to recycle this and get it changed into another form.
I have already had a lot of interest in this machine and will let it go for the right price – this is a unique motorcycle with many, many new parts and one off pieces.
Within two days of finishing this motorcycle, I got it featured in Japan's Lightning magazine, what a honor that was.
This bike did take a long while to complete, but I changed quite a few things on this until I was happy with the end result. Sometimes that is what happens with custom bike builds- I like this, and some of you may not. But to me, this is a cool machine that just screams out the bikes of the 70's when I was a teenager in the United Kingdom.
I drilled the brake hub, the rotor and (of course) the front sprocket cover, as that's my signature style I like to do, but I also had a very cool license plate frame that I have had for donkey's years and was so stoked to have the opportunity to use it on this bike.
If this does not say cafe racer, then I don't know what does – it's an original piece that I am happy I didn't discard over the years.
The tank took me some time to hammer and weld, but I wanted to incorporate the Rising Sun in the knee inserts and I am glad I did as it really does add a great concept to the bike.
Quite a few coats of Candy Root Beer brown were applied over the Aztec Gold and the end result is exactly the color that I envisioned.
No stickers, this is all real paint you see and I think you will agree, this really does stand out from many that just have decals.
A good stance for this tarmac eating machine.
I used rear sets which gives the bike a well-balanced feel, as the stock pegs are too far forward.
Our Boxed Swingarm and one off Chromed Chain Guard is a good component that i wanted to use on this bike. the Boxed Swingarm was made at the shop using 2X1 steel and it looks and works really well.
All the cases are hand-polished, the starter is rebuilt and the carbs are like new now. This bike runs smooth as we synchronize them using a Mercury stick.
The carbs have to be right on this machines, if you do not sync them they will pop and backfire, something you don't want to have happening.
The front brake caliper was stripped and polished and our machined stainless steel piston fitted. We also have new side stands to stop the bikes from laying over too much. The originals had a tendency to bend over time. The DeSoto headlight and cool Chromed Diamond Signals, tell people what is going on in front of them.
Stainless Steel Flip-top Monza-style Gas Cap we sell was used on my tank, as well as our own 'Ton Up' Fork Badges.
New cables throughout (throttle, tachometer, speedometer and clutch cables) and new adjuster and stainless bolts all over the machine make this a long lasting ride.
I used a Ford big block connecting rod to use as an exhaust hanger. Once it was the right size and fitting, we chromed it and added this nice custom touch to the build.
I didn't like the stock oil tank dipstick, so we machined a col finned cap for it and boy does it look trick, we shall be making more now to offer to you lot.
See how that cap makes everything flow that has fins on it, I really am happy how this came out, we used 6061 T6 Aluminum and then polished it.
The bucket below we made from a solid piece of  7075  and it came out so nice, tig welded the base and polished it, the bucket attaches by 3 small Allen head screws that sit at the front of the plate.
I wanted to combine new and old components to clean the top of the steering area up and it does look really tidy and clean now.
This was a fun build and I hope that you liked looking at the good Old " Rice Boiler " I can hear my Grumpy old man moaning about it right now!
I have already been featured in Japans' leading Lifestyle magazine and have just had an Italian magazine come over to shoot it and hopefully a brit mag the month after, so I must be doing something right! Interested parties, please contact us for details.
Comments
comments