This is the CB750 on the left I am re-creating into a Cafe Racer for John.
Well, here we are again, but this time a guy up in Salt Lake City, sent me his beloved CB750 HONDA that he has owned from new, and wanted the " Carpy" touch added to his machine as it was time t re-vamp the bike into something cool again.
So, I took the bike apart and all he asked was to have Cosmic Orange with silver like on the Victory motorcycles, so here is where I went with this look and the bike turned out pretty cool if I don't mind saying myself.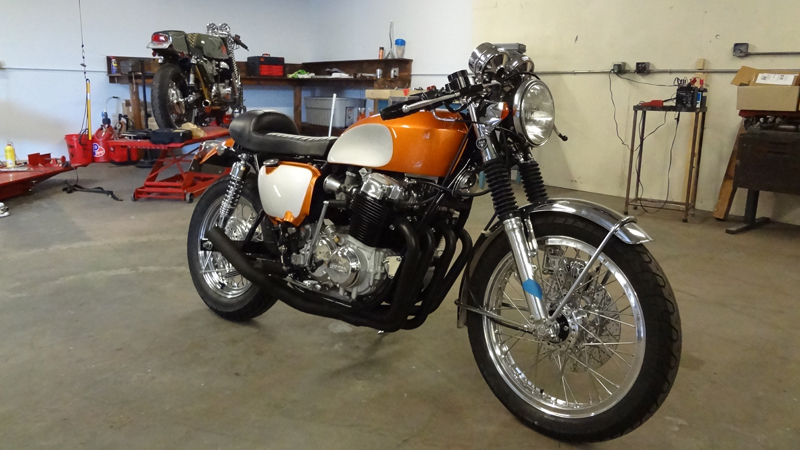 I took the old gas tank and beat the gonads out of it, and this is quite a long and laborious task, but the end results are worth it.
After I beat the tank in with my hammer to the shape I needed, I then used a plenishing hammer to smooth the dings out, then after that, flipped the gas tank upside down and took off all the old trim tabs.  But- Remember, that you must wash the gas tank out, I use simple green, as this will dilute any gases, then air dry, but I still block the petcock holes up, as I shall be grinding and obviously , that causes sparks!!!!!!
Yes, yes, yes, wear all the eye protection, era and hands, I know you are all looking.
Gas tank has more body work applied and then the silver was laid over the high fill primer.
There is way more work here than you know as this isn't an easy job, to prep and block all the body work is the key to having a good looking paint finish and the more that you prepare the surface of the tins you want to paint, then the better the finished job.
This was a three stage set up and the color had to be bang on, once we had the right color and the Customer approved, she was then painted with the Silver metallic.
The tank has a metallic Cosmic orange and silver and looks really cool in the sunlight.
Originally this was a Victory Motorcycle Color.
The New side covers of mine came out great as well.
I am glad that my New covers paint well and these are available to all.
The bobbed rear fender got the same treatment too and once all pinstriped, this was buried in clear coat and then buffed out.
 The Racing lines have a subtle pin line in a gold/tan shade and this does break the lines up and contours very well indeed, a triple O dagger brush for the one shot.
Fitted new petcock, but make sure you either use the fiber washers, or, if you can get the correct size, I personally use stainless Allen bolts. M6X25mm and then use a dab of seal all to make sure she does not leak.
The gas tank then got sealed and pressure tested and Brand New hardware from Honda, as I try and use as much New Genuine HONDA parts as I physically can.
 As you can see, there is a ton of work that I have done to this Motorcycle and the owner was so stoked to get such a transformation in such a short amount of time.
 I ran New Tires and love using the SP11- The old Bridge stone spitfire tires give that Nostalgic look to the motorcycle and are a good all round tire in any condition.
 I took the original seat and made the Guilerri style from the 1970's that was such a hot ticket back in the day and it fits you snug too.
New Clubman bars and polished bar holder with stainless bolts set the machine off, but I got rid of the old idiot light cluster for a more refined and Racey looking set up that we manufacture here at the shop.
And I used a Aircraft red warning light that is connected to the oil pressure switch, then some stainless display lights that show High beam and of course Neutral.
I also used Brand New shocks, as I made one of our Boxed swing arms fit the bike and of course, it goes without saying these days, that I had to drill the rear brake cover for that old style of racing look, then polished the heck out of it. Yes- We did put a cotter pin in it later after we had them chromed.
 The oil tank was cleaned  and new rubber grommets were out in place of the dried out ones.
 You will also notice our Brand new stainless hose clamps adorn the New Rubber intake manifolds, and the carbs I fully rebuilt and polished the bowls etc to make sure all was good.  then I added some New old Stock 1974 velocity stacks to give her that race track look, works well I think?
The Original Master Cylinder was as blocked as the local pubs toilet, so I used one of our Brand new Black master cylinders and mated it to our Braided hoses to the front of the bike, simply bled and now it stops as it should.
Chrome Diamond turn signals of ours tells people if he is turning and chromed the fork ears to a lovely Original luster.
I also got rid of them big reflectors and replaced them with the New fork badges we make here at the shop.
The seat base works great and I powder coated the base and all looks brand new as we have high density foam inside that tuck n Roll.
The Bobbed rear fender is a good seller for us, something I created many years ago and I love using them, we used the BEEZA style rear tail light and all functions perfectly.
Here is John, the first day he got the bike and is as pleased as punch with the end result, I didn't send him any photos until he got the bike, that way the surprise is more amazing and he sure was amazed.
Out in a great part on the country and it sure looks like he is having fun, but John?   Whats with the Green sneakers?
A Ton of parts, new brakes, drilled Rotor, rebuilt caliper and polished as well as Gold chain, new sprockets new battery and tender, solid state rectifier etc, new cables and grips, this is a fun machine and as John has had this bike since Brand New, I am sure he will have many many miles of smiles with the Cosmic cafe Racer we created for him.
Polished Valve cover and Gloss Black Jugs make this 750-4 stand out when you look at this 530 pounds of fun.  But check the other details and parts out that are from us.
How about the rear boxed swing arm? The new rear shocks? Our Yoshi style 4 into 1 exhaust that barks like a scolded dog. And the finned rear stabilizer bar that I try and put on many of my creations.
New fender as well as New Gold 530 X-Ring chain, new sprockets and all the outer cases polished to a chrome finish with Stainless Allen bolts on everything.
I even chromed the kick stand and used new Honda bolts and springs, the forks are rebuilt and polished and I hand drilled and polished the front Rotor, the brake caliper I stripped all the anodizing off and then polished to a chrome finish as well as honing the inside and new seal etc.  new brake pads and braided hoses set this baby off.
I even used Original Chromed gauge covers and New fork gators, caps and rubber mounts too, I loved building this bike as it was a total suprose to the owner of how much I was going to do.
And I hope you enjoyed the photos too?
Comments
comments