Front Brake Rotor Pro-Lite SOHC Honda CB750. Honda CB500 & Honda CB550 Models
SKU:

RotorE
Categories: Brake System Parts, Honda CB500, CB550, CB750 Parts & Upgrades, Special Items
Tags: 750-4, ace cafe, brake rotor, brat, Cafe Racer, cb500, cb550, cb750, classic, custom, EBC, honda, Honda Brake set up, Honda cb, honda four, inline four, rockers, sohc, tracker
BOLT-ON AND GO! EASY INSTALLATION

FORGED ALUMINUM LIGHTWEIGHT CENTER HUB

HIGH FRICTION STEEL ROTOR

STURDY RIVETED CONSTRUCTION

EXCELLENT UPGRADE OR REPLACEMENT ROTOR

A great addition to your CB750 & CB550

Dresses the front end up of your inline four Honda
Here we are then, I wanted to show you how these fit and they look pretty darn cool, we are using them from now one and as I am a dealer I shall now be selling these as a great product and you can now have no worries with worn out secondhand front Rotors.
This is such a great set up and am glad to be able to offer them to you lot, we love what we do here and to have an affordable brake Rotor that is Brand new is such a relief, as you don't want to be dealing with second hand ones that may be warped or worn out or just rusty, so sit back and have a look at ours that we are using and I am sure that you will agree, this is the way to go for your inline four motorcycle.
We are fitting this right now to a HONDA CB750K series that is a 1974 model and this fitted on the stock front hub as easy as could be and we used the stock bolts to make sure that the depth was indeed correct on the offset. But I had to use a different brake Caliper and Arm to allow for the slightly higher Rotor, else the Rotor will catch the caliper a little and scrape. A little fiddly on your own but I managed it and super happy at the outcome.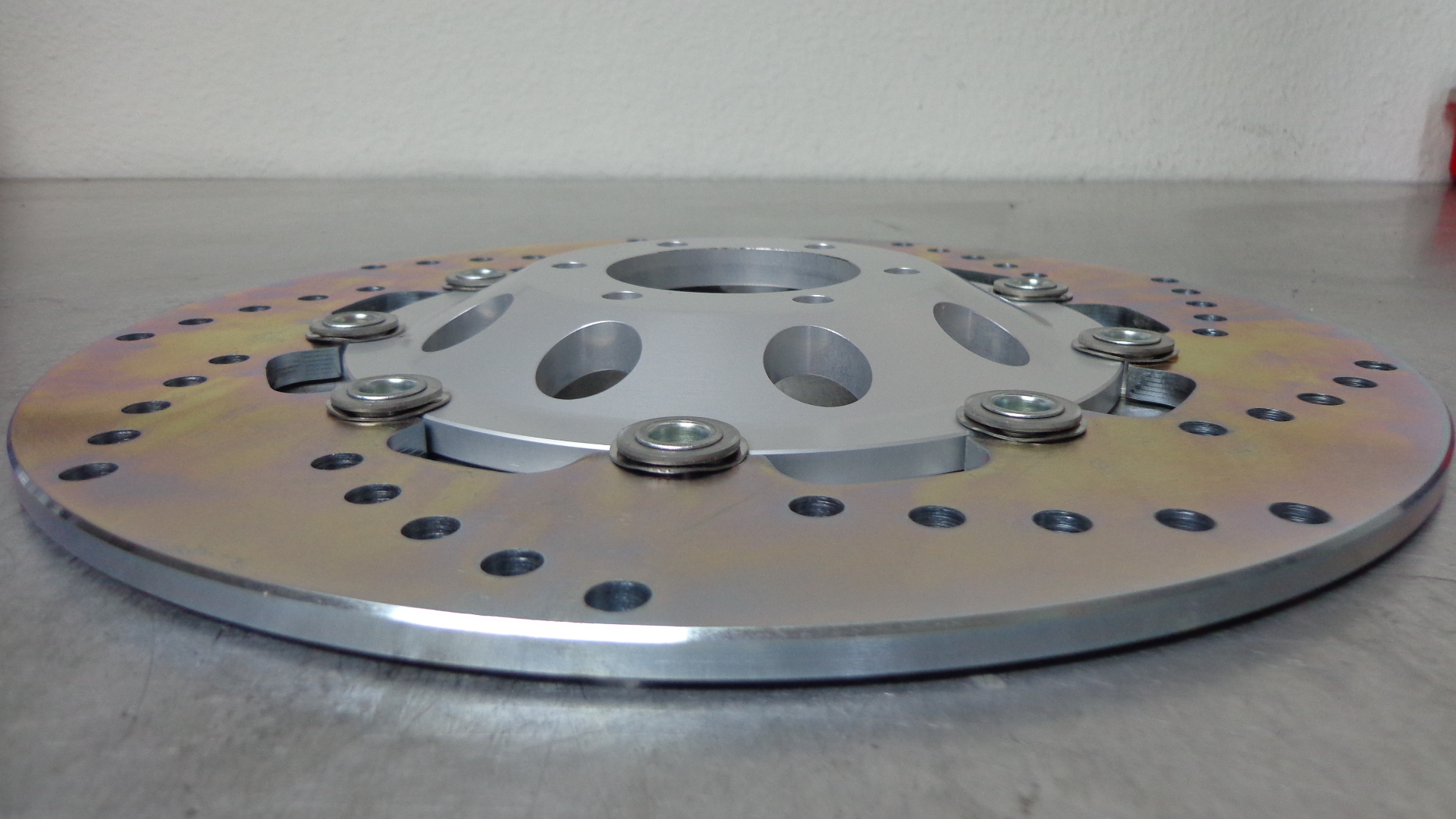 This is really good value for money as, at the end of the day, this is the thing that is going to bring you to a safe stop, original rotors are tired, soft and can be pitted.
I am happy to offer these to you and can ship out 6 days a week to anywhere all over the globe, we shall be using these on our machines from now on as the old ones are now hard to locate and even when you do, most are either warped, or they are past the tolerance to have faced off again.
Just look how cool that set up looks on this machine and you can see that this is the only way to go for your 500 pounder.
Also-this will fit your Honda S.O.H.C. model from 1969-1976 and that's the K model but will also for the CB750F Super Sort for the 75 and 76 model. We have fitted them to cb500 and CB550 models too.
So feel happy to know that we will look after you and have Quality parts for your motorcycle, we are hear 6 days a week and you can drop us some coinage on 714-598-8392 and we will do our very best to get you covered. call or TEXT for more info and YES- We ship Globally.
I  shall also be taking more photos of these fitted to more machines, that way you will have plenty of time to sit and decide if this is the way you want to go, but this really is the best bang for the buck.
A way better set up than the stock version and I am sure that you will agree it looks fantastic on the front end? The Kit below was fitted about 7 years ago and this is it today, still going.
These Calipers are now Black not polished, I can offer a Polished service but that's about $150 extra as its a lot of work and you can call or text me on that service 714-598-8392.
Comments
comments
| | |
| --- | --- |
| Weight | 7 lbs |
| Dimensions | 14 x 14 x 3 in |
| Options | Caliper Kit, New L/H Rotor, New L/H Rotor & Caliper Kit |
---