Exhaust System CB500 CB550 HONDA 4 into 1 Yoshi style
Raw, Ceramic Coated or Stainless Steel, these are all winners either way. Made right here in California. For CB500 & CB550 Fours.
CB500/550  4 Into 1′s Now Available
AVAILABLE IN STAINLESS, RAW STEEL OR CERAMIC COATED.
These are NOW available and ready to fit to your inline four machine, and boy do these look tasty!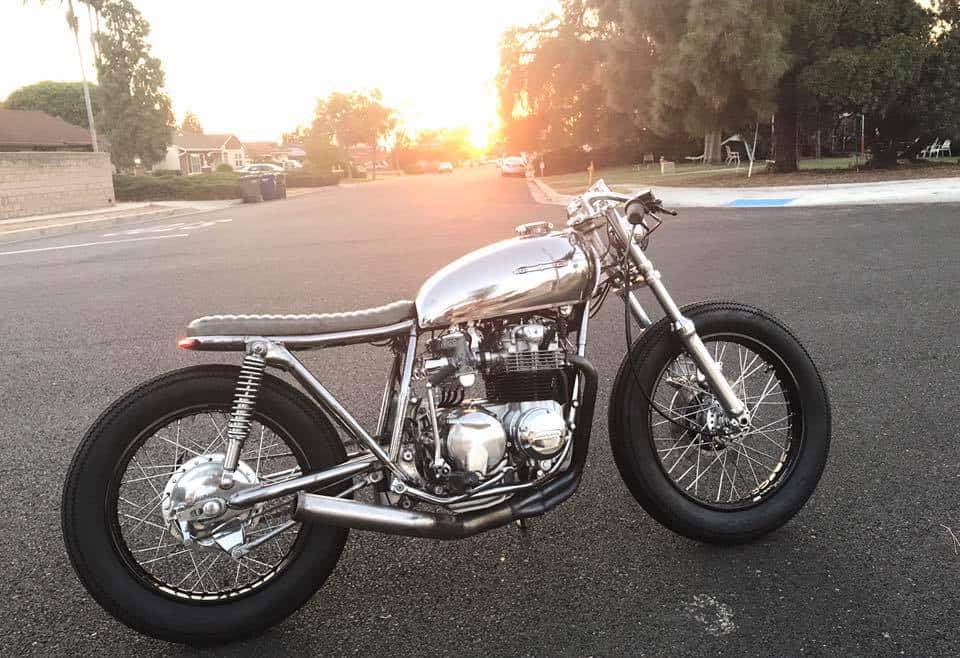 Not only do they look great, these will outlast your old 1970's ones, and give your bike a little more performance as they breathe so much smoother than the stock ones and the oversea's copies, these really do waken up your 500 and 550 Motorcycle.
If you want a cool set of these, then I will have these up on the website for you to simply click and purchase and then I shall whisk them off to you.  These are a 2 Piece set up, makes it a lot easier to fit on your own and also is way cheaper to ship in the mail to you. These come with a removable baffle too, so you really are all set on this exhaust system and you will be pleased with these.
Take a look and you make your mind up as I sell many exhaust systems now .
This one Below is a Raw steel that customer has run for a year and loves it, and it gets you noticed, comes with a removable and packable Baffle too.
A great price and -Made in America too, support real Motorcycles business and I also ship 6 days a week and have sold over 1000 of these units alone.

These come in a 21X16X16 box and we ship FED EX inside the lower 48 and the rest of the globe it goes USPS.
We also now make these with a cool Baffle thats in Raw or Nickel, the Nickel plated ones come with the Ceramic coated ones, the Raw go with the raw.
I am sure you will like the quality and the whole look for the price, as we try to be as fair as we can on these systems.  A very cool set up and we have just redesigned this and spent a month testing, to make sure that these do not foul the fender under braking and clears the frame etc.
Thanks for looking, we make these systems for Honda Fours and I love what I do, 18 years I have been doing this and its great to hear from Customers as to their parts as I have many repeat orders from people all over the globe. I get many great emails telling me about when the first fitted this system to their machine and fired it up.
If you need any help, just drop me a line at carpy@carpyscaferacers.com and I will get right on it. You can also Text to me at 714-598-8392 for a faster response too.
You can also TEXT me anytime to ask more questions on 714-598-8392 below is How they look ceramic Coated Black, but you have the options of these now.
Ceramic Black-Silver-Bronze and the New Titanium.
These make so much difference in sound and power with a nice smooth transition of gases to give to a linear Power band that many cannot produce.
These are a 2 piece system, cheaper to ship out to you and way easier to fit if you are on your own and the sound is bloody awesome, wake up your inline four today!
You can use it on a stock bike, a Brat, Cafe Racer, Custom, what ever, it fits well and sounds amazing and Made right here in California USA.
I ship Globally 6 days a week and help on the Customs paper work so you do not get hammered with Duty fee's, I have many repeat customers purchasing these systems.
And of course, we offer Stainless Steel for the ultimate in 4 into 1 systems for the HONDA CB500 and HONDA  CB550 models, not cheap but Quality all the way.
Or remove tail pipe and insert baffle into header, for that Aggressive look and snarlingly sound as you see on this wicked machine above.
Customer is just starting on this fine example of Custom work, its taking shape and will soon be ready for paint, stay tuned for more on this guys machine.
SO-if you need more information on this or ANY of my Parts, then drop me a line to carpy@carpyscaferacers.com or call or text me on 714-598-8392 I am here to help.
Thanks for looking and keep checking back for more great parts.
Offering Ceramic Coatings in Black- Silver-Bronze and New Titanium too, as well as raw steel in case you want to wrap it, so many cool choices and all here in one place.
Always here to help, we supply everything from bars to full builds, and over 20 years in Business, I strive to make sure that you are happy and give great after Sales Customer service too.
Comments
comments
| | |
| --- | --- |
| Weight | 13.00 lbs |
| Dimensions | 16 x 16 x 16 in |
---