Drag Pipes Chopper CB750 " El Diablo" SOHC
I have been contemplating making these for quite some time to be honest, and I thought that seeing as I had an old Santee frame with a set of Original Drag Pipes fitted to it, I would emulate these Nostalgic Custom systems and get them out to you lot. And Now I am getting orders, so, as soon as you get the Drag pipes and fit them to the Motor, I would love to see some photos and can share them on here for other people to see how cool these will look.
Now,  I have a few sets in Raw steel, but Now have Chrome available, and they take about 2 weeks from order, give or take a few days if the Chrome shop is busy. I really appreciate all the enthusiastic help and orders from Customers, remember, I make these right here, no Chinese crap here and Chromed just down the road where all the well known Exhaust companies go.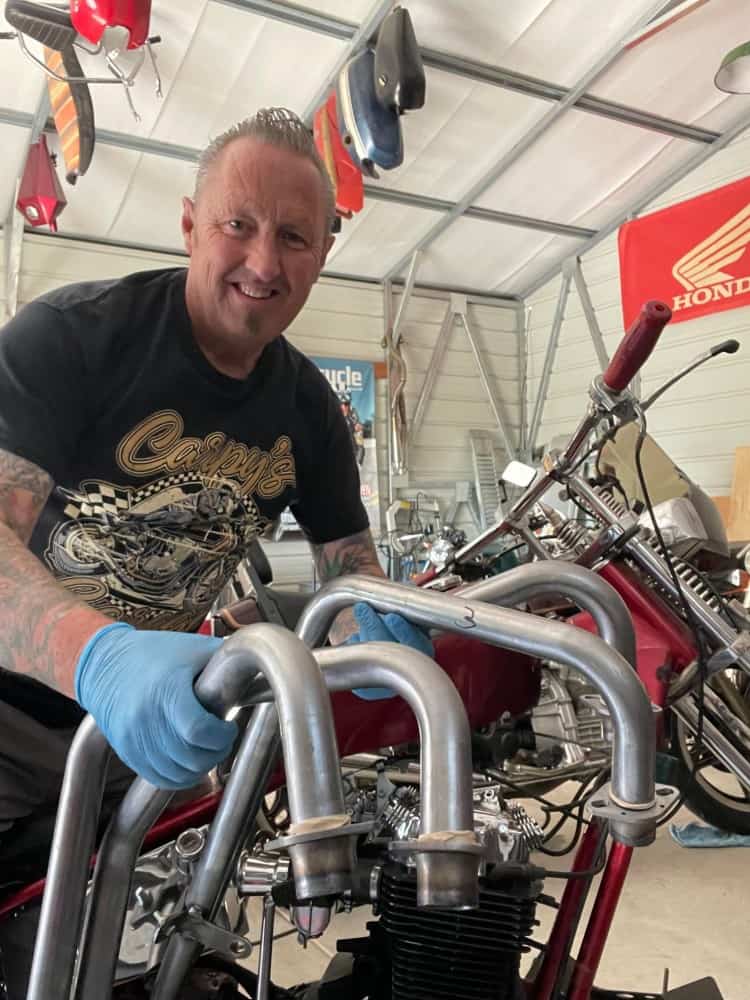 I will also have a few sets of stainless Steel and will polish those too and of course, once I know the price for Polishing, I will add them onto my site, but right now you can purchase the Raw steel versions if you like. The prices are not 100% on the Stainless or Chrome until next week as then I will have a true price, but the RAW STEEL systems are $380 plus shipping .And Chrome are $599 plus shipping.
As you can see, I now Have Chrome versions available, these take 2 weeks from ordering and are chromed and polished Locally.
The Chrome looks fantastic and I am really pleased with the end result, Custom Made Exhausts made right here and Not China, hope you dig these too?
I have added some pics I literally just took outside, these first ones already have been sold but I have a few sets that I will be chroming and if you can wait 2 weeks from ordering, then we are all set to go.
I will add more pics as and when I can, people asked me for a drag pipe system the same as the Old school ones and I used my original set off my Santee to make these.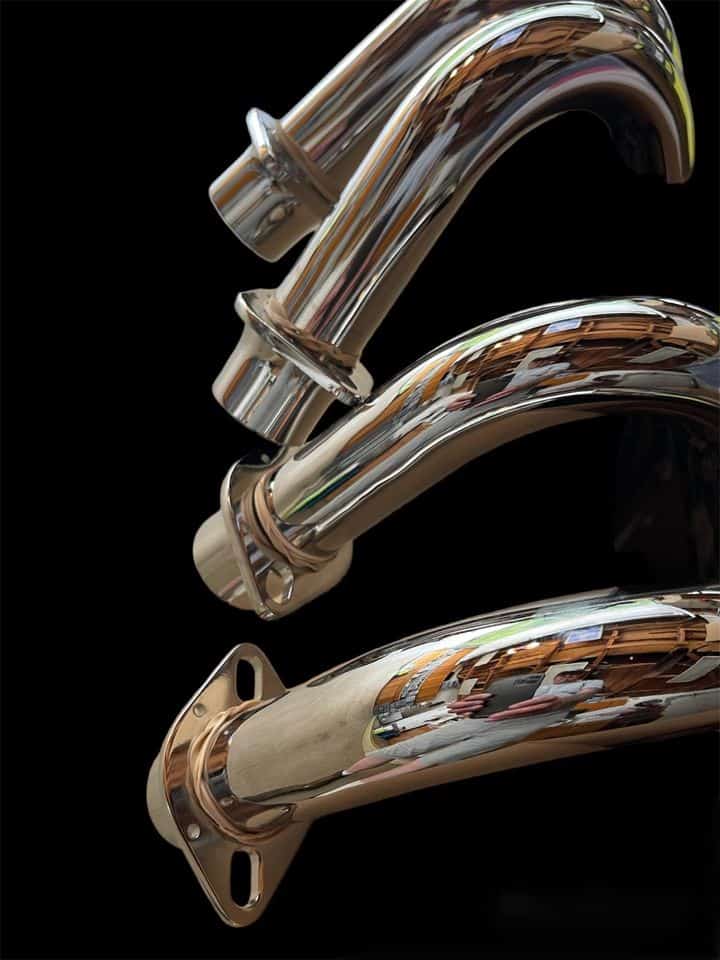 I hope to make many sets of these "El Diablo" Drag Pipes for all 1969-1978 Motors of the SOHC CB750 Variety.
Thank you for all your emails and enquiries and I am now ready to get these ready for you as soon as you put an order in on my website here.
These are 1'3/8 tubing thats 18 gauge and I wanted to emulate my original Drag pipes with my flare, these are a good looking set up and the pipes locate into the cylinder head a treat, no need for the old spigots, or those pesky half shims on the later models, simply bolt into the head or if you have studs already in the head, then simply align the floating flanges and slide these puppies home and tighten the stainless Flange nuts provided.
These "El Diablo" Drag pipes are super easy to fit and will slide into any 1969-1978 SOHC Honda CB750 Four Motor, these pipes exit along the frame and behind the foot pegs, a great look and these breathe very well, I hope to get a sound byte up at some point, as I know you will like to hear them.
I am very proud of these, made right here in California USA, no Chinese stuff here and all the things like Polishing or Chroming etc, is all Local family businesses, keeping America producing cool parts, many of you asked me about these systems so here they are for you to see and purchase if you so wish.
I am proud to offer these right now in Raw steel, and Chrome but  some of you may want to Ceramic coat them, of which I shall offer next month, or you may want to Chrome them your selves? I have these are available in raw steel and Polished Chrome, the ones you see on my personal bike are the first set and I was super happy the way they fitted. Now these are Clocked to fit to the motor and the rear brackets are for you to fit to the rear motor mount, and all 9 years of the CB750K and F SOHC Motors are the same dimensions.
These took me less than 10 minutes to fit to be honest, the only issue I can see you having on different chopper builds is the Rear bracket may need to be ben a little to allow for fitting tight to frame but an easy adjustment, these are exact copies of my Original Drag pipes from 1974, these are 1-3/8 and look so Custom once fitted.
I will of course add more photos when I chrome them, so you can see the difference and also the Stainless Steel versions shall be on here too, the choice will be up to you on the finish etc.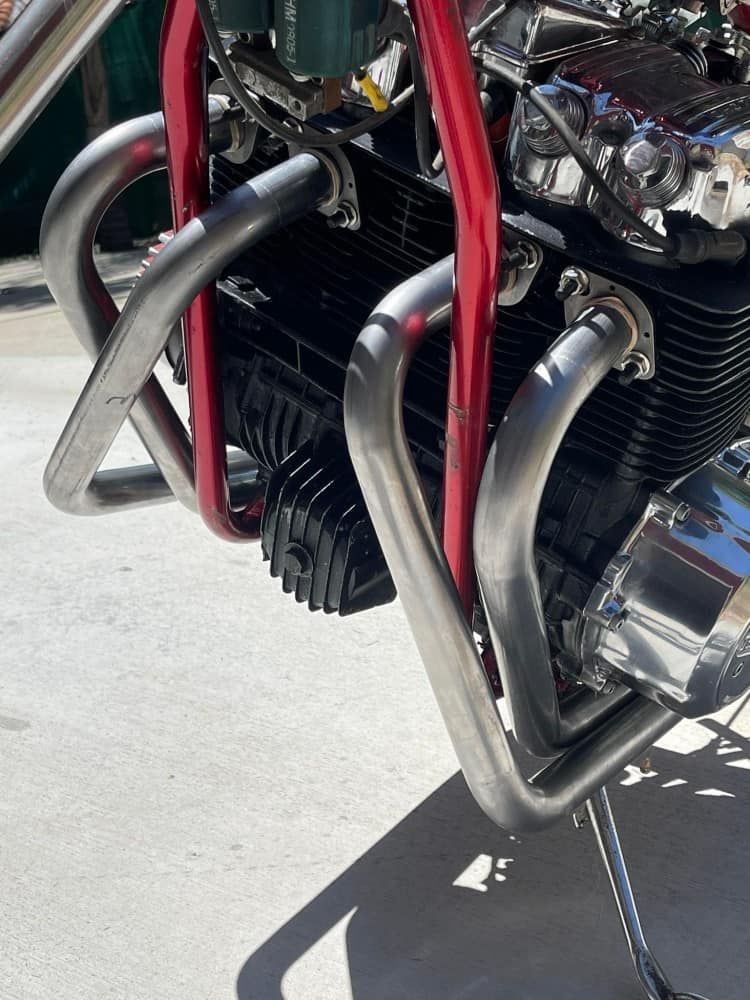 These Mandrel bent systems let the gases exit fast and let people know that you are around, they fit tight and look amazing and sure happy to at last feature the El Diablo Drag pipes on my website to you all.
You can email me questions at carpy@carpyscaferacers.com or carpysgarage@aol.com or even drop me a dime at 714-598-8392, if you want a faster reply, then simply text that number and I will get to you as soon as I pick up the phone, remember I am on the West Coast.
The perfect time to get back into your Custom ride, warmer weather is on its way, your old system may be looking tired or you have no system at all? I hope you like what I have created here? These "El Diablo" Drag Pipes are a great deal and a nice tight fit to your inline four Motorcycle.
I will take orders now, as I will have a set done every time somebody orders them but, they take 2 weeks to polish and chrome, as long as you are ok with that. Also I have had quotes from $00-$1600 to Chrome, I am trying to keep the quality but also make these still affordable for the Home Builder.
Thanks for looking and look forward to shipping these out to you,and you can soon be ripping around your neighborhood enjoying the velvet bark of these El Diablo Drag Pipes.
Here are a set that I just Ceramic coated, they look like Polished Aluminum and the advantage of that against Chrome is that the cerakote will not go Blue.
These really look like they are Chrome but it is Cerakote and a very hardy coating too.
Comments
comments
---