Bobbed Rear Fender for Honda CB750 -CB650 or CB500-CB550 SOHC
A quick and easy way to have that Custom look, with No welding.
This is my Bobbed rear fender, I have made this to fit many of my machines over the years and some people have even fitted these to their CB550 bikes. But This was made initially for the CB750 SOHC machines.
Many people think this is a steel fender but, infact it is a sturdy Fiberglass version that has been made to replicate a bobbed fender and it is now only 17 inches long and has the ribbed suage line all around the pice where many do not.
Below is a very cool ride with our fender on the back and it sure looks swell. These will fit a CB500 and 550 as I have not drilled holes in this 17 inch rear femder, simply fit between your chassis rails and then drill through the holes in the sides of your frame where the original fender fitted and then once fitted, bolt through your cross brace on the back of the frame.All done and all sturdy too.
Here we are, and have yet another cool product now available to you, the Cafe Racer builder. This is a great set up as its so much lighter than a stock old fender, it will also never rust too, you just paint what ever color you so wish.
Yep, if your old chrome one is as rusty as a light house exterior door, then its time for a change, and – what a better change than this set up. You can fit what ever rear tail light that you fancy and drill into the fender to apply, easy as that.
This is easy to fit and you will really like the shorter look and style of this, many stock fenders are too rusty to cut, shorten and dechrome, so i have simply saved you time and effort and you can just paint it and fit and off you go.
I have shipped allover the globe and still do 6 days a week to help you lot out. These really paint up well, this one you receive from me will be in Black gel coat and ready to paint.
Use what ever light you want, this makes the rear of the bike look a lot cooler now. I have sold maybe 1000 of this and only one person was not happy as it wasn't perfectly finished to fit, what can I tell you? if I did that, they would be $199.
But I have used many and they paint really well. So, no more welding and bashing and swearing, have a go with my stuff, it is the dogs wobblies mate
.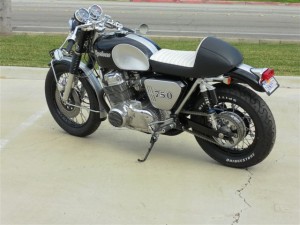 Thanks for looking you can text  or call me on 714-598-8392 if you need any more info.
So easy to fit and change the whole look of your machine. These make a great gift for your gear head aswell.
This Customer painted his Silver and you would think its a steel rear fender, such a great look.
Here to help, carpy@carpyscaferacers.com or 714-598-8392 call or text no problem.
Comments
comments
| | |
| --- | --- |
| Weight | 2.0 lbs |
| Dimensions | 12 × 12 × 12 in |
---