Seat HONDA CB750 Tuck N Roll – Cafe Racer CB750 HONDA 69-76 Models
New upholstered seats, complete and ready to mount.
SKU:

tuck n Roll seat
Categories: Honda CB500, CB550, CB750 Parts & Upgrades, Seats
Tags: 750-4, ace cafe, brat, Cafe Racer, cafe seat, carpys seat, cb550, cb750, cb750K, custom, Diamond Cafe Seat, honda, HONDA SEAT, inline four, metalflake, rockers, sohc, Ton Up, tuck n roll, vhrma
Fed up with your tired and worn out seat? If your Motorcycle seat is as bad as this customers and you want a New look, then take a peak below.
Change the look instantly by simply removing your old tore up seat base, use your hinges and bolt this brand new version into the frame and thats it.
Giulerri Style seat base is what I am producing now and with an array of original looking material from the 1960's that enhance this look and style of yesteryear. Also I do traditional white inserts and Red too.
Great comfort and styling that I have been making for 19 years now for the inline four Honda and still going strong.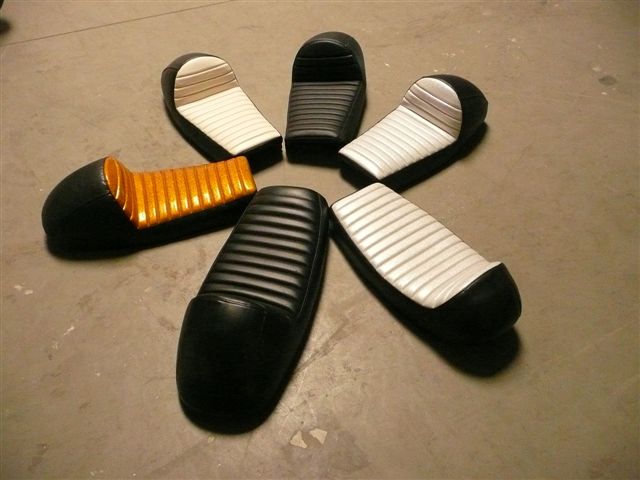 This will be available in all Black Tuck and Roll or I can try and get a color you like for your machine and go from scratch etc, another great color scheme is the Black with white insert and that is another cool way of showing your ride off.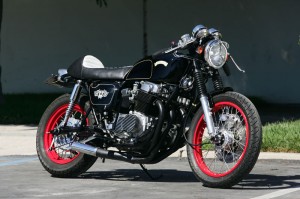 I have made many of these and I am sure that you will dig these for your own motorcycle, it makes yours stand out from the crowd.
I know that you will like the look, the feel and the styling, as many of you have asked me for a certain look and I have achieved that.
Now, this is for the CB750K model from 1969 to 1976 and that's the cb750K model. I also make these for 550 on my parts pages.
Soft memory foam gives you a most comfortable ride for all them miles of smiles, your Arse will thank you for this I guarantee it.
This comes with a New seat base that has metal inside the seat base, so you can attach your hinges and striker plate and that is it.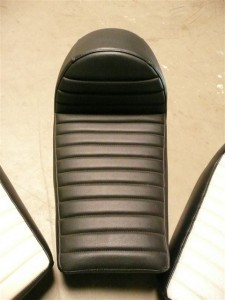 All you have to do is fit your hinges from your old tired seat base and screw them to the new base, and then you are ready to ride, simple as that.
I ship 6 days a week and use a 30x12x12 sturdy box to make sure you receive it is great condition.
We have sold many all across the globe and people really like them.
So, treat yourself today, you will be glad that you made the transition as these are comfortable.
Makes your bike more individual, you can choose the style you like, be it tuck n roll or diamond etc.
Call me if you need more help or even text me on the same number. 714-598-8392
Comments
comments
| | |
| --- | --- |
| Weight | 6 lbs |
| Dimensions | 30 x 12 x 12 in |
| Finish | Black Insert, Red Insert, White Insert |
---