Signal Mini Bullet BLACK LED Turn Signal/Brake light (ONE PAIR)
What a cracking little set up these Mini Signal/Brake lights are if you are looking for some stealthy turn signals that are amber and use the rears for signals and brake light in red, this may be just up your alley. Affordable and unique in that the way they can not be noticed at all when fitted onto your motorcycle, until you turn the power on and then they will let other people know that you are turning or braking.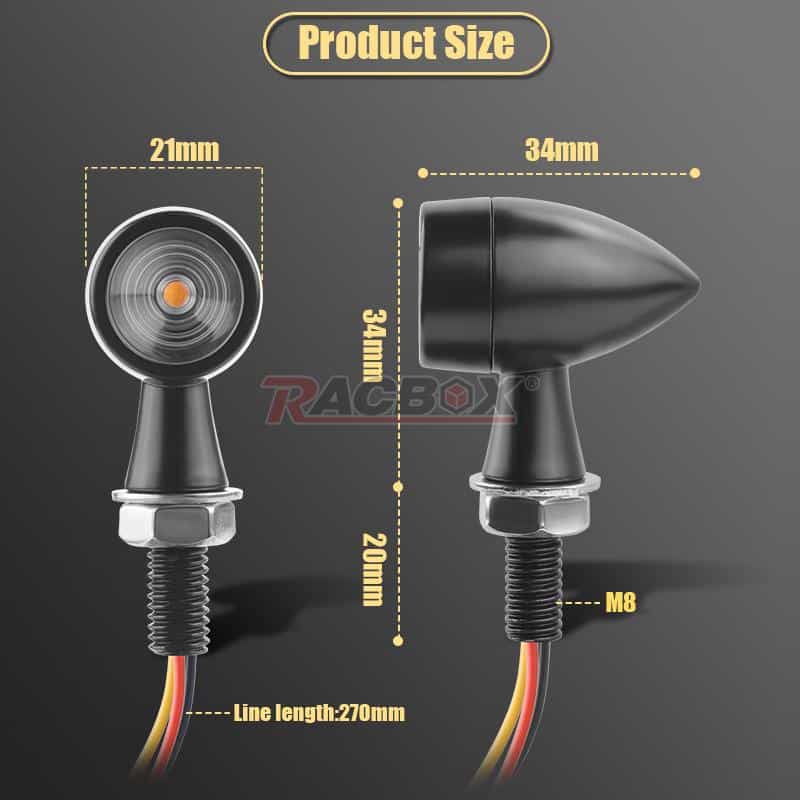 This Little beasties are as Bright as Einstein and compact, if you really want to hide your signals but soon as you turn them on, you will get seen, these are great value for money.
I have sold quite a few of these already, they are sturdy as heck and made of Aluminum, they are stumpy yet when activated, this puppys are bright and I know that these are a neat Custom accessory to your Motorcycle.
So simple to wire into your harness, you will be back on the road in minutes, No plastic bodies here like so many, these are alloy and more robust than you think, these mini Signals are great for any Custom application and being 12volt LED  they do not draw much power from your battery.
I ship Globally and 6 days a week, some of your motorcycles may need an inline resistor if when you fit these, they flash real fast, a common thing with LED and available most places or electrical shop or I can supply you too.
Have a look and see what you think, you will be surprised when you receive them, they are a great stealthy set up and I will be suing them on a project I am working on and will of course feature it on my website.
These are available now and will ship in a Small Priority Mail Box to make sure these are wrapped well, have a look and see what you think, a great set up for not much money.
These are prices as a set and that means ONE PAIR.
Comments
comments
| | |
| --- | --- |
| Weight | 0.3 lbs |
| Dimensions | 3 × 2 × 2 in |
---