Torpedo Seat for HONDA CB750 CB650 CB550 CB500 with LED Tailight
Custom Seat Base with LED Round tail light. 27″ Long 8 1/4″ at front and 9.5″ by hump, a Classic look.
2 in stock
Well, people ask me about my seat designs quite a lot and this time I wanted to make a seat base that will plop over a HONDA frame, but you must grind off any old tabs or locks etc, this can be bolted through the brace bar behind the battery. If you have a old worn out seat such as the one Below, then you have come to the right place for a New Custom seat base I have created called the Torpedo.
The seat base is sturdy and has a good flow with the stock Gas tank, to give it a great Custom look, the other good thing about this is it has a frenched 3 inch recess in the back of the hump that houses a Round LED tail light, thats a brake light too, so is bright and Custom looking.
About 26 inches long and comes in a Black gel coat, that way you can finish in what ever color you require, I think snaps would look cool on this set up as you can then put your documents under the foam, as I do with some of my other designs.
I shall be upholstering one soon and of course will add photos, the one you see here is my prototype I started and now have the mold made and already sold one to a chap for his CB750K model SOHC Honda.  BELOW: Here it is in Black Gel Coat, the one on the bike is the prototype I made for the mold, but in Black is how it will arrive and its a cracking Cool seat Base.
This is a strong seat base with a 3 inch recess for a round tail light set up, I offer a LED tail light for this on the website that plops right into that area.
A touch of Nostalgia is what you see and made and designed by me, I ship all over the world and I know that you will be happy with this, I will supply hardware too, so you can drill and fit to your frame and the hardware will be in Stainless Steel so they will never rust.
Supplying the World for over 18 years, and I enjoy what I do, if you need any more information you can simply drop me a few lines carpy@carpyscaferacers.com or failing that and you need a faster response, you can text or call me on 714-598-8392.
The seat base will fit many Honda's, the 500 up to the SOHC 750 and will check if it fits the DOHC soon too.
The hump is hollow so you could make a bracket and hide your battery and electronics behind it if you so wish. its smooth and Aerodynamic too.
Thanks for taking time to check this Torpedo seat base out, I really like it and hope that you do too? This is going to a great set up for many machines.
Over 18 years supplying the industry with seats and parts here in California, love what I do, please support real businesses.
Below is how You will receive the Torpedo seat base, it will be all in Black Gloss gel Coat, use as is or simply wet n Dry and paint, easy as that and looks so smooth.
Just drops over your stock frame, just remove any tabs that are sticking from outside the chassis and thats it, bolt into frame across the brace by battery box.
Just about 8 1/4 up front of the seat base pan, this fits right up to the gas tank and rests on top of your chassis really well indeed.
9 and one half inches wide at the rear by where the humps starts, perfect for the CB bikes and I made this on a CB750 so know it fits.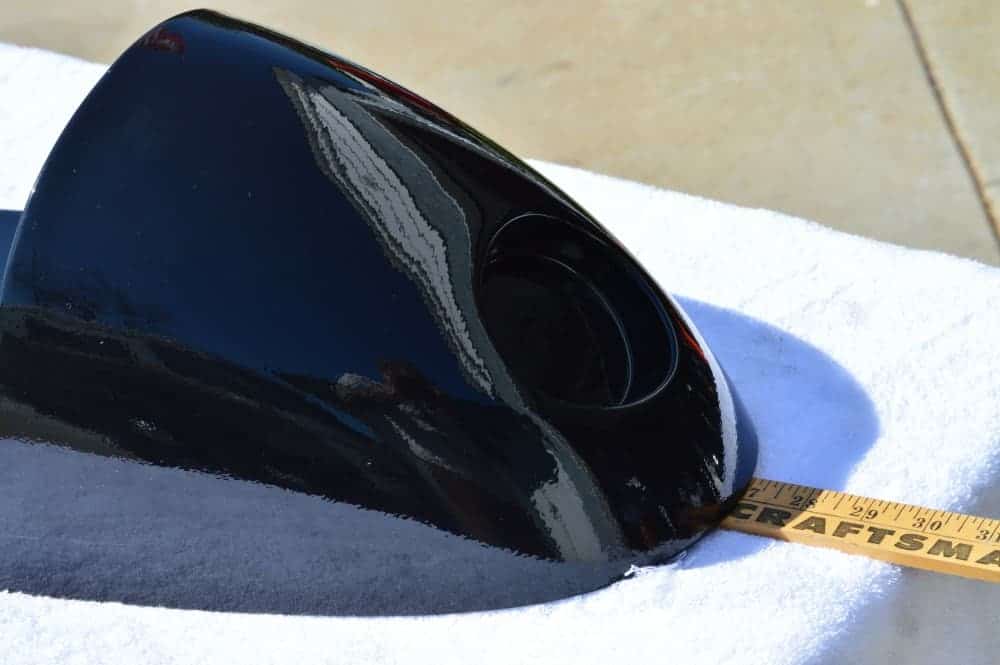 Look at this, 27 inches long, if you want you can simply cut right across the front to shorten the seat base to a more aggressive style in just a few minutes.
This has a 3 inch Round recesses to allow for Our custom tail light, we do supply this  Classic Chrome 3 inch Round stop Tail light thats LED and is Brighter than a Harvard Graduate.
So there you go, a hand made seat base from me and me only and universally available to fit your machines.
I pack in a 30X12X12 box and ship world wide, I also tick the Gift box to help you with no Duty charges.
Comments
comments
| | |
| --- | --- |
| Weight | 7.0 lbs |
| Dimensions | 26 x 9 x 6 in |
---