7/8 Gel Grips Pumpkin 5 inch
Really comfortable Gel-Rubber Grips for ALL 7/8 Handle Bars and Clip ons.
People are always asking me about New products and the recommendation on something that I have really enjoyed or taken to and these gel grips are a super comfortable yet good wearing addition to your handlebars, be it a Cafe Racer, a Brat style machine, to a Dual sport or Cruiser, these "Pumpkin" Gel grips are a good deal and I really liked they way they fitted on my 7/8 Bars.
So, I thought I would now offer these to you and let you share the same experience as I do with the parts that I personally use on some of my Motorcycles.
These are 5 inches in Length and are a closed end grip that fits snug to your handlebars or Clip on's, they are made of a super flexible Gel Rubber and great Value for Money.
I usually just put these on a set of bars using WD 40, but if you look at the double flanged 2-1/4 ends, you will know that these have a deep recess for you to use safety wire of you so wish.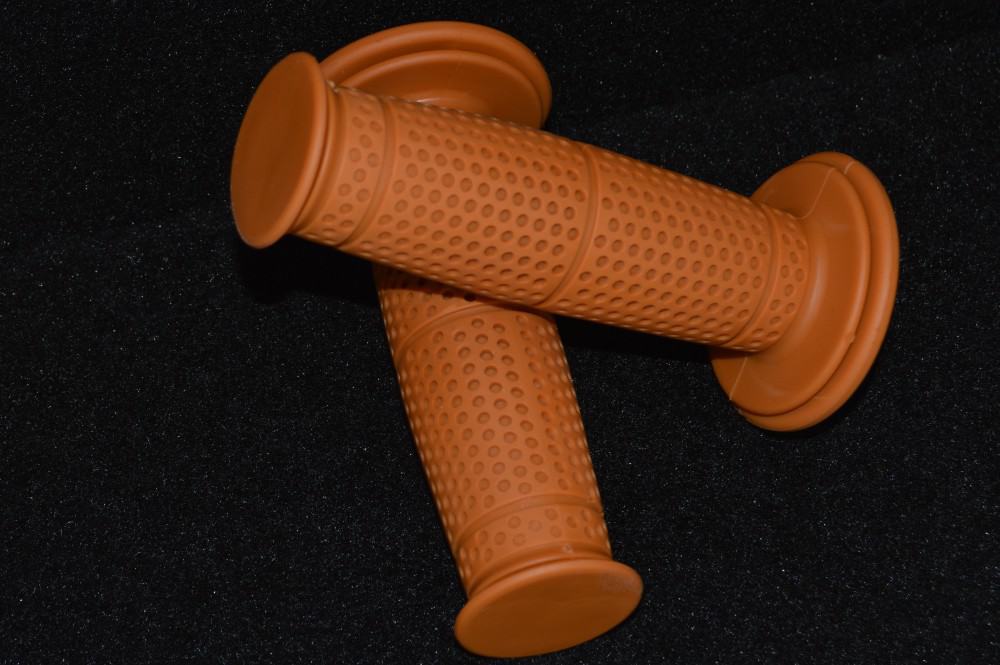 Affordable and available through me, I have other colors on their way too, but right now these Pumpkin grips are now available for dispatch to you.
Treat your handlebars and your hands to these Custom Gel-Rubber 5 inch long Grips for your 7/8 bars.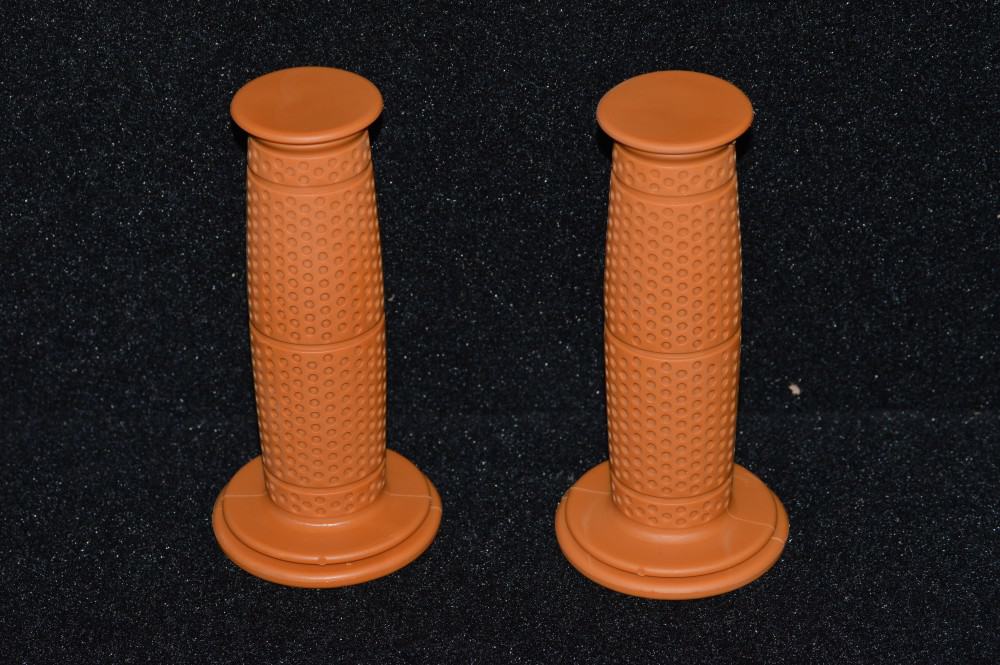 Below are just some of the Motorcycle that these will fit, take a look on the chart to see if yours are there.
Honda CB1000C 1983
Honda CB1100F 1983
Honda CB350 1972
Honda CB350 Super Sport 1968 – 1973
Honda CB350F 1974
Honda CB350F Four 1972 – 1973
Honda CB350G Super Sport Disc Brakes 1973
Honda CB450 1968 – 1974
Honda CB450 Super Sport 1965 – 1974
Honda CB500 1971 – 1979
Honda CB500 Four 1971 – 1973
Honda CB500T 1975
Honda CB500T Twin DOHC 1976
Honda CB550 Four 1973 – 1974
Honda CB550F Super Sport 1975 – 1977
Honda CB550K 1975 – 1978
Honda CB550K — 1977
Honda CB650 1979 – 1982
Honda CB650C Custom 1980 – 1981
Honda CB750 Diecast Engine 1969
Honda CB750 Four 1970 – 1974
Honda CB750 Sandcast Engine 1969
Honda CB750A Hondamatic 1976 – 1978
Honda CB750C Custom 1980 – 1982
Honda CB750F Super Sport 1975 – 1982
Honda CB750K 750 Four 1975 – 1982
Honda CB750L Limited Edition 1979
Honda CB77 1961
Honda CB900C Custom 1980 – 1982
Honda CB900F Super Sport 1981 – 1982
Honda CB92 1959
Honda CB92 Trail 50 1961
Honda Rebel 250 CMX250C 1986 – 2015
Honda Rebel 250 CMX250C 49 State 1985
Honda Rebel 250 CMX250CD Limited 1986
Honda Rebel 250 CMX250CL California 1985
Honda Rebel 300 CMX300 2017
Honda Rebel 300 CMX300 ABS 2017
Honda Rebel 450 CMX450C 1987
Honda Rebel 450 CMX450C 49 State 1986
Honda Rebel 450 CMX450CL California 1986
Honda Rebel 500 CMX500 2017
Honda Rebel 500 CMX500 ABS 2017
Honda Tourist Trophy 500 GB500 49 State 1989 – 1990
Honda Tourist Trophy 500 GB500L California 1989 – 1990

Triumph Adventurer Trophy Trail TR5T 1973 – 1975
Triumph Bonneville 2001 – 2015
Triumph Bonneville 50 2009
Triumph Bonneville 650 (US) 1971
Triumph Bonneville 650 4 Speed T120R 1972
Triumph Bonneville 650 5 Speed T120RV 1972 – 1974
Triumph Bonneville 650 Competition T120C 1963 – 1965
Triumph Bonneville 650 Police 1966
Triumph Bonneville 650 T120 1960 – 1970
Triumph Bonneville 650 T120R 1961 – 1973
Triumph Bonneville 650 T120RV 1974 – 1975
Triumph Bonneville 650 TT Special T120 1964 – 1967
Triumph Bonneville 650 Thruxton T120 1965
Triumph Bonneville 750 5 Speed T140RV 1974
Triumph Bonneville 750 5 Speed T140V 1973
Triumph Bonneville 750 5 Speed TR140V 1978
Triumph Bonneville 750 America 1979
Triumph Bonneville 750 ES T140ES 1982
Triumph Bonneville 750 Electro T140ES 1980 – 1981
Triumph Bonneville 750 Executive T140 1980 – 1982
Triumph Bonneville 750 Executive T140ES 1983
Triumph Bonneville 750 Final Edition 1981
Triumph Bonneville 750 Harris 1983
Triumph Bonneville 750 Royal T140LE 1981 – 1982
Triumph Bonneville 750 Silver Jubilee T140J 1977
Triumph Bonneville 750 Special T140D 1979 – 1981
Triumph Bonneville 750 Super Jubilee 1977
Triumph Bonneville 750 T120RT 1970
Triumph Bonneville 750 T140E 1978 – 1982
Triumph Bonneville 750 T140RV 1973 – 1975
Triumph Bonneville 750 T140V 1976 – 1977
Triumph Bonneville America 2002 – 2003
Triumph Bonneville Black 2004 – 2009
Triumph Bonneville Bobber 2017
Triumph Bonneville Golden Jubilee 2002
Triumph Bonneville Harris 1984 – 1989
Triumph Bonneville Newchurch SE 2014
Triumph Bonneville SE 2008 – 2013
Triumph Bonneville SE 2-Tone 2010
Triumph Bonneville Steve McQueen 2012 – 2013
Triumph Bonneville T100 2002 – 2017
Triumph Bonneville T100 110th Anniversary 2012
Triumph Bonneville T100 1960 Anniversary Edition 2010 – 2011
Triumph Bonneville T100 Anniversary Edition 2013
Triumph Bonneville T100 Black 2010 – 2017
Triumph Bonneville T100 SE 2014
Triumph Bonneville T120 2016 – 2017
Triumph Bonneville T120 Black 2016 – 2017
Triumph Bonneville T214 SE 2015
Triumph Bonneville TSS 750 Eight Valve T140TSS 1982 – 1983
Triumph Bonneville TSX 750 T140TSX 1982 – 1983
Triumph Thruxton 1200 R 2016
Triumph Thruxton 900 2004 – 2016
Triumph Thruxton 900 Special Edition 2010
Triumph Thruxton Ace Special Edition 2015
Triumph Thruxton SE 2011
Triumph Trophy 1200 1995 – 2003
Triumph Trophy 250 TR25W 1968 – 1970
Triumph Trophy 3 900 1996
Triumph Trophy 4 1200 1996
Triumph Trophy 500 T100C 1966 – 1973
Triumph Trophy 650 4 Speed TR6C 1972
Triumph Trophy 650 5 Speed TR6CV 1972 – 1973
Triumph Trophy 650 5 Speed TR6RV 1972 – 1973
Triumph Trophy 650 TR6 1960 – 1970
Triumph Trophy 650 TR6C 1966 – 1973
Triumph Trophy 650 TR6R 1966 – 1973
Triumph Trophy 650 TR6SC 1964 – 1966
Triumph Trophy 650 TR6SR 1964 – 1966

Moto Guzzi 750 S3 1975 – 1976
Moto Guzzi 750 Sport 1975 – 1976
Moto Guzzi 850 T Twin 844 1974 – 1975
Moto Guzzi 850 T3 Twin 844 1975 – 1982
Moto Guzzi 850 T4 Twin 844 1980 – 1983
Moto Guzzi 850 T5 Twin 844 1983 – 1985
Moto Guzzi Breva 750 2007 – 2008
Moto Guzzi Breva V750 IE 2003 – 2006
Moto Guzzi California V850 1972 – 1974
Moto Guzzi Eldorado 850 GT Twin 844 1972 – 1974
Moto Guzzi LeMans I 850 Twin 844 1976 – 1978
Moto Guzzi LeMans II 850 Twin 844 1978 – 1981
Moto Guzzi LeMans III 850 Twin 844 1982 – 1984
Moto Guzzi LeMans IV 850 Twin 844 1985
Moto Guzzi Nevada Classic 750 2007 – 2008
Moto Guzzi Nevada Classic 750 IE 2004 – 2006
Moto Guzzi V7 750 Ambassador 757 1969 – 1972
Moto Guzzi V7 750 Special Twin 757 1969 – 1974

Kawasaki 1000 CSR KZ1000M 1981 – 1982
Kawasaki 1000 LTD KZ1000A 1977 – 1978
Kawasaki 1000 LTD KZ1000B 1977 – 1980
Kawasaki 1000 LTD KZ1000K 1981 – 1982
Kawasaki 1100 LTD KZ1100L Shaft 1983
Kawasaki 1100 LTD ZN1100B Shaft 1984 – 1985
Kawasaki 250 CSR KZ250D 1981
Kawasaki 250 CSR KZ250L Belt 1982
Kawasaki 250 LTD KZ250D 1980
Kawasaki 250 LTD KZ250W Belt 1983
Kawasaki 305 CSR KZ305A 1981 – 1982
Kawasaki 305 CSR KZ305B Belt 1982
Kawasaki 305 LTD KZ305B 1987 – 1988
Kawasaki 400 LTD KZ400H 1979
Kawasaki 440 LTD KZ440A 1980 – 1983
Kawasaki 440 LTD KZ440D Belt 1980 – 1983
Kawasaki 454 LTD EN450A 1985 – 1990
Kawasaki 550 LTD KZ550C 1980 – 1983
Kawasaki 550 LTD KZ550F Shaft 1984
Kawasaki 550 LTD KZ550M Shaft 1983
Kawasaki 650 CSR KZ650H 1981 – 1983
Kawasaki 650 LTD KZ650E 1980
Kawasaki 700 LTD ZN700A Shaft 1984 – 1985
Kawasaki 750 CSR KZ750M 1982
Kawasaki 750 LTD KZ750F Shaft 1983
Kawasaki 750 LTD KZ750G 1980
Kawasaki 750 LTD KZ750H 1980 – 1983
Kawasaki 750 LTD KZ750K Belt 1983 – 1984
Kawasaki GPz1100 KZ1100B 1981 – 1982
Kawasaki GPz1100 ZX1100 1997
Kawasaki GPz1100 ZX1100A 1983 – 1984
Kawasaki GPz1100 ZX1100E 1994 – 1996
Kawasaki GPz1100 ZX1100F ABS 1996
Kawasaki GPz305 EX305B Belt 1983
Kawasaki GPz550 KZ550D 1981
Kawasaki GPz550 KZ550H 1982 – 1983
Kawasaki GPz550 ZX550A 1984 – 1985
Kawasaki GPz750 ZX750A 1982 – 1985
Kawasaki GPz750 ZX750E Turbo 1984 – 1985
Kawasaki KZ1000 Lawson 1982 – 1983
Kawasaki KZ1000A 1977 – 1983
Kawasaki KZ1000A MKII 1978 – 1980
Kawasaki KZ1000C Police 1978 – 1981
Kawasaki KZ1000D Z1R 1977 – 1980
Kawasaki KZ1000E 1979
Kawasaki KZ1000E Shaft 1980
Kawasaki KZ1000G Classic 1980
Kawasaki KZ1000J Sports 1982
Kawasaki KZ1000P Police 1982 – 2005
Kawasaki KZ1000R Replica 1982 – 1983
Kawasaki KZ1100A Shaft 1981 – 1983
Kawasaki KZ1100A Sports Shaft 1982
Kawasaki KZ1100D Spectre 1983
Kawasaki KZ1100D Spectre Shaft 1982
Kawasaki KZ1100J Standard 1981
Kawasaki KZ1100M 1981
Kawasaki KZ1300A 1979 – 1981
Kawasaki KZ1300A Sports 1982
Kawasaki KZ1300B 1980
Kawasaki KZ200A 1977 – 1979
Kawasaki KZ400 1974
Kawasaki KZ400A Deluxe 1977 – 1978
Kawasaki KZ400B 1978 – 1979
Kawasaki KZ400C 1978
Kawasaki KZ400D 1975 – 1977
Kawasaki KZ400S Special 1975 – 1977
Kawasaki KZ440B 1980
Kawasaki KZ440B Standard 1981
Kawasaki KZ440G Sports Belt 1982
Kawasaki KZ550A 1980
Kawasaki KZ550A Sports 1982 – 1983
Kawasaki KZ550A Standard 1981
Kawasaki KZ550F Spectre 1983
Kawasaki KZ650B Z650 1977 – 1979
Kawasaki KZ650C Custom 1977 – 1979
Kawasaki KZ650D SR 1978 – 1979
Kawasaki KZ650F 1980
Kawasaki KZ700 1985
Kawasaki KZ700A Sports 1984
Kawasaki KZ750 1975
Kawasaki KZ750B 1976 – 1979
Kawasaki KZ750E 1980
Kawasaki KZ750E Sports 1982
Kawasaki KZ750E Standard 1981
Kawasaki KZ750L Sports 1983
Kawasaki KZ750N Spectre 1983
Kawasaki KZ750N Spectre Sh

Suzuki GS1000 1978 – 1979
Suzuki GS1000C 1978 – 1979
Suzuki GS1000E 1980
Suzuki GS1000EC 1978 – 1979
Suzuki GS1000EN 1978 – 1979
Suzuki GS1000G 1980 – 1981
Suzuki GS1000GL 1980 – 1981
Suzuki GS1000L 1979
Suzuki GS1000N 1978 – 1979
Suzuki GS1000S 1979 – 1982
Suzuki GS1100E 1980 – 1983
Suzuki GS1100ES 1982 – 1983
Suzuki GS1100G Cruiser 1982 – 1983
Suzuki GS1100GK 1982 – 1983
Suzuki GS1100GK Tourer 1984
Suzuki GS1100GL 1982 – 1983
Suzuki GS1100LT 1980
Suzuki GS1100S 1983
Suzuki GS1150 1984 – 1985
Suzuki GS1150EF 1984 – 1986
Suzuki GS1150EF2 1984 – 1986
Suzuki GS1150EG 1984 – 1986
Suzuki GS1150ES3 1984 – 1986
Suzuki GS1150ESE 1984 – 1986
Suzuki GS1150ESF 1984 – 1986
Suzuki GS1150ESG 1984 – 1986
Suzuki GS150R 2015
Suzuki GS250T 1980 – 1981
Suzuki GS300L 1982 – 1985
Suzuki GS400 1977 – 1978
Suzuki GS400X 1977 – 1978
Suzuki GS425 1979
Suzuki GS425E 1979
Suzuki GS425L 1979
Suzuki GS450E 1983
Suzuki GS450ET 1980 – 1982
Suzuki GS450EX 1980 – 1982
Suzuki GS450EZ 1980 – 1982
Suzuki GS450GA Suzukimatic 1982 – 1985
Suzuki GS450L 1980 – 1988
Suzuki GS450ST 1980 – 1982
Suzuki GS450SX 1980 – 1982
Suzuki GS450T 1981 – 1982
Suzuki GS450TX 1981 – 1983
Suzuki GS500 2001 – 2002
Suzuki GS500E 1989 – 2000
Suzuki GS500F 2004 – 2009
Suzuki GS550 1977 – 1980
Suzuki GS550 Indy 1972 – 1977
Suzuki GS550E 1977 – 1983
Suzuki GS550EF 1983 – 1986
Suzuki GS550ES 1983
Suzuki GS550ES3 1983 – 1986
Suzuki GS550ESE 1983 – 1986
Suzuki GS550ESF 1983 – 1986
Suzuki GS550ESG 1983 – 1986
Suzuki GS550L 1979 – 1986
Suzuki GS550M 1982
Suzuki GS550T 1981
Suzuki GS650E 1981 – 1982
Suzuki GS650G 1981 – 1983
Suzuki GS650GL 1981 – 1983
Suzuki GS650M 1983
Suzuki GS700E 1985
Suzuki GS700ES 1985
Suzuki GS750 1977 – 1979
Suzuki GS750B 1977 – 1979
Suzuki GS750C 1977 – 1979
Suzuki GS750E 1980 – 1983
Suzuki GS750EC 1977 – 1979
Suzuki GS750EN 1977 – 1979
Suzuki GS750ES 1983
Suzuki GS750L 1979 – 1981
Suzuki GS750N 1977 – 1979
Suzuki GS750S 1983
Suzuki GS750T 1982 – 1983
Suzuki GS850G 1979 – 1983
Suzuki GS850GL 1980 – 1984
Suzuki GS850GT Tourer 1980
Suzuki GS850GX Tourer 1981
Suzuki GSX1100G 1991 – 1993
Suzuki GSX1250FA ABS 2011 – 2012
Suzuki GSX250R 2018
Suzuki GSXS1000 2016 – 2017
Suzuki GSXS1000 ABS 2016 – 2018
Suzuki GSXS1000F ABS 2016 – 2018
Suzuki GSXS1000Z 2018
Suzuki GSXS750 2015 – 2018
Suzuki GSXS750Z 2015 – 2018

Yamaha Midnight Virago 750 XV750M 1983
Yamaha Midnight Virago 920 XV920M 1983
Yamaha RD125 1975 – 1976
Yamaha RD200 1974 – 1976
Yamaha RD250 1974 – 1975
Yamaha RD250 Street Series 250 1973
Yamaha RD350 1974 – 1975
Yamaha RD350 Street Series 350 1973
Yamaha RD400 1976 – 1978
Yamaha RD400 Daytona Special 1979
Yamaha RD60 1974 – 1975
Yamaha RD60 Street Series 60 1973
Yamaha SR400 2015 – 2017
Yamaha SR500 1978 – 1981
Yamaha SRX250 1987
Yamaha SRX600 1986
Yamaha Virago 1000 XV1000 1984 – 1985
Yamaha Virago 1100 XV1100 1986 – 1999
Yamaha Virago 1100 XV1100S Special 1996 – 1998
Yamaha Virago 250 XV250 1995 – 2007
Yamaha Virago 500 XV500 1983 – 1984
Yamaha Virago 535 XV535 1987 – 2000
Yamaha Virago 535S XV535S 1994 – 1997
Yamaha Virago 550 XV550 1983
Yamaha Virago 700 XV700 1984 – 1987
Yamaha Virago 750 XV750 1981 – 1997
Yamaha Virago 920 XV920 1981 – 1983
Yamaha XS1 Twin 650 1970 – 1971
Yamaha XS1100 1978 – 1981
Yamaha XS1100 Venturer 1981
Yamaha XS1100L Midnight Special 1980 – 1981
Yamaha XS1100S Special 1979 – 1981
Yamaha XS2 Street Twin 650 1972
Yamaha XS360 1976 – 1977
Yamaha XS360-2 1977
Yamaha XS400 1977 – 1981
Yamaha XS400 Maxim 1982 – 1983
Yamaha XS400-2 1978 – 1979
Yamaha XS400R Seca 1982 – 1983
Yamaha XS400S Heritage Special 1982
Yamaha XS400S Special 1980 – 1981
Yamaha XS500 1975 – 1978
Yamaha XS550 1981
Yamaha XS650 1975 – 1981
Yamaha XS650 Twin 1976
Yamaha XS650S Heritage 1982
Yamaha XS650S Heritage Special 1983
Yamaha XS650S Special 1978 – 1983
Yamaha XS650S2 Special II 1979
Yamaha XS750 1977 – 1979
Yamaha XS750-2 Triple 1977
Yamaha XS750S 1978 – 1979
Yamaha XS850 1980
Yamaha XS850 Venturer 1981
Yamaha XS850L Midnight Special 1980 – 1981
Yamaha XS850S Special 1980 – 1981
Yamaha XSR900 2017
Yamaha XSR900 ABS 2016
Yamaha YSR50 1987 – 1992
Comments
comments
| | |
| --- | --- |
| Weight | 0.6 lbs |
| Dimensions | 5 × 3 × 2 in |
---