Braided Oil Lines CB750K 1969-1976 HONDA SOHC BLACK or SILVER
A CHOICE OF BRAIDED BLACK OR SILVER HOSES, SIMPLY FIT YOUR ORIGINAL ENDS, FITS 69-76 CB750K
These ones are for the 1969 to 1976 CB750 K models but I am selling them for the Super sport on another page just for that model, so check on that if you have a CB750F as these ones will be too short for the F model. To fit these to your Machine, SIMPLY REMOVE YOUR ORIGINAL END FITTINGS from your worn out Hoses, and push fit them into the ends of the New Hoses, then simply tighten Clamp with screw driver and you are done.
We have sold over 1000 of these and they are a great look, we offer SILVER or Black, the Black is still braided steel with a cool Vintage Cloth material over the top but its the same as the Silver one underneath that sheath cover.
 We have made our own hoses for over 18 years now and we have sent these all over the globe, the ones that I supply are stainless braided hoses, on this page these are for stainless silver with Silver ends, or Black with Silver ends, the Black are a little cheaper than the Silver by about $10 a pair.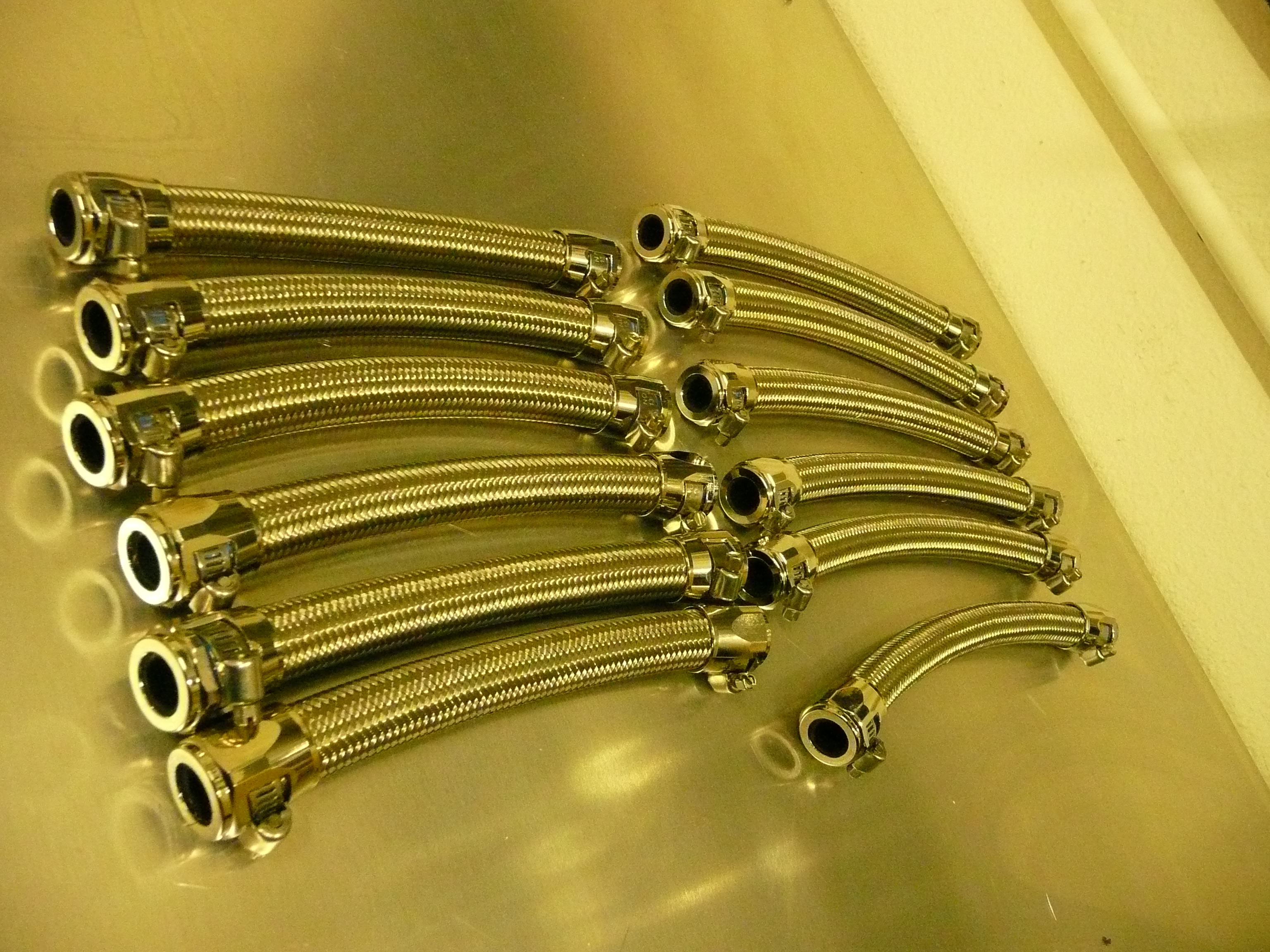 Just cut the crimped band on your old hoses and then pull the alloy barbed ends out and simply push fit to our hoses, once you have these in, push the hoses in place on the bike, remembering to make sure you have your O-Ring on the motor end and the alloy crush washer inside the top end, then fit and tighten the screw and you are done.
I have done so many of these over the years and I love the way they look and of course function,have a look.
These are always an added Bonus to your machine as the old hoses rot out and the quickest way to seize your engine is to have one of those original hoses let go and you will lose oil so fast it will be gone faster than cheap gas at ESSO.
 I use these on all our rides and have done for many many years, these really dress the engine side up of the bike really well.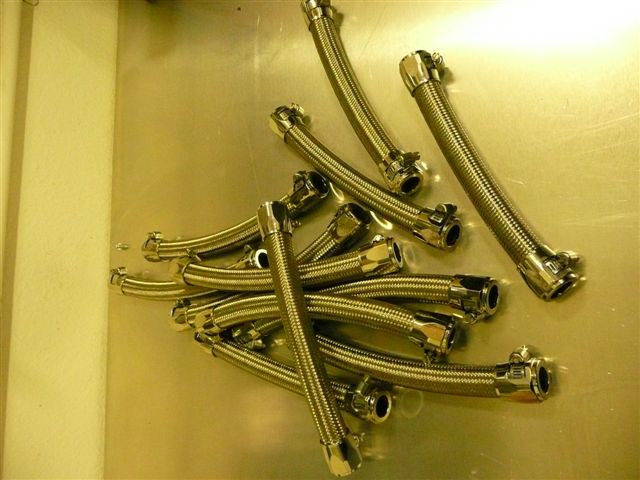 I cut down an old crescent wrench so that I am able to get to the nut under the oil tank, else a standard wrench wont fit as the frame will catch it.
I have sold over 500 of these sets over the years and continue to do so. we Have Black or Silver braided and high Quality Hoses too.
People have purchased from us for many years and all over the Globe and we love to hear from you as you send us photos of the products on your bike.
 So treat your self to a set and of course your machine as that is where they get all the oil-grim and dirt on the original ones and look untidy.
We try and help the best we can and sure hope you like what we do here in La Mirada, we are a one stop shop and always great to hear from you all.
 Have a look and see what you think, we love using them on our machines as the original ones just fall apart.
 We have many more cool parts for your ride, so be sure to check all the website and of course we ship all over the globe and 6 days a week too.
These are really great quality and Aircraft quality all the way and the best bang for your hard earned buck!!!
 Plus these are really affordable and you wont have to lose your shirt to pay for them too, Plus These are Made in the USA.
Just cut your old Barbed ends off your worn out lines and push fit the fittings into our clamps, fit to blke and tighten clamps and you are done, so easy.
 If you are building a Cafe Racer, Chopper, Brat or a Classic looking ride, then look no further as we have done these here in California since Feb 2000.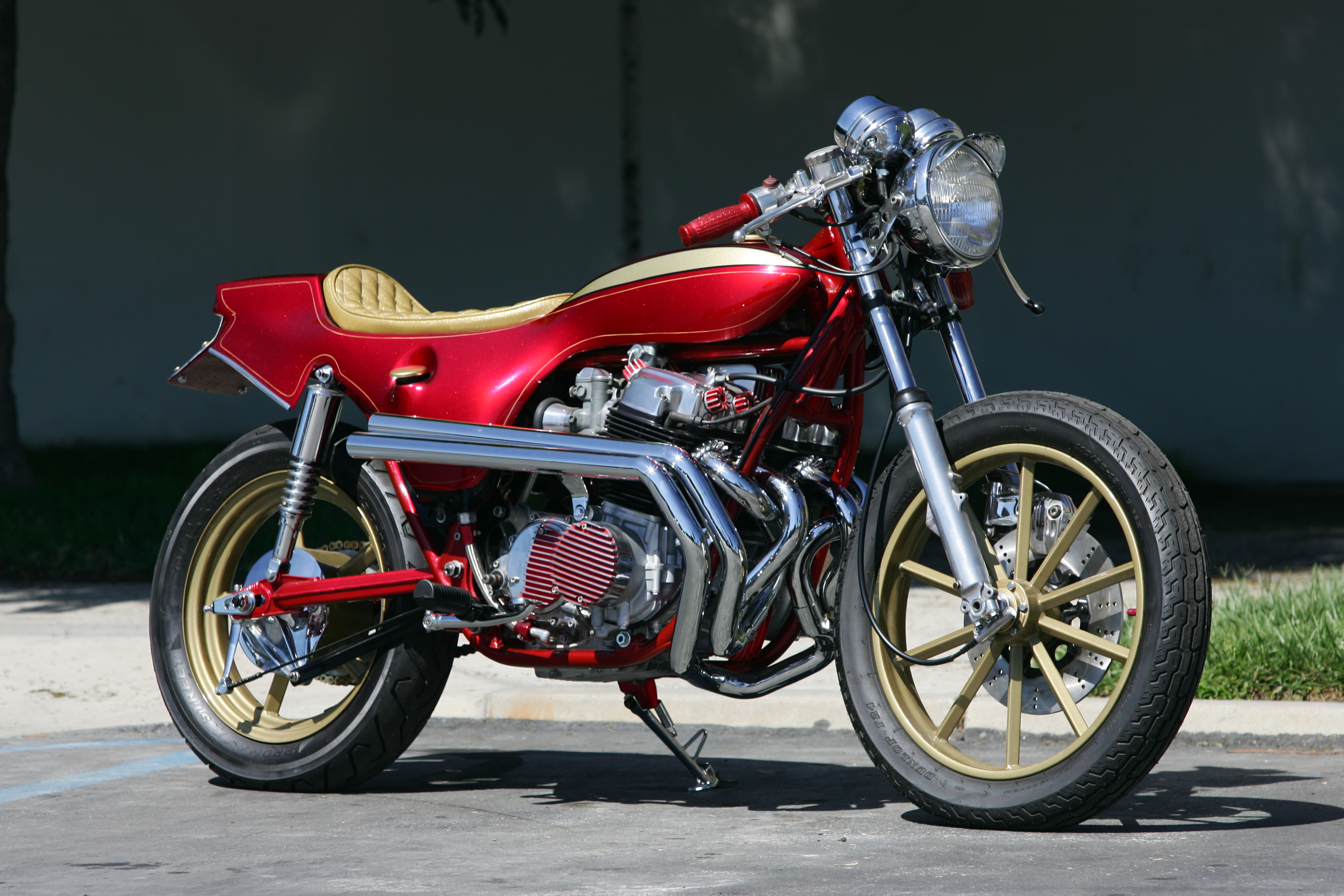 We were the FIRST to do these 18 years ago and still going strong to this day and continue to make new parts for these machines.

So have a look and see if  this is the set up that you have been looking for, we are here to help you so always drop us a line.
Keep checking back on the website as we have more and more parts all the while I am adding, and we combine too and save you on shipping as well.
Below is a Black set we also make and will have them on our parts page too, just check the down drop box to chose the color.
We ship internationally and help with all the Custom forms, that way you dont get hammered on any Duty like many companies fail to do.
Here is another BLACK set below on this K2 CB750 Honda SOHC Model.
They fit and look great and many people compliment them all the time.
So if you are stuck with badly leaking oi Hoses, you can use your stock  and fit them into these a refit, then refill with oil and you are all set to head back out on the road.
Comments
comments
| | |
| --- | --- |
| Weight | 1 lbs |
| Dimensions | 9 x 5 x 3 in |
| Color | Black, Silver |
---