CONTINENTAL GT SPEEDSTER CUSTOM SEAT ASSEMBLY
A Classic New Seat assembly with or without Upholstery
Well, if you have that little Red Rocket that you blap around on, you will notice that the seat is a little short for the bike, so- what I have done is design a brand New one that simply Bolts to your frame and is fitted easily in a few minutes and wired ready to attach to your stock harness.
This seat is made from a strong woven Glass fiber and hand laid in a mold, this is made to really strong standards and I have used mine as the prototype to test etc. over the last 4 months.
This seat base is going to come upholstered but I am going to also offer it as a plain seat base, so that way you have a option on pricing etc.
You still have to paint it, but I thought that having it made with Red resin would help big time and I am sure that you are doing to be happy with the way this seat not only looks, but functions .
I will of course ship all over the globe as I do send quite a few parts to India now and getting good reviews. Here is MY own bike at El Mirage Dry lake with My seat of over 3 years now.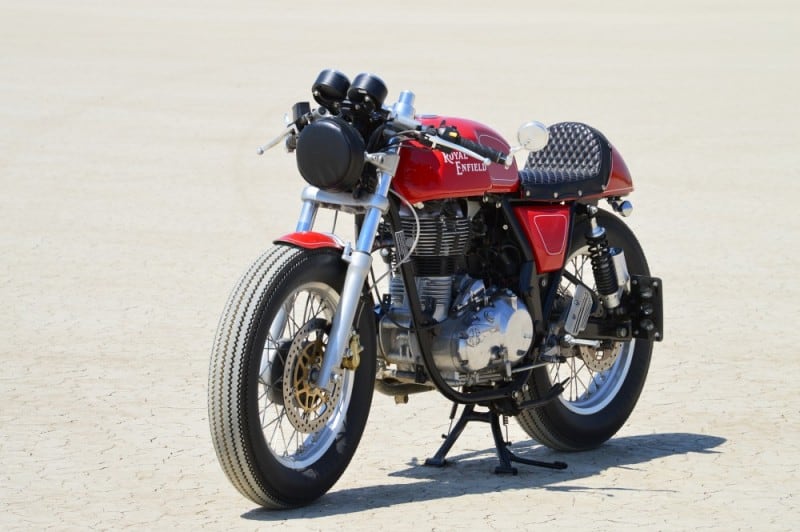 I make a Frenched rear tail light in this unit and it is a dual light set up, a stop light and a running light.
But also I am going to offer another seat that is just smooth with no light, in case you are running a shock mounted set up or your own custom rear light.
I have had many good comments on this and what I like about the set up is it actually is comfortable and gives you a way better riding stance than the Original version.
The cover is hand sewn with Traditional Diamond stitching and polished snap studs for that Café Racer styling that was back on the day.
The good thing about the snaps is that you can at least place your registration under the foam and keep it safe, but easy to get to if you get a tug from the long arm of the law.
Take a look at some of the photos I have taken of my Own GT, then you will see how cool this looks on the real McCoy, as I am super stoked at the end result.
This is of sturdy construction and I know that you will like the lines of this product on your Royal Enfield, as I took a long time to get this just how I wanted it and it certainly shows.
The 3.5 inch round light assembly that I supply is actually a great L.E.D. set up and Brighter than a Harvard graduate, and easy to wire, just three wires to connect to your harness.
I hope you like what I have made and I am going to be manufacturing a few more different styles, that way you all have a good choice and I will always test fit and use mine before I sell it.
This gets shipped in a 30X12X12 box and I send all over the globe 6 days a week, I also pack it well too and help on the customs forms for people outside the USA as I do not want you to have big tax duty bills.
The seat  base is a easy installation and now comes with a bracket to Bolt on and so simple to put together and will be fitted in less than 5 minutes.
The seat base will be in a GLOSS RED gel coat, the one you see here I have painted High Gloss red, but you can paint it what ever color you like.
It gets a lot of looks and questions and sure is comfortable than the stock one, I also store my documents under the seat cover too.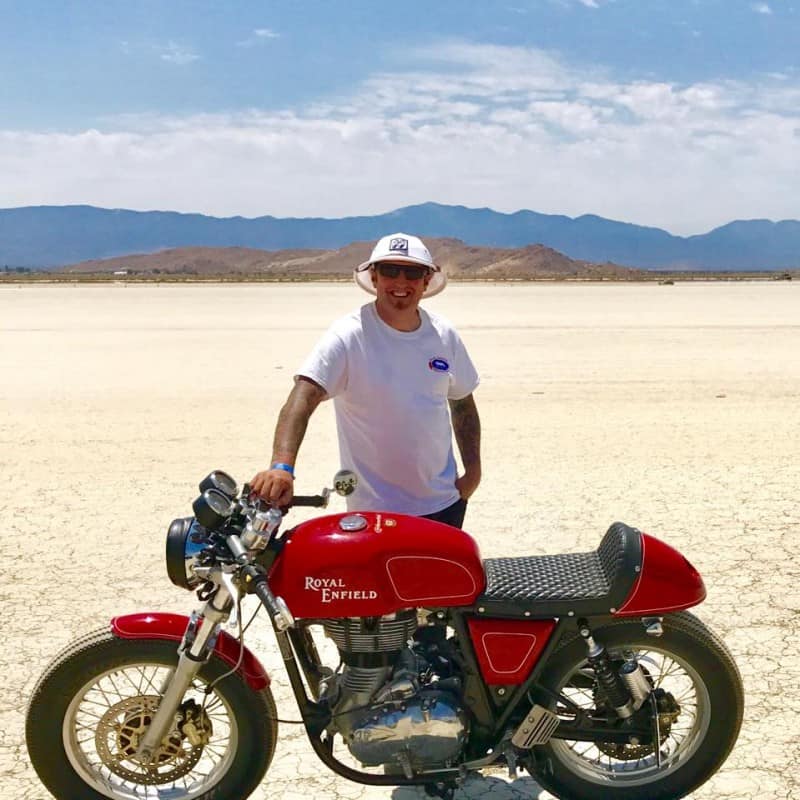 If you have a GT and want a longer seat that makes the bike look so much better, this is the way to go, refined and you would think this was a factory set up.
I took a long time to make sure this was right and I love how this fits and looks and I have used mine for 3 YEARS with no Issues at all.
This fits on your machine in less than 5 minutes, I have taken all the hard work out of it. Just have a peek at this, I am sure that you will enjoy this seat assembly from me.
See what you think, I can also change the stitching to any color or even in Tuck and Roll, I am here to help, text me on 714-598-8392 and I shall reply.
The Three inch LED rear light functions as a Stop light and a Running light, very Bright, be seen and be safe and with this set up you will be noticed when you tap the back brake.
I use mine a lot and I have had many compliments, this is MY design and I am very proud of it, if you would like a Speedster seat, grab one from the shopping cart, i ship 6 days a week to all over the globe and help on Customs forms so No duty to pay.
As you can see, I offer RED stitching or White etc and can change the outer trim to Black, White or Silver or Gold, you just let me know.
I am very proud of my Speedster seat and hope that you like it too?
This will enhance your machine and you are sure to get many looks and thumbs up with this cafe set up and Recessed Tail light assembly.
So-have a long look and see what you think and this makes the perfect gift for the gear-head in your family who owns a Continental GT.
Thanks for looking and have fun on that Royal Enfield Continental GT.
Comments
comments
| | |
| --- | --- |
| Weight | 5.0 lbs |
| Dimensions | 20 × 10 × 10 in |
---