Exhaust 4 into 1 CB750 SOHC Yoshimura style
The very best in performance and value for money- Also- Made in the USA!
Below you will see my Fantastic SOHC 4 into 1 Yoshi style performance exhaust system, this is by far the best value for money and the sound is right back from the 1970's when these bikes ruled the world.  I have sold over 1000 of these to people all over the Globe and customers come back for more.
AVAILABLE IN RAW STEEL, CERAMIC COATED BLACK or SILVER, and Now Ceramic Burnt Bronze or Custom hand made STAINLESS STEEL.
THESE are Now a 2 Piece- that makes it way easier to fit and to ship too.
Just listen to this exhaust, This CB750 had not run in 20 years, I fitted my Raw steel 4 into 1 exhaust system to her, changed fluids and added battery and she kicked into life, boy is this pipe Crisp.
TURN UP YOUR VOLUME!!!!!
I have sent these from as far as Russia to Iceland and always amazes me where customers find me, but good parts will get noticed and mine get noticed for sure.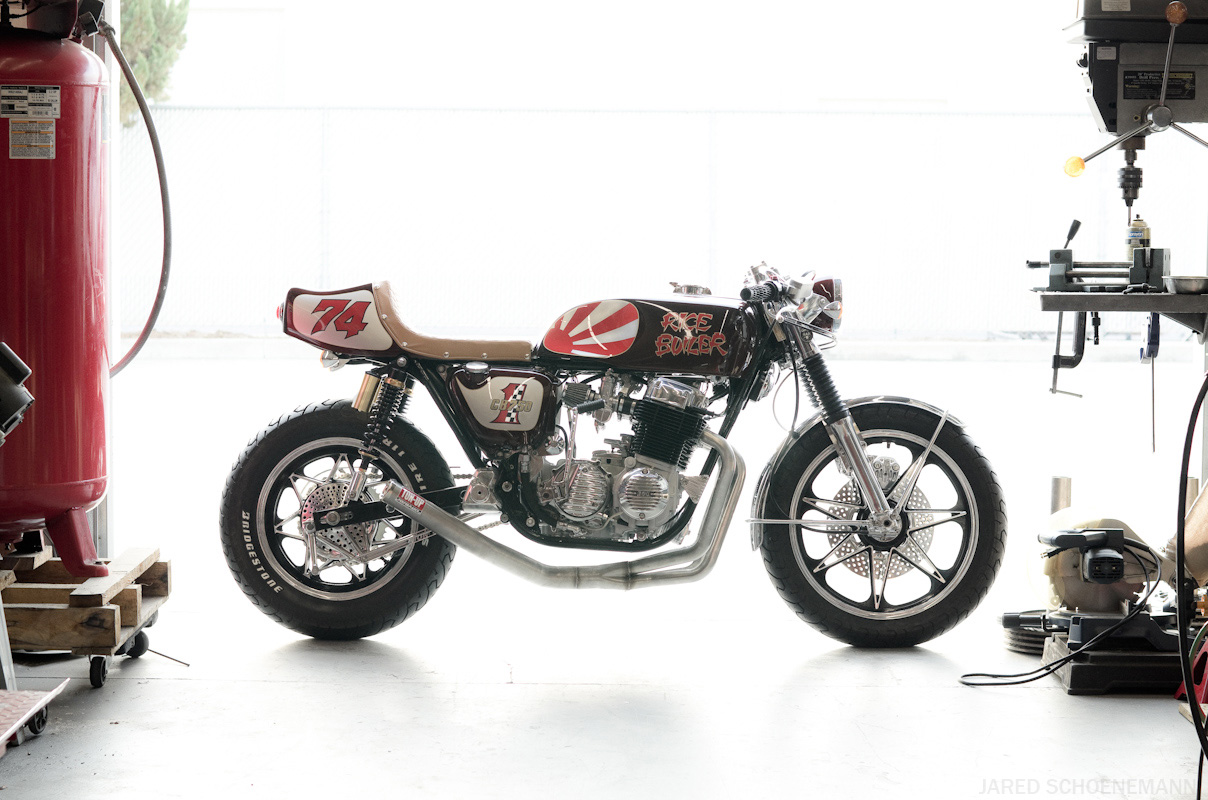 If you want something that screams Nostalgia, then stop right here and have a look at the photos and see if this set up is for you and your inline Four.  many have tried to copy but to be honest they just miss the mark and most of them are not int Motorcycles as such and just trying to make a quick buck.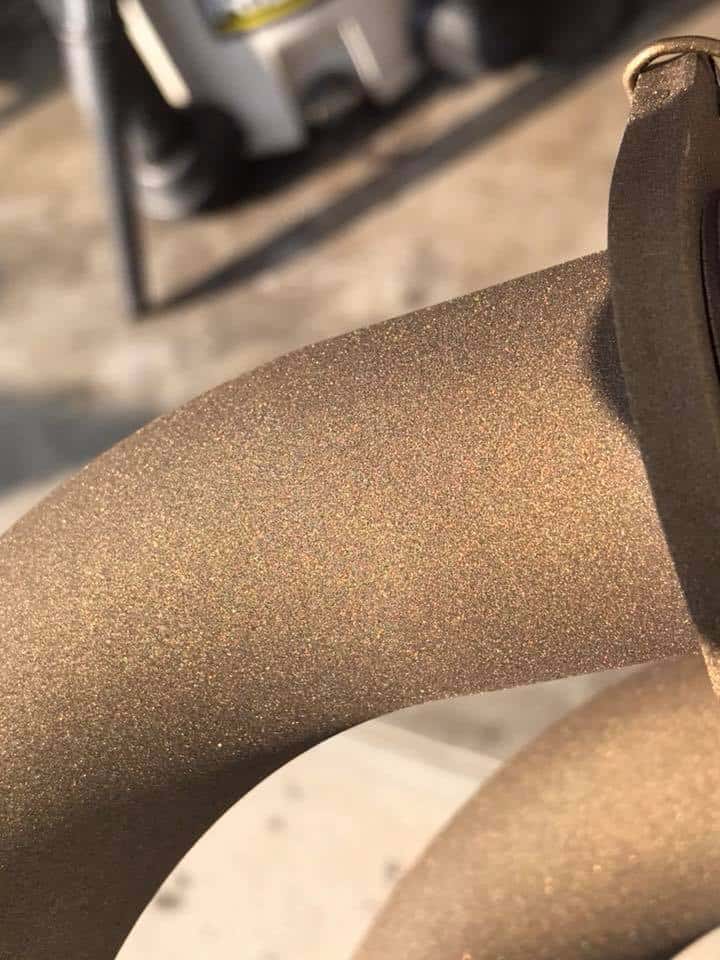 Ours are built by Pro's now and all jigged and these will perform and sound bloody marvelous and I continue to sell these all the year round and repeat buyers I may add too.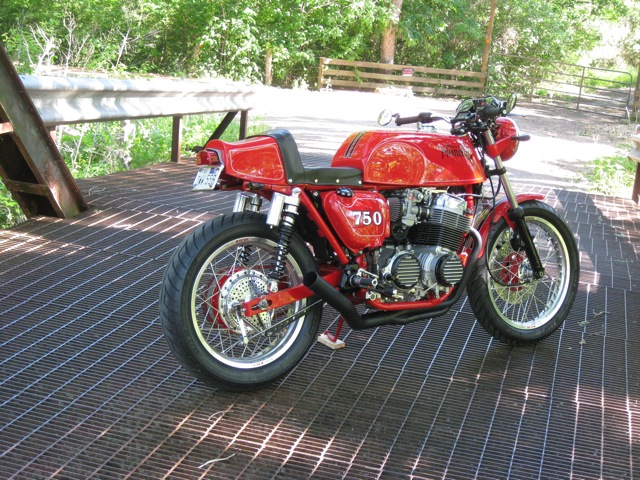 These are raw steel but on this web page, you can order these Raw, or have the option of ceramic Coated in Black, Silver, Or Burnt Bronze and they look tasty in any guise or color.
I have been designing and selling Motorcycle parts here in the USA for over 18 years now and love what I do, not many people have the Passion and the drive that I have always kept, I look after you and help the best way I can.
If you are looking for a top class, specially created exhaust for your 750 Honda 1969-1978 S.O.H.C. then you have found it.
These exhausts are a replica of my Original old Yoshimura system that I used as the template a this sounds awesome.
The Bike above I created and shipped to the Customer in Seoul- Korea and he loves the machine.
These are a 2 Piece exhaust system and that makes it easier to fit and cheaper to ship as well.
These will fit CB750K and CB750F  SOHC models.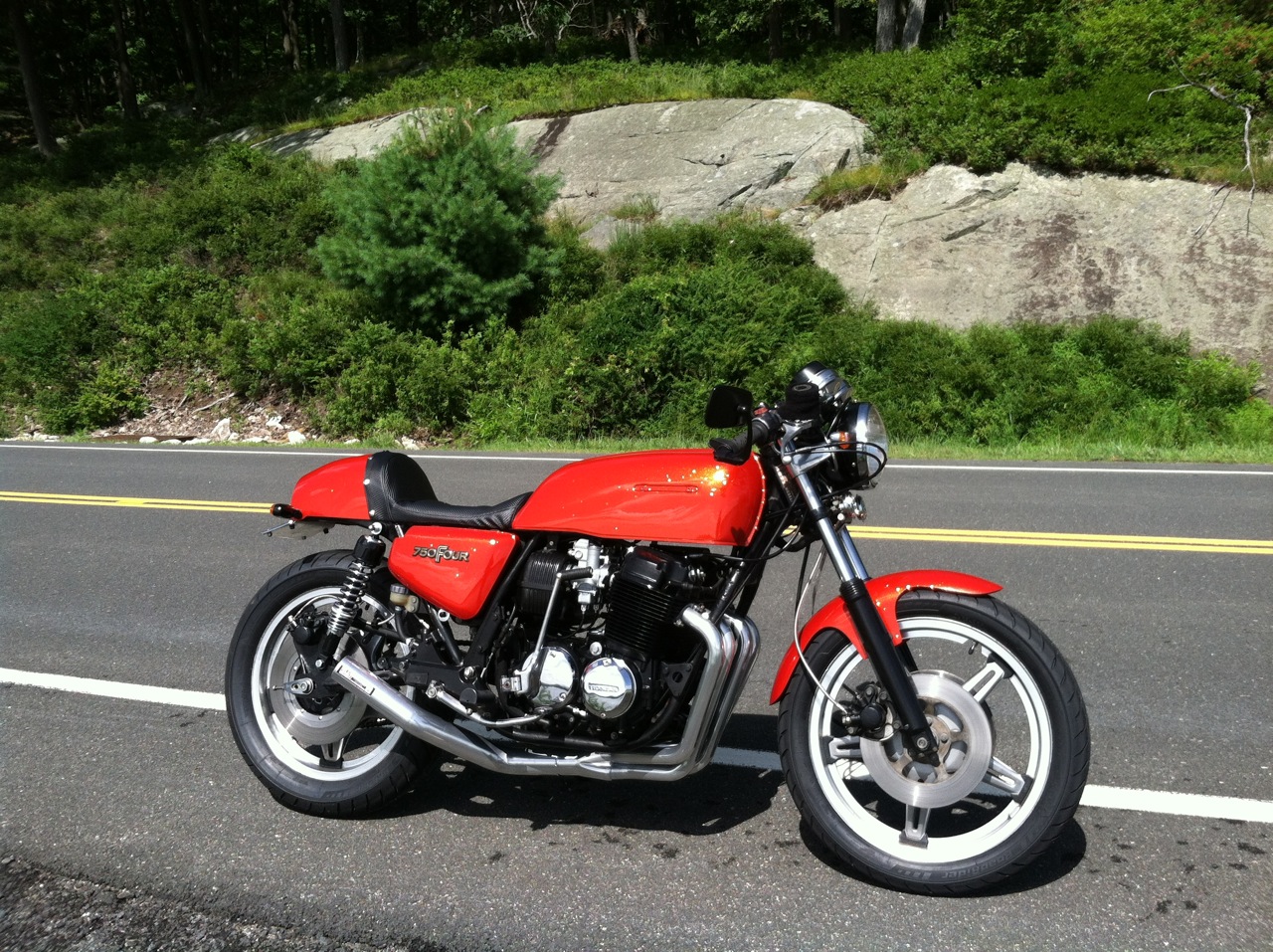 These will fit from 1969-right up to the last SOHC the 1978 and have featured photos of them machines so you can see how universal these are for them great inline Fours
Another Super Sport Below but this time an F2 and no worries with it, fits tight and close just how the Old School versions were back in the day.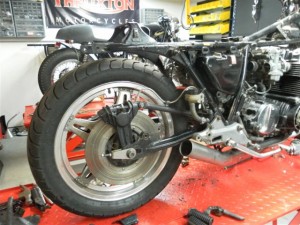 Yes, this is a 4 into 1 that fits tight and you cannot use the Main stand but most 4 into 1's are like this and Yoshimura's were exactly the same. But my Sidewinder allows that and you can see that on another page.
These are built by Pro's in the USA and boy do they sound awesome!  So, raw steel right now or wait a week and we can ceramic coat, your choice.
These will flow like no other 4 into 1 system in the world and we keep the prices affordable.
This comes with a 6 inch removable baffle as well and you will notice a smooth power range all the way through when you re-jet the carbs. Usually a Rule of Thumb is 2 sizes bigger on the main when you fit these.

We have sold well over 1500 S.O.H.C. models and people really enjoy the look and the snarling sound of these pipes of yesteryear.
I will be taking video and also some Dyno video later on, just to show you the flow and curve of this awesome set up.
If you want a great exhaust system and a real performing set up,  this is the way to go.
 Ask around and you will see Many people use my exhaust, from riders to builders and they all like them.
I am excited to use this system and  I will be adding photo's on here. Let me know if you are interested in this exquisite Performance exhaust system.
I am taking orders at carpy@carpyscaferacers.com 714-598-8392
These cool exhaust systems come in Raw Steel, but if you require Ceramic coating – we've got you covered, as well as Stainless steel systems.
This bike I created was built for Jason Freese of Greenday and he loved tearing it up and the sound was just Music to his ears.
So easy to fit and boy, do they sound crisp and even and you will feel a power difference too.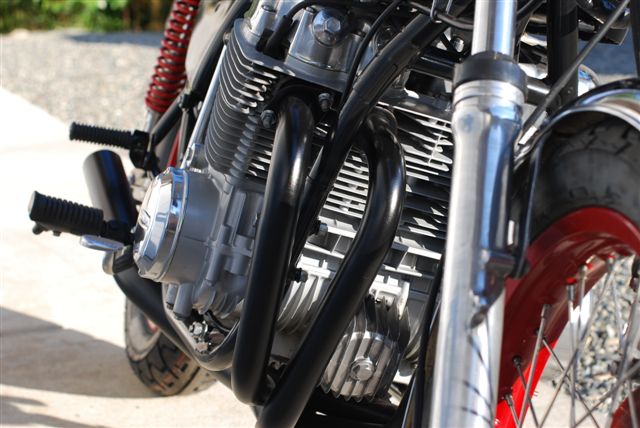 I Now have A New Burnt Bronze ceramic coating now available and this is a super Custom look, almost a Metallic look and sure is a Custom style that I really like.
Comments
comments
| | |
| --- | --- |
| Weight | 16 lbs |
| Dimensions | 22 x 16 x 12 in |
---