Vapor Blasting Service for all your Parts
I am now offering you this great service to clean ALL your parts from Motorcycle to Hot Rod and at an affordable price.
What is Vapor Blasting?
Old Pre-War Flathead Cylinder head that was left for many decades and is Tarnished, Oxidized and generally corroded to what looks like a non savable piece.
Vapor blasting, also known as Liquid blasting or Wet Honing, is rapidly becoming the number one choice for applications requiring the highest quality of finish, and this is so great for the Automotive industry as well as anything that needs to be cleaned but not to distort any of the original dimensions of the part being Vapor blasted.
See how bad this looks, but using a save and efficient way to remove all of this now available through me and I can change the way your parts look, thats for certain.
Below you will see a fine example of an old carburetor and with a simple clean in the vapor cabinet, this can completely clean and give the Carb Bowl an appearance of being Brand New.
The key to Vapor blasting is that the finish is produced through flow of water borne abrasive, giving a finer finish due to the flushing action of the water.
No media is impregnated into the component, nor is there any dust created by the break-up of media, unlike dry blasting where the finish is produced by sheer force of media impact, this also does not generate Heat like many media blasters do and will not distort the parts original features or dimensions.
A specially designed  polyurethane pump agitates water and media into a slurry, which is contained within the cabinet sump. Delivery of the slurry to the manual blast nozzle is via a  polyurethane pump and associated hoses located inside the machine. The slurry is pumped at approximately 2 bar to the nozzle, and compressed air is introduced at the blast nozzle to accelerate the slurry and provide the cleaning effect on impact, albeit cushioned.
After contact with the component the slurry then drains back into the sump creating a re-circulating system. Fine broken down media and other contaminants are fed via an overflow to a sedimentation filter located at the rear of the cabinet.
What are the advantages of Vapor Blasting???
The aggressiveness of dry grit and bead blasting are shown in the first two illustrations which demonstrate the severe 90° ricochet that occurs when using these methods.
The ricochet of media is reduced due to the cushioning from the water; the angle of the media is changed producing a lapping effect travelling across the surface, giving an even satin/polished finish.
Advantages of Vapor Blasting
Dust free process
Cleans by flow of water not by impact
Simultaneously degrease & blast clean
Water acts as a lubricant between media & component
Promotes longer media life
Produces a 'softer' finish
Avoids media impregnation on soft materials
Typical Applications

Degreasing / surface finishing of components in the automotive, reconditioning & maintenance industries
Cleaning of dies & moulds
Removal of paint, rust, scale, carbon & similar deposits in engineering industries
Surface preparation prior to bonding, re-painting or re-coating
Satin finishing of stainless steels & other special materials
Cleaning of PCB's & electrical connectors
Removal of small burrs from manufactured components

What can be vapor Blasted?

Pretty much anything but the service we shall be offering will be Motorcycle parts and of course Hot Rod, Street Custom Car, 4×4 trucks and Race Boat parts to start off with.
But I can offer you vapor blasting for pretty much anything, small engine blocks but No transmissions though as that's too messy.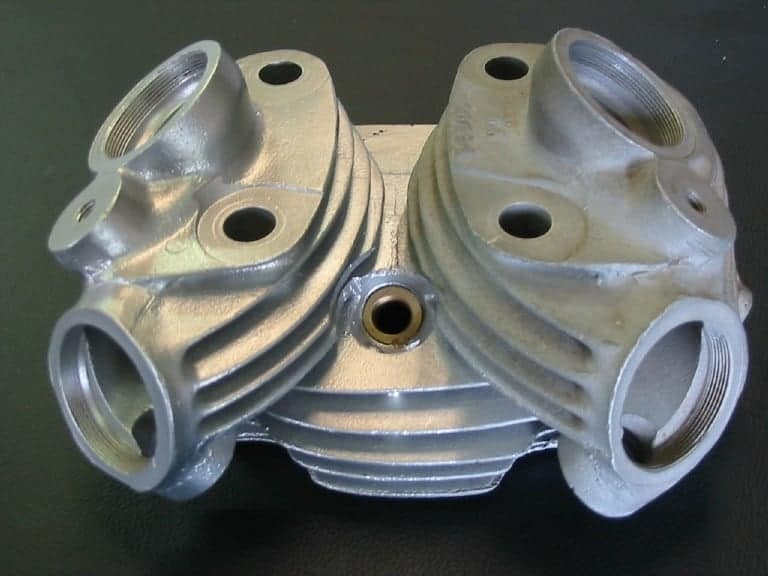 Also if you have an old gas tank that needs cleaning or is rusty, i can vapor blast it, i will add some more photos of parts as I go along.
I will also add a price list of parts i think that will be sent often but of course if you email us at carpy@carpyscaferacers.com I can then quote on your part if you can send a photo and where you are to allow for postage etc.
You lot know what I do, build bikes, polish parts, and many other services, this particular service is a great benefit to everyone and I will make sure that you get 100% effort into the part too.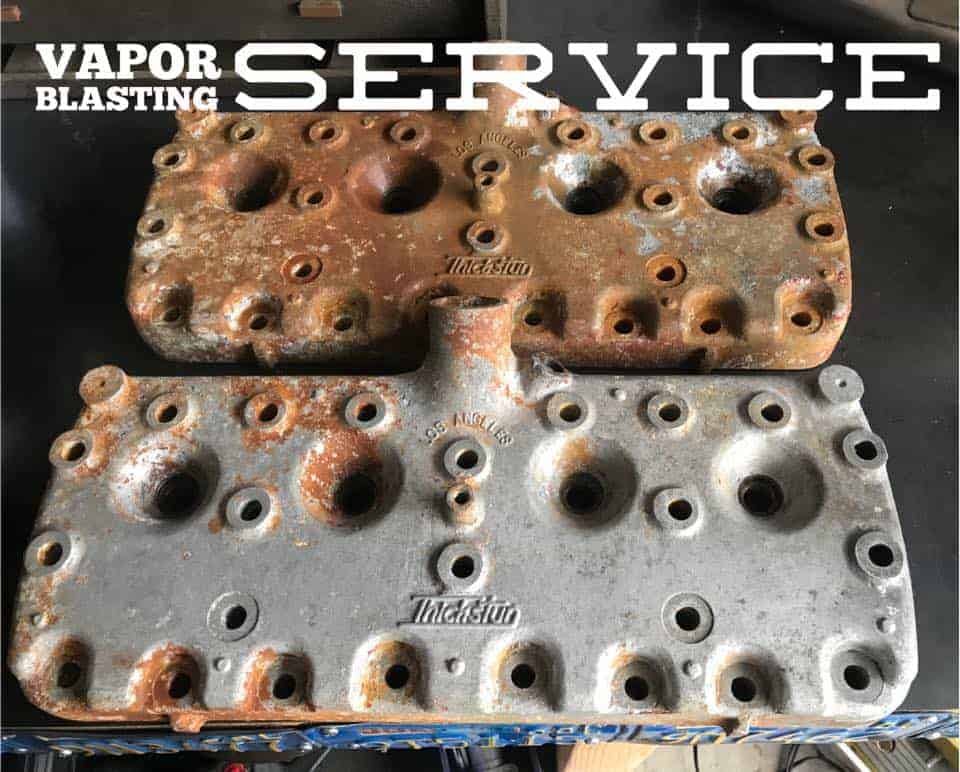 From the time I receive your part I will give a 3-4 day turn around or faster if I can get it in the cabinet quick enough, any issues I will ALWAYS call you, take photos and let you know if we find any issues with the part etc.
This is the best, cleanest, safest and professional way to clean your parts up, no heat at all.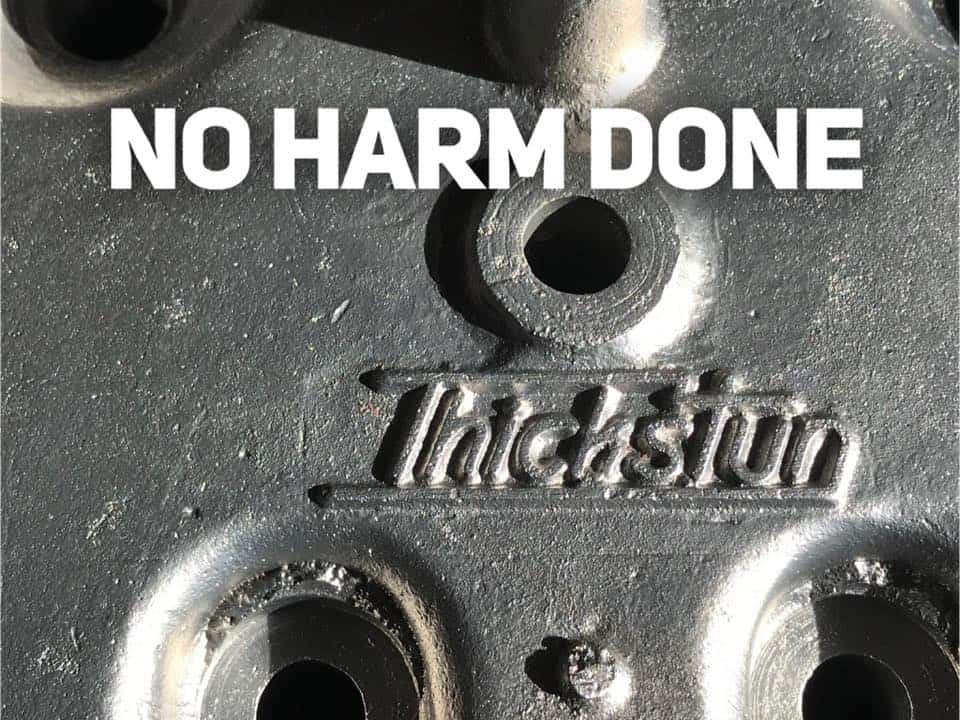 Give us a chance to show you what the quality of this service is, pass the word as I know as soon as you see your parts when they come back in like New condition, you will only be more than happy to recommend this great service.
Also you can call the shop at 714-598-8392 and even text on that number if you so wish, I am here to HELP you.
Support real business that love what they do.
Thanks for having a peek and I look forward to hearing from you, be it a small part for an A-67 BSA to a Cylinder head for a land Speed Record Streamliner, we can do it.
PRICE GUIDE:
Carbs Disassembled….                                       $ 20.00 EA
Valve Covers Unpainted…                                   $ 35.00 EA
Cylinder Head Single…                                        $ 65.00 EA
Cylinder Head Double…                                       $ 75.00 EA
Cylinder Head Triple…                                          $ 90.00 EA
Cylinder Head Quad…                                          $125.00 EA
Pistons…                                                               $ 18.00 EA
Barrels Single…                                                     $ 65.00 EA
Barrels Double …                                                  $ 90.00 EA
Barrels Triple…                                                      $135.00 EA
Barrels Quad…                                                      $165.00 EA
Crank Case Single $ingle…                                   $125.00 EA  Inside & Outside.
Crank Case Twin…                                                 $ 155.00 EA Inside & Outside.
Crank Case Triple & Quad…                                   $210.00 EA Inside & Outside.
Wheel Hubs Front…                                                $ 35.00 EA
Wheel Hubs Rear…                                                 $ 35.00 EA
Front Drums Brakes…                                            $ 45.00 EA, Including Shoes and Hardware.
Rear Drum Brakes…                                               $ 45.00 EA Including Shoes and hardware.
Triple Clamps…                                                       $ 25.00 EA
Fork Assemblies…                                                  $100.00 EA
Brake Calipers…                                                     $ 25.00 EA
Fuel Tank…                                                             $165.00 EA
Swing Arms…                                                         $ 80.00 EA
FRAMES…                                                              $175.00 EA
Brake & Clutch Levers…                                          $ 20.00 EA
Wire Wheels…                                                         $120.00 EA With or without Tire mounted.
Rubber/ Plastic Air Filter Box…                               $ 60.00 EA
Camshafts…                                                            $ 60.00 EA
Crankshaft…                                                            $ 60.00 EA
Connecting Rods…
Comments
comments
---