Hot Rod (3-Window Coupe) T-shirt FLATHEAD V8 FORD
This is a Nostalgic Shirt that I am sure you will enjoy
Well, some of you may know me as the Cafe Racer guy, but also I am a huge Hot Rod enthusiast, and have been part of that growing interest that you now see on a regular bases all over the world, I love the old style of anything to be honest and Hot Rods to me are just something that turns my Crank!
Back Home I had a Right Hand drive 1932 Three Window Coupe that was chopped and channeled and was a fun Nostalgic machine and had so much fun with it, my ONLY means of transport too, so drove in the Wind, the rain and of course Ice and Snow and for the first year I had no Floor in it, but I loved that Coupe and still do today.
So, a while back I actually drew this 3 window Coupe in Ink and thought it would make a pretty cool shirt to wear out and about.
As you can see this was quite a Bold Drawing and knew that if I added a few cool fonts to this, the shirt would stand out and I am so glad that I did.
I have sold a few of these shirts all over the globe, they look great and wash really well too, if you are into the old style of Hot Rodding, then this will be right up your alley, lane or garden path.
The shirt is printed on 100% Pre shrunk Cotton, on a Medium weight Black Gilden shirt, if you are a Hot Rodder, then you know why we chose Black, as no grubby finger prints if you ted to be wrenching that day!
These make super gifts for that particular gear head in your stable and I know they will like the style and of course, the quality of the material.
I have lived and breathed this lifestyle for over 4 decades now and will continue to be a follower of Old School Hot Rods.
If you are anything like me and love this style of Machine, then you will really like the design.
I ship these all over the globe and I mail orders out 6 days a week too, so you will be sure to get these at a prompt time.
Thanks for looking and I hope that I have at least raised a smile at my design and you will be looking forward to wearing one of these cool Tee's.
Here at Carpy's we enjoy designing things as well as meeting people and I sure hope that you have at least enjoyed the page you are looking at?
If I can help at all you can always email me at this address   carpy@carpyscaferacers.com and I will all I can to help you out.
Once again, thanks for taking your time in looking at our product, below is me with my 1928 Flathead Powered Model A Roadster.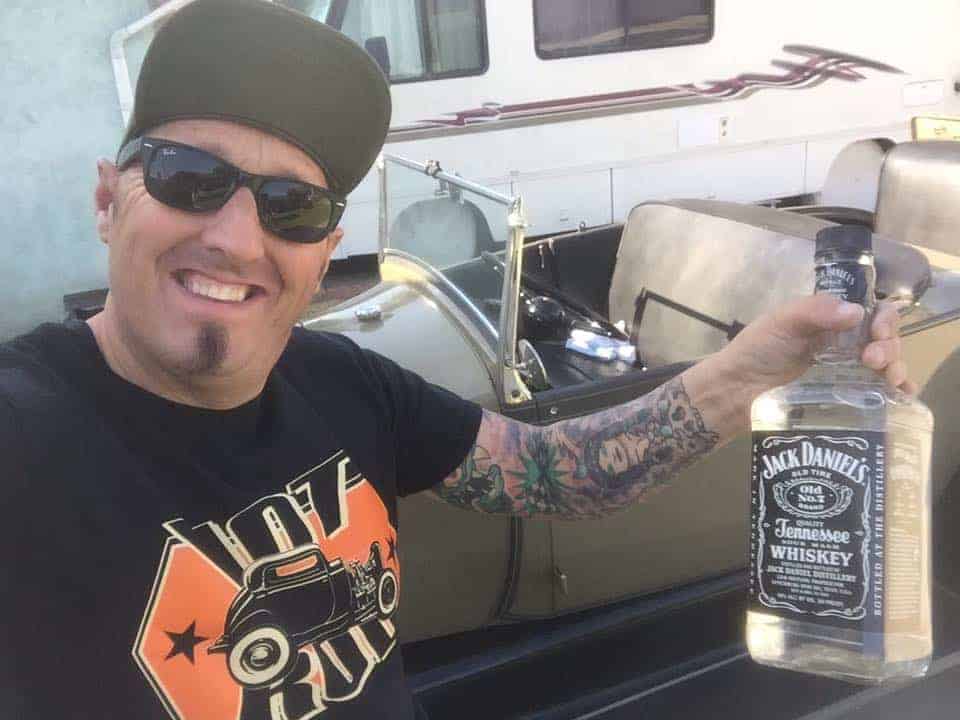 The old empty Bottle of Jack was used to refill the radiator so no panic lol.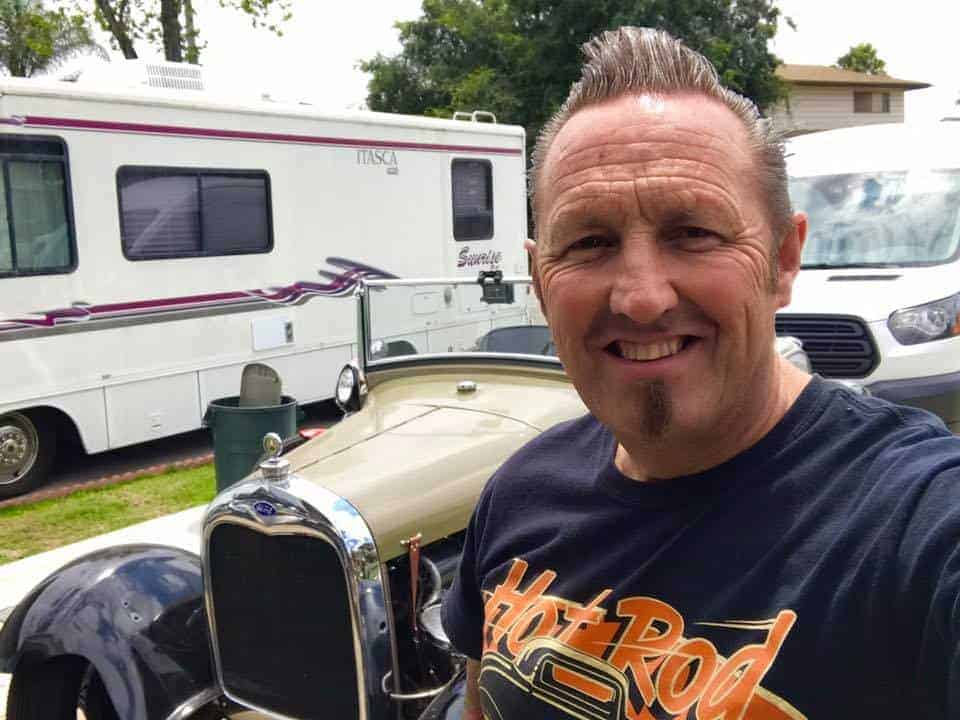 I have been into Hot Rods for many years and I am sure many of you share the same passion as I do?
My dog Bailey the Bully, helping me remove the lights and fenders on my own HOT ROD.
Yep! That's a Hot Rod alright, and below is me back in 1989 with my 1932 3 window coupe that was chopped and channeled when I was in the UK and, Right hand drive too!
I ship right away and to all over the globe, you will love the quality of the print and this will last many miles of smiles, I chose Black as the shirt as it hides the grubby hand marks if you were working on your ride, like many Hot Rodders do.
Comments
comments
---