Chrome 7″ Headlight with Toggle switch and 3 LED Display Lights
Many people have always liked the look of the great Headlights of the brit iron from Back in the day, Vintage ones are hard to find these days and if you do, well, they tell a tale of woe and are usually scratched, dented and rusted, so- I thought I would come up with a New Retro styled headlight that screams Nostalgia and as you can see, this really is a Classic style headlight assembly.
This set up is 12 volt and ready to go, it also has a unique Toggle switch to allow for a headlight on and off switch, ignition or power switch, just like days of old, the added Bonus on this headlight assembly is, there are 3 Led Stainless Steel Instrument Display Lights, they are a 2 wire and you simply wire to the High beam, Neutral and oil light connectors and there you go.
Resembling the old Norton style Ton Up headlight of the 1960's, this is a thing of Beauty and ready to go right out of the box and onto your motorcycle, this is a side mount headlight unit and I know this will turn heads and of course, help you see at night too.
Perfect for the Classic Motorcycle rider, the Cafe Racer Enthusiast or for anybody that wants that touch of yesteryear on their 2 wheeled machine, this is great for any 12 volt machine and we send right out to you all over the globe.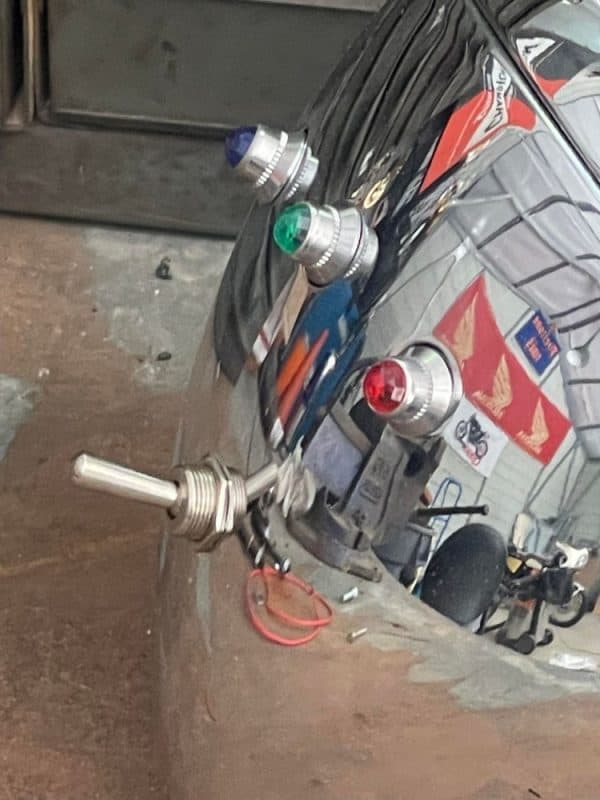 This is of sturdy construction and thick Chrome not plastic, this steel headlight will give you many miles of smiles for sure, hope you like what I have come up here and I am super stoked at the way it looks, feels and above all, functions.
Comments
comments
| | |
| --- | --- |
| Weight | 3.0 lbs |
| Dimensions | 7 × 7 × 6 in |
---