Custom Double Lens LED Tail Light 12 v Universal
Here is a great Universal Double Tail light assembly that I call the Binocular.
This is a sturdy unit that is 12 volt and LED, giving you the brightness to make sure that the traffic behind you knows exactly what your intentions are when you are out on your motorcycle.
It has a Five wire harness that is easy to wire up and gives you Running light, brake light and of course Turn signals, the tail lights emit a strong red light and the turn signals transmit a Yellow light, making sure people can see where you are going.
These are available from me in a Red lens or a Clear lens but all light up Red and Yellow as you will see in the pics provided below.
A really good set up and perfect for that Custom touch on your machine, it has a License plate mount below the light, so you are all set yo attach to your bike and wire this in pretty fast.
I just touched the wires to my battery on my bike to show you what these look like when the lights are functioning, and as you can see the running lights are bright, this also has a set of white LEDS for the illumination of your license plate too.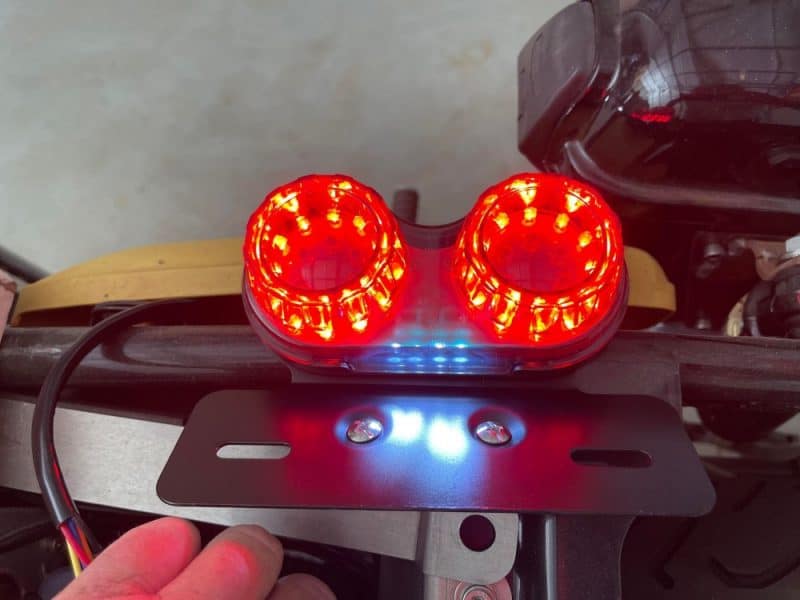 This really is a great set up that pretty simple to connect to your own wire harness, there is a diagram of the colored wired and where they go to further up on this page.
Its a 5 wire set up and I test every light that I send out, to make sure that these all function perfectly and you have no issues when you come to connect to your wire harness.
I am going to take a photo of the clear Lens version with turn signals turned on below, to at least give you a real visual on these Binocular rear tail lights.
So, clear lens or red, is your choice, they are both as bright at Einstein and will get you noticed when you are on the road for sure, have a look at the pics and you see what you may like, these are both great tough and strong assemblies that will work very well indeed.
I hope you have got enough pics but you can always email me at carpy@carpyscaferacers.com to get more info and if you want a quicker response, then simply text me at 714-598-8392 and I will get right back to you.
Comments
comments
---