Air Filter Kit K&N 39MM 69-76 CB750 HONDA SOHC
The BEST Filters for your machine- Hands Down!
K&N  replacement air filters are ideal for extended use in dirty and dusty off-road riding and provide clean carburetion even at high altitude. Generally, no jet changes are required with just a K&N filter element. K&N replacement air filters are washable and reusable and provide high air-flow with excellent filtration.

OK- here I have a set of FOUR 39 mm Pod Filters that are truly the best on the market, I have used K&N for many years and even though they are more expensive than the Cheaper knock offs, K&N filters are tested in lab and on the road, they have been dyno'd as well as track tested.
The cheaper Chinese version are just made in a factory and many do not allow air flow as K&N did all the R&D to make sure these are perfect. Also, the Cheaper pods just fall apart in time and have no warranty on them at all, K&N has a full 12 month warranty, as well as having a great hop up significance compared to the Chinese copy's that just do not function.
These come as a Full set of 4 and are ready to ship, and these will fit 1969 right up to 1976 Cb750K, these will also fit the 1975 and 1976 CB750F Super Sport model as well.
Treat your inline Four to some great Hop Up performance and, go with a brand name that has been making these for decades, a tried and tested formula that people love and use time and time again. So – don't cheat your bike to breathe right, you will get more power and better consumption compared to the cheapo's out there.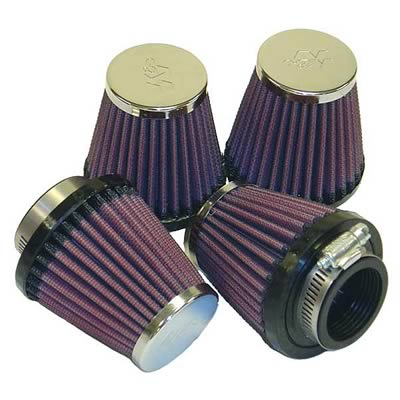 Designed to provide increased horsepower and acceleration
Specifically developed for Motorcycles and in this case the 1969-1976 CB750K HONDA S.O.H.C. Model

Pleated cotton media provides a large filtration area offering low restriction, high-capacity and long service intervals
Multiple layers of woven cotton gauze media offers excellent filtration
Fits directly into Carb and uses Hose clamp to tighten for a strong seal to perform well.

Comes as a set of Four 39mm Pod filters for that Cafe Racer, Brat, Chopper, Custom project etc.

Washable & reusable, most are pre-oiled and ready to ride!
One Year Limited Warranty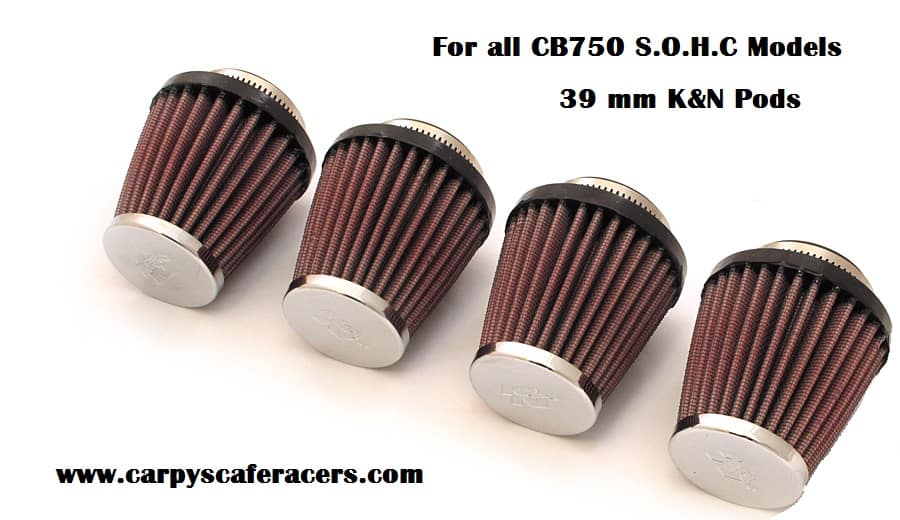 Product Specifications

| | |
| --- | --- |
| Air Filter Large End Diameter | 3 in (76 mm) |
| Air Filter Shape | Round Tapered |
| Base Outside Diameter | 3 in (76 mm) |
| Filter Material | Cotton Gauze |
| Flange Inside Diameter | 1.562 in (40 mm) |
| Flange Length | 0.625 in (16 mm) |
| Flange Type | Centered |
| Flanges | None |
| Height | 3 in (76 mm) |
| Package Contents | 4 Air Filters |
| Package Quantity | 4 |
| Product Box Height | 6.63 in (168 mm) |
| Product Box Length | 6.5 in (165 mm) |
| Product Box Width | 3.63 in (92 mm) |
| Product Style | Round Tapered Universal Air Filter |
| This Product Includes | 4 Filters |
| Top Material/Finish | Chrome |
| Top Outside Diameter | 2 in (51 mm) |
| Top Style | Metal |
| Weight | 1.5 lb (0.7 kg) |
Product Reviews
Review part RC-2314
My air filters arrived on time and look awesome.
Terry Littlefield Washington
5 star rating. My bike wouldn't run right at all with a set of cheap imitation's that came with the bike. I went through everything vacuum leaks, exhaust leaks, pilot screw, needle valve adjustments, etc. Had it all done perfect and the filters was all that were left. Put the K&N filters on and it runs perfect, it was impossible to make it run right with the cheap knock off's.
Dan Bromels Sedro Woolley, Washington
Price is right, shipping was easy, fast and convenient and they look rockin' on the bike! Pleased customer here in Denver 🙂 I'll be back!
Meghan Denver, Colorado
What can I say except… typical K&N high quality and craftsmanship. The filters fit perfectly and provide outstanding filtering with a gain in horsepower.
Rick Illinois
Comments
comments
| | |
| --- | --- |
| Weight | 4.0 lbs |
| Dimensions | 9 × 5 × 3 in |
---