Seat Base the Armadillo ( Universal ) Steel is Real! CB750-CB650-CB550-CB500
All 16 gauge steel and Universal for so many machines.
Here we have my latest seat design, I have named it  the Armadillo as it has a tough exterior and sturdy as hell.
Have a look and see what you think, as I have made this so it is a Universal fit for many machines out there but as i build a lot of Honda's I fitted it to the CB750 and its a good look.
This seat I made out of strong 16 gauge steel and the sides are folded to give even more strength, as there are so many seat bases out there that are too flimsy.
I also made this 30 inches long and my reason for this is because you can simply cut across the front of the seat and trim to the size that you require for your project, that way you get exactly how you want it.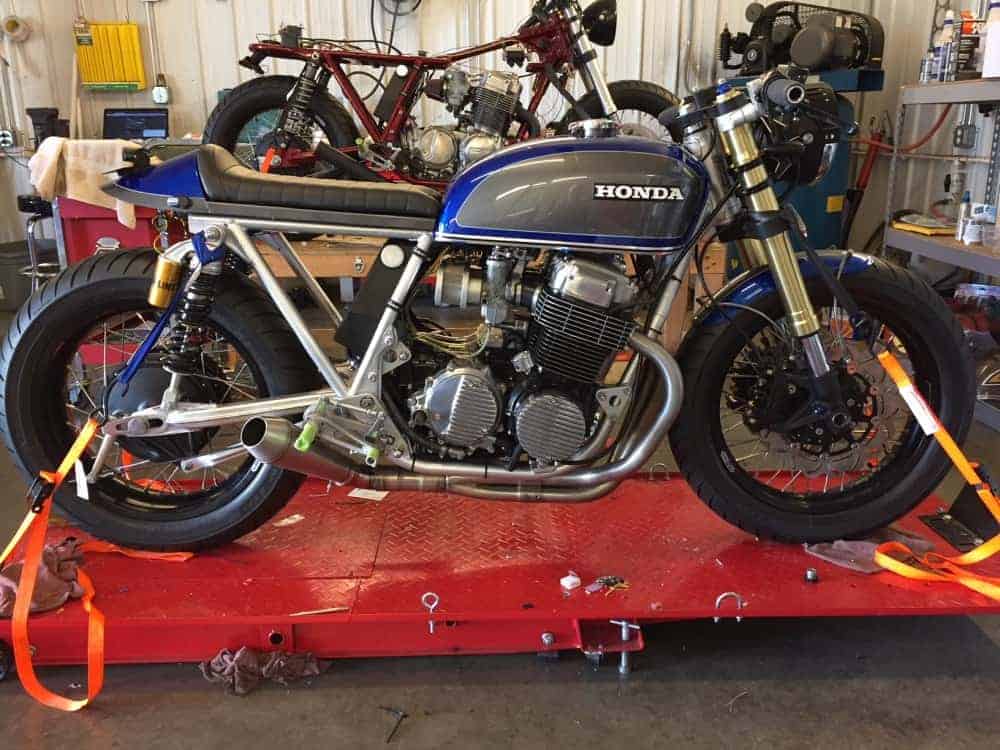 Above are some photos on other machines too, and you can see how great they look when fitted to your machine, Universal for Many applications, Dimensions are further down on page.
A very cool set up and steel means that it wont flex like Fiberglass and you can cut this to the size you need if you have other machines or want to make shorter.
Made right here not in China, Made in the USA!!!!!
Another seat that the owner had left in his shed a year ago but wanted me to fit it, he will upholster in Leather material later on next week.
Below you can see that I fitted the Armadillo seat pan by securing it to the chassis, I used Stainless Steel Allen head bolts that goes through the frame to a flange nut.
He wanted a modern tail light on the cowl, so did this for him ad he is a happy chappy now and was easy to do, so much better to work with Steel , rather than fiberglass.
You can choose what ever tail light set up you want, even if you run no light on the cowl, you can fit one to the left shock area on the license plate frame.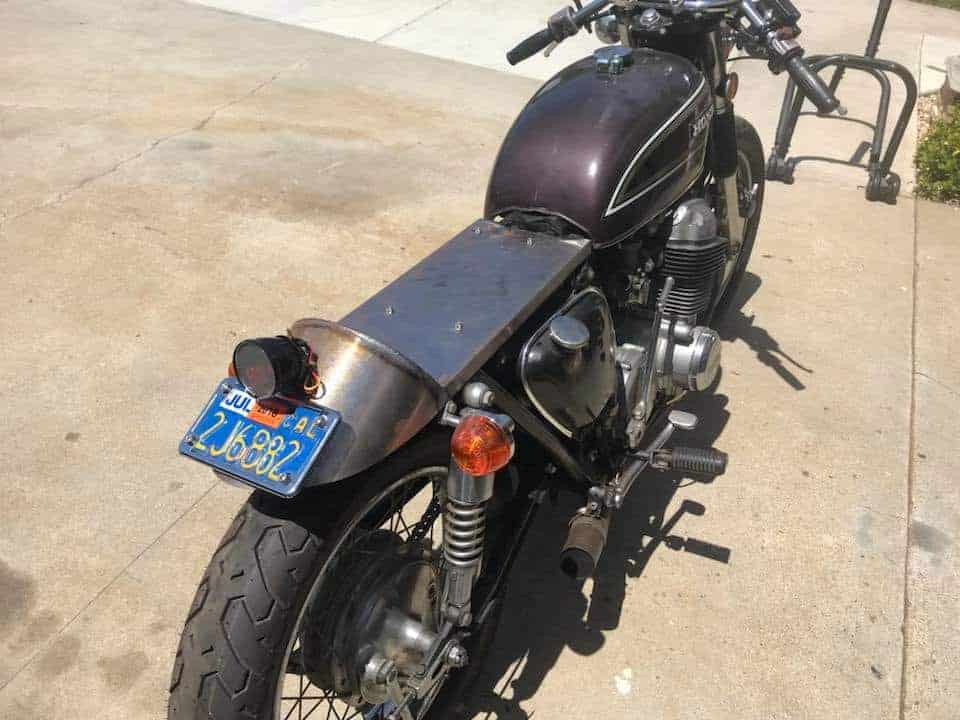 It is fun making these seat assembly and people like that they are not flimsy seat sets ups like many out there, and you can shorten the base to what ever length you require.
DIMENSIONS:
30 Inches Length
8.5 at the front
9.25 at rear before hump
Hump is 4.5 inches high.
Weight is 5.6 pounds
This seat base is a great addition to your machine and you can leave smooth in the cowl or add a tail light into it like I am doing to the metal-flake machine you see with My seat fitted.
This is hand made and right here, not over sea's like so many.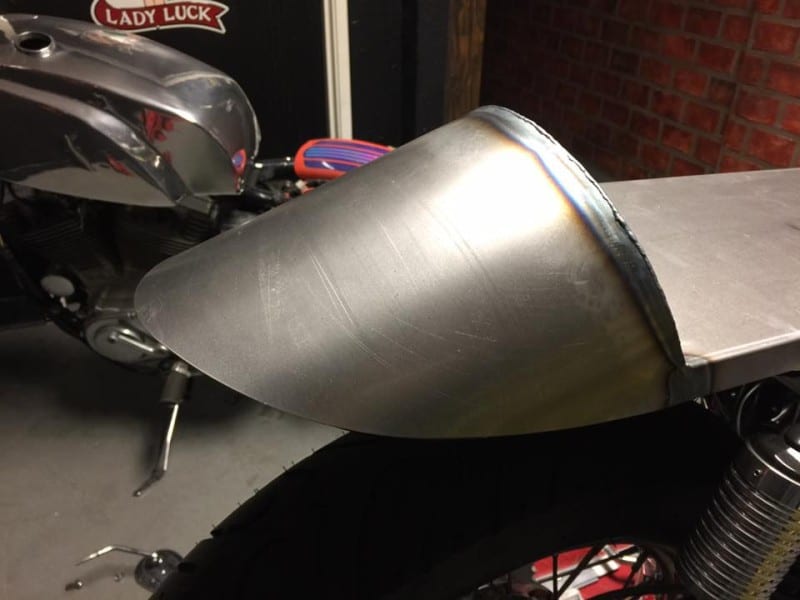 Support real Motorcycle businesses and this seat has many hours of working out to get this bang on.
I hope you like it as much as I do, this will fit many machines, especially CB500, CB550, CB650, CB750 models and DOHC models too and many metric machines as the frames are a similar size.
I ship 6 days a week and tick the gift box and low value on the customs forms so you don't get Duty feels for over sea's customers.
If you need more information, just drop me a line at carpy@carpyscaferacers.com or you can sling some coins in the box to me at 714-598-8392 if you require more info etc.
I am here to help and get your project going a little faster, and thank you for looking at my website I really appreciate your business as always.
This bike I am building has my Armadillo on it but I cut a hole for a Tail light to sit in the cowl and so easily done as it is steel and you can weld right away.
This is a fun bike to build and hope to be attending shows with it this year.
I am now ready to upholster but still scratching my noggin as to what material to use, leather, Vinyl or Suede.
These are really sturdy and as I made them long, they can fit 2 people if you so wish, like I did on the Harlequin Honda I just completed.
I fitted a tail light into mine and will be selling that kit too, I like the way the light sits inside the cowl and being an LED light, this is Brighter than the paint job alone.
Another shot and you can see I have 2 Super sports I am working on on the driveway.
I ship all over the globe and have done for over 18 years now, thank you all to my repeat customers, I strive to help to the best of my ability.
You can easily shorten the seat base if you so wish.
Comments
comments
| | |
| --- | --- |
| Weight | 9.0 lbs |
| Dimensions | 30 x 10 x 10 in |
---