CB750K HONDA Tach Elimination Bracket 1972-1976 Polished Aluminum
An easy bolt on Custom Polished bracket to use just a single CB750 Gauge.
This cool New parts is one of my great and easy to fit kits that comes ready to go, as if you are fed up with that double gauge look on the top of your ride, then this is the way to go to clean the whole top end of your motorcycle up. Below is a speedometer I needed just as a single set up but it sat too high as you see in the pic. So I went about and designed a really trick piece of kit that comes ready to bolt on and with all hardware in stainless steel too.
This is made from 6061 T6 Aluminum and I have polished this to a chrome like finish, this really is a trick piece of kit and so bloody easy to fit on your CB750 HONDA four.
This is a DIRECT replacement for your inline four if it is between 1972-1976K model SOHC HONDA motorcycle.
Simply remove your old tired and snotty looking set up, and decide if you want to run just the tach, or just the Speedometer, Use this bracket and the bolts supplied and then bolt the bracket to your triple tree, which this uses your stock locator holes. I wanted something like below but I really wanted the speedometer or Tachometer to sit lower and nobody makes a kit for that, so now there is one and its my own design and it works well.
Then simply- plop your original Gauge down, tighten the TWO 12mm  Stainless steel nuts onto the stainless Allen Bolts I supply and add the 2 10mm stainless Flange nuts to the gauge and you are good to go. and attach your cable and there, you are ready to go…
These are so easy to use, and if you have a 1972 to 1976 CB750K Honda SOHC and want to clean up the front end, then this neat Custom kit is just the ticket. Below is the triple tree you will have, from 72-76 these are the same on the K series, of course my one I removed the paint and polished it, as I like that polished look.
But the Kit comes with stainless hardware and so easy to fit the bracket, you can do this with everything still on the bike, you dont even have to remove any electrical wiring too.
I designed this kit to bring your Speedometer or Tach to a lower height and the degree of the face of the gauge is changed too for a cleaner look, just align the holes in the bracket to the lugs on the triple tree and push my Stainless Allen bolts through the hols and simply add the stainless flanged nuts to the other side and there you go, thats secured.
See how nice it sits and has a great factory look to it as well, none of that Bulkiness on some Custom machines some people have done.
I only had some old gauges laying about in the garage but, I wanted to show how easy these are to fit, so first off this is a speedometer, just line the stock studs up from the gauge to the the bracket and use the stainless 10mm nuts I supply to attach the gauge nice and tightly to the polished bracket. Easy as that.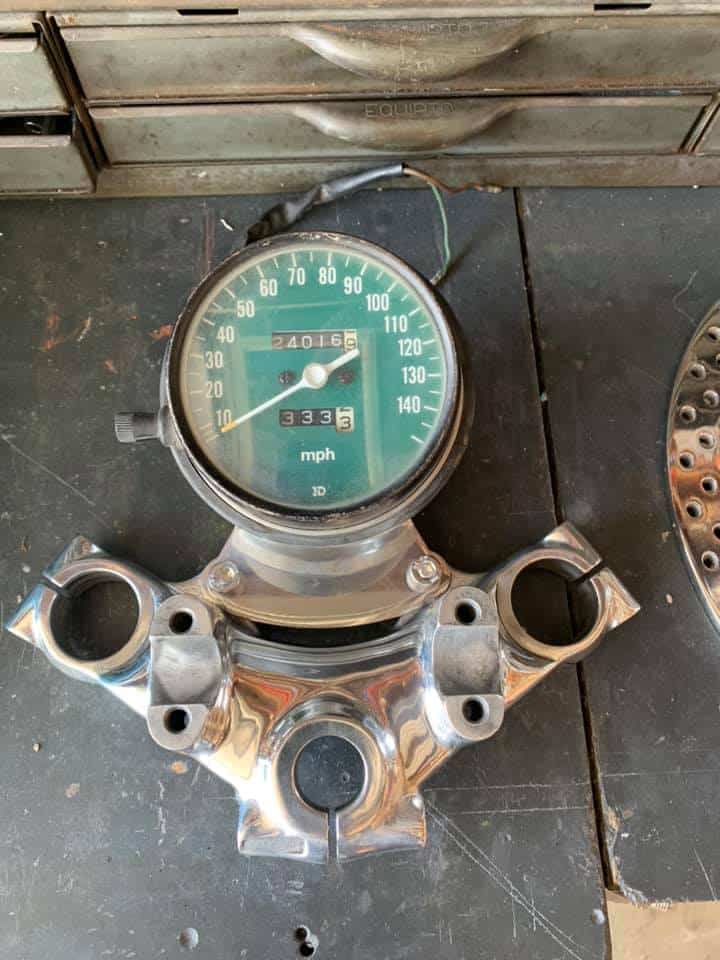 Same thing goes for the Tach, if you want to run one gauge or the other, its just two studs to fit through the pre-drilled holes in the bracket, all the hard work is done for you to be honest.
Now, if you have a stock bike but want the custom set up this is how easy it is to remove the stock bracket and replace with my kit.
Just take off the stock bracket which is two nuts, pull bracket off triple tree and then fit mine in its place.
Being Polished aluminum with stainless hardware, none of this will rust like the old steel factory bracket.
There you go, use a Speedometer or a Tach and see how much lower the gauge sits and how easier it is to read the gauge at the new angle too.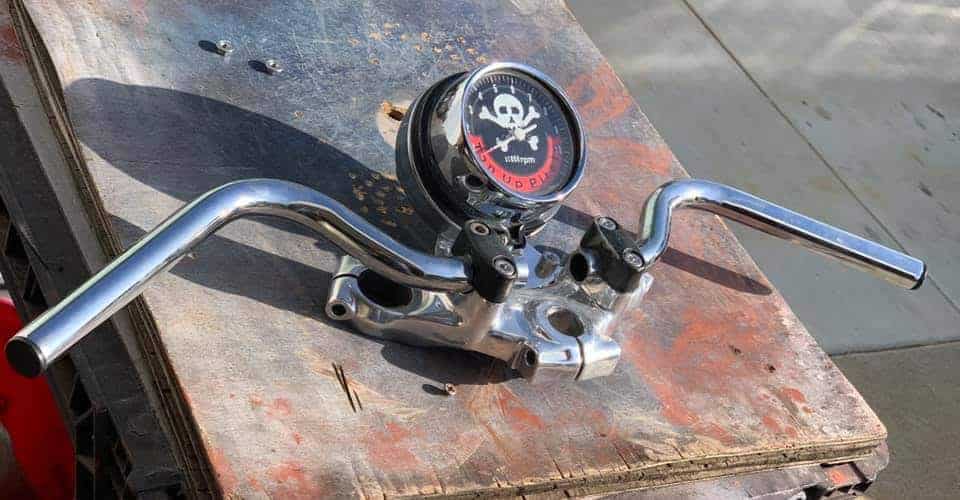 So there you go, I ship these 6 days a week and are ready to go, have fun with your build and you will really love the way this set up works and above all fits.
Comments
comments
---