EXHAUST "The Sidewinder" CB750 SOHC 4-into-1 HONDA CB750K CB750F 69-78
These "Sidewinders" are a serious piece of kit. for that Custom look and unique bark.
Here is another of our Power house exhaust systems that we offer to you here at Carpys Cafe Racers, these are made here right in Southern California not Taiwan like so many you see out there. This is my very own design and made it this way so that the headers converge to the right hand side of the frame and allows you to use a Main stand if you so wish also the ease to get to the oil filter too and to get to the Oil Pan to drain the oil is a pure breeze now.
Available right now by me and only me, the Sidewinder is an easy fit and be back on the road in minutes and comes with a removable Baffle too.
I designed this system and am proud to offer this unique Performance exhaust to you, fitting 1969-1978 Honda SOHC Big Four Motors, this "Sidewinder" is a real head turning set up that is not only a custom look, it will give you more power through the curve.
This is my "Sidewinder" 4 into 1 system for the good old inline Four HONDA S.O.H.C. Model and will fit all years from the first in 1969, right up to the last in 1978 and I am sure you will like this set up.
If you look at this you can see that we have made sure to kick the exhaust out to the Right side, this is a great looking and sounding exhaust system that also comes with a removable Baffle and the other cool think is it fits all those models above,. Below is it wrapped and the rear tail pipe chromed on the 1975 CB750F Honda SOHC I created.
Have a look and see if you like these Nostalgic looking systems, as I am pretty stoked with them to be honest and they fitted right up.  I also now offer a range of colors in Ceramic coating that change the whole look of your motorcycle. I have available : Raw Steel, Black, Silver, Burnt Bronze and Titanium as well as now offering TWO heat Wrap kits that are 2 inches wide and made of Titanium and come in Black and Tan, a very cool look as well, so I have you sorted  here, the wrap kits are on the website.
I have sold over 500 of these and give the option of Raw steel or cerakote Ceramic coating on Black, Burnt Bronze, Titanium Gray or Silver, the Silver looks like Polished Aluminum.
The good thing about this is it is a 2 piece deal and makes it easy as pie to fit, the second is that you can if you chose to, run your main stand still and thats good for when you are changing back wheel, swing arm, shocks etc.,
Just have a look and see what you think as I spent a lot of time to make sure that these look pretty darn good.
Made right here and not in China like so many, I have sold over 800 units of this design and this really is a smooth flowing system that will let all them gasses escape faster and give you a little more power too.
I have had so much fun with this system and the sound is a velvet Roar to use for terminology and I know that you will like the fit, look and sound of this Custom 4 into 1 system.
Below is the Raw steel version.
Here it is with heat Wrap applied and it sure has that great Custom look and feel to it, as well as dressing up the Header, available on my website.
I ship 6 days a week and all over the World, I also make sure that the Customs forms are filled in correctly, so you do not get hammered with duty costs as so many companies never bother to do that, but customer service is what I like to be on top of and I help you all the way.
These Side winders are something I wanted to try and make and I have another 2 new styles on the website to go with all the other models that I now offer, so- take your time and look through them all. I am here to help, you can also text me anytime on 714-598-8392 and I help on shipping custom forms.
I ONLY use USPS for international as fed ex and UPS are way too expensive.
Have a long look at the pics, the Yoshi and the sidewinder have about 95 Decibels and pretty much sound the same, but the side winder has more cool flow as well as allowing easy access to your oil filter and of course, you can still use your factory fitted Main Stand if you so wish. I was the first to make these in this style many years ago and I reintroduced on the market again due to much demand and am pleased to continue to make new parts for these iconic machines.
This makes a super gift for the gear head in your family too and get great results from the motor.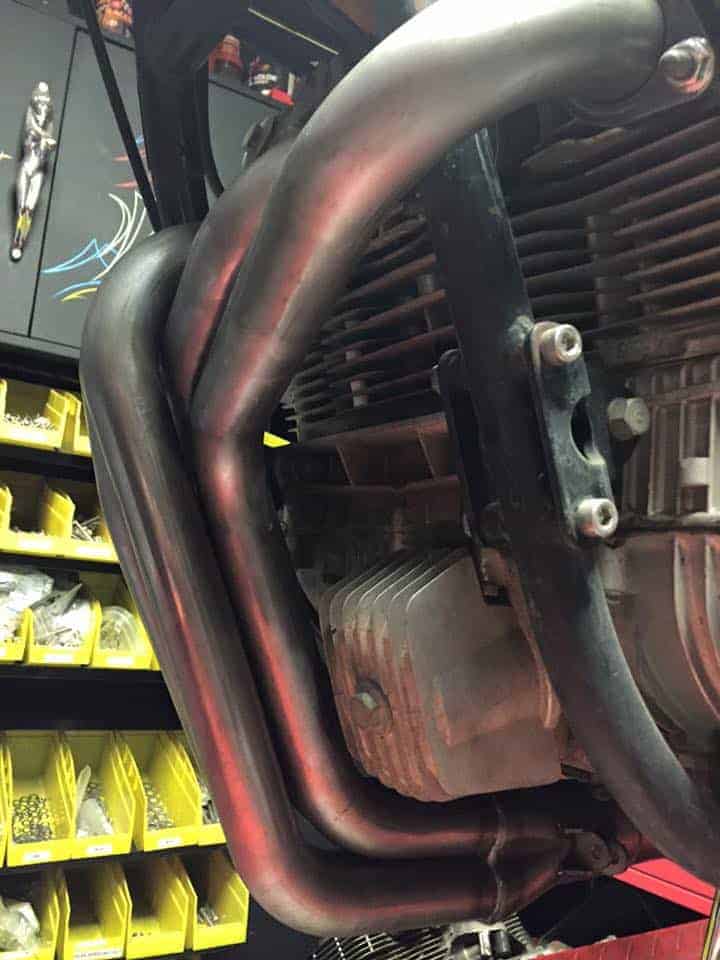 I will try and get some sound bytes up later on so you can hear how each one of my models howls Below is the same exhaust but I chromed the tail pipe and wrapped the header.
Available in Raw Steel-Ceramic Coated Black or Silver, Bronze and Now Titanium – and as well as the Heat Wrap kits for more cool Custom styling.
Plenty to look through, you can email me at carpy@carpyscaferacers.com or drop a dime at 714-598-8392 or you cam even text me on that number for a faster reply, I try to help the best way that I possibly can.
Thanks for looking and hope that I can be of assistance and get you on the road as fast as possible, I have many happy customers and am always available to help via Text- 714-598-8392
Comments
comments
| | |
| --- | --- |
| Weight | 14.0 lbs |
| Dimensions | 19 × 16 × 16 in |
---