SADDLE BAGS TRIUMPH
Great for when you need to carry some gear.
Out of stock
Check out these hard bags that I have fitted to my girlfriends T100 Bonneville, these are an affordable set up, especially if you have fitted megaphones, as most saddlebags will be touch the muffler.
I have made this kit up to fit all Triumph T100, Thruxton and scramblers 2015 and before, these are a lightweight yet sturdy set up and am stoked the way these fit .
Only takes 2 bolts to remove and there you go, as I am not a fan of the throw over bags to be honest and these give the bike a little more Nostalgia.
These bags are hinged and come with locks and 2 keys as well, plus the price is unreal as many start off at $500 these days.
Material:Hard ABS plastic 
Color: Black
Metal Locks w/ two keys for more security
Come with Chromed steel mounting Brackets with Copper Fittings, Rubber dampeners and High grade Stainless Steel Allen head bolts and Nuts.
Outside Dimensions:
 length 16″ x Height 11″(front), 7.5″ (rear) x Width 6″
These will make the perfect gift for the rider in your family as once fitted to brackets, the brackets use the original Bolts off your Triumph, so just a couple of minutes to fit or remove once secured to chrome Hangers.
These just need to have the back marked against the fitted bracket and then simply mark the copper holders where the holes are and drill, then fit the bolts and that's it, you can line the inside with foam if you so wish too.
With the Rubber bumpers under the copper "U" hangers, these have no rattle, or vibrations, as I have tested these for a few weeks now and they work really well.
You can fit your jacket, Gloves, and any other bits and bobs like goggles, glasses and a few coldies if you so wish and this is all lockable with 2 keys.
These ship in one box and are not too heavy wither, we ship all over the globe and, help with the Customs forms too. That way you do not get hammered on import tax.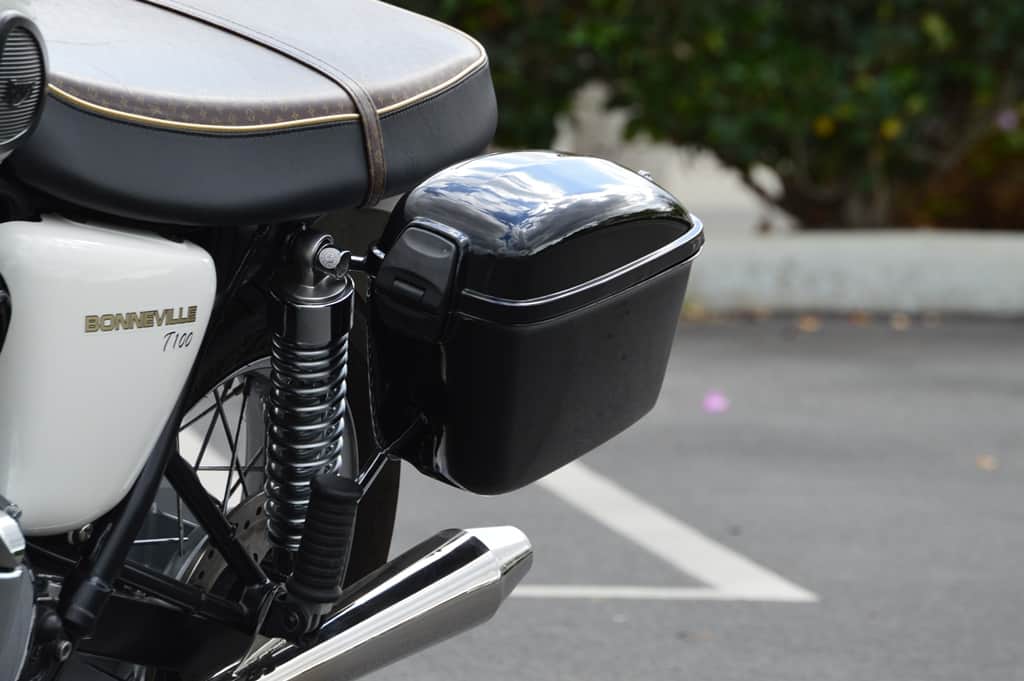 So have a look and see what you think, using these will still give you clearance for exhaust pipes as many will catch them and then you will have a number of issues, but not with these.
I have tried hard to show all I can and I am really happy with this set up and of course, when we ride off up the coast, I shall take some more photos of these on the bike loaded up with our belongings.
These come in a Black Gel Coat but looks great and easy to paint to match your Motorcycles color, so a number of cool concepts that you could do to stand out.
Comments
comments
| | |
| --- | --- |
| Weight | 14.0 lbs |
| Dimensions | 13 x 12 x 12 in |
---