Triumph Scrambler, Thruxton Bonneville Ammo Box kit
This is a complete Kit, Ammo Box, Bracket and Hardware. Just chose Left side or for a the full pair.
SKU:

Ammo-Box
Categories: Body Parts & Accessories, Shop Our Store, Triumph Thruxton & Bonneville/T100 Parts/Upgrades
Tags: Ammo Box, Bonneville, Dispatch Rider, Luggage, Motorcycle courier, Pannier kit, Scrambler, T100, Thruxton, Triumph, trumpy
Here at Carpys Garage, we strive to make cool products available to all and this time I thought I would make a Pannier kit so that you have some storage space on your Twinline Triumph, be it a Bonneville, a Thruxton or a Scrambler.
This Kit is an Ammo Box set up that comes with all the hardware needed to easily Bolt to the side of your ride. if you run a Triumph EFi 900 Oil Cooled 2000-2016, then this is for you.
The Scrambler is always a tough decision how to carry things and I have made this kit to solve that situation, simply bolt the Bracket assembly to the rear shock absorber and then attach the Copper U – Brackets and mark the holes with a sharpie, drill a M5 hole and then insert the Stainless steel bolts supplied, with the rubber cushioning supplied under the copper brackets and thats it.
This is so handy as it not only looks pretty darn cool, it will store many things and even comes with foam inside, but you could remove that if you require even more storage area.
To remove the Ammo Box when not needed, simply undo the top bolt and bottom bolt on Bracket and it will then remove in one piece, making it an easy way to re-attach when ever needed.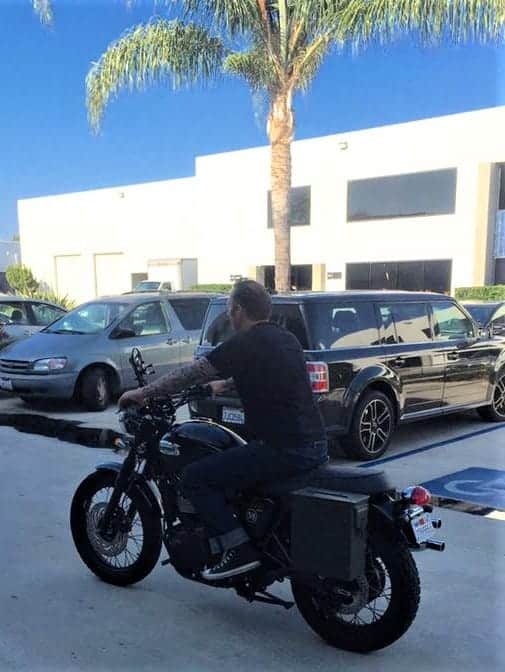 These are so handy and you will be surprised as to how much you can get in this Ammo Box, for the Scrambler this is just available for one side, as the exhausts on the other side are in the way, but on Bonneville's and Thuxton's no worries having a pair on your machine.
This is a neat old school look that is so valuable when you need to store something thats too big for your pockets and I am happy to offer this set up to you.
On my Bike pictured above, I have even fitted a Vintage Fire Extinguisher to add a little more coolness to the ride but you could add a phone holder, drinks cup, water bottle or what ever so easily onto this Ammo Box as its sturdy and is such a handy piece of equipment for your Motorcycle.
So if you want a way of carrying luggage, parts, bits and bobs on your Twin line, then here is a unique and great affordable way to overcome that issue and all made in the USA.
Foam lined but you can remove that for more storage, but a sturdy set up that will last you many years, the one on the Black Scrambler has been on there over a couple of years now and still going strong today.
Have a look and see what you think, it also makes a great gift for the gear head in your Family too and they will thank you for it as you can never have enough storage on a Motorcycle.
Thanks for looking and, if you need any more information, just drop me a line carpy@carpyscaferacers.com or a dime at 714-598-8392, you can even text me on that as well.
I use mine pretty much every time that I take the bike out, it has been invaluable to me as sometimes I pick up new Chrome plated parts or a gallon of oil etc and it just plops right in the Luggage area of the Ammo Box.
Stay tuned for more parts available for your twinline Triumph as I shall be offering many more parts for your machine and, all made in the USA.
Keep checking back for more ideas and parts, been here over 18 years and love what I do on Southern California.
Comments
comments
| | |
| --- | --- |
| Weight | 7.0 lbs |
| Dimensions | 13 x 12 x 7 in |
| Options | Both sides kit, Left side Kit |
---