Honda Fuel line 5.5mm OEM Hose, the best there is.
Many people ask me when I build my carburetors on the CB500, CB550, CB650 and of course the CB750, what fuel line do I use, Many have tried cheaper hose and they really cannot touch the Genuine hose that Honda have always used. it will fit hundreds of Honda's as a lot are 5.5 ID. and a 10.5 Outer Diameter.
For the last 17 years I have been using this Fuel line and as we are in California, I need the best available as the strong UV we have will destroy inferior hose and you will end up with either a Rock hard line that will crack, or if you use that cheap clear stuff, it will yellow in just a few days.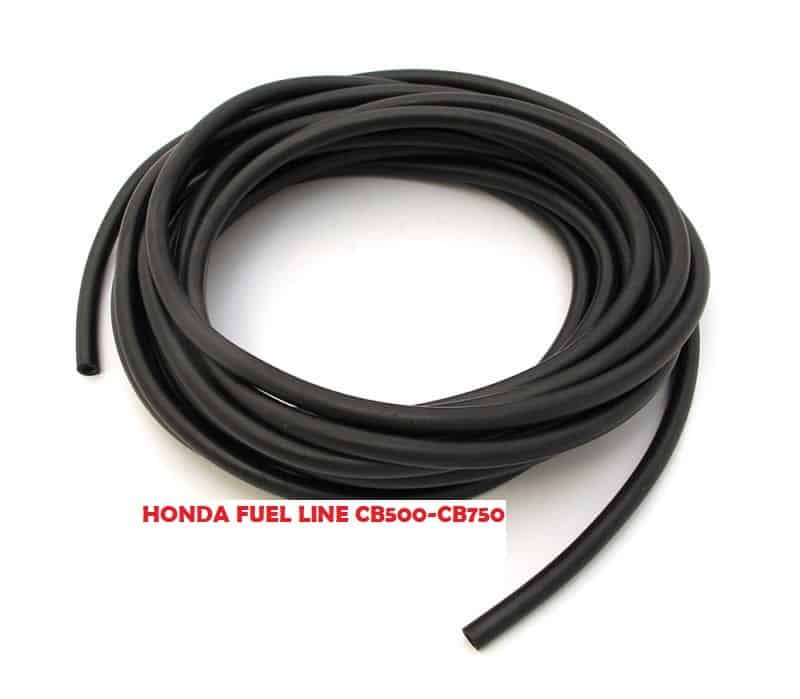 One of the most important things you need is Spark and fuel and if you cannot deliver fuel to the spark source, well you are just wasting your valuable time and money, dont cut corners on Quality when it comes to fuel line.
This is the best anywhere and if you are rebuilding your machine, dont skimp on things like this, Cheaper fuel line may be alright to set up a motor but for the longevity you need a Quality Honda part and this is just that.
This is a Brand New Genuine Honda Bulk Fuel Line Hose for many Honda bikes. It is in excellent condition. Part number is 95001-55008-60M 5.5mm ID it is 8,000mm long which is 26 Feet OD is 10.5mm. I have more 69-76 CB 750 parts. 
And as this comes in a 26 foot Roll, maybe you and a buddy can go halves and get a better deal for both of you????
Above, is a set of Snotter carbs that are ready for a rebuild and I am sure that you will be doing this soon to your inline Four Honda?
World of difference eh? I am going to add some New Fuel line and these will be good to go.
Comments
comments
---