Finned Polished Front Fork Assembly CB750 Honda
I can build a Custom set of Front forks for your CB750- Finned- Polished Lowers, New Seals, Dust Caps, New Upper Tubes for SOHC CB750 HONDA.
I have been creating Motorcycles and parts for over 19 years here now and still enjoy what I do, I try to offer the same parts as I use and make for the machines that I build and I want to offer yet another unique set up for your inline Four CB750 Machine. Have a look at these beauties below that I have just completed.
I can offer a complete set of rebuilt forks, or a set of Machined lowers that are polished and ready for your own upper tubes, the choice is yours, but have a look at the completed ones and you can see how great these look and I am sure will clean up the front end of your build nicely.
As upi cam see, I machine early or later CB750 SOHC Stanchions, these ones you see are KO-K1 Versions the later have a slightly different caliper mount.
I have created many front ends like this and I am sure that I will be making many more, as I have just started a set for the Vesco bike I am creating for a show.
Here is the Set I have just completely rebuilt and these will go on the Vesco show bike that I am creating, it really does change the front end of your machine and gives it that cool Custom look that so many forget to achieve.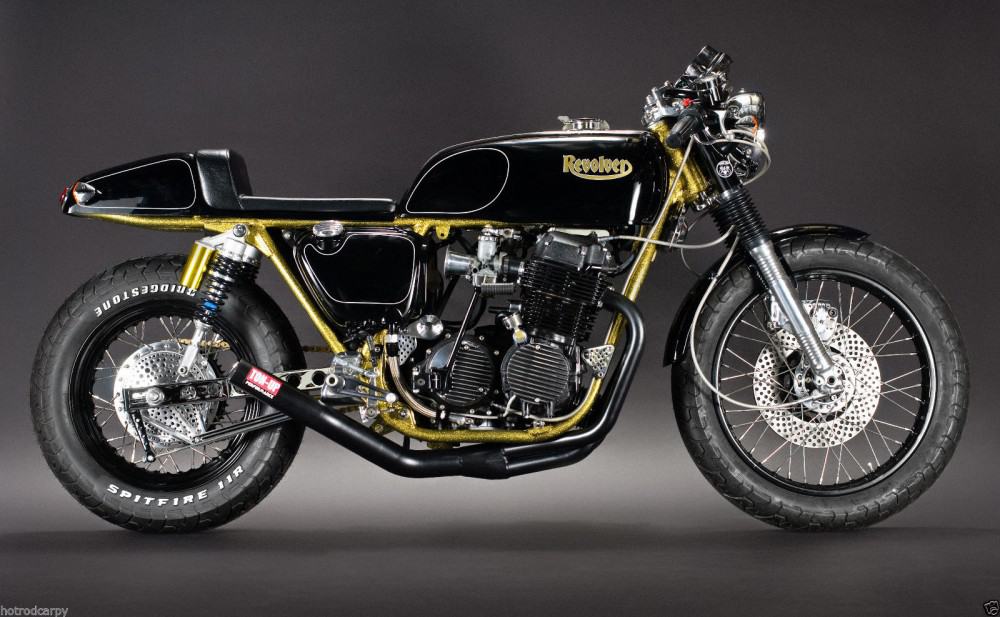 I built this machine for a Customer that resides in Australia, the front forks set the flow of this design and I am glad that I came up with having this style of concept.
Takes a little while to get all of the forks completed but, it is well worth the wait and the unique finish will always turns heads or at least start an interesting conversation about your machine and how it stands out in a crowd.
Now in my 19th year creating Parts and Custom builds, I really enjoy what I do for a living, I have great Customer service and a fast turn around on sending parts out all over the world.
I spend a lot of time on these forks and they look so different once fully assembled, I take a lot of pride in the hands on approach and these really are a great addition to your Custom Motorcycle, be it a Cafe Racer- Brat- Chopper, Tracker- Show or Drag Bike, and am pleased to offer this service to you.
If I can help of course- I will, you can contact me by email on carpy@carpyscaferacers.com or you can drop a Dime in the box at 714-598-8392- You can also TEXT me on the same number for a faster response if you so wish. Not many companies will offer that service.
Thanks for looking and hope I can help you get that 500 pounder back on the Tarmac and enjoying two wheeled adventures once more.
Due to Demand and work involved, I have a 4 week turn around on this assembly.
Comments
comments
| | |
| --- | --- |
| Weight | 12.0 lbs |
| Dimensions | 40 x 2 x 2 in |
---