DIAMOND IN THE ROUGH ARRIVES AT SHOP
Sometimes, finding bikes can be rewarding, remember, I look at more snot than a Doctor does in winter and yesterday a fella came by with a photo of his old Cafe bike they he built over 20 years ago and it is in his old storage yard in Anaheim.
So, over I go and check it out, the tires are flat, the brakes are seized, but a deal was done and after some huffing and puffing, trying to move the bike, we managed to get it into the back of my van.
This old Bird is a 1975/76  HONDA CB750 Super Sport of which has sat for many moons but lucky for me, in an old storage container.
This is a great old piece of history and was glad to be able to get this machine and hopefully soon get the bike back on the road, albeit with my signature style parts.
Yes, if you look, this has some great " original aftermarket" hop up parts. Boranni Alloy rims that were anodized back in the day and of course, the good old " Cheese Cutter" front rotor, with the Vintage Road master Dunlop tires.
And yes, you are indeed correct, that sure is an Original series 1 YOSHIMURA 4 into 1 Exhaust system you are having a peek at.
This has a rear disc brake set up that's stock but again, the good old Cheese cutter drilled holes just shows its cool old age of Cafe Racer days.
I have not got the keys for this yet and have tried the 60 or so spare old ones I have, but cannot get the seat undone, hopefully the old guy will pop by and drop them off before I go to such measures as drilling the tumbler out of the seat lock.
The seat is a period Custom touch with white paneling that really was a cool set up in them days, must of turned plenty of heads in California?
Plus another dead give away on this machine is the paint work, as if you look close enough, this has Gold Leaf marbling that was all the rage back then and only Just coming back into its own 30 years later.
Amazed it has lasted this long, but keeping it in a storage shed for many moons helps big to me in California. But fun to see and will have to keep them parts up in the back of the shop somewhere.
The bike sits well and has quite a few cool parts from back in the day and I am definitely  going to turn this into a full blown Cafe for someone out there to buy from us.
So I shall start work on this next week as I have other projects to finish before I even attempt to tackle this old girl. But it will be fun that's for sure.
This bike has the old Lowering blocks on the arse end too and a Big low geared rear sprocket to be able to get up and go at the lights.
This also has a set of air adjustable nozzles on top of the fork tubes, I remember MCP selling them in the late 1970's.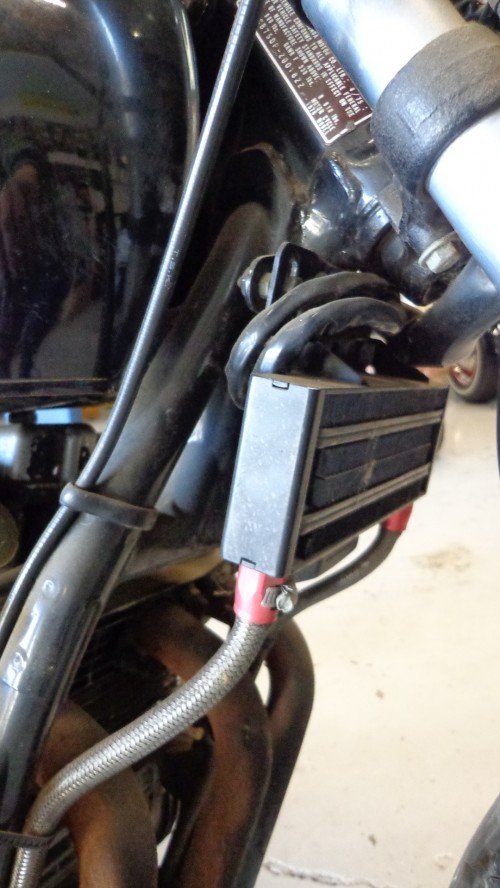 This also has one of the Original Lock-hart oil Coolers fitted, so this would of been a great little tarmac eating monster when she was last on the road.
Loved the double pancakes that the carbs have on, they date it right away.
So, stay tuned for more updates on this cool Old School Motorcycle.
Comments
comments