Antique Nationals at Fontana was a Blast to watch and be a part of.
The Antique nationals Annual event seemed to come around real fast this year, but it was not to disappoint as many cool Hot Rods turned up for this Classic meet up and Jennifer and I headed out about 10am to get to Fontana Drag strip to watch some of these Nostalgic machines run the 1/4 Mile.
The A-Bone was a great looking ride and the owner had had this for many many years, having a Hoped up 4 Banger is such a rare sight these days and glad to see it.
It had some later parts like Alternator and a Thermo fan but this car runs and runs very well indeed.
Three Hungry Birds sat on that Early Cragar intake and made sure that this 4 Banger had plenty of Motion lotion to get up the track in a good fast time.
I loved the dash cluster and rebuilt Gauges made sure that these all gave a correct reading out in Fontana as it was almost 100 degree's here today.
I am not a fan of 4 bar set ups but loved the hairpins and steelies for this 1929 Roadster on stock rails too.
Early style roof gave it that early 50's look and running a Quick change really does make this Roadster get up and go !!!
I loved the Original License plate with the Glass 1939 teardrop lights, this Rumble seat Roadster was a sure cool piece of History out here.
This Girly put her Roadster together a few years ago now and with the Caddy mill it made that awesome throaty roar as it roared up the tarmac.
Blown Model A Pick up sure got down the strip in a fast ET and surprised a lot of people.
Squeak Bell the Kiwi from Bakersfield bought out his awesome 40 Ford Coupe, I loved this ride, pure 50's Nostalgia all the way through.
This little Model T Roadster came down from Arizona, he ran a 302ci Ford and Jenn and I sat in this and felt like giants in it.
Many Gassers were here for the day and loved to watch them go down the strip as the weather was humid but great for watching them fly up the 1/4 mile.
What a Great match up we had here, I call it the Double A challenge, Roadster Pick up and the flamed A- Bone hit the strip and ran even all the way.
It was fun hearing these 4 Bangers wind up as they get off the line and am surprised as to how they flew up the strip and sounded awesome.
Plenty of 4 Banger Machines to entertain the crowd today and a rare sight to see at one time, sure glad we made the trip to watch these race each other.
How can you not like the Gasser wars? These are always a blast to watch and to hear as these bad boys tear it up at Fontana .
Loved seeing this 56 Wagon tear it up at the strip and a very cool set up this was, a rare sight these days.
Hubba Hubba! Check this Roadster out- other than the tires I would of left it as it was, a real History machine that was a trip to look over.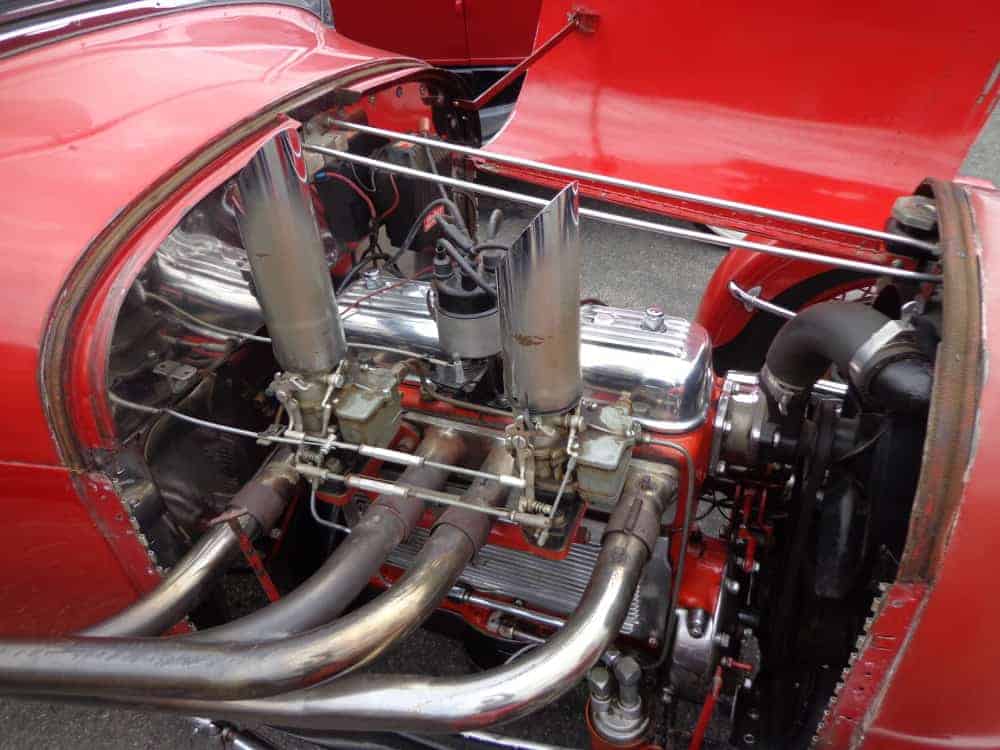 Have a look at this 4 Banger, how cool would it be to find one of these engines these days and then take it up the strip and then after, drive home, Very Cool.
Some serious Tin here and not many like this around anywhere these days.
There seemed to be plenty of early Cragar equipped Motors here today but it is run by the Four Banger Club but a rare treat to see all this together.
Plenty of engine variations to look at here and had a great time chatting to all the owners etc and asking them about their machines.
The weather stayed humid but lucky the Sun was shielded with low clouds, and that made for a great day of racing and pretty good for the spectator.
Awesome 32 Three Window Deluxe Coupe as this Fully Fendered ride headed down to the staging lanes to run with the other flatheads.
5 window sits ready for the next round with steelies and spindle mounts, a very tough Coupe and an aggressive stance.
Three Very different rides sit here by the Drag strip, Blown 29 Roadster, Stock Model T and an old Hudson Hornet.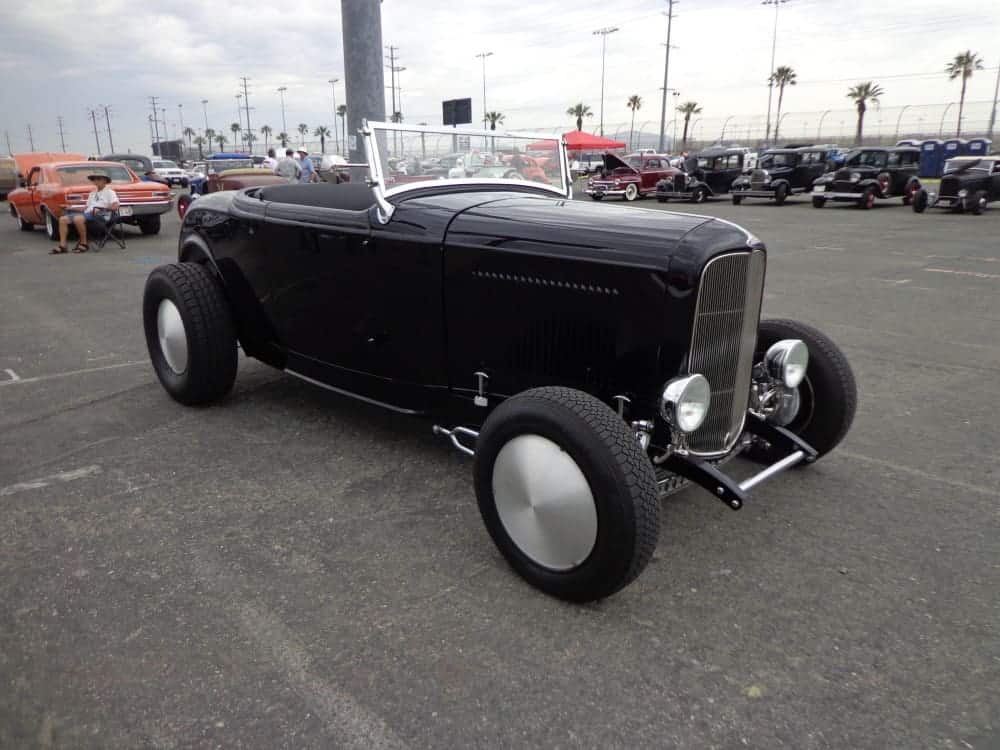 A very clean and well built Roadster, complete with hairpins and Drilled I- beam and moons discs looked the part here at Fontana Strip.
Something for everyone here and we had a fun day chatting to the owners and finding out some info on their rides and where they got them from.
Gassers at the ready as Dennis Young, the Aussie Racer drives his Anglia up the strip.
Yes please to this Roaster, I would change tires and shocks and rake the windshie3ld but, that's my preference a solid car and loved it.
Another cool Flatty powered roadster that would look great on the driveway at home.
This 24 Stud Flatty was powered with Early Edmunds heads and intake Manifold with what looks like REDS headers, cool Motor for sure.
Model A Roadster Pick Up was really cool, I loved the 41 plate too.
Yes Please. A wicked Roadster with the right look and a sweet firewall and grill shell too, very much wanted to take this home with me.
I could not stop looking at this and when they drove it around, the flatty sounded tough, just a really Nostalgic ride for me.
A super Clean 5 window that was also popular here at the strip.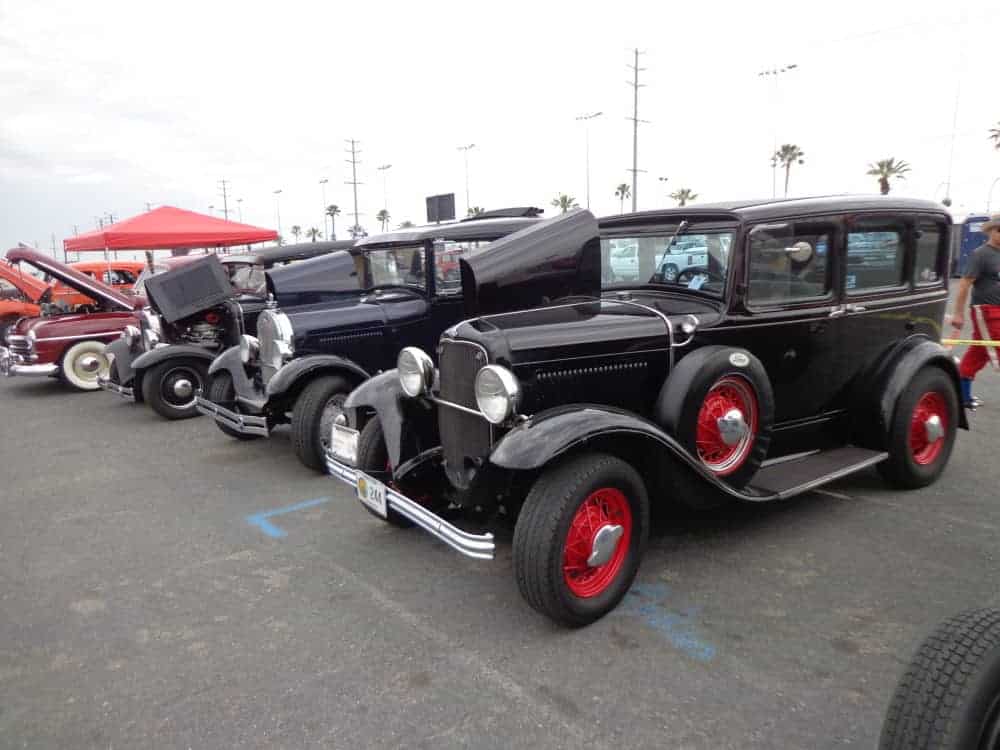 Plenty of Rare tin to look at here at Fontana and these three cruised about all day.
Edelbrock Powered flatty, I really loved this machine and so glad we made the trip to watch the Antique nationals.
This stocker sounded pretty sweet and was up for sale too.
Still plenty of Tin around and that is surprising but of course, the prices are starting to soar now.
  This was a winner for me, how cool is this Roadster? I love it all and it sounded awesome.
Ready to drive home to La Mirada, I would be so lucky.
A Rare find Roadster and it is waiting for a New owner I am sure but I couldn't afford the price ticket, else I'd of bought it right there.
Loved the Canadian Ford heads on this 21 stud beauty.
Banjo wheel too, I loved everything about this machine and glad I got to take photos to share with you lot on here.
Bills Three window is just an original Time capsule, just enjoy and drive the wheels off it and Bill certainly does as he loves this Coupe.
How cool is this? Such a Classic machine and still being driven daily .
Look how straight the Bodywork is too, this Three Window is a super rare find and glad to see Original Tin on the road still.
Early Plate and cool License plate frame too.
Next time you are in San Dimas, check out Bills Three Window and shop- The Old Ford Store.
Look at how clean this Roadster is, such a lovely machine in all Black henry Ford Livery.  
There is Nothing I would change on this Roadster, just take a look at al the detail in this, simply breath taking.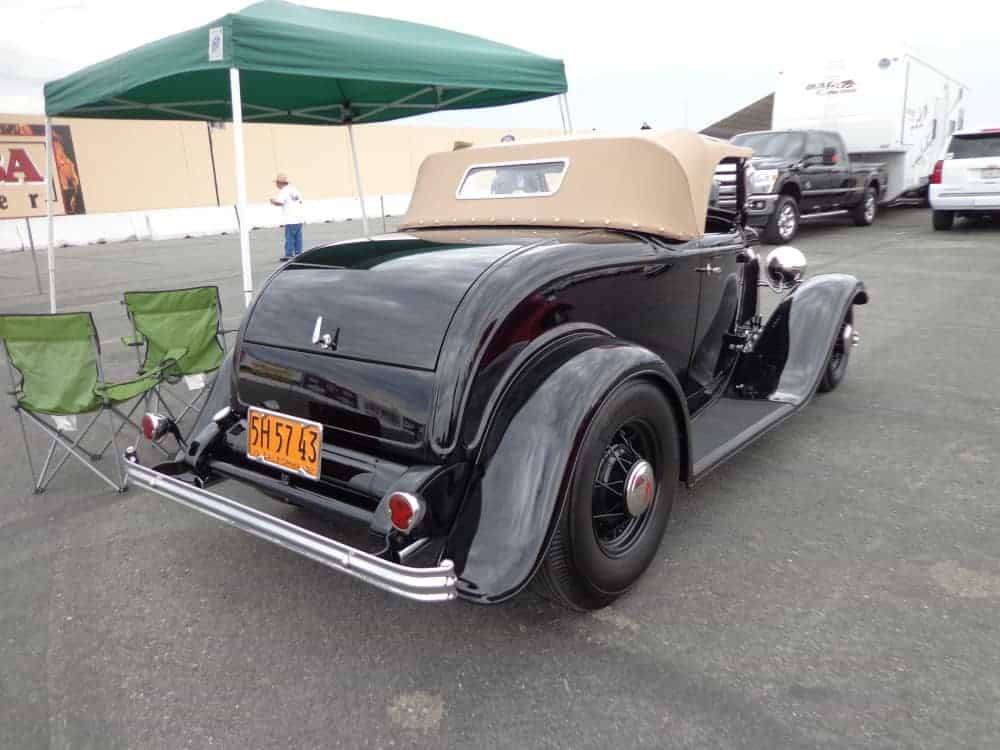 I would of liked to hear this machine purr, but the old fella was out having fun with his buddies on the strip but just check this Roadster out, so sweet.
Unchopped but Channeled 5 window is reminiscent of the old 60's East Coast Rods.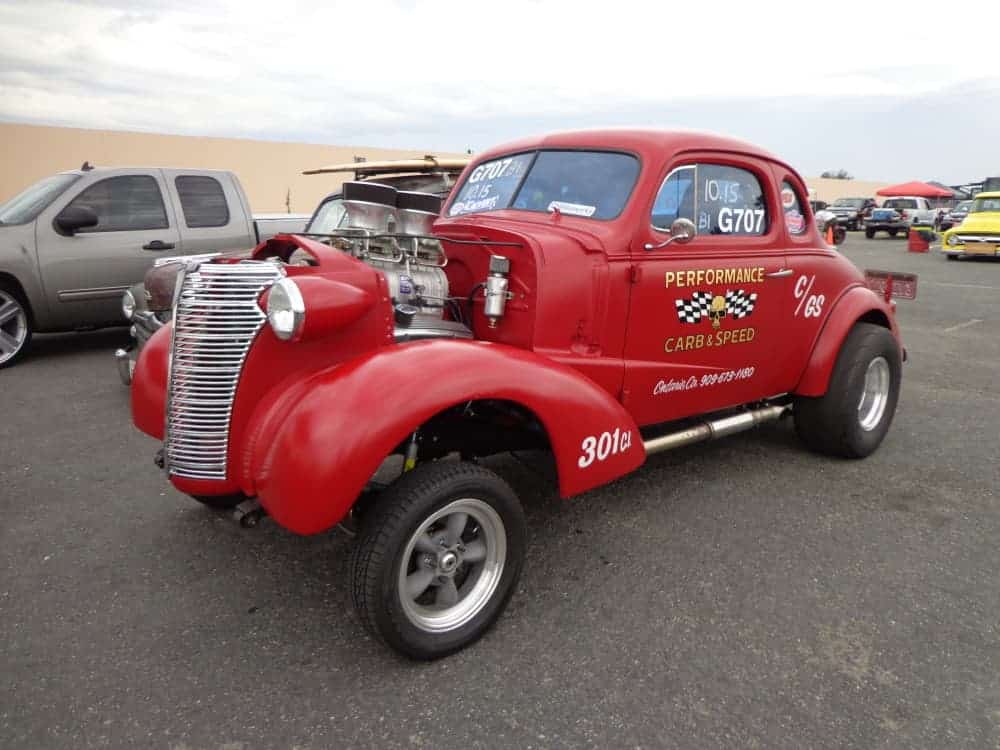 This Straight axle gasser looked Fast and was fast, loved seeing these race up here at Fontana and they didn't mess about either.
Jennifer inspects this Roadster with its beam axle and hopped up 4 Banger mill.
  Ak Miller Speed Equipment adorned this roadster, a lot of time and effort had gone onto this build.,
BRAAAAAP!
  Pat Gnahl on his Knees as he works on this sling shot straight 6 powered Dragster.
This altered Machine was tidy and was pretty fast up the strip today.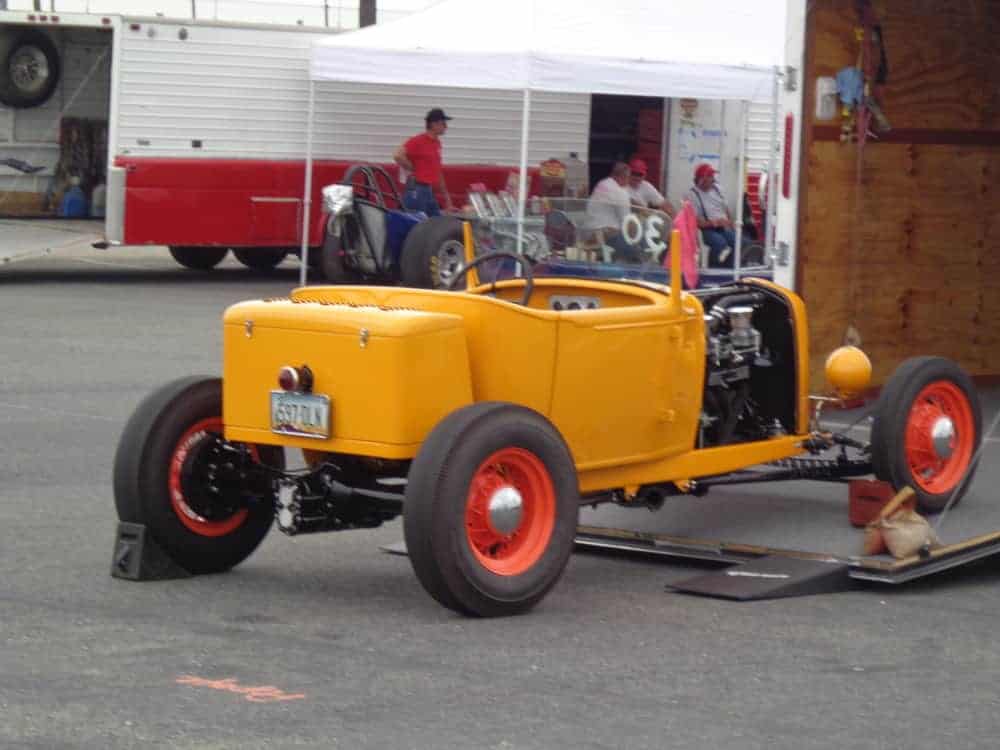 A very cool little Hot Rod that had a nice Quick Change too.
  Always cool to see these driving around and the air was filled with smoke and fuel at Fontana today.
How can you not like this awesome Willys Gasser, Blown, Flat paint and running on Magnesium's.
Another set of Gassers and this certainly took your breathe away as he hit the loud pedal on the Line today!
The Antique nationals is such a good event as it lets you get so close to all the cars and the action too.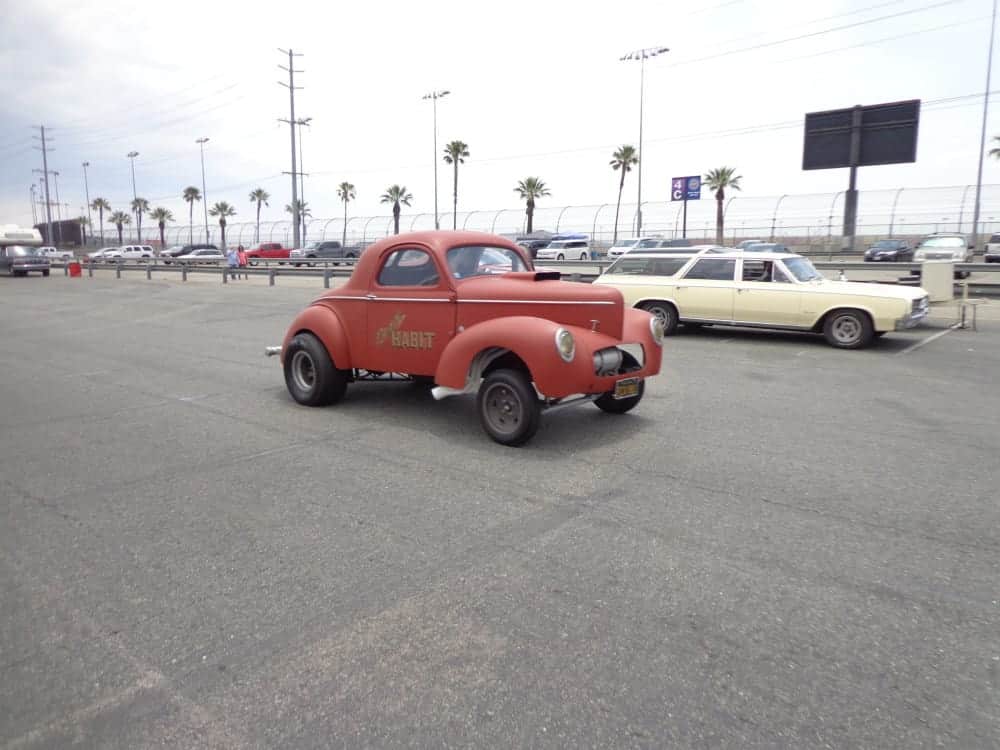 Below, the staging lanes with all the rides getting ready to compete into the next round.  
  The weather was great later in the afternoon with a little breeze and plenty to look at as we walked around the staging lanes and Pitts.
More cars coming down to the staging lanes as we walk around and enjoy the atmosphere at Fontana.
  Squeak Bells awesome Custom Coupe, Squeak is a well know Hot rod builder and is a Member of the Shifters Car club.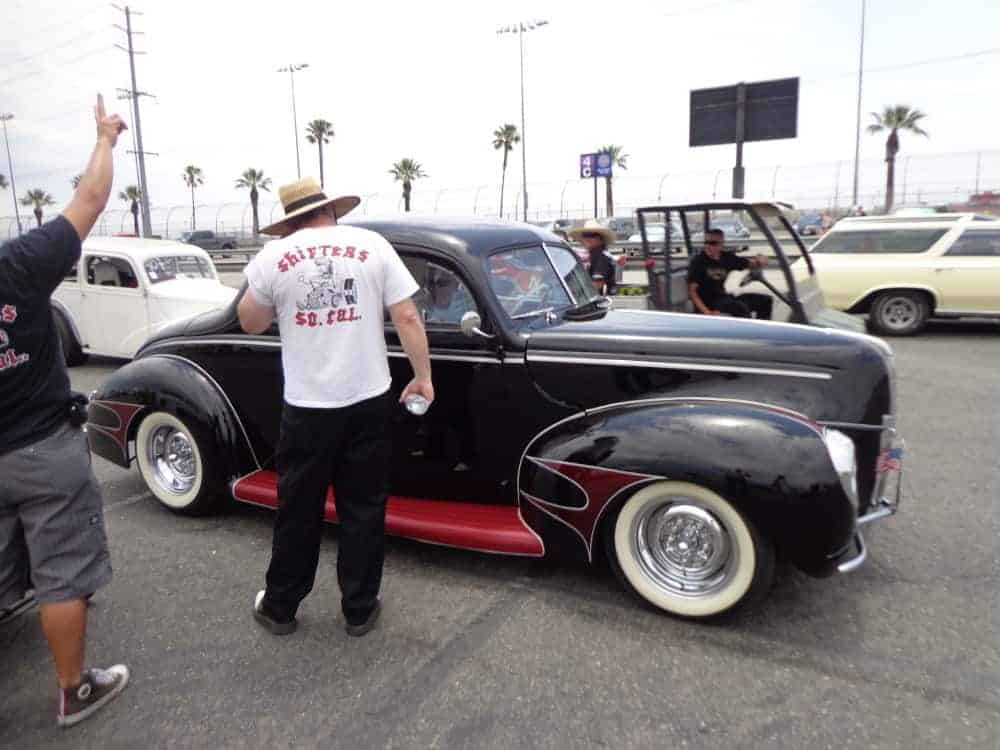 Jeff Vodden and Billy Sakata of the infamous Shifters chat to Squeak Bell as he heads to the staging lane for his run today at the strip.
5 window heading down the the track to try his chances of getting through to the next round here at Fontana.
This Channeled 5 window lets it all hang out as he gets the Green light and was a fun and fast Hot Rod.
  Plenty to watch, hear and small as these vehicles raced all day and we loved it all as such a great atmosphere here every year..
We need more of this event to watch every style of Hot rod take to the strip as it so much fun to watch or take part in.
  Pick up or Coupe, there was something for everyone here and could not get enough of this today.
Maybe Next year I shall have my own Roadster and see how I fare with other like minded Hot Rodders.
Above is a super Nice Stepside I would love as a shop truck.  
This 4 Banger A Bone was pretty cool other than the color and graphics but a tight Hot rod and sure was fun to see.
The good thing about the Antique Nationals is that you can get and look at the rides close up and everyone is friendly.
This ole fella had his Hudson Gasser all about ready to take up the strip.
Always nice to have a flip front to be able to get to the Motor and this was a well put together machine and sounded great.
This was indeed built for speed and he had great fun this weekend at the track.
Another cool Shop truck and nicely done, always great to see these at the Drags and sometimes they even run them against each other too.
The Little T that could, this was a low slung ride and driven daily too, up for grabs as well.
Traditional 50's styled A- Bone stood out, I mean, you cant miss them Pete and Jake style flames. But a great little roadster and I know that I would have fun with it and I am sure that you would do too.
Every year there is always different rides that attend this show and I love talking to folk around the Pitts to see where they are from and something about their machine, it makes for an interesting and sometimes entertaining conversation. His Beer barrel grilled pick up was cool.
Plenty of people were here to race and to have fun an this was a fun ride to watch this weekend and did not hang about.
A lonely Roadster sits on the Tarmac awaiting its time, sits low being channeled and I loved it with red Oxide primer an all.  
This little A-Bone Roadster was super cool and so was the owner, 4 banger power with AK Miller parts, this will run all day and never get hot.
  I saw plenty of Ak Miller parts this weekend and love seeing cool stuff like that, this Roadster is daily driven in all weather and super nice owner.
A fun little A- Bone that he gets many many miles of smiles from and I am envious in a good way, great to see and chat too.
This guys doesnt give a flying Duck- loved the tear drop trailer with it, super tidy combonation.
A lot of time and money have gone into this ride and boy can you tell, this was so clean, yet he drives it to many places.
  A very cool set up and never an issues in the time he has had it, just a well built machine and fun to see today.
Cruising down to the Staging area to check out the rest of the rides.
Resto's were very clean and all of them run like a top.  
Something for everyone if you come to the Antique nationals and we had a brilliant time here.
Love looking at the Gassers.
It hauled Arse too.
Super clean green machine and I have always dug Classic Fog lights on Rods and motorcycles.
Tasty Three Window sits facing the drag strip to watch the Vintage machines scream down the track.
A walk around the Pitts shows all sorts of amazing machines and this Black Three window caught my eye, its a really ride.
1932 was a great year for the Automotive industry, being the First V8 Fathead too, love these rides.
Great Girder front end on this Whizzer and a few raced this weekend too.
Super Nice Bowtie Step Side work truck, love these things and sits well on 5 spokes.
Jenn and I sat in the Little Channeled Roadster, I was half hanging out of it but a fun ride and a super nice owner from Arizona.
  Mid engine Flatty in this push truck looked great.
Two Door 50 Coupe was such a nice clean ride.
I would of loved to have driven this today even had a push bar on the arse for the drags or dry lake.
Every where we looked there were Flattys blappng about the place.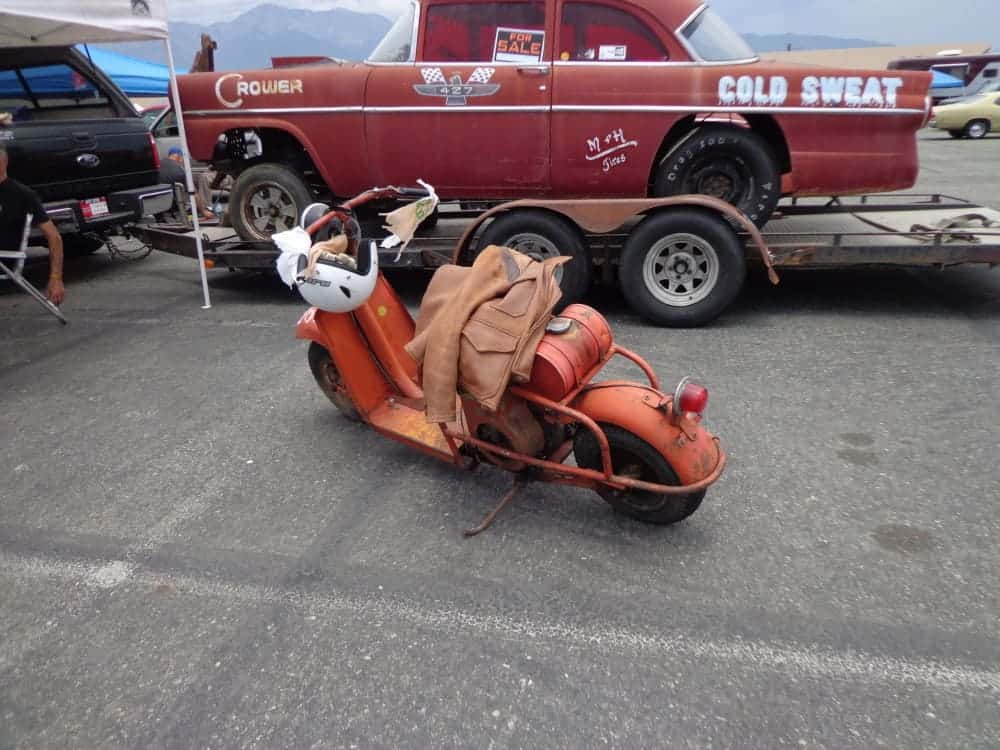 A few Cushmans turned up too and ran like 35 seconds on the 1/4 and fun to watch race.   This 5 window was heading out to the staging lanes and runs super well,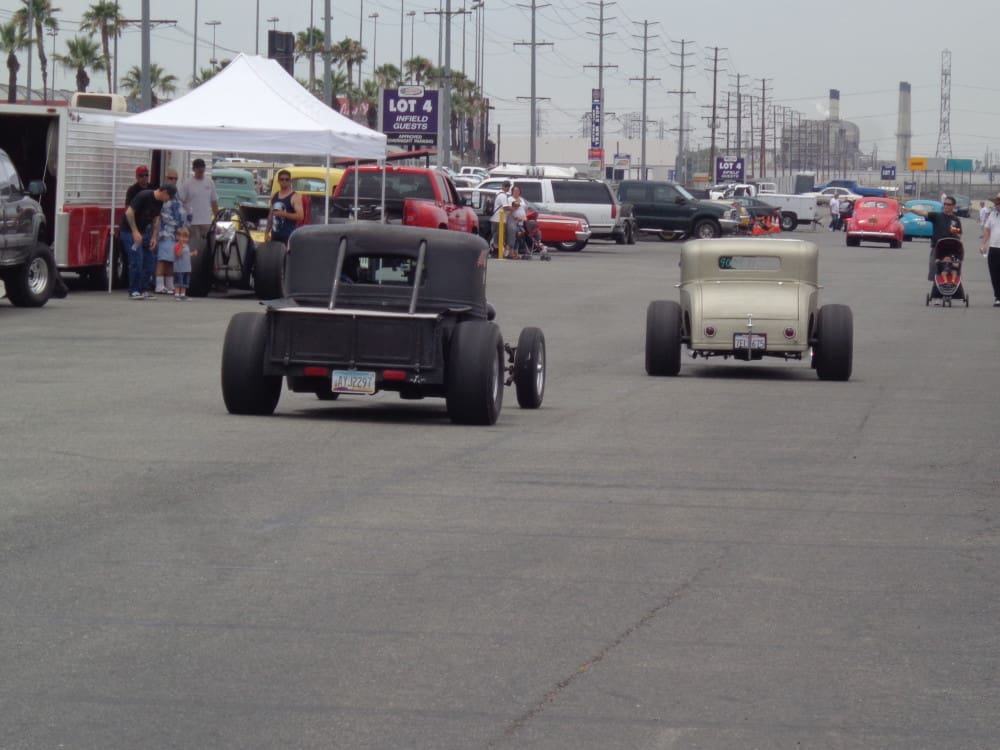 More stuff to look and listen out for as we walked around at Fontana.
There goes the Cushman- Flat out at 40mph.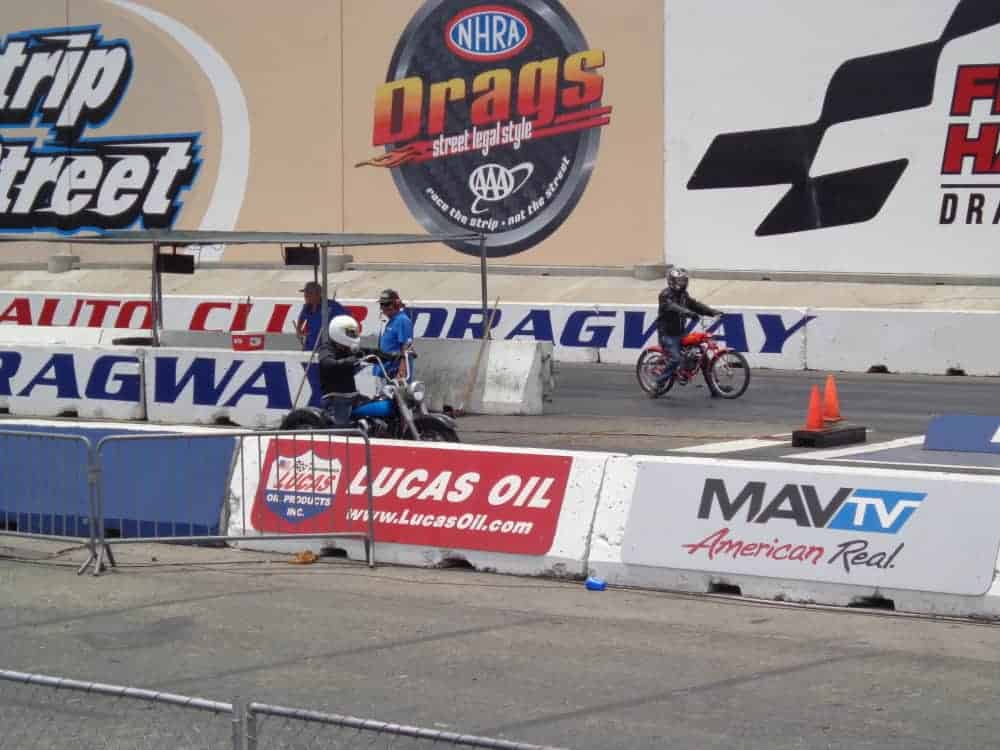 Whizzer and Harley go at it, thats fair right?   We had an awesome time, and look forward to next year, hopefully see some of you out there too?
Here are some video's I took, not great footage but still you get the idea.
Below, Squeak Bell in his awesome coupe.

Great little race this one.
Flying Orange Speedster.
Always great to watch Hot Rod Girls and she is certainly that with her Caddy powered Roadster, shame she didnt get the win but it was close.
Whizzers give it some as they take 22 seconds to do the 1/4 mile.
Comments
comments