I have written all sorts of Blogs on two wheeled machines but I am trying to share more info on the Amazing Women that ride Motorcycles too, I have a few Girl friends that ride and I couldn't keep up with them, they need recognition, and a little insight to how and what made them have an interest into these 2 wheeled internal combustion engine machines.
I hope to feature some Girl riders more regularly, and with any luck they can tell me and you in their own words, what makes them tick, I don't think there is anything cooler than a Girl on a bike, and my very own Girlfriend rides a Bonneville and has an old 550 Honda, as well as an 883 Sportster.
Below is a friend of mine that was a real Motorcycle enthusiast when I was in London, and still is as mad about two wheeled machines today. Karen Stephenson is an awesome Motorcycle aficionado and is handy with a Spanner and a paint brush.
Here is her explanation of what got her interested into the same scene I am into.
Originally from Canada, it took moving to England to awaken my passion for classic British bikes.
I moved there for work and was introduced to '60s Triumphs and the Rocking scene.
I would go down to the 59 Club every month and go on the Rockers runs down to Brighton.
If ever there was a rockers do, I would be there. My first bike was a 1957 BSA bantam D1 which I rode from London to the south of France and back after one day's training on a learner's license. After that "on the road training" I went back to Canada to get my full motorcycle license.
Upon my return to England I bought a 1968 Triumph Tiger 90. I soon realized that the Tiger 90 was too small so my boyfriend at the time and I upgraded the engine to a Tiger 100.
I loved that bike. That started a passion in me that continues to this day. I have now had many Triumphs and a Triton and some Guzzis and a Ducati Monster. But the constant has always been a Triumph.
Work took me back to Canada 11 years later and I am now back to building Triumphs again and have just finished a 1969 Tiger 100 from basket cases and I'm just starting to build a 1963 Bonneville from scratch.
I think I will be riding triumphs until I have to trade it in for a Zimmer frame. Even so, I may put Triumph handlebars and a headlamp on it. Haha
Thats so cool that Karen is still building her Motorcycles and has as much passion now as she had back then.
How about a trifecta of ladies on their Ton Up Machines, awesome photograph taken back home.
There has always been something cool seeing girls and their bikes, especially when they are in full stride in kicking the motor over to hear it scream into life.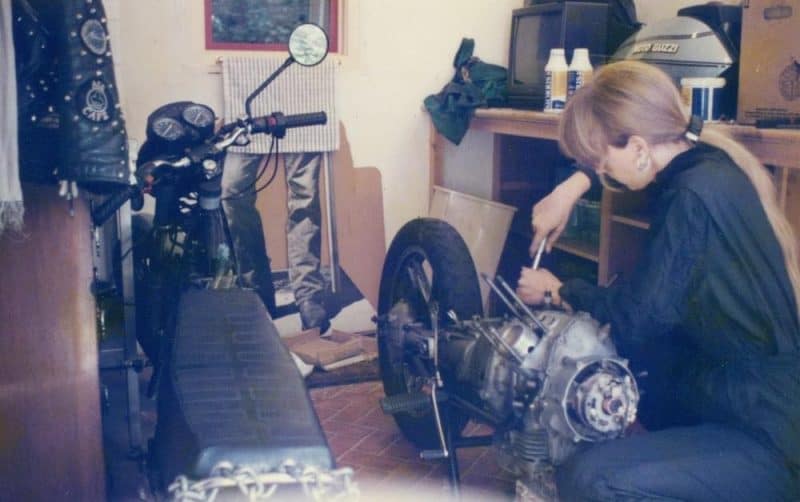 Karen does her own wrenching, so saves all that Labor money that garages and the like love to charge and she has built many Motorcycles over the years. A very talented Lady.
Its been many years since I have owned a pair of Black leather Gauntlets, but the British weather always called for them before the slimline fancy stuff was available, nice to see Karen donning the same style like I had for years.
What a Brilliant Photograph right here, these triplets are not to be messed with. Karen's Jacket is so typical of the attire many of us wore with all them badges of honor and key fobs, love it. A really fun photo that I wish we could all see some more of.
Cannot get enough of these Nostalgic Photos of Karen and her steeds and hope you lot are enjoying as much as me? And am hoping that we get a lot more Ladies sending in their photos of them and their Mean Machines.
This photo is how I remember seeing Karen when I was going to an event like the Rockers reunion etc, a classic look and style and will be loved for ever. I do not know who took the photo but am forever grateful for them as its a Timeless shot that has travelled the globe many times for people to admire.
How many of us have done this over time? I know I sure have, I remember the ride to Hemsby on my little BSA Bantam or when I rode my T100 in rain and wind all the way to the east coast, no money to stop and stay somewhere nice, but I could pull in and find some shelter and lay on the bike to get some well earned rest, love this photo Karen.
Karen lives back in Canada and maybe we can pop in and see her when we get to travel more again, she is a super person and a very talented Mechanic and artist.
So, if you have a Wife, Girlfriend, Partner etc that rides MotorCycles, then drop me a line with some pics and lets do a blog on them, as I love to see as many girls on the road as possible.
carpy@carpyscaferacers.com  OR at carpysgarage@aol.com
Comments
comments