OK- I have Done it, I put a deposit down on a New Royal Enfield Continental GT
Right-I have done it, I just went and bunged 500 smackers down on the New royal Enfield Continental GT.
No moans and groans, no worrying about payments etc and – no wonder – Asthese are going to be popular.
The price is so affordable and to their credit, they have actually taken time to see what improvements they could do to the little motor ad actually come up with a fun and cost effective machine.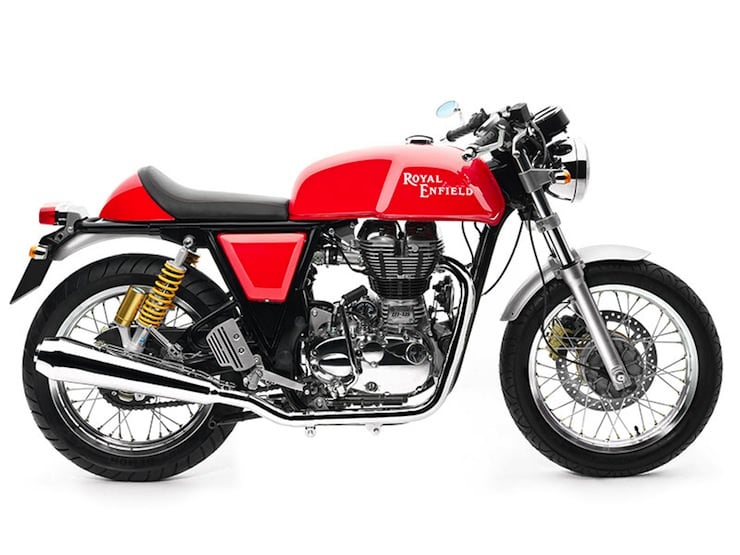 This is the all-new Royal Enfield Continental GT, it was released last week in the UK and before I go any further I'll hit you with all the important figures – 29hp, 32.4ft-lbs, fuel injected, single cylinder, 535cc, 184kgs (wet) and about $5995 .
The Continental GT has been in the works for some time, a prototype was shown last year that looked almost exactly like the now-official production bikes. The model uses the same engine as many of the other Royal Enfield models though it has an all-new frame, fuel tank and other bright work to set it apart a little.
As with all Royal Enfield motorcycles it's made in India, which goes a long way to explaining the relatively low price point, a similarly styled Triumph, Moto Guzzi, Harley-Davidson or Ducati will set you back thousands of pounds more, potentially making the Continental GT solid choice as a second bike for those who already have a tourer, a sportbike or a green-laning enduro.
Now, you have the choice to kick the girl in the guts by the traditional kick starter or- an easy press of a button and this little fuel injected  535cc motor to jump into life, admittedly this would not pull the proverbial weenie off a chocolate mouse but it does claim 32 foot-pounds at a healthy 4000 Rpm, and blapping about the So Cal country side at up to 80mph is nothing to be sniffed at.
If you want a total performance ,road hugging and affordable Cafe Racer for yourself, then this is right up your street or alley, and I am glad that I have bunged a wee bit of green stuff down on this and come January 2014 I should be banging the pegs on the tarmac.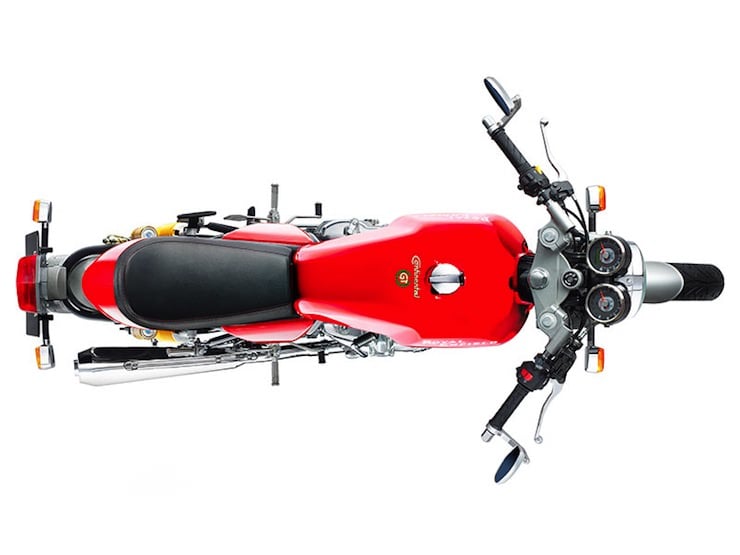 With a simple, air-cooled 535cc with Keihin fuel injected engine the new Enfield is crying out for performance upgrades – the most common of which are likely to be a faster-breathing exhaust and a modified fuel-injection system that boosts horsepower above the 40 mark.
It's not hard to see that a significant market exists for a classically styled bike at a price point that can be met by an average blue collar worker, that's what the original cafe racers were after all. It remains to be seen how the bike performs, how reliable it is and how well it sells as Britain slips into another cold winter but I suspect it'll probably do quite well in the long run.
At the end of the day, it's a remarkably simple bike that exudes 1960s charm, so long as Royal Enfield can stay on top of any reliability issues, offer OEM performance upgrades and establish a dealer network they could be onto a winner here – Triumph had better be ready for a fight.
I am certainly up for the challenge and will of course tweak it about to my required fit, but this is a jump on ride deal, right out of the gate.


The official Royal Enfield Continental GT film – Ace Cafe to Madras Café
258,178 views 2 months ago
The new Royal Enfield Continental GT promotional Film – Ace Cafe to Madras Café.
A band of rockers embark on an epic 11,000 kilometre burn-up. They set out from the birthplace of café racer culture – the Ace Cafe, London and finish at Madras Café, India, close to the Royal Enfield plant in Chennai where the Continental GT is built. Spanning continents and cultures, this café-to-café ride captures the spirit of pure motorcycling and the exhilaration of getting astride the lightest, fastest, most powerful Royal Enfield motorcycle in production.
My mate from back home Sarah Bradley has ridden hers in India and really enjoyed the bike and that's good enough for me, she is one of the best riders I have ever had the pleasure to follow about on a motorcycle.
She has been a Journalist in the motorcycle industry for longer than i care to count and she knows her stuff.



So-here is just a wee bit of information on the bike for you lot to have a look at and digest.
The Royal Enfield Continental GT. This is the lightest, fastest, most powerful Royal Enfield in production.
It's a machine with a story, a nod to motorcycling's finest hour; a painstaking collaboration. It is also the best expression yet of a cultural phenomenon that has simply refused to fade away – the café racer.
Explore the motorcycle in its magnificence.
GENERAL INFORMATION
Insurance Get an Insurance Quote
Manufacturer Royal Enfield
Model Year 2014
Model Continental GT Café Racer
MSRP $5,995.00*
DIMENSIONS
Length 81 in.
Height 31 in.
Width 30 in.
Weight 412 lbs.
Ground Clearance 5.5 in.
Wheelbase 54 in.
ENGINE
Engine 1-cylinder, 4-stroke, OHV
Horsepower 29.1 bhp (21.4 kW) @ 5,100 rpm
Displacement 535 cc
Bore x Stroke 87 x 90 mm
Torque 44 Nm @ 4,000 rpm
Compression Ratio 8.5:1
Ignition Spark
Clutch Wet, multi-plate
Cooling Air
BRAKES/WHEELS/TIRES
Brakes Front: Brembo 300 mm floating disc, 2-piston floating caliper
Rear: 240 mm disc, 1-piston floating caliper
Tires Front: 100/90-18, 56H Pirelli Sport Demon
Rear: 130/70-18, 63H Pirelli Sport Demon
BODY
Colors Red
Insurance Get an Insurance Quote
Also a wee bit more information that some of you lot may like.
This is going to be a fun adventure and i would like to see where I go with this, as there is no way I can leave things alone and will be obviously changing the machine to how I like it and maybe some of you will be into it too.
A touch of yesteryear and being fuel injected, no worries on jetting when I go up to 8000 feet at Big Bear.
Plus, coming in at about 380 pounds, this is s much lighter that the 750's I ride and also lighter that the Thruxtons,which i also love and have owned in the past.
Ok- its not as powerful as the bigger machines but this is perfect for everyone to ride, be it the novice or the curve eating twisty racers out there, this is nothing to be sniffed at and I shall be doing a few blogs on how I feel about the workings and handling of this little red rooster.
It has an easy 5 speed gearbox that's not hard to command and the clip on's that are fitted and plonked on the top of the yokes make this a manageable ride for those who like me- know what the old versions were like.
Harris -Performance designed the steel cradle and it is testament to what they do and the handling is so much more responsive.
The Classic lines of the bodywork are actually courtesy of Xenophya Design, which also hail from back home in the UK.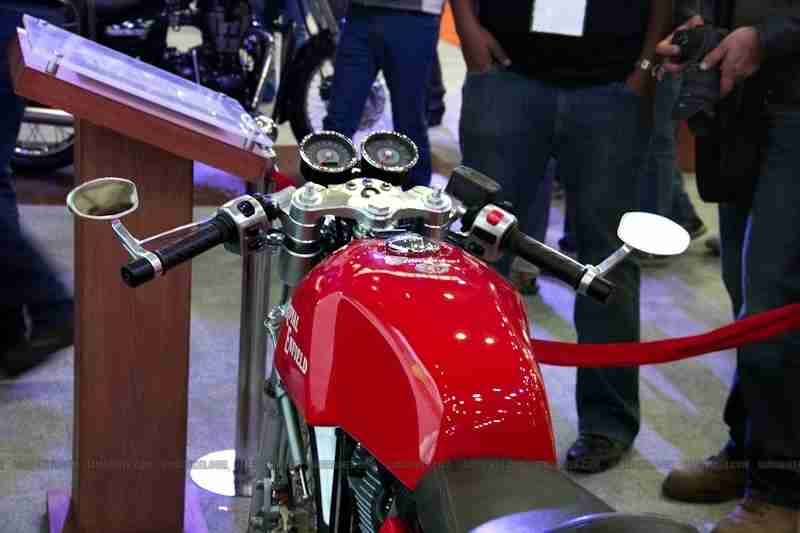 Having Brembo brakes is a masterful idea and sat on Excel rims, gives it that yesteryear look but stopping power that we very much have to rely on these days in the fast paced lifestyle that we have accustomed to.
So, I look forward to bending the tach needle and experience the New Enfield and will report on all my findings as I go along this new road, just hope that the vibration issue on the earlier models have been ironed out else I will be spending a lot of money on thread lock paste.
Comments
comments