My Old Thruxton was a Fun Machine
Having a day to remember this afternoon, remembering my 2013 Triumph Thruxton that I bought as stock as the Proverbial Rock in Brea and then set about changing a few things as I went along and get it to the style and menacing Gnarly Growl of the mufflers as I hit the apex of a curve somewhere in Southern California. Below, even after a couple of weeks of owning this Thruxton, I hadmade some Monarch Megaphons out of stainless steel and changed the Shocks to a set of TEC piggy backs.
Although the stock Thruxton is so much fun to ride, I just cannot leave stuff alone, I have always tinkered with anything I have owned to try and make it look different and this Thruxton was going to get some sort of make over, but, I didnt want it off the road for long as I use it all the time. Thus a long timed transformation begun and boy what a Fun time I had with this little 900 machine.
Well, by the time came for me to enter the DGR, the bikes Livery had already changed and many modifications had gone by, but this was a great look that I came up with that reminded me of the old JPS formula 1 days and I rode the heck out of the twinline in this guise.
Now this was still ongoing and was not happy until I had changed a few more things but, I still kept this girl on the road, she loved to be ridden and ridden hard, and I got all the moneys worth out of this Thruxton and it was just a fun motorcycle to jump on and go.
I rode this machine in all sorts of conditions and Triumph did a superb job designing this 900 engine as it took what ever I threw at it and more.
It would be nice to keep every bike you owned but I am no Jay Leno, but at least I have some photos that I took to remember some of the fun machines I was lucky enough to own and ride a lot.
I have ridden this to many places and in the Boiling Sun or pouring Rain, the bike only ever failed a couple of times and that was a Puncture and a set of Blown Shocks, other than that, this just ran and ran.
Many a time I took the back Canyon twisty roads out to the Chino Air Museum, as I love ww2 Aircraft, its always fun riding out here and gets the cobwebs of the week blown cleanly out as you hit the curves on Carbon Canyon Road.
But a fun machine and something i wanted to share with you lot today as I sit at home ans catch up on orders for people bikes that they are completing in this Pandemic time we are all in.
I made a rear Cowl from Aluminum and set a Lincoln Zephyr style tear drop LED tail Light in the back, as this Cowl would also store my gloves, Goggles and documents inside.
I loved this set up and was finally happy at the final guise, it did turn many heads I must admit and never got pulled by Mr Plod either funnily enough.
This time Soft Tanned and aged leather was used with 2 inches of High Density Memory Foam to make sure my Arse did not get numb on our long rides that Jennifer and I took.
This bike sat well now, big 5.5 rear tire made sure that this stuck to the tarmac and a set of Berringer brakes up front on a wave rotor made sure I stopped in time.
The Full Stainless Steel Italian Zards Barked well and I wrapped the front in Space EX sleeves that kept my legs from burning and it really worked well to be honest.
I needed that Fog light on many occasions and it gave my Trumpy that European look, I sell the fog light kit still today to people all over the globe, as well as the headlight with internal LED signals, I hand made the fender from an old BSA model.
Another one of My Products that I designed and manufactured, was the Knuckle Duster Heel guard, I had sold many of these and they really do add some cool detail to the bike, many of which people forget about. I also drilled and welded tubes in the swing arm and chromed for that Custom look.
This was a nice ride height for me and took some time to dial in to how I wanted it but now in this guise it would whip into the corners like a Go kart.
I hoped you liked a little insight into my Triumph Thruxton EFi 900 Cafe Racer machine? I sure had a Blast getting this to how it is now.
Hope that you lot get some time in the saddle this Summer and enjoy what we are so lucky to have and share the commeraderie of the road with other like minded people.
Sure be nice to see some of you when we are out on our travels, we have made so many friends in this industry and always glad to meet other enthusiasts such as your selves.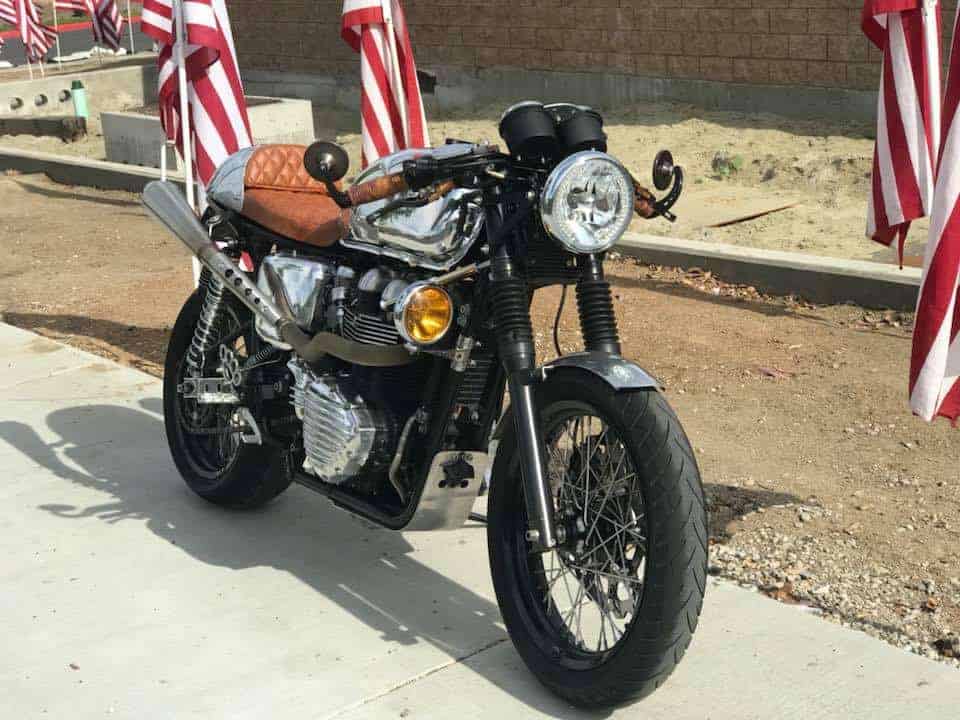 It is always good to get out and when I get back, my mind is clear and I am ready to design and make new parts once again, this has been a fun 20 years doing what I do.
If there is anything I can do to help you along with your machine, just drop us a line at carpy@carpyscaferacers.com or text on 714-598-8392 as I am here to help.
Thanks for reading my Blog today, its fun to do, takes a bit of time but always worth it if I cheer your day up a little bit.
Peace N Grease to Each and Every one of You!
Comments
comments