FOR SALE 1976 CB750F $3500
Here we are with a 1976 Honda CB750 F Super Sport that has been turned into a cool Classic style Cafe Racer, the price is determined by the fact that it is not a new build and it does have a few scratches here and there etc and, it does jump out of 2nd gear, hence the price, But still a great deal as I rode it today and what a blast.
Still Hauls hard through the rest of the gears and I am still adding a few things to this as I try and get the bike looking how I would want it.
Although I do have a Customer visiting me on Thursday to look at it and take it for a spin.
This has had a lot of work done by me over the last year and it has the SS Gas tank that I hammered the knee inserts into, then cut the old gas cap flap out and welded that flat, then added a stainless Steel 2 Inch Monza style Flip Top Gas Cap.
It has one of My Rocket seat bases on thats covered with soft upholstery and is damn comfortable for sure.
Now, I have fitted some Original 1975 Marzochhi Race shocks, these are a rare find anyway but i wanted that ride height and now she sits well and straight and the shocks soak up the bumps as you power around the roads etc.
This has Clubman bars with a set of GT grips with shorty rectangle Mirrors,.
The gauges work but are stock but sat on my custom Gauge panel that's polished alloy and sets the top end out from the rest.
The front forks are polished and also have braided hoses throughout, you will also notice that Both Rotors are drilled for that old school look.
New battery keeps the thing alive and has a good 630 chain and sprocket set up to handle the torque of the inline four motor.
19 inch front wheel and wide 18 inch rear are powder coated black with Stainless spokes and painted hubs, give this bike a tough look indeed.
Today I cut and bobbed an old front fender and fitted to the bike and man it hugs nice and tight over that 110X90X19 front tire.
It fires right up and idles and is a fun machine, as I said- No show bike but a great looking ride that you wont be afraid to leave out anywhere.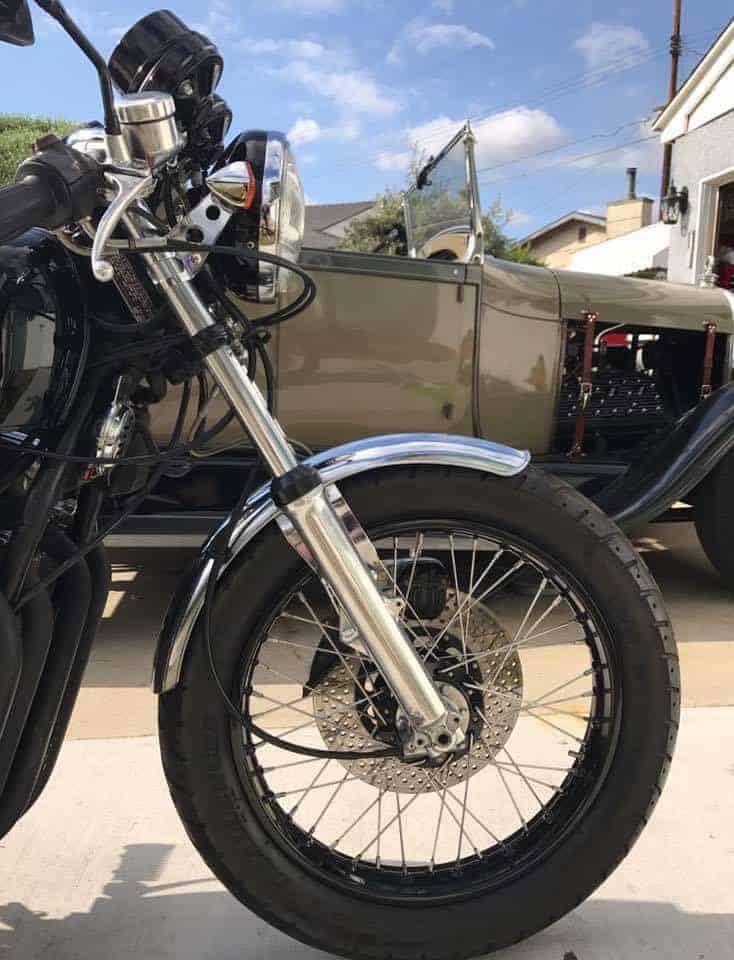 So-have a look and see what you think, its a cool machine for sure. Call – 714-598-8392 for more info….
$3500 with Clear title and registered with New Tags.
Comments
comments