Vic Edelbrock Jr Passes away.
Vic Edelbrock Jr. passed away Friday, June 9, at the age of 80 after complications from a cold.
"It's with deep sadness that we announce the untimely death of our visionary and leader Vic Edelbrock Jr.," the company website read. "Vic passed away this evening from complications following a recent cold. His passing was peaceful and in the company of his closest friends and family. The Edelbrock Fun Team sends their deepest condolences to his family and will always hold him in our hearts."
Vic Edelbrock Jr. took over the aftermarket performance parts company that bears his name after the untimely passing of his father, Vic Edelbrock Sr. Vic Jr. was just 26 when his father died in 1962. With a small but dedicated band of 10 employees, Vic Jr. not only kept the company growing but made it into one of the largest performance parts entities in the world.
It's a long story that starts in 1933 when Vic Sr. opened an automotive repair shop on Wilshire Boulevard in Beverly Hills. Soon after, Edelbrock cars were racing on the circle tracks and dry lakes of Southern California during the golden age of hot rodding. In 1938, Vic Sr. bought a '32 Ford and used it to test new speed parts, more or less inventing the marketing tool that would later be known as "the project car." The first big seller from an Edelbrock project car was the Slingshot manifold, used by Vic Sr. on the dry lakes to clock a prewar time of 121.42 mph in the '32.
Business wasn't the only thing growing for the Edelbrock name. Vic Jr. was born in 1936 and started working summers in his dad's shop at age 12.
"I was making $2 a day and I thought I was really living," he told us when we spoke to him for a 2002 story.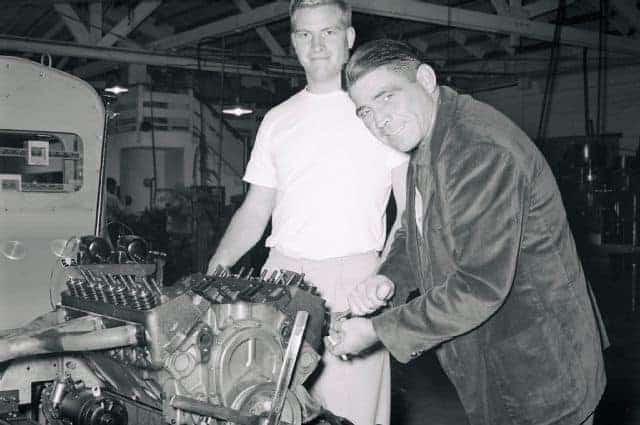 The towering Vic Jr. went to the University of Southern California on a football scholarship, graduated with a degree in business in 1959 and went to work full time for his dad's business. Just three years later, Vic Sr. was diagnosed with inoperable cancer.
"He had no chance," said Vic Jr. "Four months later he left us."
Not only did Vic Jr. have to deal with the death of his father and mentor, but he suddenly found himself at the helm of a fully funded company with 10 employees and $200,000 in the bank.
Many an heir would have blown it all in a couple of years, and some expected Vic Jr. to  do just that. But one thing the father had taught the son was the value of good people. Among the 10 Edelbrock employees were Don Towle, Bobby Meeks and Bob Bradford.
"They stuck with me," said Vic Jr.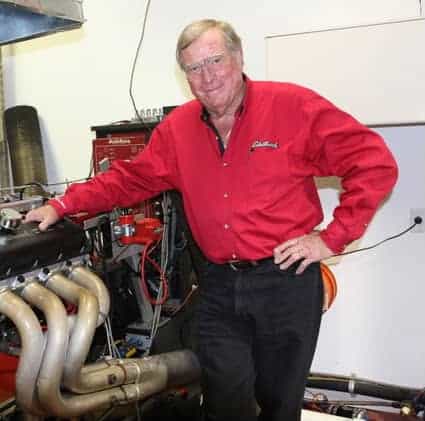 In 1965 Bob Joehnck, who had been a close friend of Vic Sr., called Vic Jr. with a suggestion.
"He said, 'Make a manifold for the small-block Chevy,'" remembers Jr. "I said, 'They already make one.' He said, 'Trust me, make one.' So we made one."
Did they ever. The Edelbrock manifold for the small-block Chevy became the foundation from which the company springboarded into legend. That manifold led to a relationship with Holley to mate Holley carbs to it, which eventually led to more parts for more cars.
We drove an excellent example of the Total Performance Package back then in 2002 in the streets around Edelbrock's Torrance, California headquarters — Vic Edelbrock's own 1967 SS 396 Chevelle. With an Edelbrock intake, cams, heads, carbs and water and fuel pumps, the 468- cubic-inch big-block Chevrolet made 540 hp and 539 lb-ft of torque (those are gross figures, not today's legal SAE net measurements). In keeping with the Total Performance Package philosophy, the car also came with Edelbrock springs, shocks, trailing arms and wheels. All we needed was a cigarette behind one ear.
The big-block started with a screech, reminding us how much internal friction these big, meaty engines have. The gauges jumped to life as the car body torqued in the direction opposite crank rotation. Steering through the big, skinny wheel was heavy, the way things were in 1967, and we cruised the streets waiting for the engine temps to warm up. In a few minutes we had enough heat to open it up a little and suddenly it all made sense. Why would a working guy spend a month's salary on parts? Because of the way this magnificent old beast opened up when you floored the throttle. Suddenly the big-block roared in one long, uninterrupted wail, the exhaust note went to a higher-pitched whaaaaaaaa as the engine neared its 6000-rpm power peak and the '67 SS leapt forward, scaring the hell out of a number of sensible midsized sedans nearby. Telephone poles, indeed, looked like a picket fence.
Goodbye, Vic Jr. Say hello to Senior for us.
The Name will Live on in the Automotive World and always there will be a part of the Edelbrock family on an engine if you are a performance fan.
Comments
comments