ROMO MOTOR FESTIVAL in Denmark
Welcome to the home of Danish Beach Racing, some great times it looks like here in that Viking part of the world and fun times on the beach Racing all sorts of cool machinery.
For a long time it has been a dream to revive the history of Danish vintage motor racing and, in particular, beach racing.
In the years 1919-1924 the island of Fanø gave home to some of the most legendary riders and drivers Europe had to offer. Makers such as Mercedes, Citröen, Fiat, Opel and many more were represented, although almost all were in the hands of private daredevils.
Sadly the races on the beach of Fanø came to an end, with the tragic death of a 15 year old boy, by a tire loss from the wheel of Sir Malcolm Campbell's Bluebird racer.
Campbell did, however, set records at over 130mph on the 1km stretch.
In the same years, races were being arranged on the west coast of Jutland, but was eventually shut down due to local regulations.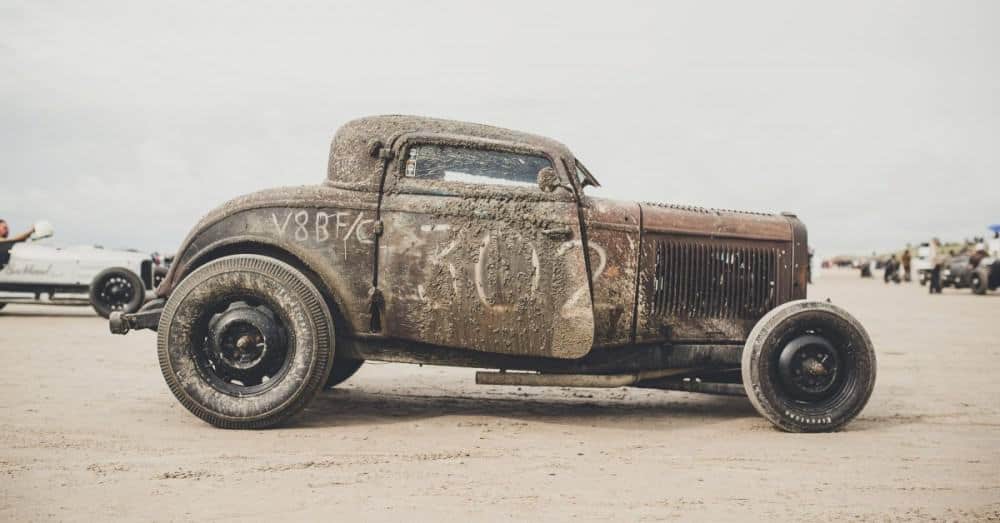 Fast forward to modern times, a group of enthusiasts in the Hot Rod & Custom community has finally succeeded in landing the necessary approvals for a vintage style race on the Island of Rømø.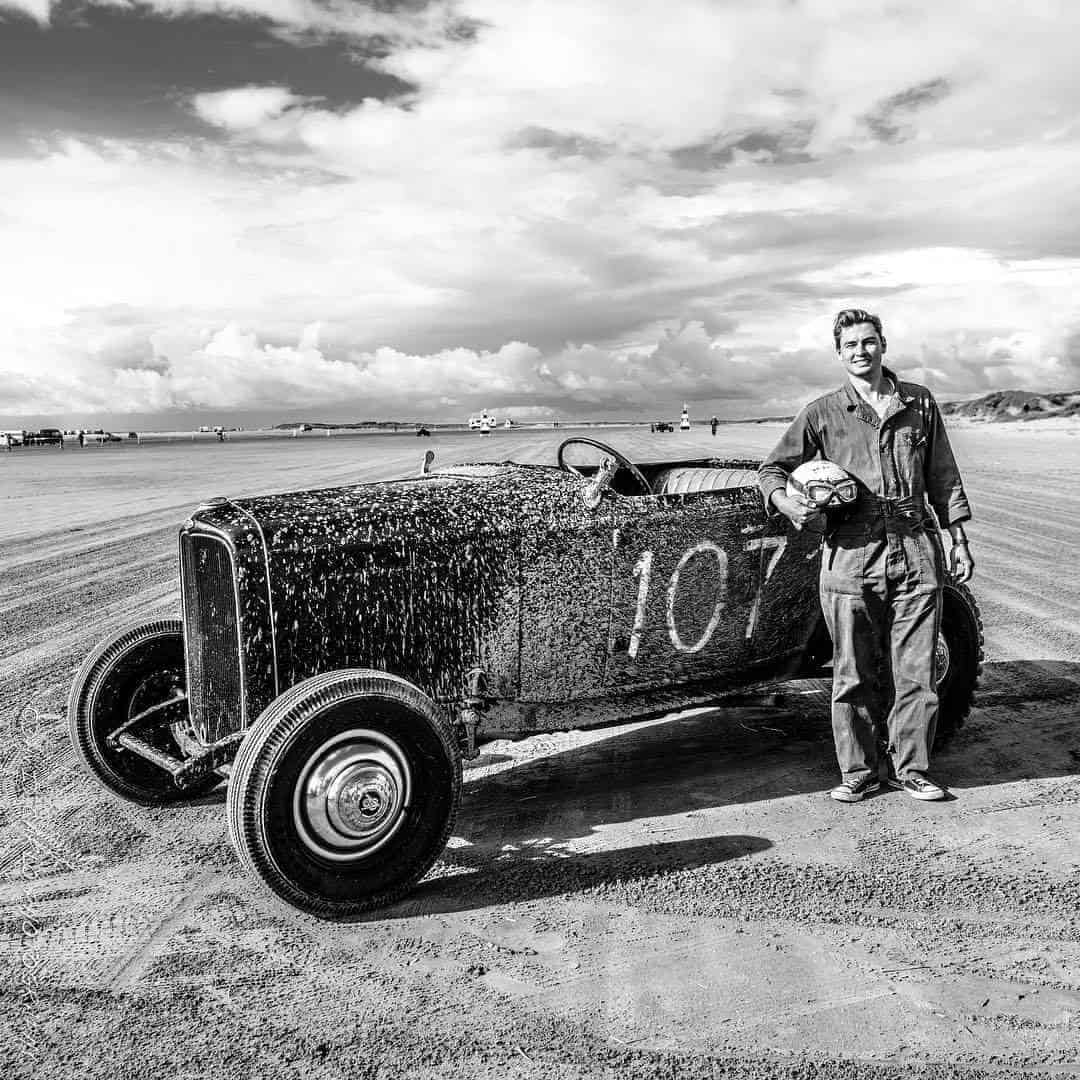 Like Fanø it benefits from extremely wide and long beaches, with a hard and flat surface.
Naturally no speed records will be set, but it is our ambition to create a true time pocket with pre-ww2 cars and motorcycles in an up-to 1947 styling and engineering.
The modern version of our track will be a 1/8 mile drag strip.
Obviously we have TROG here but its no way as good as any of the European events, the spectators cant see hardly anything over here on the beach races but back home they seem to have it all figured out. Hopefully it will change here, as the more that come to watch, the more that may get into our Hobby?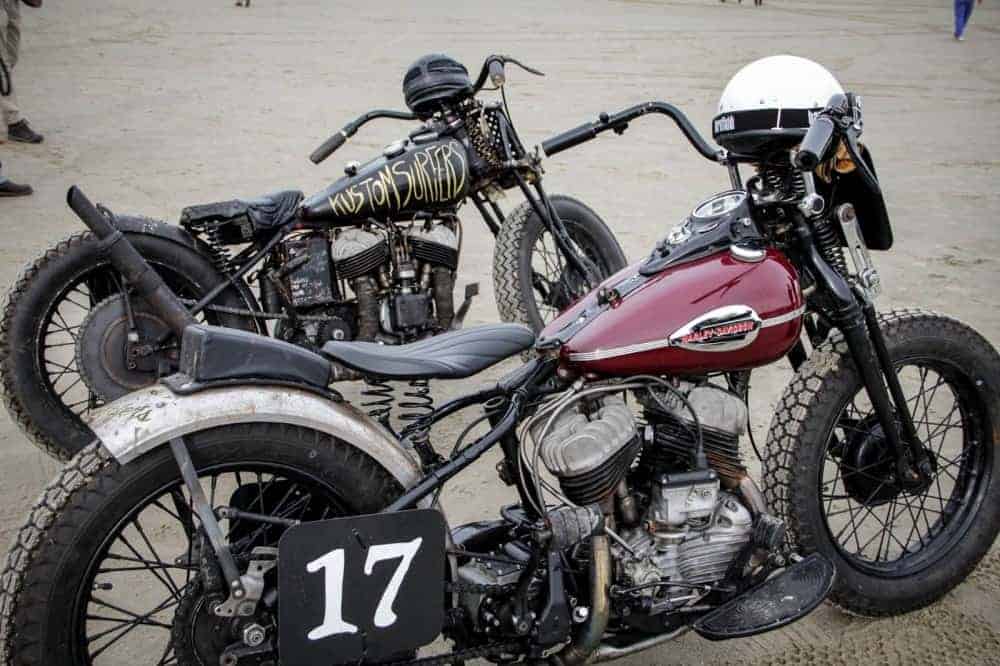 So if you can get to Denmark, check out the Romo Motor festival, its a real trip of Nostalgia.
Plenty of long Sandy beach and people taking the 1/8th mile to relive what was done many years ago.
Model A above seems to be having such a great time on the beach and if this was in Black and white, you would think it was the late 1940's.
Envious of this Flathead set up but what a great look, so 1940's Post war, I love this Roadster.
Adrian Smith bought his Aluminum Speedster along from back home in England, for some good old fashion Sand spraying and he had a ball.
Nice to see Motorcycles against Hot Rods, just as it was way back, what a great experience this must be?
No Christmas tree Lights here, the good old traditional Flag start, thats the way to go and an awesome photo here of the Flag girl and the 5 window Model A just taking off.
This 196 Ci KK Special is so European Pre-war it is bang on the money and he raced it pretty hard by all accounts too.
You would swear this was Southern California by the Licence plate and Roadster, McCulloch Blown Flatty, what a sweet set up.
Love this 1929 Roadster, Hope to get a Top like that for mine eventually, really digging this Hot Rod as it takes off down the Beach in Denmark.
Photo credits from now on are from Stefan Sell of Vintage Photografie
But what a shot,  Really dig this snap, it captures what Community and commeraderie is all about in the Lifestyle that we are all a big part of, wether having a completed Hot Rod or Just a fan, this pic tells the story right there.
What a Killer shot, thats Love right there, a passion for sharing and enjoying this fantastic era of our own and this is one more superb capture of happiness for sure.
There goes the Red Oxide Roadster, a period built Hot Rod and throwing the sand up at the Racer behind, love these photos as at least it makes that you feel that your there.
Love this Model T Roadster and having a VHRA plaque is kinda cool to see as well as I too am an early member of this club.
More T Vicar? Love this Purple Roadster with nice back rolled valance and 1950 Pontiac Tail lights as he sets off on his 16 inch Firestone's on a Channeled body.
Above, this geezer is checking out his competition as he lets go of the clutch in a race up the Danish beach, I cant see the tail pipe so maybe some short headers are the go?
I am totally into this Roadster, Supercharged Flatty is something I can only dream of but there is one right there on the beach, fella has old A2 Jacket and Chino pants, very cool ww2 look.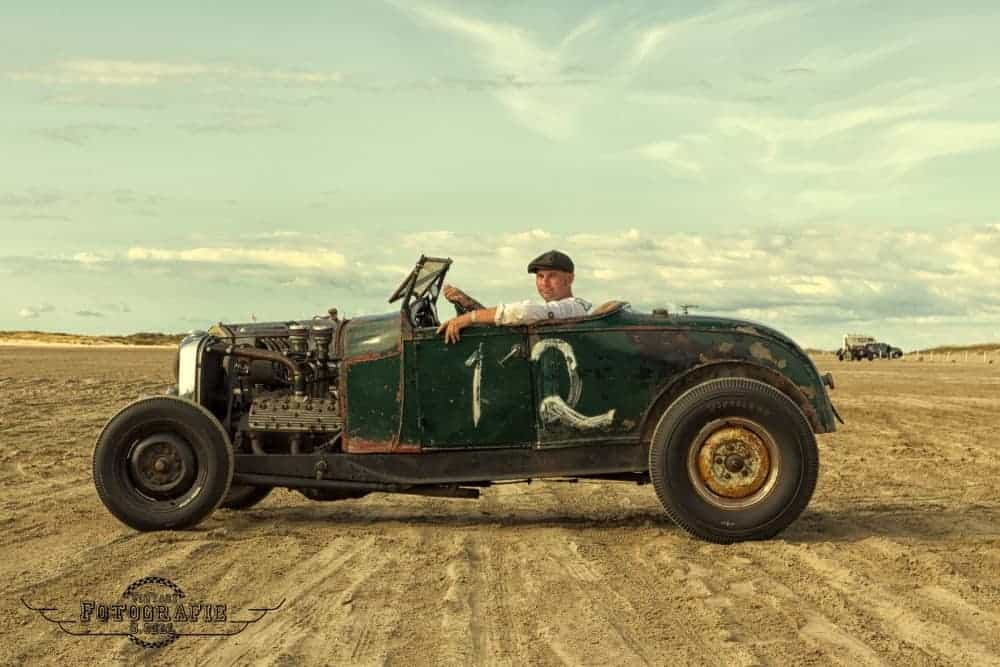 Come in number 12, your time is up, this AV8 is another period looking vehicle, a lot of time and effort goes into these machines and they sure look great, twin 97's and raked windshield.
That's a big dollar Roadster anywhere these days and so glad they took the Hot Rod out and raced it on the beach, Henry ford would love this sort of stuff 86 years later.
How cool is this Tank Shift Indian? I would love such a machine and Boy he sure mist of had fun with this on the sandy beach of Denmark at Romo.
It is always nice to see other rides too, I mean back in the day there would be everything competing and this Speedster really does look the part of the GOW crowd.
This Model T is pretty cool with Gina Huber and Marvin C Jensen at the Helm and, being so high, it gets out of the sand better than most.
Another rare early Harley, look at the rear sprocket, as big as a Ferris wheel, I bet that hooked up as the flag dropped? Nice job mate.
A reall sweet Indian and two buddies hanging out on the Beach, what a great day and look, even blue skies too.
Now thats cool to see these days, a Vintage Husqvarna, love this and would of liked to have wathed this race with the other machines up the 1/8th mile track.
Talk about Dapper Dan, what a get up this Geezer has and an awesome Indian there is nothing not to like at all, some great period machines made it to Romo.
The good old J.A.P. engines were super strong in endurance racing and of course, more famous for their Speedway motorcycles.
This Five Window Model A Coupe sits really well and the sneaky header turn outs just in front of the cowl is a very neat look.
Something for everyone and these 2 very different Roadster were cool to see, hope they raced each other, looks so So Cal eh?
Here we have Timo Mattmuller and his Girl by their 29 Sport Coupe with a neat ole 4 Banger.
Friends for life I should think thats a nice Harley, I am sure that they all had a blast here at Romo?
So much Vintage Tin at Romo, its a must for avid Nostalgia and one of these days Jenn and I hope to take the trip to Denmark, and see for ourselves.
Here is Sussanne Ruppel with her 30 Special and what a great rig this is as well, love seeing Women with their rides too, great job.
Looks like a stock 29 Roadster and having fun on the Danish beach with friends
No real info on this fun photo but the guy center and to the right are Fred and Greg, the Notorious Custom Surfers..
So, this is Greg with his Channeled Roadster, Scalloped too and like the color scheme to this Hot Rod.
An eerie look early in the morn as the dew and mist just start to clear and so reminiscent of the days when in So cal they lined up on the Dry Lakes to race everyone in the late 1940's.
Adrian Smith had his Buckland Special he built with his own hands here, sitting next to Krister Lindblm with his Oxide painted Roadster, nice pic at the start line.
I have no information at all on this bloke on his Indian but he will not be left that clean for too long as soon as he clunks into gear and lets that clutch out on the beach, fun shot though.
All ages all sorts of machines, a great event for sure, a little far away from us but one day maybe ventue out to Denmark and check this Romo Event out.
Getting set to take on the sand and the other competitor of course but it looks to be a Happy event and am sure this will get bigger and bigger as the public I am sure become aware to it.
A Vintage extravaganza to be enjoyed by all.
Chrome Dome atop of his Noggin, Flight Goggles in place, this barnstormer is ready to take them all on in his 29 Model A.
Having fun is what it is all about, heck, bring your Beer Goggles along and enjoy the ride.
Thanks for reading my little Blog, I didn't take the photos, you can thank Stefan Sell as he is a great photographer for these shots that I have shared. Have a Great weekend everybody.
Right, time to play with my very own 1928 Model A Roadster.
Comments
comments