VESPA PRIMA VERA SMALL BODY RUNS GREAT $2500 (S-O-L-D)
Well, here we are with a vintage Prima Vera I got for my Girlfriend some years back, she now has a Triumph Bonneville and time to thin the herd a little and this is a good deal for someone out there who loves these Italian Classic. SOLD-SOLD-SOLD-SOLD-SOLD-SOLD-SOLD-SOLD-SOLD-SOLD-SOLD-SOLD-SOLD-SOLD-SOLD
This little Small Body Vespa is the last of the Cool Models as it doesnt have the ugly later turn signals, its all hand signals, this also was a 50cc and now is a Fully Rebuilt 130cc Engine that buzzes along quite happily.
Another good thing is that this is not a Three speed, its the early 4 speed hand shift, its also the American Export Model as the left side has a opening compartment.
This is all running and rides well for a scooter, it needs no battery either and runs pretty strong. 4th gear is great to have on this machine and easy to transition through gears.
It is painted Tiffany Blue in that 1960's style and had White Wall tires as well as a Vintage Leopard print seat to offset the Tiffany Blue livery.
Great for round town or just the collector, fires right up and is a good little Prima Vera with bags of character.
It's a little too small and out of character for me but many love this Scooter and here it is available for $2500 right now.
I am sure that if you are looking at this right now, you know somebody that may be interested and show them this and see what they think.
It is no show winner but a ridden bike thats fun to ride and these are holding their value pretty good these days.
Buy it to ride for fun, get you to work, college or just keep in a Retro shop, it is for sure a head turner.
Something from back in the day with bags of history and many people tend to smile and reminisce with these little Italian Scooters.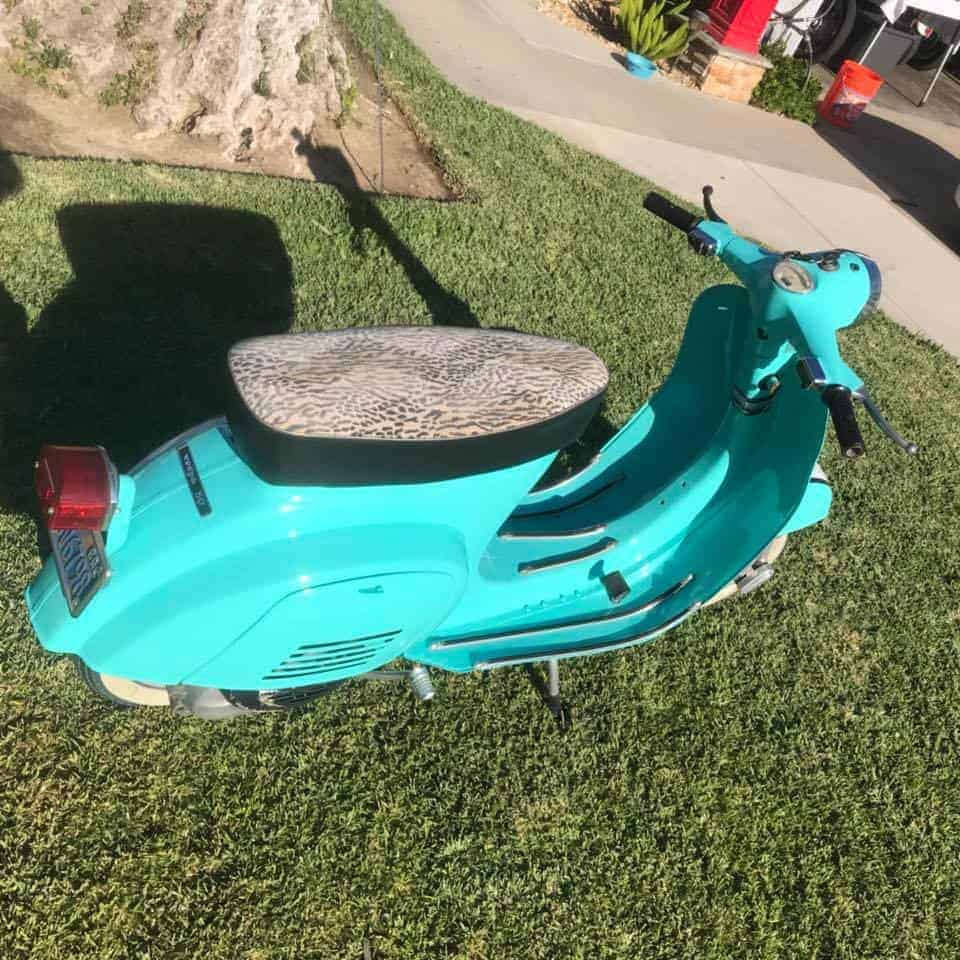 Drop me a line if you need more information or photos, this is located in La Mirada California.
Would make a fun gift for someone in your family that likes Vintage Vespa's.
Thanks for looking, you can call or text on 714-598-8392 for more information.
Comments
comments