HONDA CB750 1974 SOHC for sale. $3500 FIRM
Here we go with a 1974 CB750 for sale, Original owner from new and its time for him to sell it, we just tuned the carbs and new tire, new battery and speedometer cable.
Runs great, all stock other than the sissy bar exhaust and paint.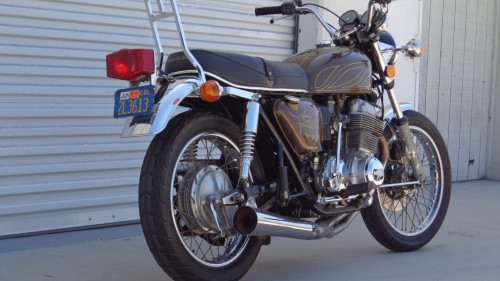 This has a title and is ready to go.  Here are some pictures to see if you may be interested in this old 500 pounder machine.
This Motorcycle fires  right up and idles well, and the horn, lights, and turn signals all function correctly.
It has the stock rims, 18 rear and 19 front, just fitted brand new tire and also a New speedometer cable this weekend.
The headlight functions well and also the turn signals not only flash, they have the annoying original chicken choker alarm when they flash.
The Motor runs great, does have a small head leak but looks to be fine and quite normal on these machines, i will check to see if its the valve cover or the head weeping.
The gauges are all there and they function as they should do.
And yes indeed, that is the true mileage on this motorcycle.
All the gears work well and meshed nicely through their transition, the clutch functions as she should and did not slip.
A fun ride for someone out there and we have done a few things to this, a full service, as well as new battery and new intake manifolds for the carbs and new intakes for the air box too.
The bike is ONE owner and this will make a great restoration or a super cool Cafe Racer and I thought I would put her on here for you to see.
If ya dig it, call us on 714-996-4597 and yes we will ship anywhere in the USA and can ship anywhere in the world, of course, you pay the shipping costs etc.
Comments
comments