BARBER MOTORSPORTS VINTAGE MOTORCYCLE EVENT.
First off, before I do anything else, I gotta tip my hat to Jason Paul Michaels of Dime City Cycles and Kevin Dunworth of Loaded Gun Customs, for making me feel like part of their family, I mean everyone at Turn 17 was so much fun and all on the same page when it came to the Cafe Racer scene,.
I have never met these geezers before but have corrosponded over the internet and phone, but- it was like we were kin after a few hours.
I hold these guys in a super high standard in the Cafe Racer and Custom Motorcycle industry and to be part of their gig at the barber on turn 17 was to be quite honestly, a magical moment for me.
The event was awesome and these guys worked hard to pull this event off, I was looked after all the time and you lot must all congratulate these guys for all their hard work and effort, into making that weekend ROCK !!!
What a Fantastic place the whole event was, set on 740 acres of lush green tree filled forests, this really was a sight to behold.
I did not have enough time to see it all but I sure tried hard.
Over 700 motorcycles on display all the time and everyone of these will fire right up,.
Motorcycles everywhere you look, the Museum is one of the best in the World I believe and cleaner than a cats arse too.
Four stories high and more to see than a you could possibly get your brain around, this place is a MUST for motorcycle buffs.
Something for everyone to be honest and we spent hours in this place and sure i missed a few bikes to see.
This also has a 2.5 mile race track that you can ride around, and boy was it fun watching vintage race bikes flat out and bumping Clubman bars.
There was so much to see and as we had a film crew with us, we documented as much as possible to capture all this for a later show, so stay tuned.
Richard Backus of Motorcycle Classics was there and i wanted to personally thank him for putting me on the cover o his nostalgic Magazine back in 2006.
The weather was Bloody hot to tell you the truth and as the event is so vast, you had better be prepared to walk , ride or get a shuttle anywhere.
I made many new friends, but what I could not believe was the amount of people who actually knew who I was, I mean, here I am in Alabama, a Limey who is based in Southern California and people came up to say hello, I was stoked. I got asked for photos and autographs and has a swell time meeting new people who love the Cafe racer style as much as I do.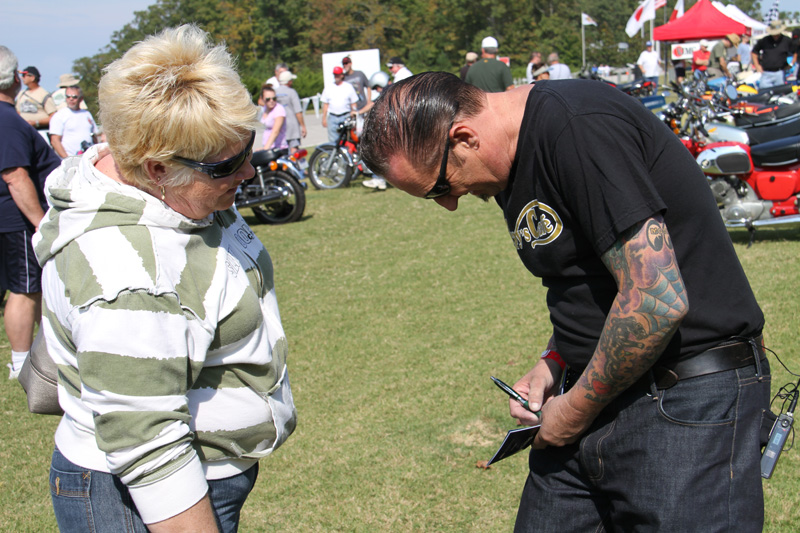 I spent many an hour searching through rows of motorcycles and vendors, they have all sorts going on and boy was it a blast.
This was an area where the 2 strokes had a sound off, quite funny to hear a little 2 stroke through a loud hailer, but fun none the less for all.
Some fans found me drooling over some of the bikes they liked too.
Plenty to talk about, so you lot out there can see and hear what we got up to, at this superb venue in Birmingham Alabama.
I watched the later motorcade, where you can ride your street machine around this 2.5 mile track after the races, epic to see.
The Ace Corner, where I was a guest with Dime City and a chance to meet up with an Old Brit mate of mine, Mark Wilsmore of the Ace Cafe back in London.
Mark can talk the legs off a donkey about the Cafe Racer scene back home.
I wasn't far behind him though and was great to meet and greet people that dig all we all do and share.
They had the Wall of death, these guys are Crazy to say the least and put on a superb show for everyone.
I interviewed some of them afterwards, they live life on a wires edge and you got to go and see them if they are in your town.
Spoke to Santa at the swap meet as I spotted a Tracy body for a Trumpy, hard to find these days.
Always interesting to hear their stories and where they are from, as people travel from all over hte USA for this event and the world for that matter.
It is fun to watch the old bikes race and they race hard too, but its the characters that make it for me.
AKA HIPPY, this guy was a blast, he made us sign his poster, if we didn't he would of slapped us upside the head.
Some lovely area's to watch the bikes belt by and take in the sights and sounds and the smell of racing fuel and oil in the air.
Some great rids to see at the Dime City area and that's where I hung out with Jason and his lads.
Eye Candy all over the place and plenty to see, don't you worry about that, as Jason had this gig all dialled in.
Trumpy's a plenty too.
It was just so good to see stuff that I am really into, I was happy I came out and cannot wait until next years event where I shall have a booth etc.
I rode out on Dime Citys Cycles 1978 CB750 for a blap on the back roads.
A superb time we had, as I led out with my Mate Mark Wilsmore from the Ace Cafe.
It was the best weather for taking a Cafe racer out in the back lanes of Alabama that's for sure.
We stopped off about 15 miles up the road for a cuppa etc and had a chin wag, as you do.
Had some photos taken with new friends and just a brilliant day out to be honest.
This where we stopped for a coffee about 15 miles I guess, and it was a fun ride there I tell ya.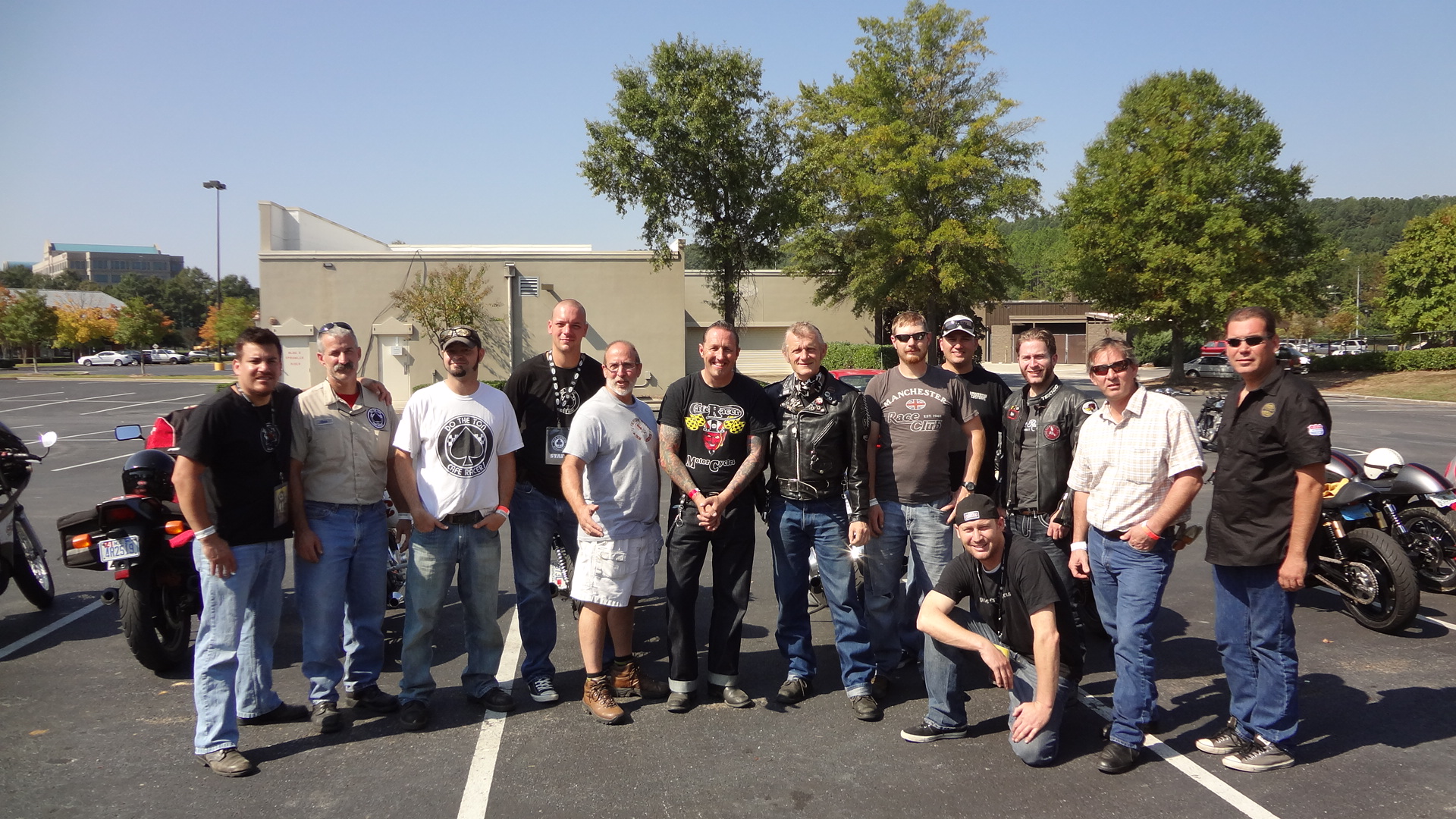 Friends for life, we had a ball spending the afternoon out here and the ride back was a blast too.
We all got ready to ride back and a good opportunity to capture the moment to share with you lot.
Comments
comments