COOL LITTLE CAFE RACER FOR SALE!
Here we are with a cool XS360 cafe Racer and it is for sale right now.  $6500
Shawn has done a ton of work to this machine and I said I would post it on my site as I believe it warrants a look for sure.

Shaved frame and sandblasted then powder coated,rebuilt the motor then rebuilt the carbs polished all aluminum on motor then painted motor reworked the electrical added power switch under seat ,put clip on bars new controls,new headlight, new cables,new tires, respoked at bucannon's polished the hubs, gas inverted shocks,one of your seat bases with custom Upholstry,super Moto grips,gp shorty levers,added velocity stacks to carbs,sealed the tank,added 2into1 exhaust mounted a cat eye brake light new sprockets enamel coated new chain added all stainless stell alan head bolts new gaskets everywhere,new brakes new master cylinder bike rides and looks like a new bike paint is Bentley black,Lamborghini yellow and Ferrari red added a British license plate with the year make and model on it .
Here is Shawns details if you want any more information on this little Cafe Racer, you will be suprised to how peppy this is and you sure will get plenty of looks.
number is 951-553-5265
Shawn Neugart 
Sneugart@yahoo.com
951-553-5265
Located in Menifee,ca 92585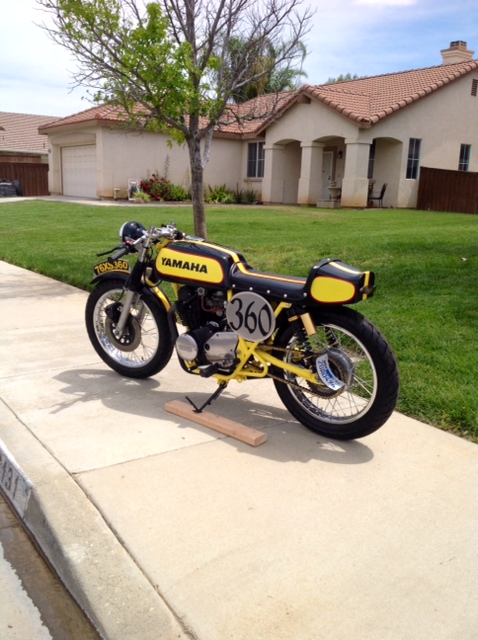 Comments
comments