59 Club Ride to Huntington beach Bike meet Sunday!
OK Fella's, Tomorrow we meet up at Alea's and take a cruise to the Vintage Bike Meet, should be fun, as I have not been since about 2007.
Looking forward to seeing my crew and the weather will be awesome for it, not sure which way to go yet, 57-22 then magnolia but we can figure that when we meet tomorrow.
Remember, check oil, Tire pressure, chain tension and lube it and I will see you tomorrow.
Ride Fast but Safe!
Ton up
Carpy
Group ride to Vintage Bike OC's Bike Meet.
Meet up at Alea's Cafe. Kickstands up at 1:30 sharp!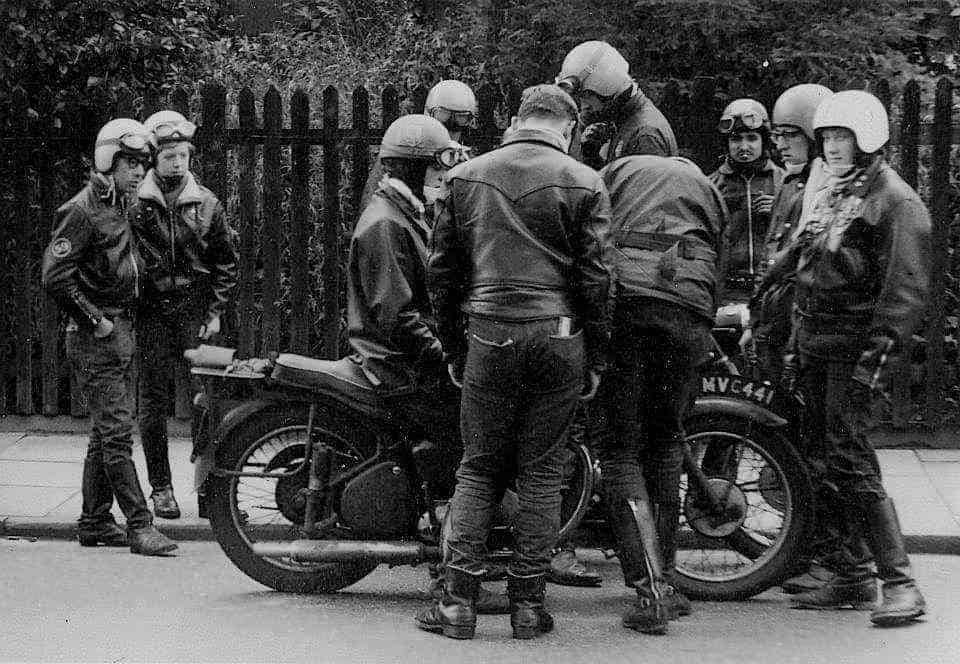 Next Meet:
Mr. Pete's Grill
Sunday July 12, 2015
2:00pm to 4:00pm
Aermacchi
Benelli
BMW
BSA
Ducati
Gilera
Indian
Harley Davidson
Henderson
Honda
Kawasaki
Laverda
Matchless
Montgomery-Ward
Moto Guzzi
Nimbus
Norton
Norvin
Rickman
Royal Enfield
Sunbeam
Suzuki
Triumph
Vincent HRD
Velocette
Yamaha

Formerly "Vintage Bike Night"


Started in June 2004 by Thomas Harper and Greg McBride as a way to get the large number of vintage machines in Orange County to be seen a little more, get a little exercise for them and a little fun for the owners. They plugged it pretty hard and got a very good turn out. The biggest turn out was a few months later with 41 vintage machines in attendance.

Originally called Vintage Bike Night, because we met on a weekday evening. This caused a problem during the winter months. Although the weather was nice enough to bring the bikes out, the daylight didn't cooperate with many of the vintage lighting systems. For this reason, the meet was moved to Sunday afternoon.

Rebirth as "Vintage Bike OC " August 2007

In August 2006, Joe Kagerer started attending the meets on Sunday afternoons. Anxious to help grow the group and help spread the word, he Joined just in time to find out that we had lost our domain. It had been squatted by an internet domain registry company. Not willing (or able) to pay their extortion fee to renew the Bike Night domain, he registered VintageBikeOC to host our site.

All are Welcome
Generally, "Vintage" refers to motorcycles 30 years old or older, while "Antique" refers to bikes at least 35 years old. Our group is very diverse. Anyone with an interest in vintage bikes is welcome to attend. Bring your favorite bike and show it off or your latest project and get some advice. We'll be there between 2 & 4. Hope to see you there.


What do you want from this Site?
Vintage Bike OC is your site. Please let me know what features you would like to see on our site. All suggestions will be evaluated and are appreciated. Omissions, corrections? Please send me those too.

Thanks for visiting!
Joe Kagerer, Webmaster VintageBikeOC.com
info@vintagebikeoc.com
Comments
comments