BMW R9T Redesigned onto a tough looking Scrambler by 2 Loud in Taiwan
Morning' Here at Carpy's Garage I often sit and look at other superb designs by other shops and people etc and spread the word on such builds, and this Scrambler below is exactly what I mean when people think way out of the proverbial box, such a great job in re-creating something that was great on the road, but this is a new level of Motorcycle design and building that has become so popular, had to write up about this BMW, as it has many hours of thought, sweat, tears and am sure scraped knuckles in bringing this old Heavyweight back into the ring.
So, when you think of the good old Beemer, there are a few things that pop int your mind, first off, I think, Expensive, then I think of Comfort, after that I think of Smooth riding, then its weight and of course, its just for the Tarmac.
But check out the ultra cool work that the Company 2 Loud, which are based in far off New Taipei, where the heck is that I hear some of you ask?
New Taipei is a special municipality and the most populous city in Taiwan. Located in northern Taiwan, the city includes a substantial stretch of the island's northern coastline and surrounds the Taipei …
Germany are one of the best engineering countries when it comes to reliable Motorcycle engines, The BMW R nineT was developed by the German marque as a modern version of the now iconic R90, with heaps of Torque and smooth linear power transfer, this BMW machine  was intended to shrug off the enduring image of BMW bikes as staid and utilitarian.
2 Loud is a rather well known Motorcycle and apparel company based out in Taiwan and has created some uniqe machines over the years, so the owner Max Ma always enjoys a challenge in creating something that will stand out amongst the now popular Scrambler and Brat style machines that now seem to pop up in every corner of this world.
Max was heavily influenced by their Japanese counter parts, as they are closer to Taiwan than the UK and his passion for their machines grew over the years, gaining experience with these bikes by owning and rebuilding them.
Max and his Crew are known for their attention to detail on anything that they fabricate and this is testament to all their creations with this BMW.
Taiwanese traffic regulations are notoriously pedantic, so max often finds himself trying to balance visual appeal and practicality with the fine letter of the law, of which is very hard to pull off, so glad that here in California that we do not have all the BS that the traffic division have enforced over there in Taiwan, and Max had to pull all the tricks he knew to make this Custom creation look amazing, yet keep old Mr Plod off of them constantly sending fines in the mail for their non conforming Motorcycle.
The 1200cc Engine needs nothing in regards to a total rebuild, these horizontally opposed twin cylinder behemoths are lavishly equipped with a 6 speed gearbox, Dry clutch and super soft suspension, so it just needs a reconfiguration of other modern parts from different machines to turn this build into what it is you see now and boy what a superb build.
Also, with a 110bhp, this alloy Mill does not hang about and, with a top speed of 135 mph, its not to be taken to lightly in the power and speed division, unless you have owned one of these German power plants, it is hard to believe that these will produce this sort of speed and power, but, they are really a sheep in wolfs clothing.
When the build began, the first thing to go on Ebay was the stock bulky Gas tank, I mean, that thing could hold more gas than a Proffesional farter, so what was done after that tank was removed was a new one off was beaten out of a piece of flat steel, then an Alloy cover was fabricated and laid over it, making the tank more streamlined and showing off the lines of the chassis that the Germans are so good at engineering.
Max liked the original wheel, so these were simply stripped and powder coated then they wrapped the rims with chunky Pirelli MT60RS tires front and back and the old suspension was completly changed for a high quality set up made by Gears Racing H2P with two-way damping adjustment, an active valve piston, and spring pre-load adjustment.
The mill its self was gone through and although minimal wear, anything that needed to be replaced was done right there, then using a special High temperature paint, the engine was given the Stealthy look with a deep Black finish and this really does set off the engine in the frame.
A stainless steel exhaust system was begging to be fabricated for this monster and right there, Max and his team designed and created this really nice Brushed Stainless system with bigger header tubes that flow so nicely into a set of hand rolled Megaphones, this gives the Beemer its distinctive Bark, a tone that is never often equaled to any high end system these days.
I personally loved the unique hand fabbed Megaphone hangers, to me they remind me of Aerospace design and a great way to hang these beauties on the bike to show off.
A New ARCH Finned Oil cooler was added to keep this running 15 Percent cooler and give it some more styling to boot, as well as adding Brand New K&N High Performance and deep breathing filters to make sure these keep that engine running smoothly and of course efficiently.
The original brake, indicator, and headlight were removed and replace with much lower profile alloy indicators with a MS Pro aluminum alloy CNC-cut tail light, and a 4.5" headlight finished with chrome embellishment, the Upside down forks are a tough addition with a wide stance and aggressive stance and the great thing about the whole concept of this motorcycle is durability.
The Hand made rear sub-frame was handled in house and suits the new hand fabricated seat thats lavishly upholstered in Leather.
Take a look at these lines, they all flow and the bike has taken on a completely different guise, so much in fact, you would have to do a double take to make sure this is a BMW, of course the opposed Jugs protruding out like a baby bird sticking its neck out of an egg is a quick indication what motor this is but what a great piece of eye candy.
What I really like about this Master Piece is that the bike is a universal machine, meaning that this can haul as much Arse as it wants on the tarmac but also this bike is more than happy to go onto other terrain, soaking up bumps and rocks like it was Born on an enduro track.
So I guess in a way a Custom Dual Sport for the want of a better word., and me being in the 59 Club would love to take this to a meet and see what the club members think, as I am sure it would be a thumbs up all around.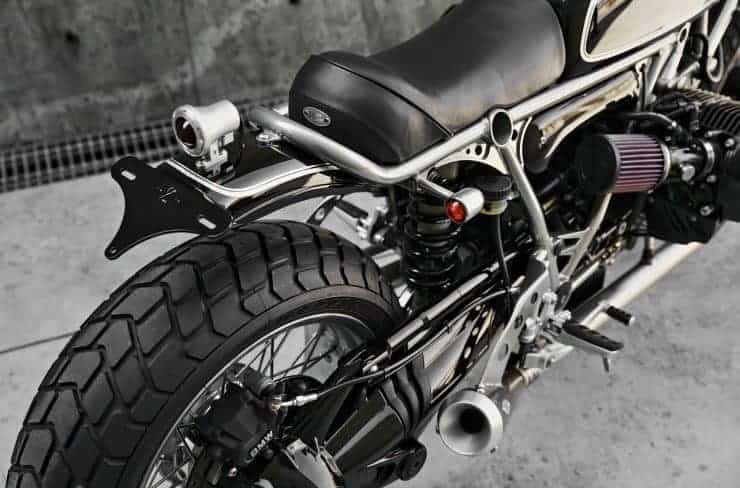 Many people have owned these machines and this has been quite largely customized all over the world, but- This I personally think is the best conversion I have seen of this big 1200cc monster machine and sure hope I get to see it one day.
There is not many that would even tackle a New gas tank made from scratch and I am glad that the subtle white pinstripes that run around the New Gas tank is very reminiscent of the original Toaster style tanks of the day, showing a little-Albeit Subtly, the Heritage of BMW. Another thing that of course you cannot notice is, under that hand crafted Gas tank is some major components that are needed to make sure this Motorcycle lives and breathes, So, max incorporated very cleverly, the 2 Computer boxes, also the ABS unit needed to be rehoused, and the Gas Pump too is no easy task to re-fit and of course the mechanical cables had to be re-routed and hidden, a tremendous task that Max and his team managed to pull off and you would never know.
Hand made Handlebars have the reminiscent styling of the good old Scrambler days, thus hiding the control wires and cables inside for a cleaner look and using high quality Brembo Master Cylinders really gives this a bike to be ridden hard but knowing this will stop in a safe controlled manner. The handlebar height is perfect for the right stance to make this a comfortable ride, unkike many back breaking styles that I have ridden, these look like they would be able to keep me riding comfortably for many hours.
So, all in all a very unique Motorcycle that deserves one of my Longest Blogs in a little while, and being Sunday, it was a pleasure to type out in the comfort of home, living in La Mirada we are blessed with riding weather and think today we shall make the most of it and take our Triumphs out to stretch their necks out, but how much fun would it be to take this unique Scrambler out and get it through its paces on the winding roads and dirt tracks that are splattered all over Southern California.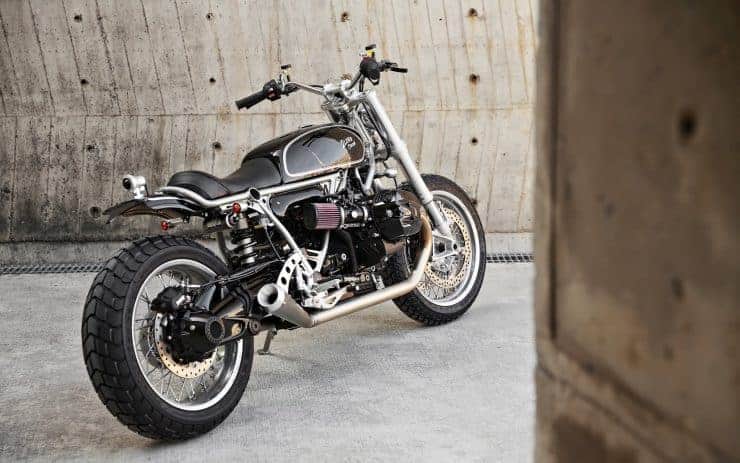 Have a great Sunday and hope you can ride some time today or during the week, Motorcycles are my life and love to share anything I see or locate and hope that you enjoyed reading about this Big BMW Scrambler, it sure was a great time putting this together on my Sunday off.
Christmas is just around the corner and I have to get a few things as yet but, if there is anything I can help you with, just check out the website and maybe there is something for the Petrol head in your family?
Peace and Grease as Always.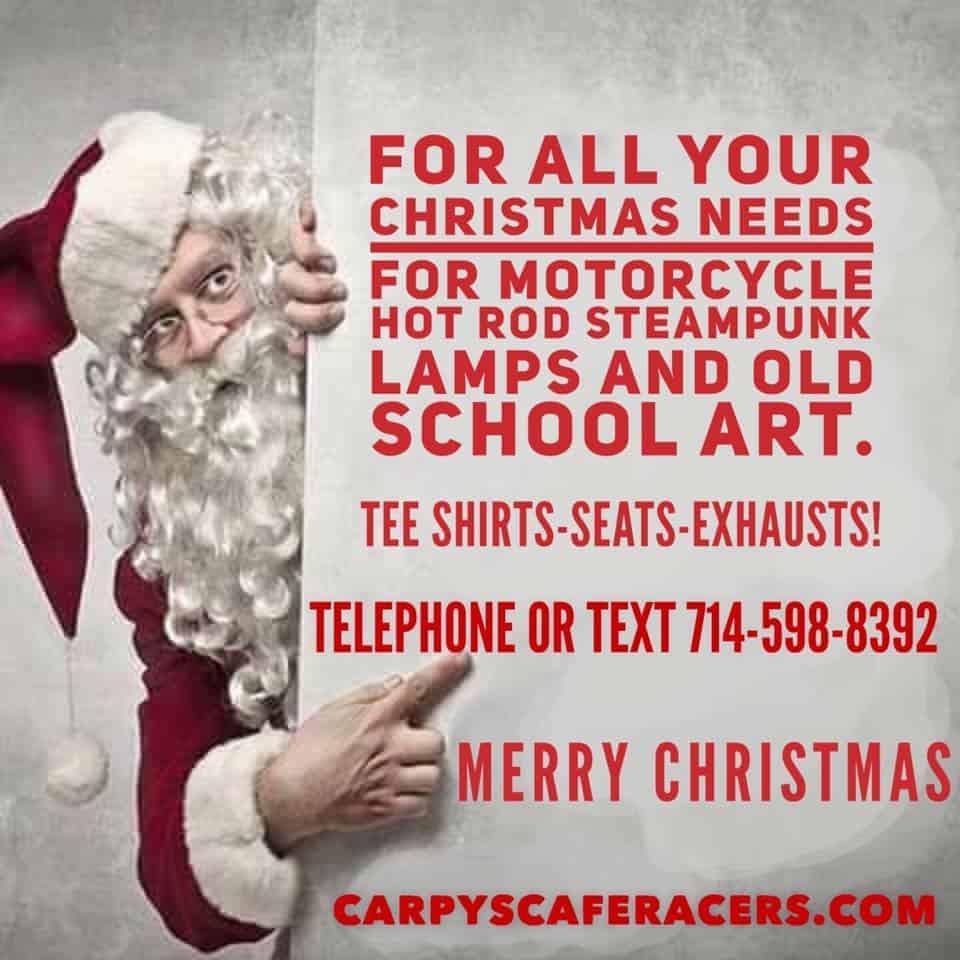 Carpy
Comments
comments