HONDA 1981 GL500 Silverwing – Making 2 into 1 Megaphone Exhaust Systems
Hey Guys n Gals
Well, I picked up locally a 1981GL500 Silverwing the other day, Non running, purchased on a whim, not run for many years, Only just got it home last night as we had bad weather here, but it seems all there, the main reason is I think I may make some 2 into 1 exhausts for it and I think the CX500 is pretty much the same too? I have had a few enquiries so hope to make a start soon, let me know if you would like a set?
But this week I will tinker with this old girl to see what state the motor is in, if the carbs are goosed, I will invest in a New set that a buddy makes for these and see how that goes but, I will fit a new battery, New plugs etc, change Oil and filter and then see what we have as she rolls along fine, brakes work etc so may be lucky and get her to fire up if I run a seperate fuel cell to the carbs, if I have a spark, I am halfway there.
It is a liquid-cooled, 80-degree pushrod V-twin, with four valves per cylinder, displacing 497cc. Unlike some liquid cooled engines that are disguised to appear to be air cooled with bolt-on cooling fins, the GL 500 engine made no such pretense. The engine's skin is the smooth exterior of its water jacket, with only a few minor ribs cast in on the rocker covers and lower crankcase.
The engine's transverse orientation in the frame placed the cylinders protruding from the sides of the bike. This arrangement has obvious advantages for an air-cooled Moto Guzzi engine; it places the cylinders and heads out into the air stream for maximum cooling effect. For a liquid cooled engine where that air flow doesn't matter, it creates a rather odd, lumpy appearance.
Adding to the oddness of the engine's appearance, the cylinder heads were rotated 22 degrees from the axis of the crankshaft. This was done to create a straighter tract between the intake valves and the 34 mm Keihin constant velocity carburetors.
While this improved engine aspiration and performance, Honda made no attempt to conceal the design and as a result, it creates the appearance that the rocker covers were put on the engine askew.
For those of us brought up on vertical twins with nice, symmetrical barrels wrapped in cooling fins, all these angles, rotations and finless surfaces are a little radical. This set-up took some getting used to, but once done, it was easy to not only tolerate it, but to appreciate its surprising power and efficiency.
It's even possible to get used to the torque reaction pulling the bike ever so slightly to the right when cracking the throttle at a stop sign.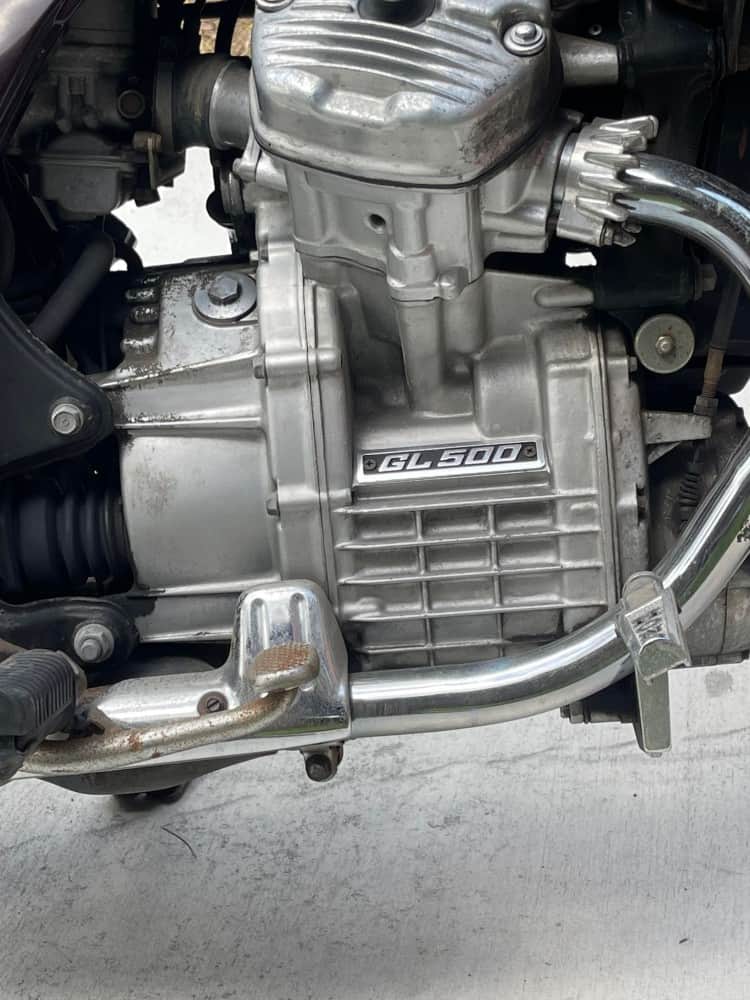 The GL-500 has an exceptionally light clutch that's a joy to use on day-long rides. Power reaches the rear tire via a low maintenance drive shaft. The five-speed transmission is an easy-to-use, positive shifting thing that in my mind could have been improved in only one way—the addition of a sixth speed.
The engine's excellent torque and willingness to rev has the rider constantly reaching for the clutch for one more upshift after fifth gear. The engine spins at about 5500 RPM at 60 MPH in fifth gear, making it seem to work harder than it should have to.
A six-speed overdrive arrangement would have given the Silver Wing a much more relaxed tone on the open road, and perhaps less vibration in the mirrors. This design might have caused an occasional downshift on long or steeper inclines, but for most flat highway work, it would have been an improvement. A sixth ratio may also have increased the bike's already impressive fuel economy—routinely 55 MPG on the highway.
The GL 500's instruments and rider controls are all first rate. Large dial faces on the tachometer and speedometer are easy to read. An engine coolant temperature gauge is built into the lower edge of the tachometer and a trip mileage meter is included in the speedo.
Large, easy-to-see indicator lights are carried in a separate panel between the gauges. The ignition switch, choke and front fork air valve are all up there in the cluster, as well. Even the fuses are up on the steering head beneath a flat black cover panel over the handle bar.
The double-piston disc brake up front generates just about as much braking force as you need on demand. Squeezing the lever gradually brings on gradual deceleration; pull hard, stop hard. The rear drum brake has a similar responsive feel to it, making it possible to stop the S-wing very hard in a straight line.
The interchangeable pillion seat and travel trunk make the bike more versatile in a way, as long as one has the option to pick between the added carry-along capacity of the trunk or taking a passenger; but you can't do both.
The GL-500 wasn't much of a pavement projectile when it was introduced and its position in the performance hierarchy of 30 cubic inch displacement bikes didn't improve over the years. But, Honda didn't design the bike for pulse-pounding, wheelie-pulling acceleration and top-end speed.
Over the years, the machines have proven themselves capable of accomplishing what Honda did intend them to: reliable, practical, long-term service in the mid-range touring and leisure riding class. In the U.K., many of these bikes are still in service as courier bikes and have astronomical mileage totals on them.
Its engine and drive-train combined some radical elements in terms of the transverse, finless, four valves-per-cylinder, V-twin engine with practical, proven elements like the age-old pushrod valve train.
Air-adjustable front and rear monoshock suspension was rather radical at the time for a 500 cc machine but the bike's rake, trail and wide bars gave it a practical, well-mannered feel out on the road. Shaft drive added practicality for long, long highway miles with minimal maintenance.
1981 Honda GL-500 Silver Wing Specs:
Engine: Liquid-cooled 80°included angle pushrod V-twin, 4 valves per cylinder
Displacement: 497 cc (30.32 in.3)
Bore x stroke: 78.0 mm x 52.0 mm (3.07" x 2.05")
Compression ratio: 10.0: 1
Carburetion: Two 34 mm Keihin constant velocity w/accelerator pump
Transmission: 5 speed, constant mesh, wet clutch, shaft drive
Electrics: 12 v transistorized
Frame: Steel tubing backbone, engine as structural member
Front suspension: Telescopic air-assisted coil spring, oil damped
Rear suspension: Mono-shock swing arm (Pro-link)
Front brake: Single disc hydraulic 11.0"
Rear brake: Single leading shoe drum 6.3"
Fuel capacity: 4.6 US gal.
Comments
comments