Well, I thought I would bung a few old photo's on here to show you what I am about, as I love motorcycles, Hot Rods, WW2 Aircraft,Pin Ball machines, Neon signs, slot machines, Pin up Girls, Low brow artwork, Custom cars, Tattoo art, Surfing, vintage clothing, Things that go bang etc.
So here is just a snippet of what turns my dial and maybe, just maybe you may even share the same interests.
Yep ! That's me with Big Daddy Roth, many moons ago in Las Vegas, great times.
Long live Rat Fink!!! 
My Old 32 deuce that's chopped and channeled back in the UK late 80's.
Here I was at Muroc dry lake in Southern California, Edwards air force base.
It was dusty as hell and boy did we have fun that weekend.
A dream come true for me, to be on the dry lakes was just phenomenal to experience.
Oh yes, it sure was dusty at the dry lake that time, and I had a heap of fun.
Me and my Scottish Pal, Shug, this guy lives and breathes dry lake Racing.
Back home in North London on a cold day, fixing my T100 Triumph before going to work.
Way back now and in the 80's with my 1953 Sunbeam 500cc inline S-7 Motorcycle.
A rare day when the Sun pops it's head out in London on my T-100.
The Sunbeam changed from Pea green to Jet Black, out in the middle of the Hampshire Countryside.
Me and my mate Jeff Vodden from the Shifters, I drove his beloved 5 window to the Drags in Bakersfield,.
Me with my 32 deuce, chopped and channeled and looking less wrinkly.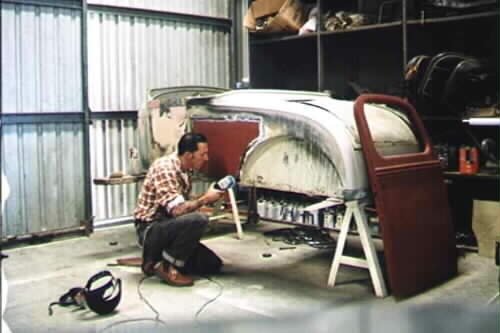 My 1928 Roadster body i was working on out in NSW in Australia, I then moved here to the USA with it.
Here is the Model A in my driveway in Orange, California.
I painted my F150 to match my Roadster.
Yes, I did all the artwork too in my driveway.
My old 1965 XP Falcon ute in Australia on the central coast.
My Brother lent me his 1979/80 DT175 to lap around on in Woking in Surrey, I loved that bike.
This was me way back when with my First car, its a 1961 Ford Consul.
Comments
comments