Bonneville Salt Flats part 2
OK, the previous Blog took me so long as the photos were high quality and the download time kicked me right in the Spuds, but, I have a few more photos left but these I took with my phone, so not great clarity, but wanted to share a few more photos of the great times Jennifer and I had at Speed Week in Bonneville.
Above is this A-Bone Pick up, as we all hung out outside the Nugget Casino and Hotel in the evenings, this was a super place just to have a beer and look at other peoples rides, chew the fat with many people that had traveled from all over the globe and we all had one thing in common and that was of course Speed Week.
Check out this Pick up, very cool and old school as it had swooping fenders with rear skirts, a lot of work went into this rig and I sure loved the way it sat in the weeds, great job of it.
Envious of the Hop Up coupe, just take a llok at this really Period machine, I mean sat on cross ply 16 inch Firestone's on 40 ford steelies and unchopped too, such a treat for me to see this.
Just when you think you have seen it all, this El Gringo loco truck was just bad ass, very cool, I am sure it bumped around on the tarmac but loved the style of this pick up.
Studebaker trucks have always been cool, almost Custom from the factory, I see this has old school ribbed bumpers and sporting 2 sets of 1939 tear drop lights at the rear, tight looking rig.
My God, Drool factor is off the hook, this Brown Suede Oxide three window was the epitome of Hot Rodding, complete with Black-walls and Stainless Hair pins, I just loved looking at this, Schroeder Race track steering box too as you can see the Pittman arm hanging out the side of the cowl.
I loved this three window as it even had an original 1932 Utah License Plate, what is not to like about this really Nostalgic Hot Rod.
How about this for a sight for sore eyes and when I say sore eyes, thats from the blinding glare off the Salt Flats today, the Rolling Bones Club drove down and they took their rides onto the Lake and when they came back each night, they pulled in at the Nugget, what a super rare sight it is to see all this Hot Rods in one place and covered in salt too. GULP!
This Slammed Hemi powered 5 window was popular with many people, the owner was super cool to chat too, as were everybody at this event, something a few events dont have any more and this place was ooozing with Camaraderie.
Just look at this sight, so much rare tin and not many places you will see as many as this in one place, it was Hot Rod heaven with out a doubt and I enjoyed every minute of it.
More salt sprinkled here than a bag of English fish and chips and every one of these rides had Salt from the lake on it, it must of taken a week to get it off, sure hope it doesnt start to rust these old bodies apart.
Just another view of the behind of these great cars , I doubt I shall be lucky enough to see anything like this line up again, unless I travel to the East coast and check the "Rolling Bones" group out.
If you ever get to Speed week, you will know that the evening meet up is a great way to wind down from the Hot weather on the salt, it was still hot out here in Wendover but a cold brew helped to cool you down.
Look at this, a gasser Corvette, there is a piece of History right there, who has ever heard of a slow Corvette? So this must be a heart attack to drive about?
" Any Salt with that Sir" This pick up with Beer Barrel grill got many looks and I saw this quite a bit blapping about at the Lake in 100 degree's +.
El Cheapo is right but I bet he had a million dollars worth of fun on the salt?
This Business coupe was tough as old boots, loved the chop and look how nice and close the rear bumper is too, so much work in this car.
This long Closed Cab pick up had a nice Black Flatty in it with Dual carbs and 36 Torque tube headers, very cool and traditional.
Oh my, this was just the coolest Roadster there, loads of Patina, loved the Canvass top, raked and chopped windshield and the commercial lights with those Tractor Firestone tires.
How could I not take a photo from the other side too, this was in the parking structure of the Nugget Hotel and casino in Wendover, what a great show there every night for speed week.
Check this ride out and it sits so well too, had more white powder over this than a cocaine addict with a sneeze! Loved the Black steelies and white walls too.
The Flying Brick seemed to get all over the place, yet hardly any salt on it, I saw this cruising all over the courses of the salt flats too.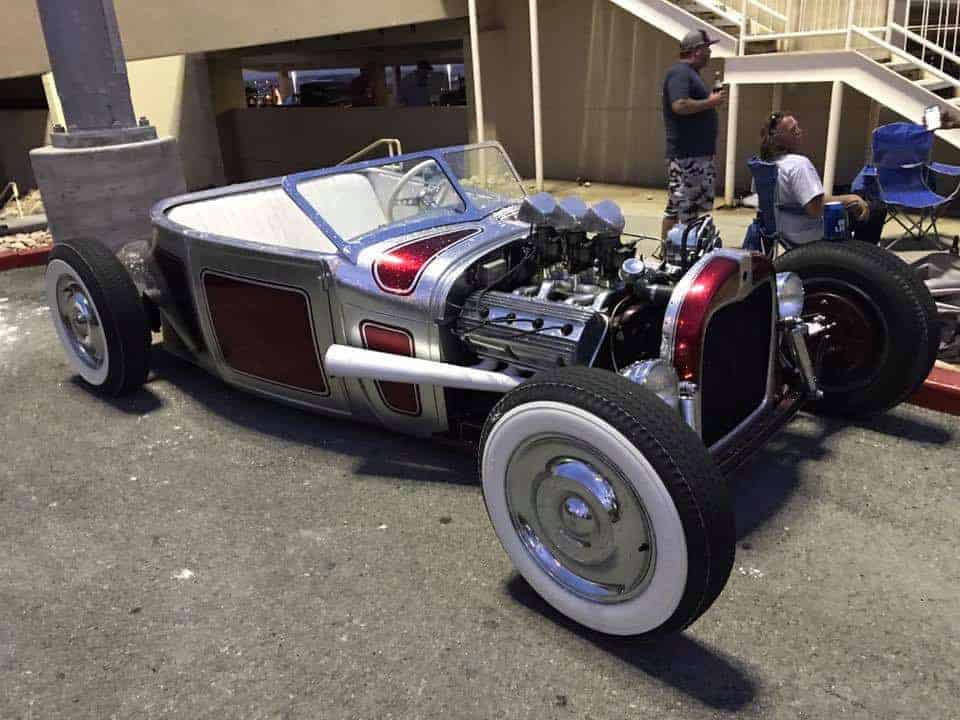 We saw this Model A Roadster on the way up to Wendover when we stopped for some grub just outside salt lake City, I was so surprised that a show car with custom metal flake paint would dare to take their machine on the Salt, but he proved me wrong, great little ride and it was fast too.
Tough looking 5 window Model A with a small block, cal custom finned covers, Sanderson style headers and a deuce grill with Louvre'd insert was a great attraction, I really liked it.
5 window parked up was covered in Bonneville's finest, the roof wasn't even chopped and thats quite a rare sight theses days, I wasnt a fan of them rims or tires but, each to their own eh?
This pick up was pretty wicked, loved the Patina and the stance, looked to have radar style 5 spokes and I bet this was a real smooth ride to where ever it drove up or down from.
I took this with my phone and wasn't sure if it would come out any good, but am pleasantly suprised with it, this was a fun area to be in, just by the side of the Nugget Casino in Wendover.
Loved the smooth lines on the Custom Sled, this really did have a lot of work, Nosed, Decked, Frenched, you name it, funny to see the Salt around it like on the rim of a Sangria Glass.
You can beat a drum, you can beat an egg, you can beat an opposing soccer team, but you cannot beat a traditional 50's Model A 5 window coupe, such a wicked ride I never tire of seeing.
All the way from Washington, this Highboy was a classy ride, a really nice 1932 Roadster with the deep Ford Blue gave it a Nostalgic style that is always popular no matter what year we are in.
Here is its twin Brother, No license plate else you would think this was the same ride, Instrument Dash is cool too, but, great minds think a like eh?
Now this is right up my alley, Road or Garden path, how can you not like this Roadster, the flatty sounded awesome when it pulled into the Casino parking lot, you cant beat the sound of a flatty.
Liked this Model A complete with Knock offs and traditional rear tail light , being fenderless makes this A-Bone look a lot taller as well, come in number 46 your time is up!!!!
I really did like this Roadster, the proportions were right, even the chopped Deuce grill shell was bang on the money and loved the 32 Headlights hanging from the side of the rails.
If you look behind the cars you can actually see the salt lake, so not that far away from all the action, Wendover is the place to stay if you are coming to Bonneville but, book early or camp out.
If you get to the Nugget Early, you can grab a good spot to park your ride as this is where the car show starts every night, it goes on all through the night too, always something cool to look at and everyone is super friendly too.
I was sat down at the start line on the short course, a Customer of mine that I made some Megaphones for in Lawton Oklahoma, said he would be there with his pops, its a big lake so doubt I would find him, well this chap stood next to me said. "Carpy" What the heck, he was only parked right next to us, small world eh?
If you can ever make it out to Utah, do it, its a great place to watch History happen and one of the most friendliest events on the planet, so glad that I had the opportunity to go.
Lee munro's First run on the Indian.
This spins out at 138 MPH but gives you just an idea of what is going on inside a cage.
Well, this is how 435 MPH looks and feels, bumpy and squirley as hell.
Here is another angle from the cockpit.

89 Year Old grandpa has a go in the coupe, spins out but what a great experience for the chap.

Last Run for speed week, watch until the end as some great camera angles, loved the last bit filmed from the rear.
Spin out, sure gets Gnarly out there.
Double Indian Scout engine Motorcycle.

Lee Munro on the long course gets to 186 MPH
Here we are with a Thruxton R having a go on the salt.
So there you go, a fun time, if you can ever make it to the Salt Flats, just once, you will then totally get the experience that we did and watch History happen right in front of your very eyes.
It is something I shall never forget, Speed week was always a place I wanted to visit to watch Hot Rods and Motorcycles Race and now that empty box has a huge Tick through it.
Thanks for following my 2 day Bonneville Blog, many people let me know that they enjoyed the write up and I hope that just looking at the photos made you at least smile today.
This Brings a close to this chapter but thats not the end, as for me I am so lucky to live in Southern California, as there is a dry lake there called El Mirage thats 90 minutes from me, and will be venturing out there next month, but a fond farewell to Speed week as I now get it and hopefully one day you can get out to this infamous Lake Bed in Bonneville, Utah.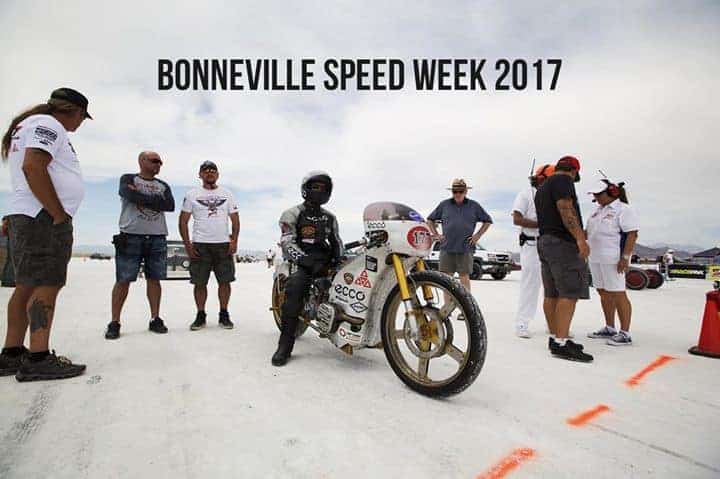 Join the SCTA and be a part of this great organisation, as well as help Save the Salt too.
http://www.scta-bni.org/
I might see you at El Mirage sometime, if you see me, come and say hello, always great to meet like minded people.
http://www.scta-bni.org/el-mirage.html
Thank you to ALL you Racers, the Teams and their hard working crew, the whole S.C.T.A org, the Bonneville Nationals inc and of course the people I met from my Old boss in Australia and my mate Shug & Ruby May, for getting there and breaking a record, what an awesome deal.
Hot Rodding started right here and thanks to people like you, it continues to grow and prosper with all your help and participation. Thanks for reading.
Bonneville Land Speed Racing is a unique sport that consists of very determined people who drive hot rods, roadsters, belly tankers, lakesters, motorcycles, streamliners, and even diesel trucks to "shoot the salt" in a simple quest to have their name added to the list of many record holders. Many years ago, the Bonneville Nationals Inc. (BNI) was formed. It's main focus would be to produce the annual "Bonneville Speed Week". The BNI hosts a spectacular week of racing each year in August, which is the highlight event of the LSR season. Speed Week consists of six days of racing (Sat - Fri), weather and conditions permitting. Entrants come from all over the world to participate in the week long event. Spectators are allowed to walk through the pits, view the vehicles, and talk to the drivers and crew members. Public parking is south of the pit area, on the west side of the race track, outside the cones. Be sure to bring a hat, dark glasses, sunscreen and shade from the sun. Don't forget a camera with lots of film/memory/tapes, because you will want to remember everything you see and hear. Binoculars are also a great idea since the race vehicles are at least 1/4 mile away as they travel down the course. The salt flats are located approximately 88 miles west of Salt Lake City, UT on I-80. The spectacular scenery and racing conditions at Bonneville make it one of the most popular areas in the world for speed. The colors, excitement, people and smells are some of the reasons we race addicts return to the salt, year after year. Better known as "Salt Fever". CATCH IT!
Comments
comments