Bonneville Speed Week was such a Blast
Well, there is a massive tick in the box on my Bucket list, My Girlfriend " Jennifer" took me to The Bonneville salt Flats in Utah for the 69th Speed week, what a great time we had, I always wanted to know what this place looked and felt like and now I know.
So many Land speed records set and broken here, its the mecca of speed for internal combustion engines thats for certain.
Below is what over 400 Miles an hour is like, jeez, that must be an amazing feeling and scary too at the same time.
Now, this is a long Blog, with tons of photos that I have taken my time to select and add, so this may be a long read? But will be well worth it, it was such a great experience for me and wanted to share it all with you out there in internet land.
Enjoy….
It was great to be pretty close to the Salt Flats as we cruised into Wendover, a somewhat sleepy town but not for Speed week, I could see cars parked all over the place, we drove into the parking lot at the hotel and noticed white powder deposits in odd places, then figured out it was salt, where people got out of their vehicles and stamped their feet to knock the excess salt off before heading into the Hotel.
Although there were salt trails everywhere in the hotel, the reception and Tons of it in the elevator as we took it to the second floor.
We had come prepared and taped down Black Trash Bags on the Carpet of the Hire Car, and when ever we got in the car, we took out boots off and put them in a big plastic bag, saved so much cleaning later when we had to return the car too.
So, driving to the Salt Flats itself was only about a 10 minute drive, once you got on the back road, there it was, miles and miles of white Salt and cars driving around like ants on sugar.
My Buddies from Sweden were there, love these guys and are hoping to get into the 200 MPH club with their 5 window 1932 Coupe.
I was totally immersed in History, and you really cannot explain the feeling of excitement and trepidation of setting foot on this world of speed Lake that for so Many years, people have raced against the clock.
The Swedes had it figured, as the salt to me was surprisingly wet and sticky and would fill the bottom of your shoes up super fast.

The weather was Hot but as long as you had your head covered, you could bare the temperature of the Blazing Sun reflecting up from the Salt bed.
Below we see our Swedish Buddies get out at the Short course and ready to run, the salt was bumpy and quite a few of the Racers spun, but the Swedes kept their toe down and got a great run under their belt.
Taking it all in was fun, watching machines getting prepared to watching them take off or get a push off at the start line, hearing the Flathead Motors was awesome too for me.
Watching the bikes were great too, one of these days I shall attempt this .
Below we had an altered Coupe with a Trash can front nose fairing.
There were many different classes at this SCTA event and that made for some great spectating, Bonneville has 4 Courses , so you could see a lot of cool rides and get so close to the action too.
Next up was this Red Roadster, real long gears too, so cool to hear these Motors and unless you are hear, you really cannot feel the excitement as they attempt a World Land Speed record.
So Glad that we got to make it to Bonneville as this truly is a tick in the box and maybe one day you will be here where I stood?
This was us just pulling up at the Short course, the Glare from the Salt is unreal.
There were plenty of break downs and I noticed it was a really bumpy course here.
Everyday we got up early, head brekky and then made our way to the Salt Flats, thats just a few minutes drive from our hotel.
Below is just a snippet of what its like to Run on the Salt.he gets to 228 Miles per hour, Holy Moly its Bumpy!
Jenn and I really enjoyed being on the start line, everyone was so friendly too and a really good way to see maybe the start of a New World record run .
There was a lot to see, I enjoyed watching the Motorcycles take off, its not an easy task and the course was pretty bumpy this year.
I was so surprised how wet and sticky the salt was and also your mind at first was trying to tell you that is snow not salt, but the heat soon woke you up to that realization.
Here I am at the staging lanes for the first time, such a great experience to be here, for so many years I have wanted to visit Bonneville, and now I am here to witness some all out racing.
It did take a while to get my head around that we were actually here, hope that at some point in time you lot can make this trip to Utah and experience it first hand.
Another Roadster this time, gets pushed off to start, ran pretty hard too and I am sure that the team were happy to get off ok as this day many either slipped and missed a gear, spun out or shut off.

Another guy getting ready to run but shut the phone off to save the battery, but you can see the expanse of Saly lake where we were standing, this was the short course, but to my right was the rookie course and to my far left was the long track for the 300 MPH Racers.
Meanwhile, here we are at the Long Course staging lanes, great place to hang out and chat to people, its a very friendly place to be if you are into Lakes racing.
At the salt, it is hard to find where you are sometimes, as it all looks the same, although I knew the mountains were to my left when I came in, but its a strange feeling for sure.
So, here are a few photos that I wanted to share with you that I took, nothing fancy but at least gives you a little insight into the location of this Salt Lake and what goes on there.
There was so much to see, I dont want to bore you with too many shots but there are a few I took that I like and wanted to share, I loved this Studebaker that was parked up in the middle of nowhere, and took a pic as we were driving up to one of the course, it kind of shows you the depth of the left side of the Lake but there is so much more to see, 9 miles of it .
Below is another shot I thought you may like of a 5 window Coupe, cruising with the Rumble seat open, I bet that sold must of got everywhere and it sticks like glue as well.
Below:  Towing the Roadster to the staging lanes was a common sight, this ran hard and fast and loved watching these leave the line and then disappear into the distance, with just the roar of the engine and every now and again the radio loudspeaker some where would call out who it was and the time and speed they were hoping to achieve on this Blistering day in Bonneville.
Another Roadster, this time a 1929 Model A Modified takes to be towed to the staging lanes, this has been around a bit, judging by the Blue Oval Bonneville Decals that are on Display.
Here was a Roadster thats a show car, I mean its bang on the money, the Hot Rod was absolutely stunning, but I fear that the Roadster now will be showing a few battle scars after the Speed week as Salt really does destroy anything it gets hold of, paint, Bushings, Joints, Springs, Steering etc, it will be an absolute bugger to try and wash off I tell ya.
A few more of this wicked Roadster to show you it was a really well built rig and from Oregon, sure hope its still in one piece thats for sure, Salt really will knacker parts up big time.
The Sun Beat down but I was surprised how well we coped to be honest, you kind of get used to it, plenty of Sun cream, loads of fluids and wear a hat at all times.
This guy was running around, I bet the chain is totally Bollocksed now he has got back home but- sure he had a blast on this Rocket.
A few bones must of been rattled whilst driving this Channeled Jalopy, its clean right now but after a few feet there will be Salt all over the ride.
Here is a super tidy 5 window thats sat on the Salt flats patiently, complete with 39 Tear drops, Original 1933 Plate and from our neck of the woods, this has had a long journey to get here.
Look at these pair, I mean, they are awesome, I had read about the Roadster a long time ago and noticed it was from British Columbia, this is a well known ride with super cool Kaiser tail lights, the same as I am going to run on My A-Bone, I wanted to chat to the owner but when I came back they had left but great to see this machine in real life, it was killer Diller.
Next was a hemi 5 window Model A That ran around quite a bit on the Lake whilst we were there, sat really well too with Tri- power set up and Sanderson Lake style headers too.
We drove about , just like so many others, it was great just taking it all in, loved it all and enjoyed listening to the 400 MPH Stream-liners blasting by on the long course as they screamed along.
Jenn drove me around as I took a few shots with my camera, but some of the lake was really tore up and almost lost my fillings on the short course staging area, rough as hell. This Model A must of banged along, giving their 2 passengers in the pick up bed quite a ride for sure.
I also saw this Pheanton driving about all over the lake, they surely got their miles worth out of this 1929 Model A and it looked great with dropped headlight bar and commercial lights.
I saw so many Hot Rods in the Pitts and we drove about the place just taking in all the atmosphere, people were so friendly and more than happy to show you their vehicles parked up.
Below is just some of the "Rolling Bones" That made the trip from the East Coast, every morning they were on the lake and every night outside the Nugget Hotel covered in Salt head to toe.
So many cool rides to see and take in, I am so glad we were able to make it this year, this was for my 55th Birthday and what a present it was from my Girlfriend Jennifer.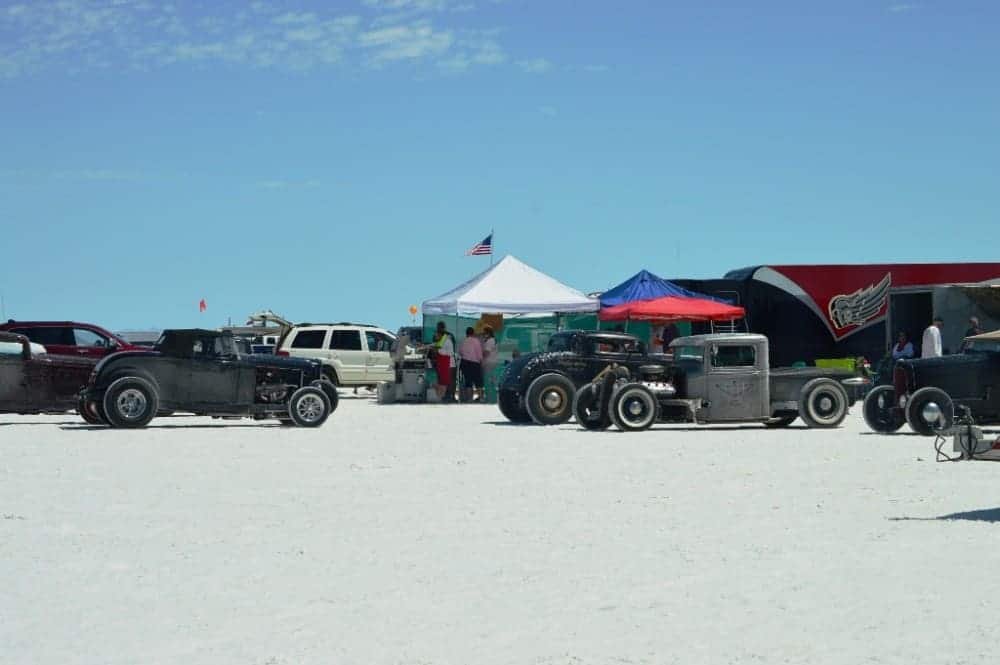 I am not a fan of Bottle Green but- I would of quite Happily driven this Three window all the way home to California with a smile on my face, wind was getting up a bit too as you see the flags moving about, but the breeze was well received on this day as I had been boiling my head off until then.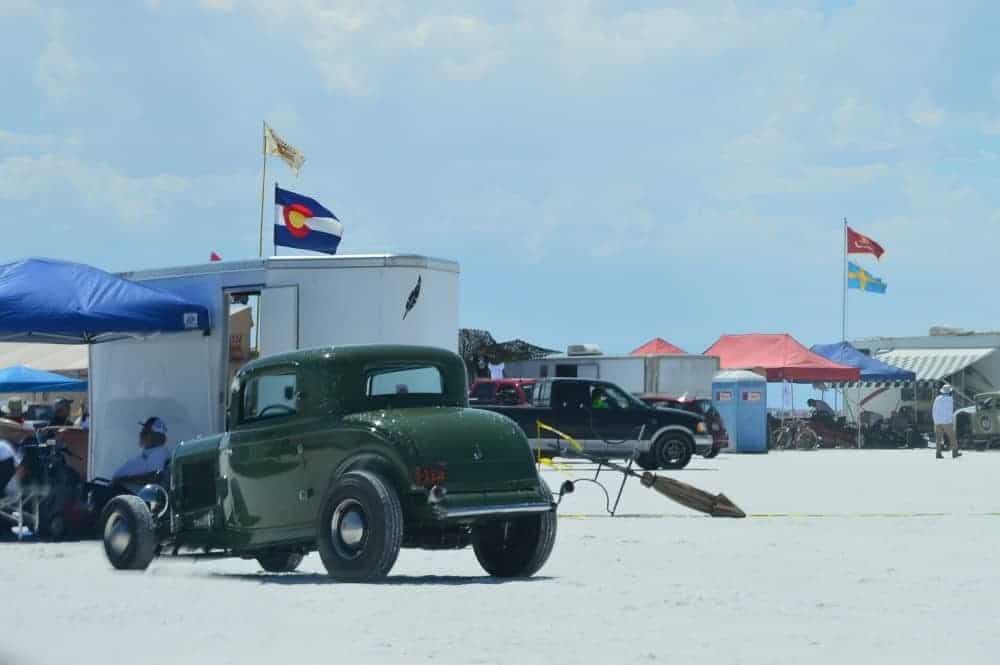 We saw a few Motorcycles had ventured from near and Far, from France, Australia, Italy, England, Scotland and even from the Ukraine, that sure is a long way to travel but all rode well too.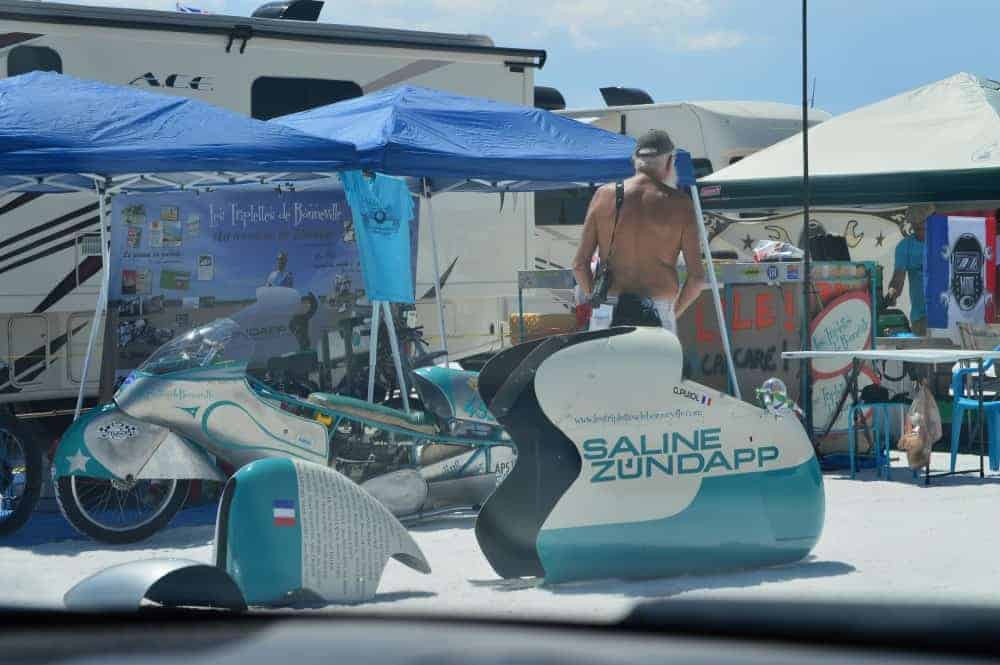 I loved this little 175cc and it did over 100 MPH, what a super achievement that must be, I had a 197cc Villiers years ago  and that wouldn't pull a cock off a Chocolate Mouse.
Getting ready for their turn to take it out on the salt, I had to laugh at the amount of U-Hauls vans and trucks that were there, and bet they all said they were going on a fishing trip and not race on the salt. as these vans and trucks would be totally knackerd in a few weeks with all the salt rotting the frame and suspension away.
The skies were Blue and it must of been great taking your Hot Rod there but now I have been, i would never take my Model A on the Lake bed, it would destroy the shocks real fast.
Below, was this cool wagon, and a big fan of the dry lakes just by looking at the License plate.
I like seeing the different vehicles out on the lake bed and this Chevy was cruising all over the place for days, he sure likes driving this Impala.
This 1929 Closed cab Model A was so nice, it ran like a top and the 4 banger just purred along the lake bed, its a really cool set up and has Nostalgia Patina all over it, Braaap!
Here is such a sweet Roadster, I love it all, from the Chromed and detailed dropped beam axle, the the Commercial headlights and the Schroder steering set up, a rare machine too.
So many cool photos I took and didnt want to just have a little blog, as Many of you asked about posting pics of our adventure to Bonneville, I try not to write too much so you can absorb the photos and get an idea of what we were so luck to be able to see whilst we were there in Utah.
A varied amount of great rides to see today, loved this Channeled pick up the front grill assembly really looked good sat on the deck, It ran around all day and a fun ride for sure.
Above, the Martin Bros Three window was Blapping around, very cool ride, complete with a 4 inch chop,, Halibrand Q/C and a Nice set of 16 " Steelies on Black walls, cool Push Bar too.
Look at that 5 Window, tough as nails, love the stance and the color too, everything on this ride screamed out Yester-Year.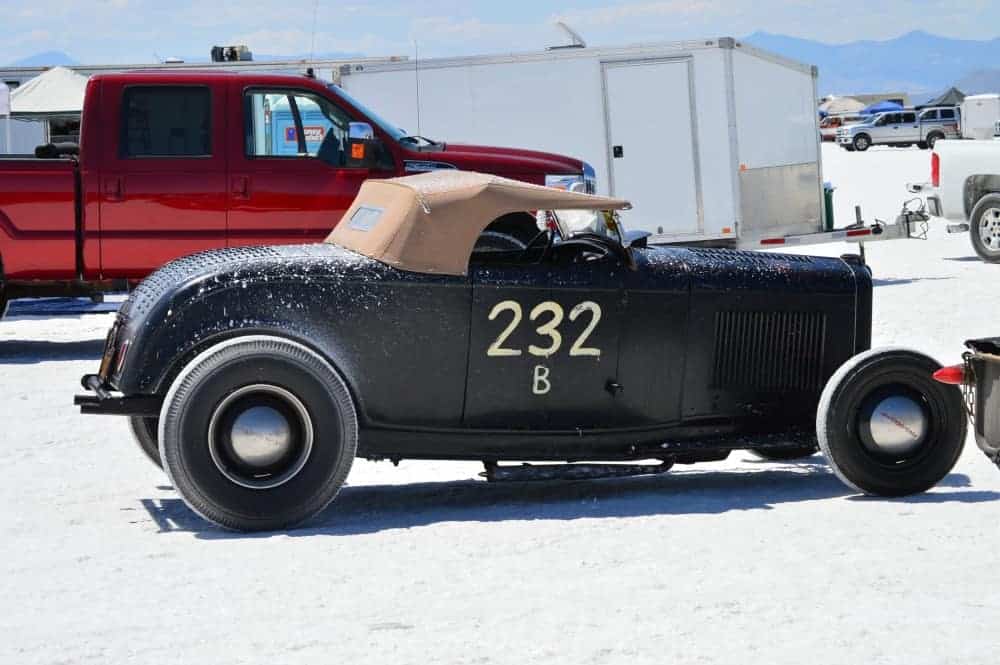 Custom made top was so cool, way better than the Bop Tops I have seen, he said a lady he knows made it for him and it hugs the Roadster so well, Need one for my Model A one day.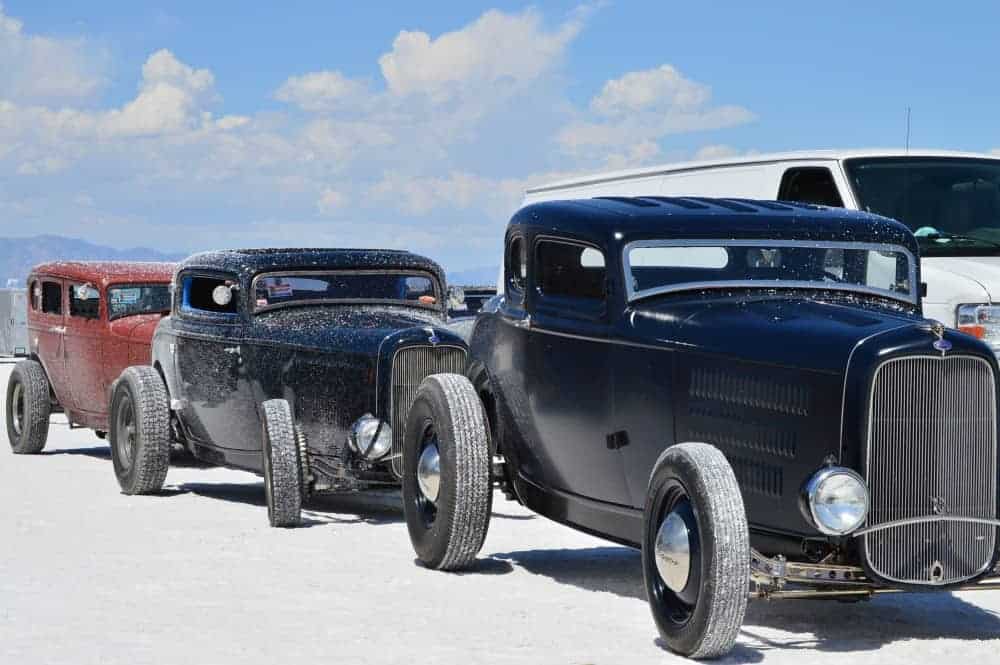 How about this for a cool shot, Three different models and all very cool in their own way, these guys were super cool and always ready to have a chin wag about their rides here.
Blue skies all of the time we were there and this was such a big tick in the box of life for me, so stoked that my Girlfriend thought of this as a present for me to go and experience it all.
You never know what you will see driving about and as the lake is so long, you can drive for miles and check all the cool stuff thats being raced or just enthusiasts rides that drove there.
The Hop Up Coupe seemed to be all over the Lake and it must of been such a blast to drive this on the Lake of so many World records, I really liked this 5 Window Coupe.
Check out this Three window, so many really Nostalgic rides that made the trip to Utah for the 69th Speed week here at Bonneville Salt Flats and boy did I enjoy it with Jennifer.
Not the best of shots but I tell ya, the Lake was really bumpy and, I was only in the pitts, the road to the staging lanes was like the Moon and its hard to take photos moving.
How much fun is this then, cruising about in your A-Bone with one of your buddies, this must of been such fun and they drove this all over the place, saw it for 4 days blapping about.
I was blown away when I saw the Marroon Coupe, a Westergard style Kustom and sat on the salt, not bothered that is worth probably a hundred Gee's, But what a line up here, had to take a photo of these three as they sat there just basking in the Utah Sun.
If you can handle the heat, there are so many great rides to go and check out, this guy drove his show car down from his shop in Portland Oregon, just to get to the Dry lakes.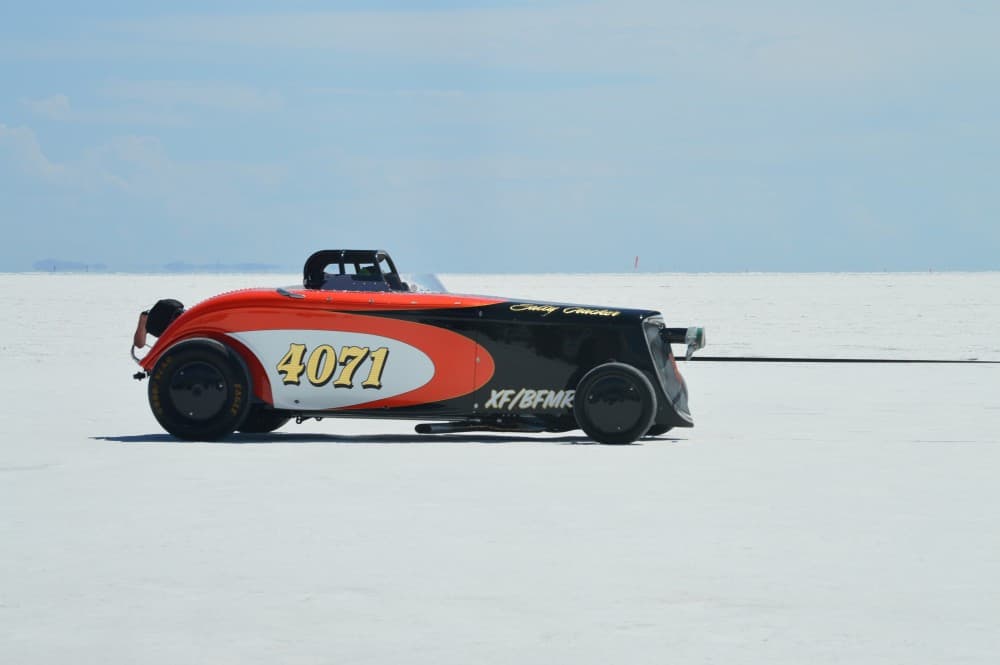 Modified 34 Roadster Being towed out, this thing looked fast just being towed, how crazy must it be at 200 MPH+ in a Roadster?
This is as close to a Rocket as it comes, the stream liners run over 400 MPH in some classes, these really do sound awesome as they came by flat out on the long course, great noise.
Miles of Salt to drive on and this Tudor looked timeless, he was all set, even a cooler in the back for cold beverage on the Hot Day in August out here in Bonneville, Utah.
Yeah, the fenders are dented, the paint is flattened but this Pick up is still going and going strong too all week, Windows open and a real neat push truck to add to the fun here on the salt.
This was flying along, caught this shot as it deployed its chute at some crazy speed too, many streamliners spun and we did have a bad crash but the driver made it ok lucky enough.
Great shot of these 2 cool people that brought out their Indian Motorcycle, they are set up, keeping cool and awaiting their time to take this Vintage 2 wheeled Motorcycle out for a run.
I really loved this Old crow belly Tank Lakester, I had one of these about 6 years ago, these guys were lucky enough to complete it and race it out here like they did in 1949.
Little Model A pick up parked opposite the long course, so it can sit there and watch some of these Streamliners reach over 400 miles Per hour, its so fast that if you blink, you could miss it.
You can see on the staging lanes that there is a super low Motorcycle, going to try for its class record and behind that is a wickedly cool Three window Coupe that is all set to go.
Something for everyone here at Bonneville and how cool was to see these 2 little speedsters parked up, they must of had a blast on the way up to these staging lanes, so cool to see.
This Model T Roadster was bad to the bone, so well engineered too and quick as hell, I took a little time to check this out and was amazed at the amount of great work that was done.
This Brown Oxide 5 Window Model A was really tidy and amazingly enough it had room inside it, not many do, so kudos to the builder, really great A-Bone my friend.
This T- Tanic was a head turner thats for sure and he drove the heck out of it all over the lake, a nice touch is the Propeller on the rear.
Hurry Up and Wait was the order of the day at many of the starting lines, I have to admit, El Mirage is way better for time to race, there was always a long wait between runs, the drivers must of got so hot waiting to get onto the start line, and when they did they had to wait for what seemed to be an eternity to get their machine fired up and onto the start of a run for a record.
Come on mate, get it fired up, poor chap had a few issues and these guys pushed it around for a while and in over 100 degree heat must of been exhausting for them but thats how it can go.
Bugger this I am knackered I can hear him say, there were a few machines that gave up the ghost AND I think a lot of it was due to sat in the staging lanes for way too long and over heated.
This is a whole new meaning to the saying " Just look at them T's and A's."
This Model A pick up got a lot of attention, and rightly so as its so well put together, fully fendered too, loved the frog mouth intake over the gas cap.    "The Flying Brick"
There is that Hot Model T Roadster on the line, about to get push started, I liked the style and build of this machine, many hours of work spent to get this to this stage, loved it.
There goes 662 under its own steam as it makes its way down the short course, hoping to make good time on this blistering day, unfortunately the Serrano had no information on this car.
Great to see a few Motorcycles make their way onto the course, they too must of been so hot in the staging lanes but they waited it out and when time came, they gave it their all.
Getting under way on the Rookie course, this fella has a go in the 100 degree heat, it is great to see some of these Low, Long and fast Motorcycles making an appearance at speed week.
When you first see this, it looks like there may be a collision about to happen but the van was waiting to cross whilst this Roadster started its run on the short course, but it sure was slick this day.
Sat on the start line as another competitor had spun out, the driver cooks, whilst the sun bakes, but this belly Tank is ready to run, but this ran well and sounded awesome on the pipe.
I never tire of looking at Lakester Belly tanks, these were the first to really get some fast times after ww2 and I get a kick out of seeing these old style machines and hope you do too?
This 1939 Sloper complete with Moon discs and many Bonneville decals was getting ready for its run of the day, the Sun was Hot and so was the driver inside, a heavy Hauler for sure.
At last, the Belly Tank now gets the go ahead and the Push truck starts it job by getting this to enough speed so he can dump the clutch and then take off and attempt a good run today.
A Belly Tank and a Stream liner these 2 scream " Lake Racers" and to think that back in the late 40's, many of these belly Tanks were on this very Lake, all competing to be the fastest there.
Check out this neat Model A Pick up, whats not to like on this Californian ride, it drove around most of the day we were there and was reliable as hell too.
My Swedish buddies ALL took turns to drive this 5 window Coupe, it is a really reliable Hot Rod and built many years ago by another Swede, so good to see them there on the line.
Off they go and I am sure they all had a blast, as the Coupe ran pretty hard, although the short course was pretty bumpy and wet in places too so a lot of slipping and sliding some places.
Looks like a bucket of dough was ploughed into this Red Roadster, cleaner than a cats arse thats for sure, but it aint going to stay that clean once it is taken off that trailer and onto the lake bed.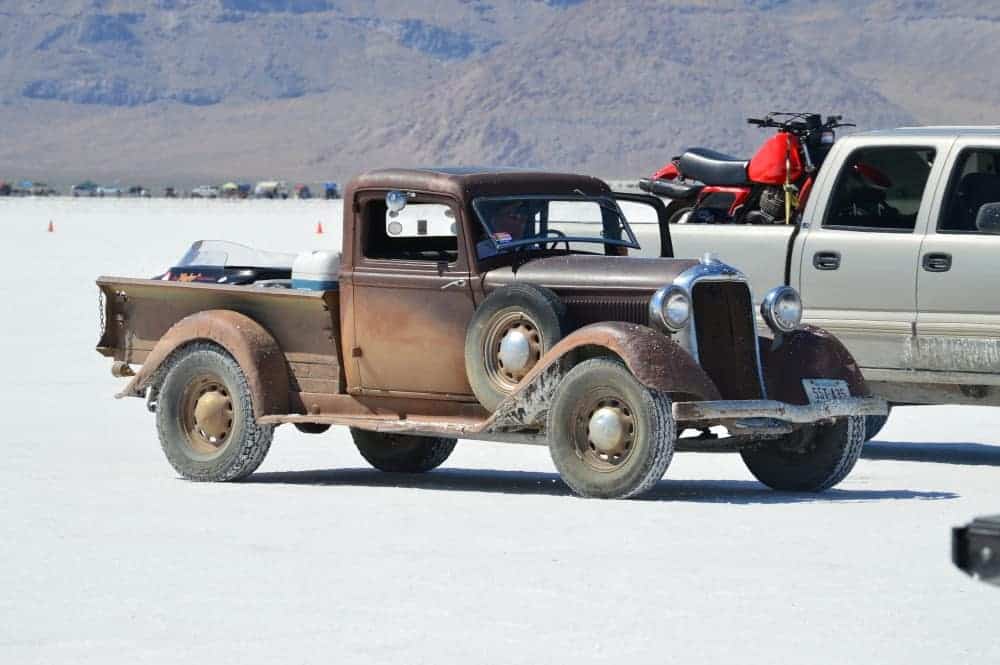 There is the old pick up, still bombing about and was so reliable, you think it would over heat in this weather, but it just carried in as Normal, where many cars would not.
Few More Motorcycles were off and running, always love watching Motorcycles and I am sure that the ride was not as smooth as it looks out there as we drove along the staging lanes and it was so bumpy that at times I almost dropped my camera, some of the Salt lake needs some major work to get it back up to scratch again.
Going for records is not easy by any ways or means, this chap was going for a three wheeled record on an Old Indian Chief, I loved hearing that engine as it bimbled its way along the course.
Talk about getting down to the bare bones, this crazy contraption may look mad, but he has a good chance of getting a record with it, if his back holds out on that bumpy course.
Way off into the distance this Roadster made its way up the short course, the Sun reflecting on its fenders looked cool, I watched this until it went out of site, and thats a fair way I tell you.
This bike struggled along but he kept it at the speed it was meant for as this was the rookie course but I am sure he was smiling all the way, as I would be out on this most famous lake bed.
As I said, there are Many styles of vehicles here at Bonneville, so something for all to enjoy and the sound of some of these motors as they take off is absolutely mind blowing.
There goes ole faithfil as it pushes that Black Roadster off the start line and onto the course for the run, loved seeing the Push truck doing its job, probably been doing these for decades here.
My Swedish buddies all had their runs and all did very well indeed, I hope to see them when they are back at El Mirage as they take this coupe there quite a bit and its great to watch.
Just off the main Salt Flats was an area that people were driving about on, most probably dreaming about racing on the flats themselves one of these days, but everyone was having fun here.
We noticed that many people camped right next to the lake bed, you cannot over night park on the salt flats but just off the bed is a lot of land that people park their rides and camp there.
There is always things to see, even when you head out of the salt flats and back to Wendover to our hotel, the place is a great area where people meet up at the nugget in the evening and they have a car show there, but just here on the outside of the salt flats, these camp grounds have all sorts of rides parked up.
How cool was this A Bone, Loved the Magnesium's on the front and a real old 60's style that made me smile at the gas station as we were about to head out to our hotel in the town.
Some of the area around the Salt flats and just outside Wendover, were places you could set up camp and be real close to the Salt, this green 5 window looked at home parked by his RV.
Now thats a clean pick up but a few minutes later it will not be, hope he gets to the Car wash as soon as he gets off the lake, as the Salt is brutal to anything it touches out there.
Good old 232 from the Rolling Bones gets to blap about, such a great stance this Roadster has and loved everything about this Hot Rod, just so period like time has stood still from the 1940's.
Look how long this Roadster is, so many different styles, classes and unique builds that you just really never know what you will see next out here, just a super time and people having fun.
The wind got up, looks like some easy up's lost their tops as this what ever you want to call it bimbled by, some unusual contraptions here this year but thats what makes it so cool.
Classic Pick up on a bit of a cruise as the mid day sun starts to move a little, giving much relief to many, as it sure is hot, as the salt reflects the heat all day long here at Bonneville.
Great Resto Rod having a Blap around the course and taking in the great Mountains of Utah, I cant emphasize enough how bike this lake is as photos do not justify it at all.
What a wicked red 40 Ford Coupe approaching us, this was a real nice 50's style machine and I am sure many 40 Fords have driven across this lake in past years in many guises indeed.
This 57 is a rare find these days and of course in this condition I would be a little worried in a few weeks when the rust starts but probably a life long dream like me to be on the Salt Flats.
Start ya bugger start, not the sort of place you want to break down on when you have no Hat, no water , no water and of course, no gasoline!!!!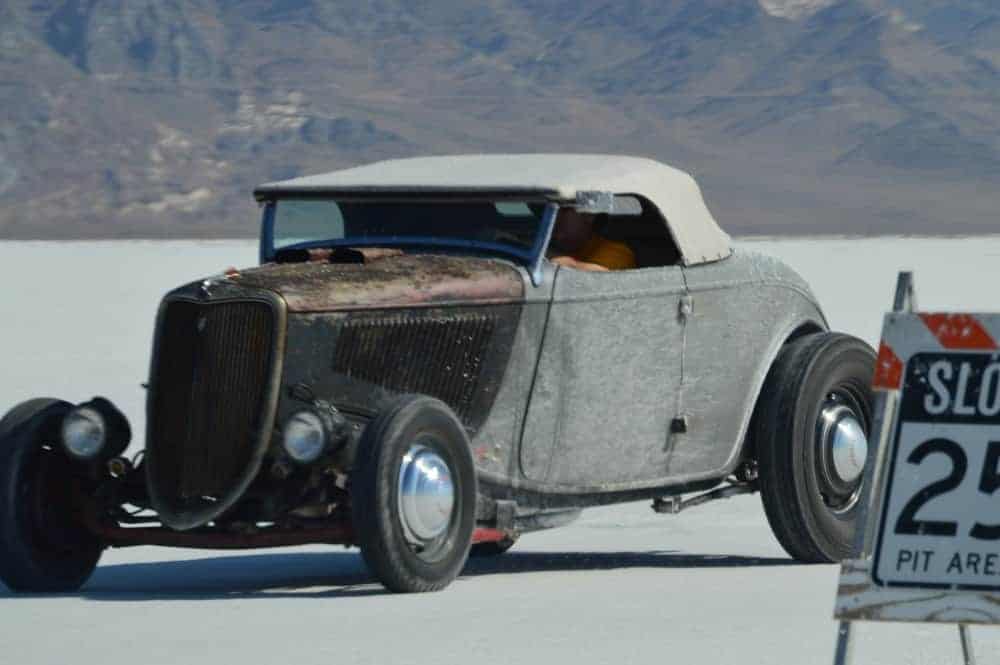 Every now and again, you get the jaw dropping look, and this is what I got when I saw this driving along the Salt for the first time, how cool is this, a real nice period style that gets driven a lot.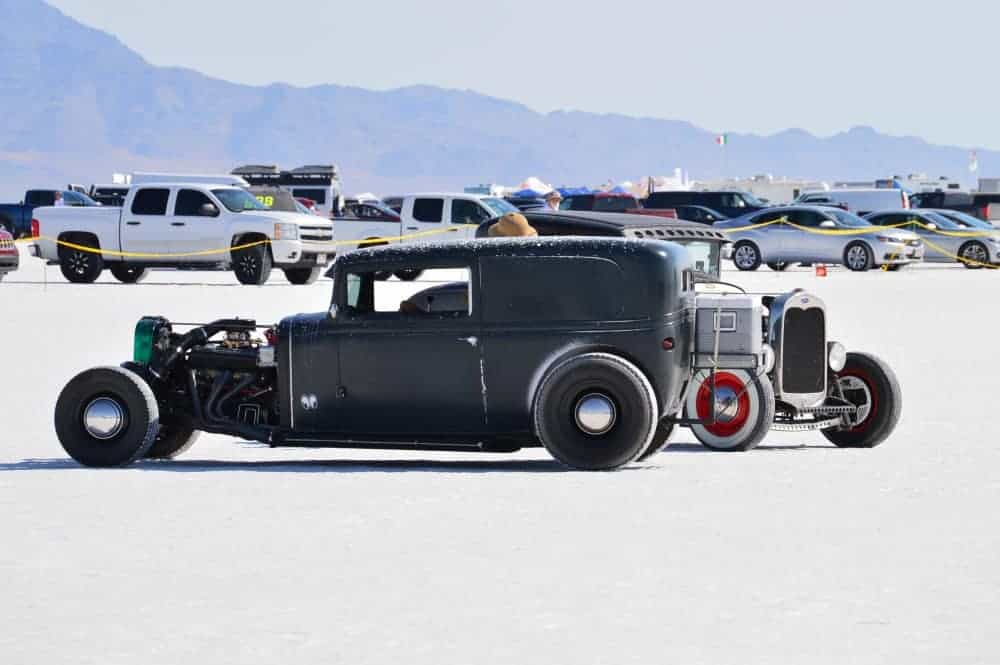 More old tin on the Lake and I thought I would try and capture all I could as many cannot make it over here and asked for me to take photos, so hope it isnt too boring for you?
Just taking it all in I bet?
How wicked was this? So much engineering, great angles, smooth hand made bodywork, surely was a work of art for sure, I didnt see it run unfortunately but I stopped and looked for a while.
Waaaaay off in the Distance, we noticed that cool Roadster having some professional shots taken, what a great backdrop that is to have a photo of your ride to keep, I bet it came out excellent.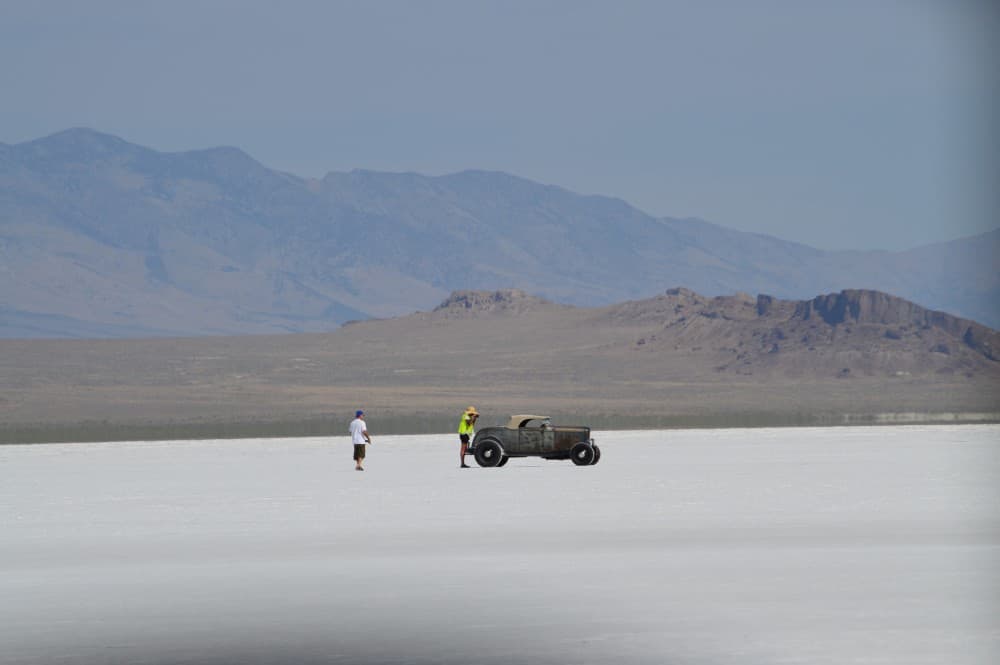 I took a few shots as we drove along in the car, so glad that we had AC in the vehicle as it was so hot out there, but everyone seemed to handle the temperature fine and carry on as normal.
One more to just go OOOH and AAARRR to!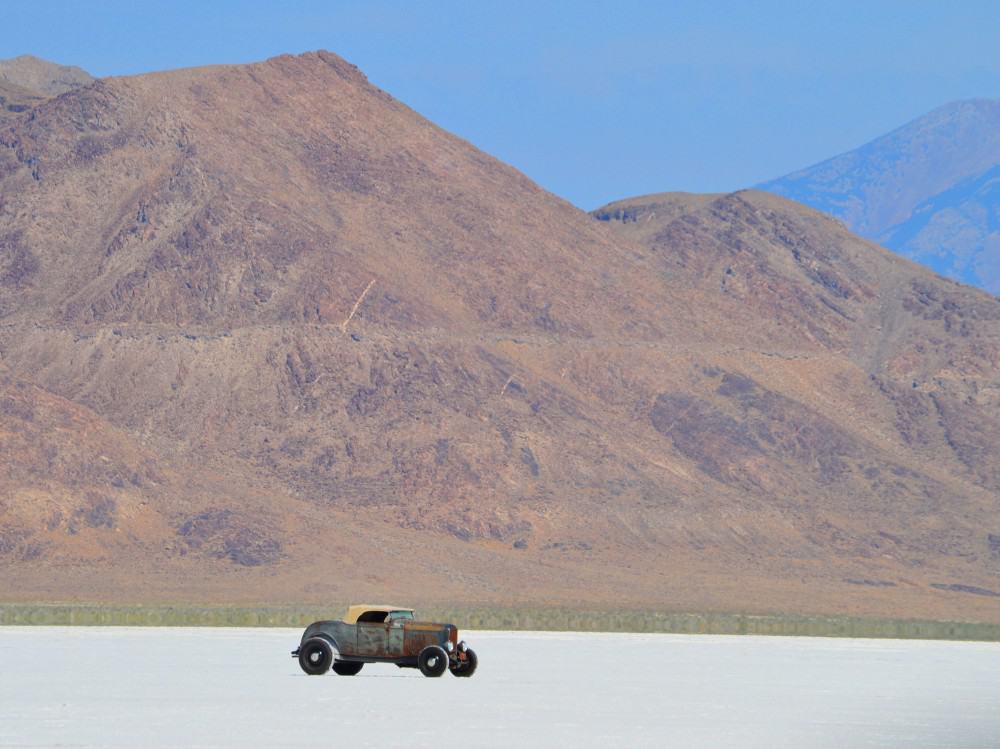 A fantastic machine and boy does it look good in its natural steel patina, against the mountains of Bonneville Salt Flats, and I am glad I got the opportunity to see that Roadster here today.
I loved the Model A and it certainly got around the salt all the time that we were here, many of the cars came from California, we even parked next to one car that was from Fullerton too.
  This steel Closed Cab Pick up also ran all over the place and it really did run smooth and sounded great when the headers were un capped.
Here is a shot from the rear end as it drove out the what looks like the middle of nowhere, these guys must of just had a ball checking out all the cars and bikes that attended this event here.
I didnt see this Model A make a run, as we were on the Long Course I think when the 5 window too its drive, but this sure is a wicked ride and Ford Blue with a 4 Banger as well, very clean too.
The Flying Norwegians made a great set of passes in the New Belly tank, such a great bunch of people and well organised too, hope to see them at El Mirage soon too before they fly home.
Check out these mid 1950's Gumball Red Cushman Scooters, looks like Father and Son Team, I saw these right out by the short course and they were having a great time on this vintage rides.
Loved this 28/29 Roadster, Reminded me of the Cover car in the 1952 Edition of Hot Rod magazine, loved everything about this set up and I am sure it was so nice to ride out here?
Just 2 more rides that were parked up in the Pits behind the Bean Bandits Club, the temperature was getting high this day and the A/C was struggling to keep up in the hire car too.
One way to destroy a good condition Triumph TR is to drive it on a Lake bed full of salt, I sure hope they got it all off the underside of this Convertible as these are getting hard to find like this.
Above, this Model T and Trailer seemed to get by with No troubles at the Lake, he was all dialed in and needed nothing as he carried it all in the Box trailer, sorted guy eh?
     Well, another good idea is you can use your pick up as a work bench to hold some of your parts as you get your race car ready for the next round.
Now right there is probably the most comfortable seat you will ever find at the salt flats, you are not going to feel any of the bumps on the short course today thats for certain.
This was a full on show car with every detail you can think of, takes a brave person to take a Vehicle like this onto the Salt thats for sure.
Model A Coupe and a Studebaker Pick up sit by the Honey Bucket Crapper, think I would rather use the other Bucket under the Coupe.
This truck was doing great service as all the Honey Buckets seemed to be clogged up.
This was a Great looking Model A, with recessed firewall and a Hemi wedged in place of the 4 banger, this didnt have any hitch it its git along at all.
Plenty of places to go and see some cars and bikes, the pitts were a long drive to some of it but so much fun though.
Few more Rolling Bones out there, gotta love these guys and their Period Hot Rods.
How Bitchin is this Coupe, I mean it is bang on the money, what a serious piece of kit and loved everything about it.
Hubba Hubba, you have to love this 3 window Coupe, sits right on the money as well.
As I said, always something great to see when you are here and boy did we see some cool stuff at Speed Week.
These Three Amigos were having a Blast.
We followed this guys back as they drove past our Hotel, but just a fitting end to Bonneville Speed week for me, such a Blast and thanks to my Girlfriend Jennifer for taking me out to this event for my 55th Birthday, something I shall always cherish for sure, and thank you all for reading and looking at my photos and videos of Bonneville, I really did have a tremendous time.
Comments
comments