Hot Rods are part of my Life too !
OK- many people think that I am only into Motorcycles, and I can understand that, as I have been building Cafe Racers here in California in the last 14 years, but- since I was a youngster, I had the Car bug big time.
I grew up near to many American Air force bases and that's where I got my first influences from of cool old American cars, I loved everything about the cars, the country and the lifestyle as well as the passion for Hot Rods.
Then, I had my first Hot Rod, a 1932 Deuce Coupe, it was Chopped and channeled and was a Right Hand drive Model, this Deuce meant so much to me and I felt like I was living in the U.S.A. with that ride.
I wish I had kept it now, as we all do when we look back at things we have had.
 This was my ONLY form of transport and I drive it in all weather, I didn't have a floor in it for a year, the snow and rain used to blast up inside the Coupe, until I lost a couple of cassette tapes and then my keys jumped out of the ignition as I was driving back from work and that's when I decided it was time for a floor.
This used to be so much fun blasting about Brighton and I traveled all over the UK in my 3 window and some super fun memories that's for sure.
I was a lot thinner back then, maybe from pushing the damn thing when the battery dies or I ran out of gas as my gas meter did not work.
I drove up to Hemsby for the traditional Rock n Roll weekender and then visited some old school mates and friends in that area, it was such a blast to drive, loud old and bumpy but that's an old traditional Hot Rod in the 1980's in Britain for poor working class folk like me.
The I-Beam axle was a 4 inch drop and shorty shocks, made sure you didn't fall asleep at the wheel when ever you drove this Coupe.
Watch ya head, this coupe was chopped and channeled and with a 4 inch windshield, not much vision, plus when it rained you couldn't see anything, and- to get me through the yearly MOT test, you have to have a windshield wiper, so- I took a complete motor and wiper arm off a Volvo Headlight and fitted it indie the coupe, it was perfect.
Such fun times and glad I actually took some photographs, else they would just be my own views in my head.
We were all a close knit community and had so much fun at Rock N roll weekenders, especially on the beach etc.
 How about this shot, many many moons ago with my First car, a 1961 Low line Ford Consul, with a 4 banger and a 3 on the tree, I drove the lug nuts off this machine.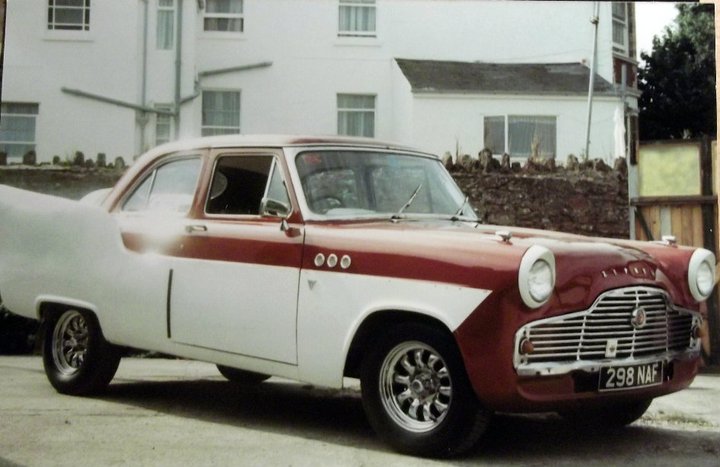 Oh dear- what was I thinking? But this was my 1959 Ford Zephyr that I 2 door-ed and made some mad steel fins on the car, this had Candy Red and white tuck n Roll too, I was in a crazy zone when I did this.
This was me in 1997 when I moved to Australia, and I bought a 195 XP For Falcon, very similar the the American Ranchero, this was a cool ride, they call them Ute's out there but it was a fun ride that I played about with and really liked that car.
I used to pain the old race style numbers on the doors of my rides back then, I still do on the bikes I build sometimes, this time I painted the car flat black in my mates driveway and then fitted pin line whites and then fitted a cool set of MOON discs.
But I get restless and have to keep trying things out on this machine.
I cant leave anything alone for too long, this time I scalloped the car and pin lined it, as well as fitting a steel sun-visor.
I fitted a Black Tarp on the back and later on I located some fender skirts for it too. Then I painted the Coop Devil on the back and added more scallops!
But I will always love tinkering with stuff, just the way my Brother and I was bought up, not really had a happy child hood but kept busy.
I started to get into this Roadster when I moved to Australia from the UK in 1997 and then continued over here in the states as I shipped the body over, the photo above is me in New South wales, I was patching the side of the Roadster body as it was completely shot with old bullet holes, but- I wanted the same thickness steel and the contour, so used a 1940 Ford truck door to use and it worked out so well. 
Above, Anthony Castaneda of the Infamous Shifters gave me his old Dodge Dash Board and I spent the next few days cutting my old gas tank and fitting this set up, I was so stoked to have accomplished this and loved the way the dashboard flowed, similar to the 1936 Ford versions.
I used a Belgian Flat head in the end and this was a great motor, I love the sound of side valve motors, a very unique sound of their very own.
Jeez, this was a while ago, i was wearing a watch, who wears watches any more?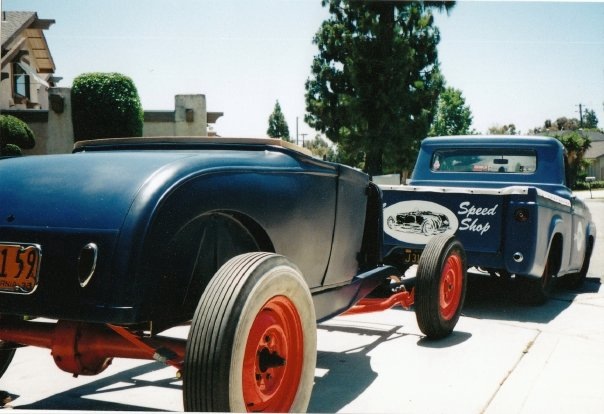 I chose a eggshell Blue and a Flat white firewall as it reminded me of the Al Sharp Coupe.
I also had My 1958 F150 short bed painted by Anthony Castaneda in his old shop (RIP mate) I stayed up and hand painted the logo and lettering getting ready for me to go with the shifters to Paso Robles back then.
I will have to look to see if I have any more photos of this 29 Roadster of mine, I loved that car but had to sell it when everyone moved out to go forward in their lives and I knew I would have another later on.
I had so much fun building this in the garage at home in Southern California and sure wished I still had this Roadster.
Days of old but soon I will be getting back into another 1929 Roadster that I located in Indiana and My Girlfriend Jennifer Bought for me,I am looking forward to driving it with her in the following months.
This was a fun build and now resides in the land of the rising sun, sure hope to see photos of it as I sold it to a very cool friend of mine Ken Sakata.
I now have this 29 Roadster at my shop, needs a ton of work but- I will get there eventually, once I have located all the parts I need.
I have a super amount of work to do to this little A-Bone but it will be worth it and cannot wait until I can get onto El Mirage and of course one day at Bonneville Salt Flats.
I am not sure what color it will be but I will be running a Flathead, not the 4 Banger that's in it right now.
My plan is to locate a cool Vintage dash board, be it a 36 ford, Chrysler, Pontiac or Caddy etc and have a unique look to it with cool Gauges.
I will be running a 1932 Truck grille, so that will all change but will still use original chassis etc and Kelsey wire wheels of course.
I have an original Moredrop axle for the front but will need 1940 Ford Hydraulic brakes all around too. And below, I was so fortunate to locate this Original plaque that used to be on the guys Roadster back in the day, a nice bit of history right there.
I will be using old plates as well to capture the spirit of the style that I am into and hope that this will make people smile once completed.
This will be a cool build but maybe a year before I am halfway there I believe, hard to do on a low budget.
But stay tuned, as i will up date when I get more parts together etc.
Comments
comments