My Thruxton with a New Look !
Here we are with a brand new look to my 2013 Thruxton, as I had drawn this up a long time ago and wanted the old style look with a new ride.
I was so fortunate to be honored as the President of the 59 Club for Orange County, California and that was back in March 2014 and sure am stoked to have that bestowed upon me and I do my utmost to promote this famous club to the best of my ability.
I have made numerous changes to my Thruxton and am still making improvements as and when time and money is available.
As you may notice, I have made my own front bikini fairing, similar to the Thruxton but extended two inches on the top – and of course I have the ears extended back to give it a slight Rickman styling, also I added my 7 inch LED headlight that really sets the front end off on my machine.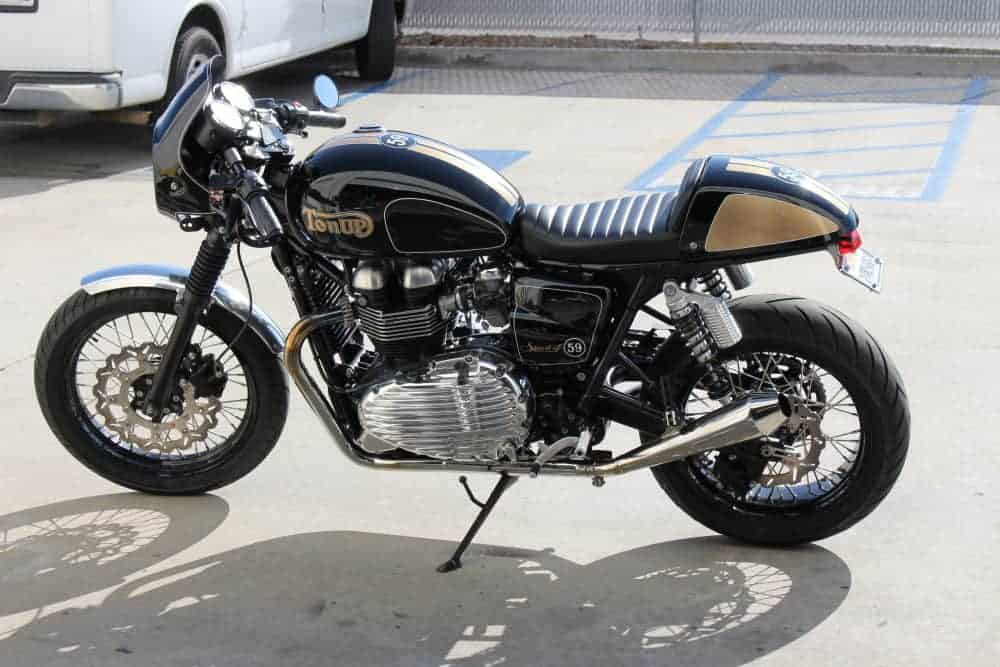 I am from the UK and as a teenager I grew up loving motorcycles and immersed myself in what ever I could, I loved all the classics and my first ever Caff racer was back in 1978 when we got our provisional License and had a 50cc Suzuki that I put Clubman bars on, cut down seat and fitted a fairing and from then on I was hooked into the scene.
I used to go to all the Rocker Reunions to watch the Gene Vincent styled bands play, from Joe Brown and His Brothers to The Rapiers, who still gig today.
If you look on the tank I have painted Ton Up and ask any Rocker what that means, it means to go over 100 miles an hour and back in 1959 that was quite a feat to accomplish. This has nothing to do with the TON UP clubs that are all over the place, I had this logo many years ago as we were Ton Up Boys back then and this term was coined back home in the 1950's by the 59 Club members. I wanted to use a Triumph Style font and love the look.
I made the tail cowl too and my seat has the compartment inside the cowl so that I can store all sorts of stuff for my ride. You will also notice the awesome polished finned Primary Cover that I received from Speed Merchant and boy does that look trick now.
I have Speed Merchant covers and love the look, fit and style of these castings etc, and get many good positive comments on the set up I have.
My stainless steel Monarch Megaphones bark like a scolded dog and actually improve performance, hope to get a dyno chart on them soon.
I also make the side covers too and have an air intake style grill that really helps the bike and as I now have pod filters, these breathes well.
I
Right now I am working on making brand new stainless steel headers for the Thruxton and the Bonneville, so stay tuned on my website for that.
I have the big wide 5.5 T.T. rear wheel set up with Wave rotors too on a stock swing arm and it handles very well but soon I will have new alloy rear swing arms that will be available for all to purchase for your rides.
I have TEC shocks right now with my covers I machined on them to give that racy look and am happy with that set up until I can afford some Works Performance piggy backs.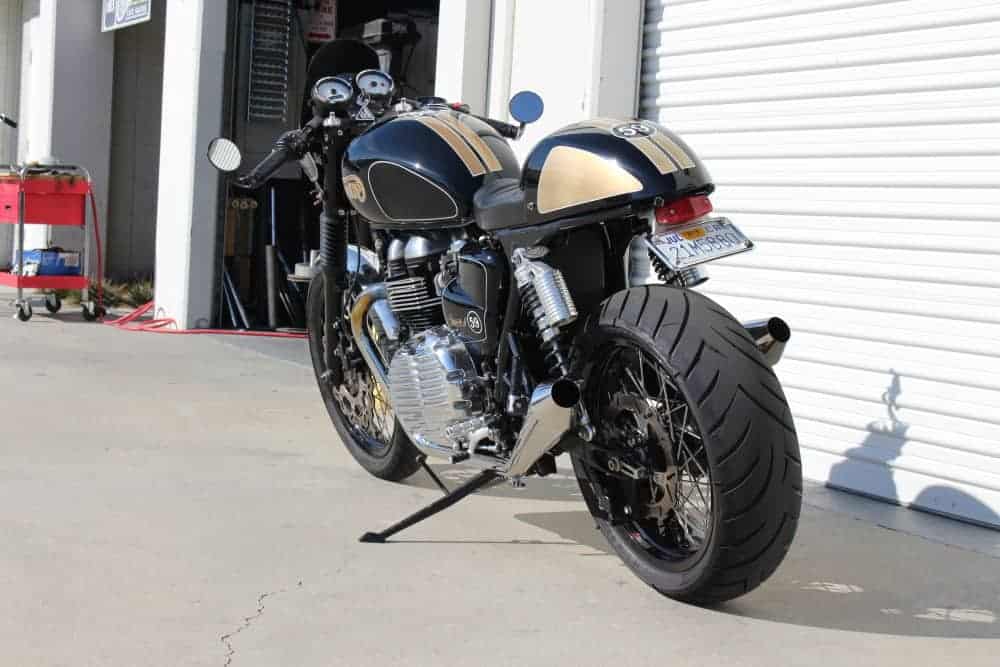 The bike sits well and I have Wave rotors front and rear, it corners so well and have such fun with this bike.
Just have a look at the gorgeous SM Finned Clutch Cover, it really is a piece of art and a happy I went this route as its kinda Hot Roddy!
From the right side you can see that I have my own oil pressure gauge set up on the bike and I love to know I have good oil pressure.
I changed the Front sprocket to a 19 and love the performance and fuel millage on it and now will be fitting a nickel DID chain to compliment it.
To break 100 MPH in Great Britain back in the day was a major effort and the 59 Club were the first Rockers organized motorcycle club and that where you started to hear TON UP, doing the Ton, Ton up Boys, Ton Up Pirate, Ton up kid. To break 'the ton' was a huge achievement back in the day and gave you some bragging rights.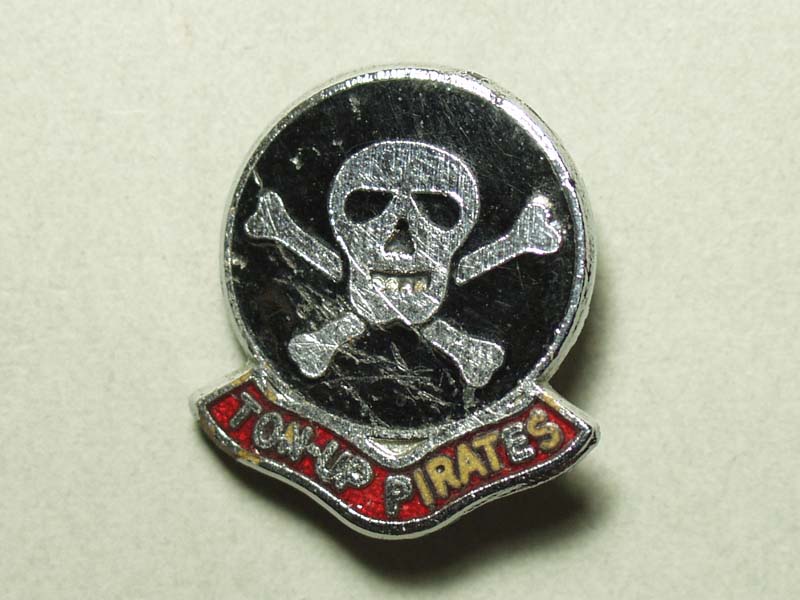 Back in the day my dad would point if we were in the car going somewhere and would say look, "Ton Up Boys"
My first Ton Up experience was putting my brother on the back of an RD200 and tapping him on the shoulder so he could look at my speedometer needle bouncing at the 101 MPH, it was an awesome experience and a sense of accomplishment back then, albeit it highly illegal, as it still is today!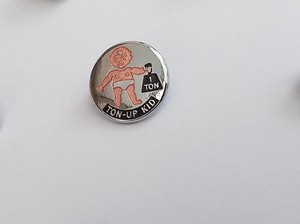 The real badges I have from back home.
The FIRST organized motorcycle club in Great Britain and when Britain was really great was the club I am now president of here (the Orange County, California chapter) some 55 years later.
I wanted to fit my fairing on the bike and give it a slightly nostalgic look that I grew up with, having a fairing back then was not just cool it made you more aerodynamic, which meant you could go faster, I also used to be able to tuck stuff in the fairing like tools, maps and spark plugs, etc., and on occasion, as my throttle would stick, keep the throttle wide open on cold mornings on the freeway and put my cold hands in the fairing to warm up a bit.
This is the rear of the bike with my own made cowl with old style metal-flake gold paint and of course the famous 59 Club insignia I am so proud of.
My peanut style tank looks great in the new livery as green was just too common and I have had many green bikes over the years but always loved black and gold. you can see my old style European Fog light and oil pressure gauge to the right of the bike.
My ram air system style side covers not only looks cool they are cool and function very well transporting cool air to my pod filters.
This has House of Kolor Aztec Gold flake and it sure looks good when the sun is out.
So, here she is outside my shop and has so many of my parts on her, the Oil Pan Bash Plate, the fog light, the fairing, the exhaust, the rear cowl and seat, the side covers and the front alloy fender, all designed by me and available to you, too.
I have so much fun with my Thruxton and we have many rides to great places, check out meetup.com under Carpy's Cafe Racer Meet Ups and come on a ride with us all, you will love it.
I still have more to do to my bike as I will be making a 3/4 Dunstall style fairing for her to give that early 60's styling and something I really like.
I thank you for looking at my Cafe and love to hear from you, carpy@carpyscaferacers.com if you want to drop me a line or two?
Look forward to seeing some of you on the road, as we have many rides and start to go to more places too.
Stay tuned for more stuff like parts and apparel, etc., as I love what I do and enjoy meeting like minded people.
Just some history below back in 64.
1964 Rockers from Hong Kong Rockers on Vimeo.
1964 Rockers footage
Edit by H.K.R.C. (Hong Kong Rockers Club)
Here is me on my Thruxton a few months ago taking Big Bear Area in, I loved how the bike handled with the new rims on.
Comments
comments