Well, on Saturday, me, Jennifer and Dakota, jumped in the Mini Cooper and headed to Ventura up on the coast- Boy what a long journey that was three and a half hours when I usually get there in less than 2 hours.
But we managed to get there with out too much trouble, and the show is right by the sea, although it seemed just as hot when got to the event.
This was right up my street, what a great ride and many people were drooling over it.
I always love seeing any lakester motorcycle, this would be a scary ride at 100MPH but it will get there, do not worry about that.
KIYO was at the show with this amazing Custom Drag style machine with ATP turbo pack and a RC waste gate, very cool ride KIYO, you build some bad ass machine, I loved this 750, so much work and super rare parts, just check the detail, I couldn't take too many photos as the sun was glaring down on us.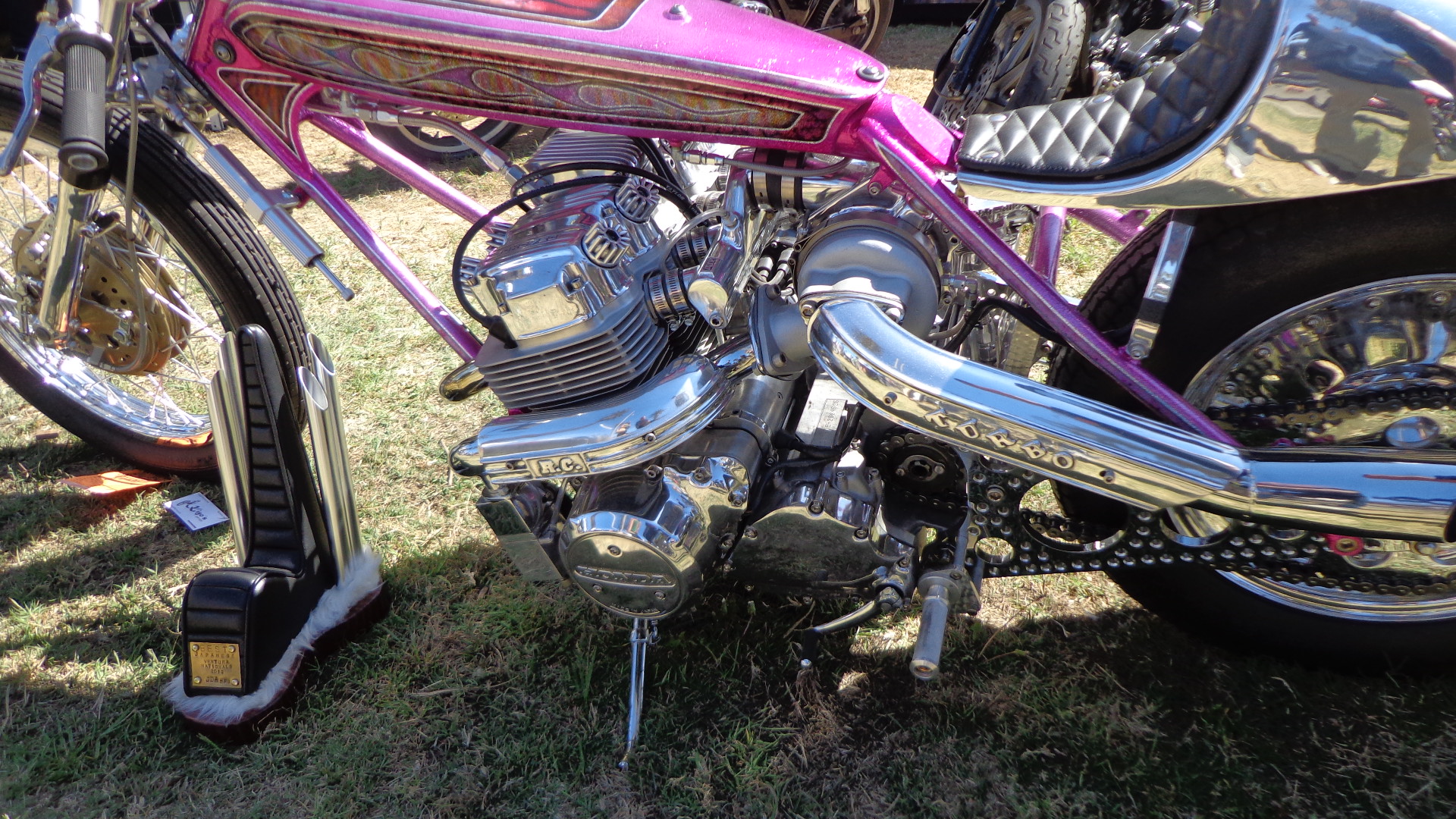 Frigging top notch and I really loved this machine and hope to do a long write up later in the year when I visit him.
The DJ was playing music when we got to the show and it was busy as I expected but, so unorganized, as you did not know what was what and who was selling stuff and who was just sitting by there car and not participating in the show etc.
Great to have a look around as there were many cool rides to be seen and for me it is a great social event as I get to see some friends that I only chat to via text or emails these days.
Big Sandy and the fly rite boys were playing and they never sound old, all cool sounds and the crowd loved them.
Me and Ashley are old mates from back home and used to bomb about on our BSA bantams back then, so always great to see Ash and have a quick chin wag. I have known him over 30 years now and we are still pretty much the same, except he is a bitching guitarist.
The Sun kept shinning and we made the most of the time we had there by walking around the show and checking Hot Rods and Customs and also some of the bikes there.
As the time was ticking away, we walked around as much as we could to see the turn out, but there were many people at the show and it seemed to have a good buzz going.
Plenty of Tin for people to look at and an array of builds too, that is a good sign as it means people are still out there creating and building their machines.
I tried to take a few photos but the suns glare was pretty harsh on the camera, so restricted me on taking some cool shots.
There are always Hot Rods at this show and I dig them all. And yes, many for sale too. I just need a bucket load of coinage that day, but my bucket seems to have a gaping hole in it.
Yep-That sure is " in the Weeds".
Old Shop trucks look great in the Original Patina and I would of liked to have this as the parts getter for our place.
I dug the Palm tree's all over the place.
 By mid day here it gets hotter than you would believe as this is right on the beach, but it sure catches you unaware for the first time.
 There were many Primer rides as well as super High gloss and metal flake rides at the show, sure to please everybody that attended.
 This was right on it's belly, no bags, just a Zee'd and narrowed frame, a lot of work in this when you get into it.
 I really love Shoe Boxes and this was a killer looking Kustom, what a great ride.
I loved the Shifter, this got a lot of attention and rightly so.
 More vehicles line up on some of the tarmac at the show.
 Nice Custom grill.
There were quite a few House of kolor metalflake rides here and the amount of work needed to get this effect is unreal.
 Yep- Bring ya shades, for the dazzle of the paint, it really is an eye opener.
 The old 60's panel shading is somewhat of a lost art- but not here at the primer Nationals.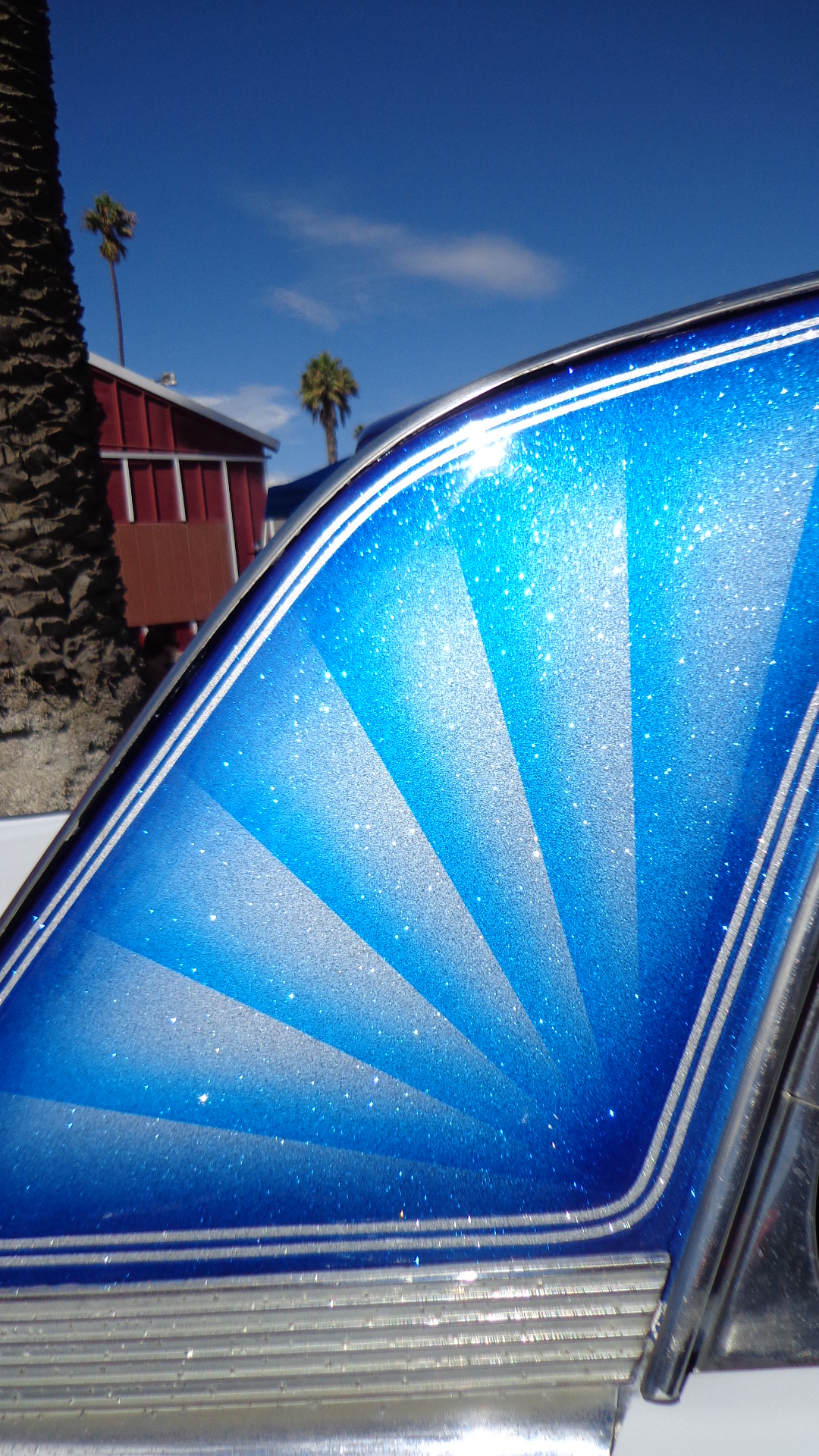 Always plenty of rides of all years and makes so you are certain to find something that tickles your fancy.
 Clubs seem to be predominant this year and all had their space with a ezy up and just chilled with friends and family.
This Red 1930 Model A 5 window coupe caught my eye and flatty powered too- sweet, dug the Kelsey wires too and open headers.
 Always love to see the trucks.
 Right out of the KKOA  (Kustom Kemps Of America)magazine of the day, a sweet Custom, skirted and chopped.
..
There was more Suede here than your great Uncles dating suit from the 70's.
 Next up was the ride I really dug, I have had my Own Hot Rods, and this was something that just yanked on my crank.
 When I see any Flatty powered ride, I gotta go and check it out, this to me was the coolest ride of the show and boy would I have loved to be the owner of this super low and cool 29-AV* Roadster.
 A nice set of Polished EVANS head, with a Deuce intake of the infamous Earl Evans of Whitter, I loved this motor, wish I could of heard them lakster style headers.
Check out that awesome set of Gauges in that machined turned cluster, a head spinning ride and I was so glad I got to see it up close.
The Packard steering wheel and Horn center is a neat touch and looks like factory eh?
The ride just looked great from any angle, and I was stoked to be able to have a closer look at this Roadster.
 I love step side pick ups and this was a peach of a truck, the 40 ford is a cool looking truck anyway and I had to stop and take this in for a few minutes.
Plenty of machines for all to have a look at and admire the time and energy that goes into these creations, hard work is for sure.
 I saw many rides that I liked and took photos where I could, but, I wanted to check the show out for myself too, so limited on the amount of photos, but at least you will get a rough idea at the shows turn out and what happens here.
The Boys from Burbank have the coolest rides, great long time club and all great people.
HUBBA !  HUBBA ! is all I could say, wicked chopped and channeled 5 window.
Everything here I saw I enjoyed and I love the Customs, many people have no clue how much work has gone into these rides.
 Slammed, and suede paint is a cool look, I dug the Sombreros hub caps too.
Walking around the show grounds, you will see many different styles and color combinations.
Oh Yes, Blown 56 Tri-Chevy looked every part of mean you could find and it was cleaner than a cats arse too!
 This was towards the end of the show and he was about to leave, so I took a little video of it, he is only at idle and that has a big Cam , you can here her purr.

Comments
comments