I have lost count of the Motorcycles that I have created here over the 18 years in business, some I have been lucky enough to take some photos of but many I have not, but I try and take pics where ever I can as many people ask about projects that I am creating.
I enjoy building bikes out of old rusty hunks of steel and this one is no exception, it was a non running machine and I am glad that I have resurrected this Classic 1974 Honda CB750K, as you can see, it had an old custom seat and a beaten up old Kerker exhaust, the desert does take a toll on any machine thats been parked up for a long time, but- iy can all be fixed and this was the start of the BB cafe project for my Customer in Australia.
It was a solid old machine but had had a hard time over the 40 years of its life and these get neglected when stored out of the way, so- a perfect opportunity to turn this old girl into a Thoroughbred once more.
I had a Customer fly in from Down Under as he wanted to discuss commissioning me to create a Cafe style Motorcycle to his requirements and then once built here, I will ship it off to Australia thats about 7,194.45 mi  from our house to his.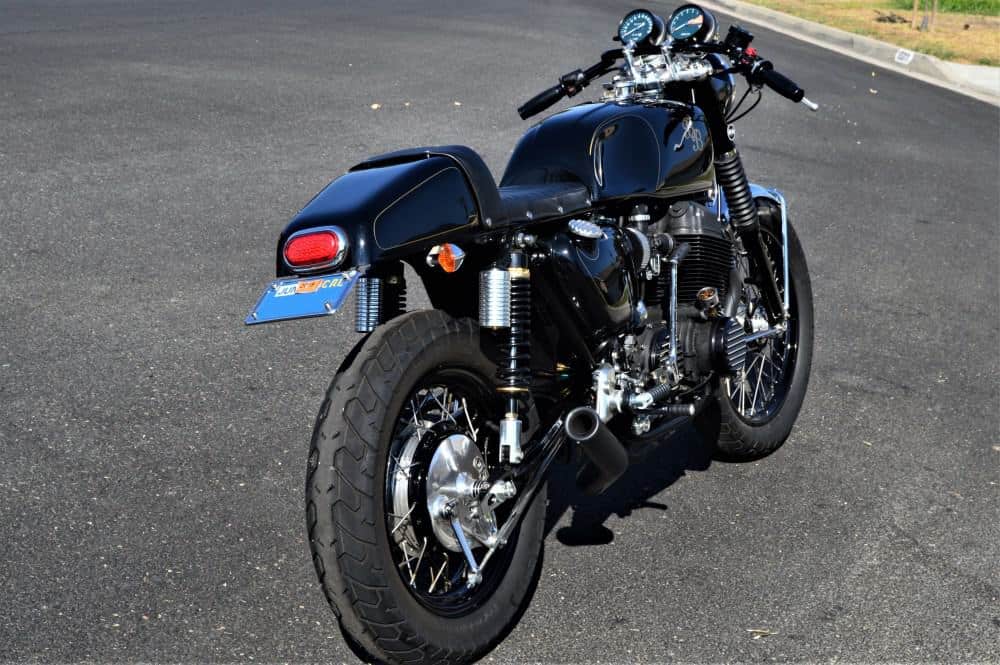 So this is how she came out, I have built this just as he wanted and I am stoked with the way she looks, a Thoroughbred of a machine and ready to open up on the Tarmac.
Plenty to look at but I shall try and explain some of the things that I did here at www.carpyscaferacers.com so you will be clear on the parts used to create this great machine you see.
I used many of My own parts that I have designed over the years and of course offer on my website, the headlight with the built in LED turn signals that Glow up Amber when used is a great addition to any machine, I was the First to ever go this route many years ago, have sold over 1000 of these units and still going strong, also has a Halogen bulb to help you at night.
I painted the bucket, Gas tanks, side Covers and the seat and fork ears a Gloss Black, as well as the head light Bucket, the Rims and some parts of the wheel hubs too. You can also see I removed the Original side reflectors that came from the factory and made my own screw in badge embelishers. New gators and Holders too, no expense spared on this build.
New cables as well and the whole frame was stripped, cleaned and coated with high Gloss Powder coating.
Motor was pulled apart and rebuilt, stock but new guides and internal cam chain etc, I then painted the engine in my own mix of High temp Engine paint and I too offer this product on the website, I put together with Stainless Steel Allen bolts to give a nice offset to the black. Made up my Custom Oil lines as well.
I have always loved the finned speed equipment as I am a Hot Rodder too, so machines a Finned cap for the oil Dip stick, I think it sets the bike off from the many out there.
Keeping with the Classic era, Brand New gauges added and my Custom Alloy Mount, I also added a neutral light in the middle of the steering stem nut and fitted my polished aluminum Bar clamps to hold my own set of Clubman handlebars, with new cables, adjuster and master cylinder.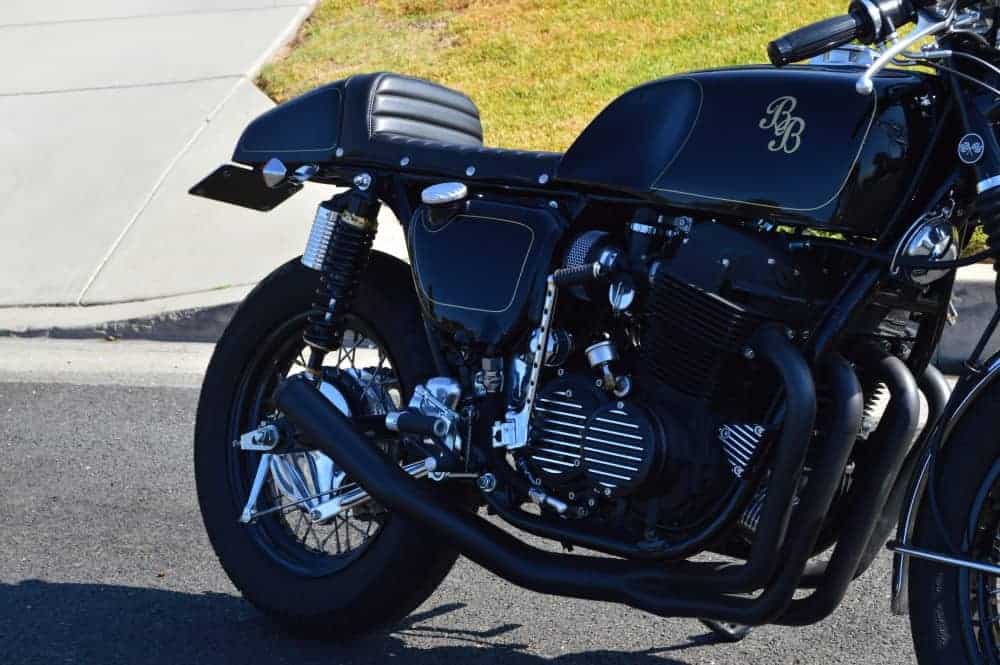 A lot of attention to detail as you can see, I fitted Tarozzi rear sets, I sell them on my website too, I always fit one of my Custom Oil Pressure Gauges on the motor, that way you can see if you are getting good oil pressure all the time, finned covers and of course, my 4 into 1 Exhaust system that I have been selling for over 17 years now. The rear brake was rebuilt using non Asbestos EBC brake shoes and new springs with a polished outer hub, looks great as an offset to the black rims.
Rebuilt front forks and painted lowers, with New tires and front mudguard, this really has that Classic look of Cafe bikes back in the day when I rode them in the UK as a teenager, tearing up the streets with all my mates on various brand machines.
Totally rebuilt and tuned carburetors were fitted and these are fully detailed to match the motorcycle, then used Steel Dragons set up for Airbox and this runs great and smooth.
For show only, this kick starter was drilled and chromed, the rear sets prevent you from a full kick but this has an electric starter and I supplied another solid kick starter if he needs it, but this was for show and it does look very cool indeed, you can also see I fitted a breather filter to the bike with the chrome cap that runs from the valve cover.
I hand letter the tank, B.B. is for Black Beauty as thats what the Customer named it and I pin Lined around an old SS gas tank, I removed the original gas tank flat and filler and then used one of my Stainless Steel Aircraft gas caps for better styling, the tank was hammered by me and smoothed before adding the Gloss Black enamel paint.
Custom rear shocks that are also raised 2 inches with Finned Piggy backs help the bumps and my Clubman seat assembly that I make and offer is sat upon the frame that hides the battery etc, I used snaps on the Tuck n Roll cover, that way you can easily get to the battery and of course you can put your insurance card under the foam for easy access if needed.
Hand pounded tank and New wire harness, handlebar controls and new cables through out make sure that this bike is always on point in its life on the road in Australia.
Drilled front brake Rotor, rebuilt and polished front Caliper, custom parts all over the bike makes this a great head turner and the Customer is stoked to finally see the finish of the dream.
It turned out really well and runs true and strong, looking forward to showing some photos later when it is in Australia in a few weeks time, as I am getting ready to take this motorcycle to the shippers and let it get loaded up on the boat to take across the waters to the other side of the world.
Thank you for all your kind words and encouragement, means a lot and once again, another old bike is saved from the junk yard.
If I can help with a build or just parts for your inline four, just drop me a line carpy@carpyscaferacers.com or a dime or even a text at 714-598-8392 and I will do my very best to get you what you need.
Comments
comments